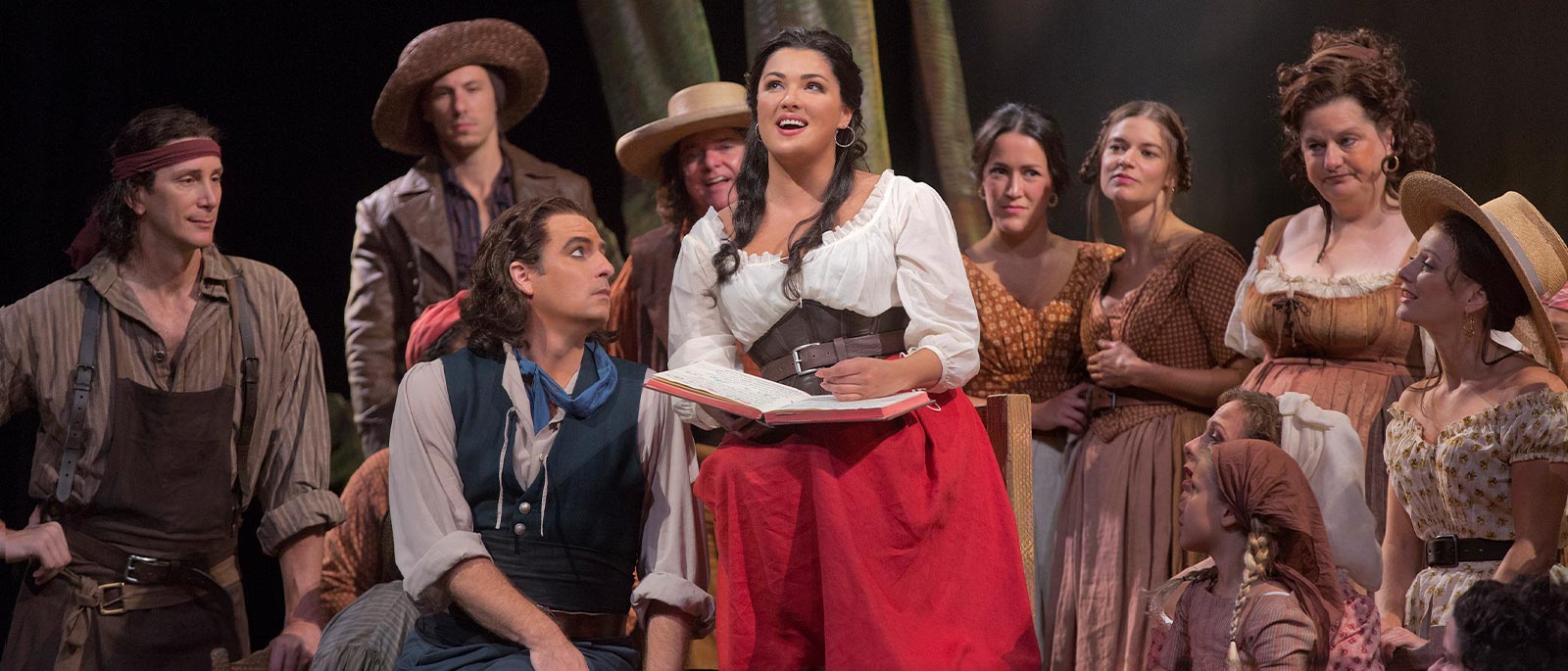 Sound of Revolution
Donizetti's L'Elisir d'Amore is one of the best-loved comedies in opera. In his imaginative production, director Bartlett Sher uncovers the patriotic fervor simmering underneath the surface charm. By James Inverne
What, you might ask, does the 19th-century Italian struggle against Austrian domination have to do with the story of a simple peasant who thinks a magic elixir will win him the willful love of his life? What could there possibly be for the politically inclined to get their teeth into with L'Elisir d'Amore, the charmingly rustic comedy that has been delighting audiences for the past 180 years?
Plenty, says director Bartlett Sher, whose production of Elisir opened the 2012–13 season. "Elisir is almost two operas at once," says Sher. "It's a great entertainment and an opera with something else happening underneath it. And that's the Risorgimento, the development of Italian independence. When Elisir premiered in 1832, the brewing independence movement was starting to become bigger and bigger, and just 20 years later, it would be huge."
Great political tremors have always inspired the great artists of their time. Many of us can pair political upheavals and the artists who commented on them as if by rote: McCarthyism and Arthur Miller, the Russian Revolution and Nabokov, Napoleon and Beethoven. In some ways, though, it is more fascinating to look around these figures, at other great creators who did not put forth their political views quite so explicitly, but who nonetheless must have been influenced by the events swirling around them. For every play like The Crucible (Miller vs. McCarthyism) there is a film like Invasion of the Body Snatchers (a sci-fi shocker enriched if you happen to know its anti-McCarthy agenda). And for every Nabucco (with its heavy subtext of Italian nationalism) there is often a L'Elisir d'Amore.

A model of Michael Yeargan's set
Whereas Verdi is inextricably linked to the Risorgimento movement, Donizetti is not thought of as having been a particularly political animal. When it came to his work, all he cared about was that the music was presented well. And yet, although it predates the successes of Italian nationalist hero Garibaldi, Elisir was born into a world where the politics of reunification had already started to seep into Italian musical circles. Rossini had given the censors of Naples some sleepless nights back in 1813 when his own light comedy, L'Italiana in Algeri, featured a rondo for its heroine, Isabella—"Pensa alla patria" ("Think of the homeland") —in which she waxed rhapsodic about a unified Italy. The censors wielded their scissors, out went the dangerous patriotism, and in came a more innocuous aria.
Bellini had trodden a rather riskier path when he dallied around 1820 with the Carbonari (the secret revolutionary societies), which was later attributed to youthful high spirits. It could have ruined his career, as it did that of his friend and fellow composer Piero Maroncelli, whose run-ins with authority led to his imprisonment and deportation to America. Maroncelli was also a great friend of Donizetti's from their days studying together in Bologna, and they stayed in touch, Maroncelli writing to him from his American exile.
Such was the political background in which Donizetti was composing. Such were the conversations that would have been had at gatherings with friends, and the yoke of Austrian authority would have been a grievance muttered about in the streets and shops Donizetti frequented. And after all, Donizetti was part of a new movement—Romanticism—that unsettled the region's Austrian masters because of the fear that Romantic music would galvanize the masses.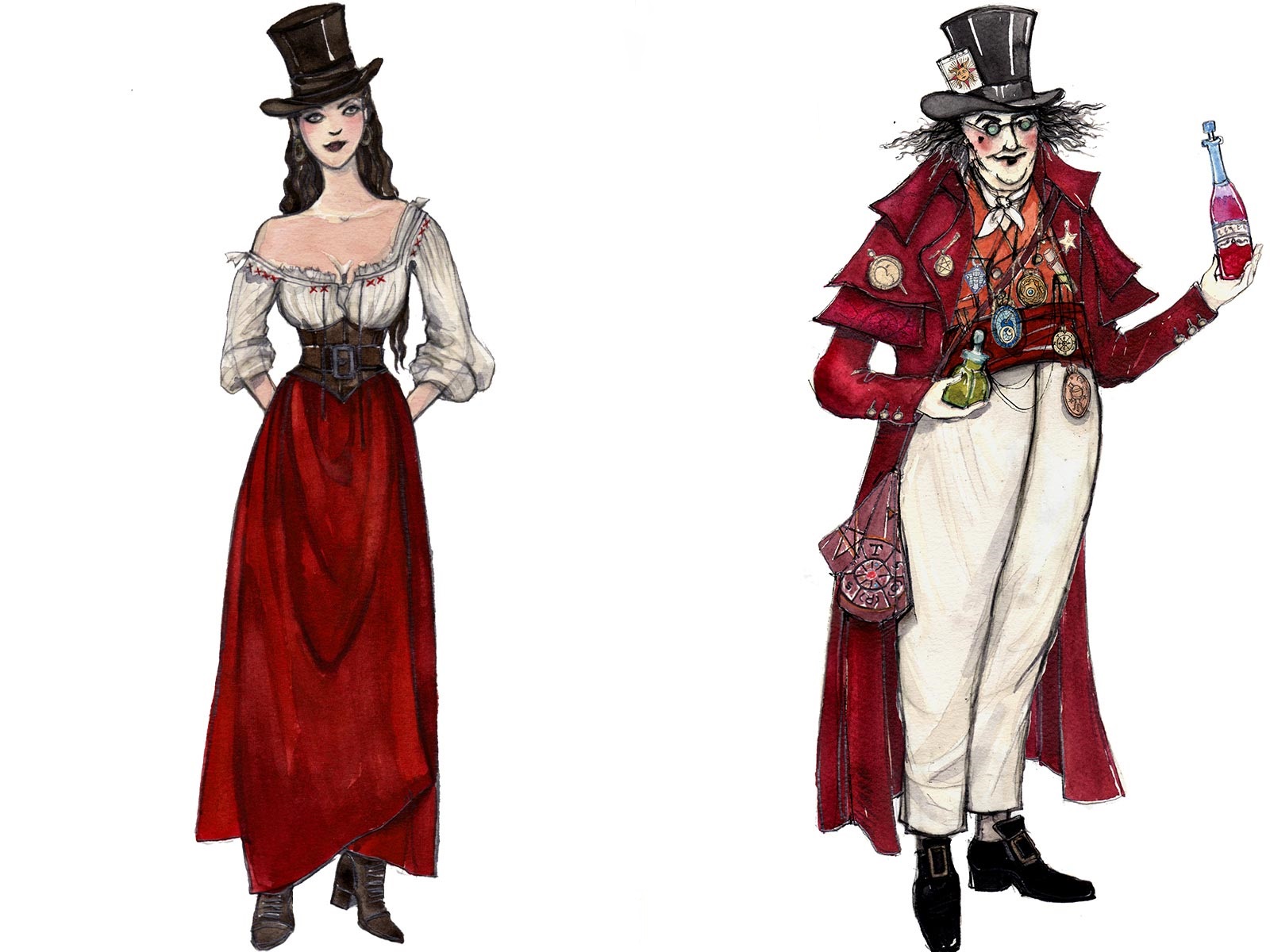 Costume designs by Catherine Zuber
It is hard to think that Elisir could truly spread riotous dissent, but Sher subscribes to the view that, if the opera is not quite a call to arms, it would nevertheless be wrong to ignore its awareness of the political tides surrounding Donizetti. "In any kind of comedy," he says, "the profound challenge is the really tight balancing act between whatever the teeth and the reality of the situation is and whatever the whimsy and lightness of the situation. Nothing can ever be genuinely funny without pain, anxiety. They're the fuel of comedy. The circumstances and stakes have to be extremely high."
This idea of balance is crucial to Sher's view of Elisir. The balance between Italians' sense of identity and habit of bowing to a foreign authority, the balance between comedy and politics, even the balance between how Elisir would have played to Italians and to Austrians in the audience. "If you went to the opening night," the director says, "all the Austrians would have seen one opera, and all the Italians would have seen another!"
What would the Italians have seen? The peasant Nemorino—sweet and natural and loving—would have seemed like the true spirit of Italy, the choice of nature for Adina, Sher believes, while the rambunctious Belcore would have represented the Austrians. When Belcore arrives, he insists that those who don't agree with him must "capitulare"—capitulate! It's a word Sher seizes on. "That's not a word you use in love stories," he says. "That's a word that comes up in military circumstances."
It also, he adds, explains why Adina tortures Nemorino so much by entertaining Belcore's advances. She has little choice but to tread delicately. "She essentially appeases Belcore because in that era he could simply take over the farm. You could take all of your soldiers and just say, 'Okay, you're not going to do what I want, you're not going to agree to marry me? I'm taking over anyway.' She's trapped by it, and she has to find her way through it. And she plays the game all the way through."
"Rather than just a light comedy, L'Elisir d'Amore is a stylish and refined opera, characterized by a rich and sophisticated orchestration, in particular the extraordinary use of the winds, who emphasize the psychological and emotional aspects of individual characters, so to define them," explains bel canto conductor Maurizio Benini. "Rossini was the greatest composer of the moment, and certainly all of Donizetti's first works were undoubtedly influenced by him. But L'Elisir d'Amore brings in a new language, which contains the romantic nuances that established Donizetti's success in the music world as a recognized, absolute genius."
Was this genius also a closet revolutionary? That's too strong to say for sure, but what is certain is that, at that point in time, had he pushed the dial much further, he would have risked attracting some very unwelcome attention. And knowing all of that, suggests Sher, leads us to better appreciate the big showpiece moments: "You get to 'Una furtiva lagrima,' to those great arias, and you enjoy them more because you're inside of the actual circumstances of the story. They reveal themselves with the emotional, human weight that was originally intended. And if we can make it feel a little bit like that, I think we have a chance of making something good."