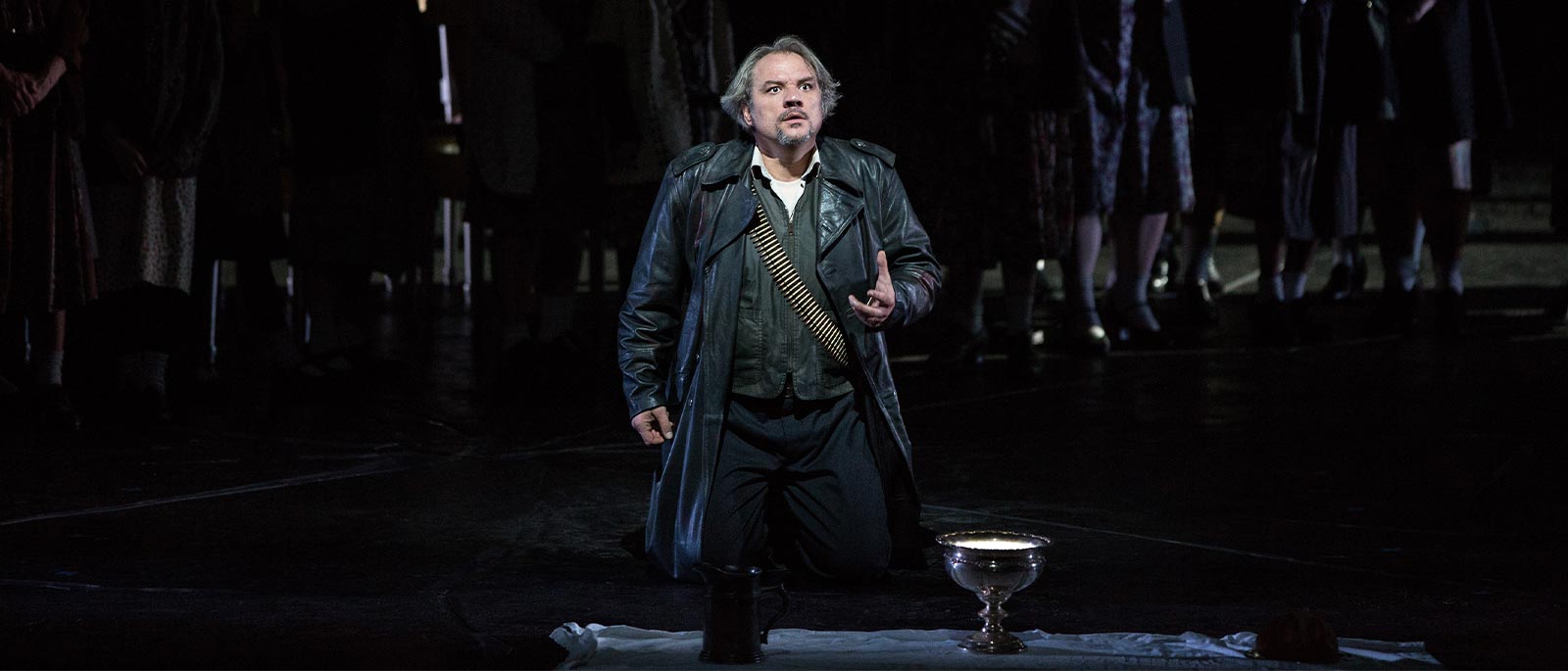 Something Wicked This Way Comes
Verdi's sublime adaptation of Shakespeare's savage Macbeth received a compelling new Met production by director Adrian Noble in 2007. By Matt Wolf
Most people know—or think they know—Macbeth, one of Shakespeare's bloodiest and most dramatically compressed tragedies. But there are surprisingly few opportunities to get acquainted with Verdi's 19th-century opera inspired by the play. The Met rectified that lapse with a new production of the opera in 2007, directed by the onetime leader of Britain's Royal Shakespeare Company (RSC), Adrian Noble. And the choice of director was a sensible one: If you've staged the Shakespeare play three times, helping steer such Macbeths as Jonathan Pryce and Derek Jacobi, why not make your American opera-directing debut with the Italian composer's singular take on Shakespeare's ultimate power couple?
Macbeth the opera, says Noble, "feels like a stepbrother to the play. I don't think it's that different, though obviously it sits very strongly in a robust 19th-century operatic storytelling tradition. That said, Verdi strikes me as being not only a great lover of Shakespeare but a man who has quite considerable insights into Shakespeare."
Play and opera, then, exist on the same spectrum—one Noble can preside over like a fond paterfamilias who clearly knows the terrain.
Noble has spent much of his career associated to some degree or other with the RSC, first as one of its directing regulars and then for 13 years as the company's artistic director and chief executive. He vacated that position in 2003 to take on the West End musical Chitty Chitty Bang Bang (which later came to Broadway). In addition to his clear fondness for the Bard, he has distinguished himself particularly with the plays of Chekhov and Ibsen—the first via an acclaimed Three Sisters for Dublin's Gate Theatre; the second courtesy of various RSC mountings including The Master Builder and Little Eyolf, both of which featured the director's wife, actress Joanne Pearce.
Noble made his opera-directing debut with a 1981 Don Giovanni for Kent Opera, which was followed at the end of that decade by The Faerie Queen in Aix-en-Provence. That production led to a second Aix-en-Provence assignment, Monteverdi's The Return of Ulysses (also seen in New York), and a Mozart / Da Ponte cycle with the conductor William Christie in Lyon; another Don Giovanni came next in 2008.
"These are really, really marvelous pieces," Noble says of an operatic repertoire that he is only now beginning to explore fully. "Opera is so much more international. Even in England, when I was working on The Magic Flute at Glyndebourne, there were always three or four languages in the room, and the people who work on it come from all over the place as well." Opera venues can astonish, too. "The Met stage," says Noble, sounding touchingly awestruck, "is so immense!"
How, then, did he animate the enormous space? Noble sets the piece in near-contemporary times but in a nonspecific setting. "I suppose it will end up being more contemporary than period, but I don't think you'll come away thinking, 'Oh my goodness, they've set it in Iraq.' I've never done anything like that, and I'm not about to start now.
"I hope every choice that I've made is one that will enlarge the opera and amplify its resonances. It will have a modern feel but with a sensuality about the design, which I think is reflected in the music. This isn't an empty room with bare walls; I don't really do those. I don't like going to see them, so why should I do one myself?" It helps that Noble has worked with designer Thompson (Art, Mamma Mia!) before, recently on a West End revival of the Jean-Paul Sartre play Kean, starring Antony Sher.
Thompson describes this Macbeth as paying homage to the 19th-century Romantic movement, however much the mise-en-scène is itself late-20th century. The terrain will be a blasted forest, a ravaged heath, with some of the visuals influenced by the photography of Diane Arbus. "It seemed to me that Arbus's photos would be a very interesting way in—to look at pictures of the displaced, the dispossessed, the mentally ill," Noble says. "It's as if their bodies have been borrowed and they are expressing a will that isn't necessarily theirs individually."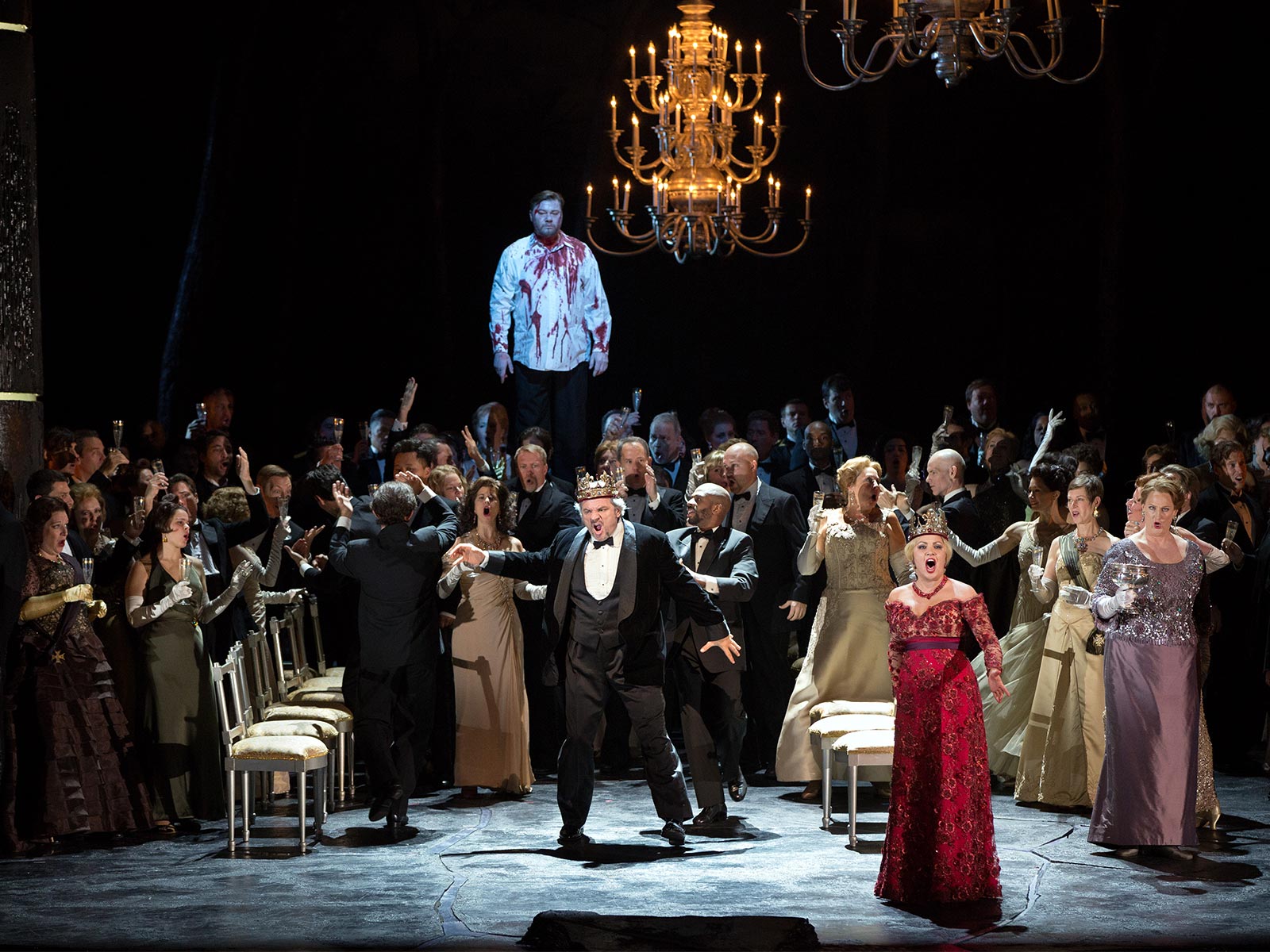 Those grimly charismatic, compulsively watchable individuals who are the Macbeths form a frightening duo whose balance of power plays out rather differently in the opera from how it does in the play. It's entirely possible in Verdi's treatment of events to tip Lady Macbeth the upper hand, and not just because she gets some of the opera's boldest music. In the play, as Noble is ideally placed to observe, "women who play Lady Macbeth can feel slightly frustrated: She has the scene at the banquet and then reappears barking mad and dies offstage. Verdi comes at it a different way, with Lady Macbeth actively involved in the music that leads up to the assassination of Banquo. In the play, it's as if her madness comes through acts of public and personal denial; in the opera, the madness comes through just getting herself too covered in blood. Verdi gives Lady M. a lot more time on stage, a lot more involvement."
Throughout, Noble embraces those areas where the opera departs from the play and Verdi leaves his own imprimatur on a Shakespearean template. In the play, Noble says, "the really problematic areas are those scenes where we go to England; the aftermath of the coup d'état, if you like. Verdi deals with that in a masterly way with the invention of the refugees: You don't have the death of the Macduff children on stage, but what you do get is this huge and mighty expression of displacement followed by an individual expression of grief"—not to mention a musical texture that makes the opera in some essential way a grander thing than the play, which is famously the most distilled and economical of Shakespeare's supreme tragedies.
"You can smell the world in which Verdi was writing it," says Noble of the opera, citing the Risorgimento, the Italian unification movement encompassing the political upheaval of the 1840s that followed soon after Macbeth's premiere. "It was a time of change and revolution, of regime change, if you like." Noble says. "There are echoes here of the 20th century, if not also the 21st." Not for the first time, the director is embarked on a work fully of its period that, done empathetically, can't fail to connect to our own times as well.