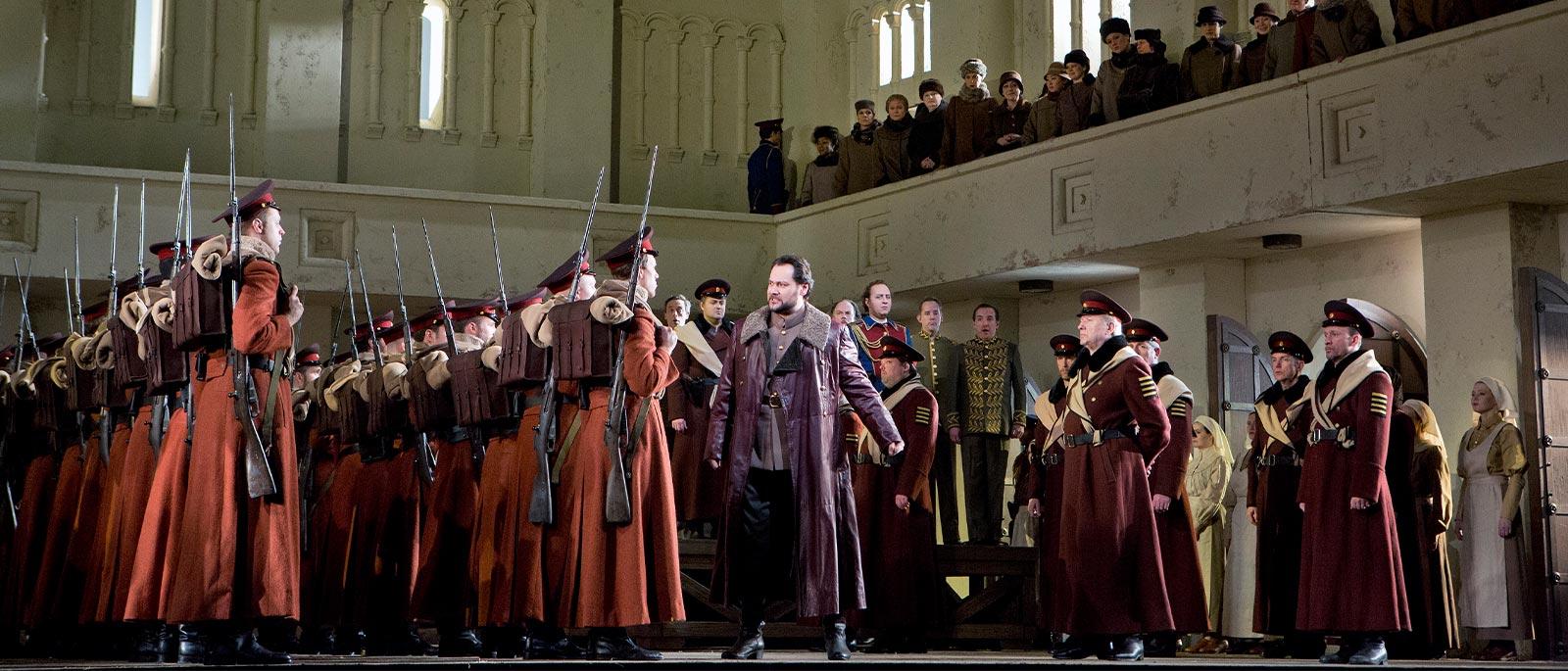 Royal Return
Director Dmitri Tcherniakov spent countless hours poring over scores, research, and other historical documents to piece together a new, theatrically bold vision of Borodin's defining Russian epic, Prince Igor—which returned to the Met for the first time in nearly a century in 2014. By David Shengold
Prince Igor is back! Just as the title hero of Borodin's bracing opera returns to his Russian homeland after captivity among the Polovtsian hordes, the work itself—tuneful, influential, raising artistic and political questions still at play today—came back to the Met's repertory during the 2013–14 season for the first time since 1917. This bold Met undertaking offered the first serious re-appraisal of the score in many years, based on archival research and daring theatrical choices by the powerhouse team in charge of a largely Slavic, Russophone cast. Milan-born Gianandrea Noseda was Principal Guest Conductor of St. Petersburg's historic Mariinsky Theatre—which premiered Prince Igor in 1890—for more than a decade, and at the Met he has led Prokofiev's War and Peace (alongside Verdi works). Director and set designer Dmitri Tcherniakov stands at the forefront of world-class operatic artists working today, his productions represented in all the leading musical capitals. The Met's new Igor was Tcherniakov's first original work on U.S. shores. His only previous trip here was to oversee his brilliantly revisionist mounting of Rimsky-Korsakov's Invisible City of Kitezh for the Mariinsky's Met visit of 2003, its warm reception leaving him "happy like a little boy."
Its sexy/exotic reputation established in 1909 during Diaghilev's famed Parisian Ballets Russes seasons, Prince Igor graced the old Met (in Italian translation!) with some then-ranking stars (Pasquale Amato, Frances Alda, Adamo Didur) from 1915 to 1917, in part reflecting American sentiment for supporting Russia, battling under steep odds with Germany in World War I. The opera per se hasn't been totally absent from New York stages: City Opera mounted it in 1969 and 1994, and the visiting Mariinsky Theatre brought a very traditional production to the Met stage in 1998. But what audiences heard and saw at the Met in 2014 was a new, concentrated interpretation, free of the musical excrescences and kitschy images that have often impeded an appreciation of the opera's particular individuality and special beauties.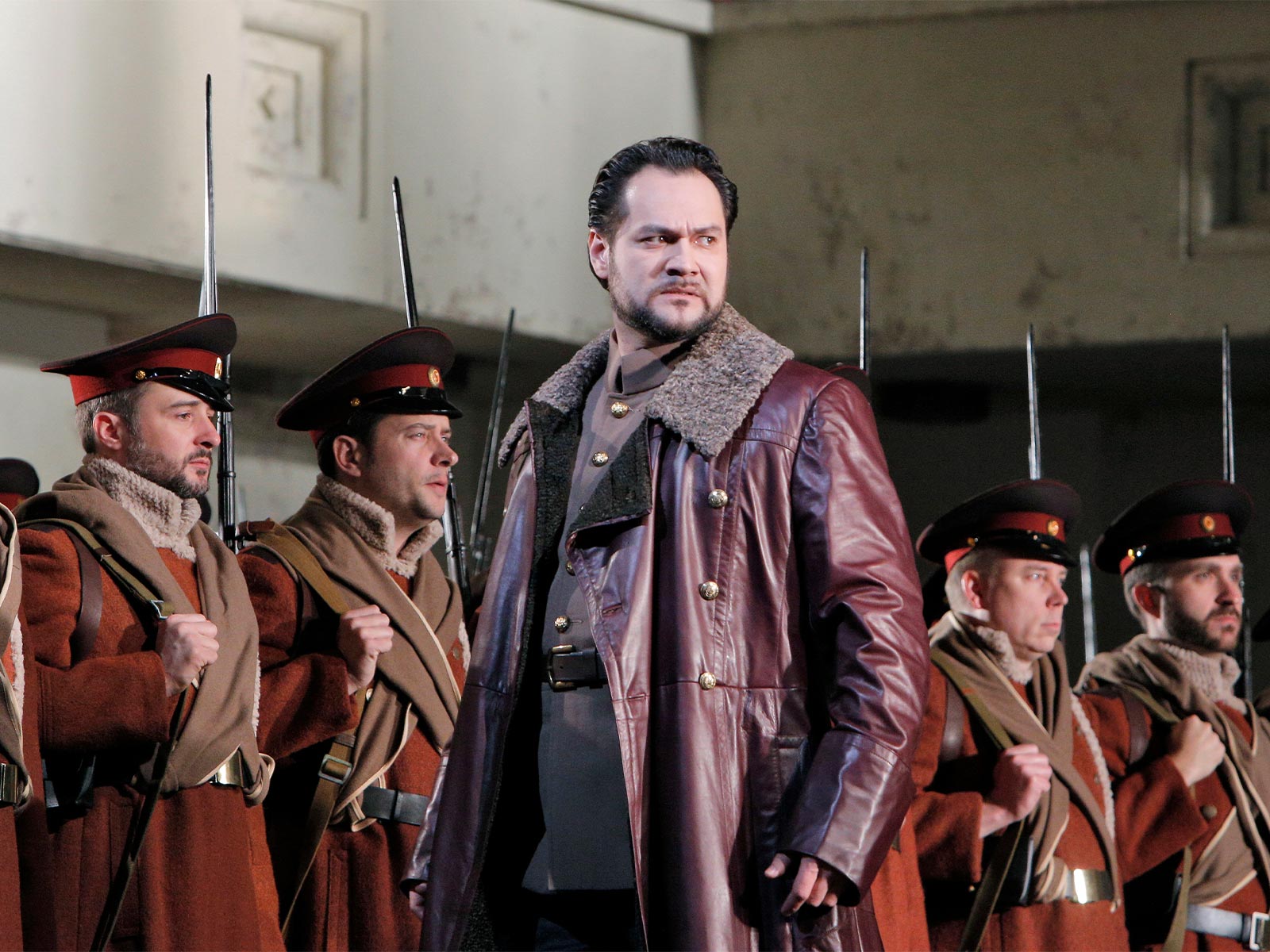 Borodin—who divided his time and energies among research chemistry, advocating women's medical education, and musical composition—left the score radically incomplete on his sudden death at 53 in 1887. His trusted associate Nikolai Rimsky-Korsakov and his student Alexander Glazunov added orchestration where needed (Borodin had done 185 out of 710 pages, Glazunov did 157, and Rimsky the rest), in places patching over gaps with new composition. These additions included the splashy Broadway-style overture, entirely by Glazunov and the first item Noseda and Tcherniakov excised in order to present the essential Prince Igor. (The goal was to get away from what Russian music expert Richard Taruskin has called "that baggy monster of hormone-enriched Russian cabaret, that steamy borscht of harem girls, church bells, high nationalism, and basso profundo.")
The plot is based on a medieval manuscript of unclear origin that became an acclaimed document of Russian nationalism and imperialism as those tendencies asserted themselves in the post-Napoleonic 19th century. At the time, Russia was pursuing an eastward expansion policy into Central Asia parallel to America's westward Manifest Destiny. According to the "Igor Tale," in the 12th century, when the proto-Russian Kievan state (Rus') was a rabbit warren of small principalities easily conquered by Turkic and Mongol invaders, Prince Igor of Novgorod-Seversk left his capital under the sway of his second wife Yaroslavna's wayward brother (Galitsky) on a campaign against the nomadic Turkic Polovtsians. Vladimir Nabokov, who made perhaps the definitive translation of the "Igor Tale," famously called the historical Igor "insignificant, shifty, and pugnacious." But the epic, literary one, ennobled by Vladimir Stasov's libretto and Borodin's music, fights for "faith, homeland and Rus'." The campaign goes badly; Igor and his son Vladimir are captured by the entertaining, generous, and crafty Khan Konchak (whose mettlesome daughter catches Vladimir's eye and loyalties). Things back in Igor's home city of Putivl deteriorate under Galitsky's misrule until Igor escapes and returns—virtually alone, like Odysseus to Ithaca—to pick up the pieces.
If the external plot sounds complicated, it is Igor's internal journey that fueled Tcherniakov's production, with the accomplished and charismatic bass Ildar Abdrazakov singing the title role. "Igor returns to his principality to find it in ruins," the director explains of the character's journey. "He starts trying to find himself in this ruined world, which he had left behind some time ago. He tries to find himself, to find his place, and all the people try to somehow turn a new leaf and begin living differently—under different circumstances. The finale of the piece exists as a question: What does Igor obtain when he returns home from captivity? This is the most interesting act, and in our production we will focus most of the attention on it." Often, the Polovtsian act looks garish and "exotic," like The Thief of Bagdad or Kismet. (The surging choral strains of Igor's instantly recognizable Polovtsian Dances famously spurred that 1953 Broadway show's hit song, "Stranger in Paradise.") Not here: Tcherniakov's breathtaking sketches show a vast, gorgeous field of red poppies, suggesting the dangerous lure of sensuality—and perhaps utopianism—away from Igor's accustomed moral universe: "a huge, open, boundless space with an open horizon, an open sky, and full of the vital power of nature," the director states. "The Polovtsian Dances will be staged by Israeli choreographer Itzik Galili, a prominent artist in contemporary dance. Those dances will play quite an unusual role in the production—nothing to do with traditional pseudo-orientalism, but rather tracing the most important part of Prince Igor's own narrative."
The conductor and director consulted with musicologists and pored over the historical score, which incorporates all of Borodin's music intended for Igor. "Those fragments belonging partly or entirely to Glazunov or Rimsky-Korsakov's pen, and based only on short authentic fragments by Borodin, won't be in our version," Tcherniakov explains. "But we were surprised and excited to find almost unknown pieces actually by Borodin. For example, we'll use the orchestra scene 'The River Don Floods,' a scene with Galitsky and his gang rioting, and the rarely performed second monologue of Igor—a big confessional and dramatic piece, totally different from his traditional, popular aria. The second monologue comes closer to Mussorgsky's language."
Prince Igor boasts sensational arias and duets; lovers of great tunes and great singing will welcome it. Of the artists who first appeared in the work in 1890, history remembers baritone Ivan Melnikov—the versatile creator of Boris Godunov and Tomsky (in The Queen of Spades)—and, as the comic foil Skura, bass Fyodor Stravinsky, whose baby son (named in honor of Borodin's opera) would bring new glories to Russian music.
Tcherniakov says of Borodin and his opera: "His is a kind of elemental art. It's vividly colorful music—perhaps more so than any other Russian 19th-century operatic music. It is exuberant. It always conveys a sense of extremely rich texture—of overabundance, a kind of overpowering blossoming, always, in every musical episode. I would like for the audience to be able to appreciate this sublime and grandiose music. But also, this story touches on all of our lives in some sense, because it's about certain difficult human things. I would like for us to be able to take these characters seriously, as we take each other seriously."