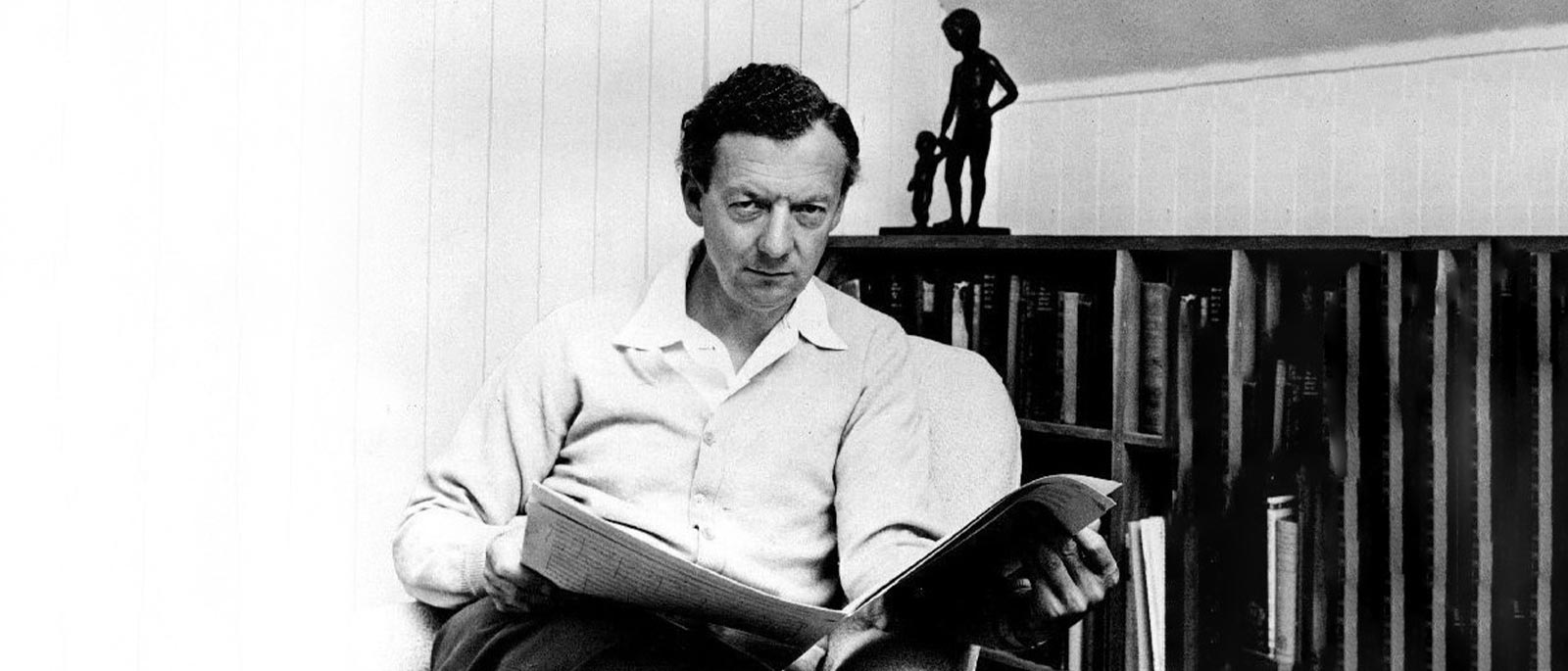 Remembering Benjamin Britten
One of his nation's most celebrated composers, Benjamin Britten had an unparalleled impact on the English operatic repertoire. In 2008, the Met assembled the below reflections on this musical genius from some of his friends and colleagues.
Steuart Bedford
Conductor of the 1973 world premiere of Britten's Death in Venice
I first met Britten when I was a child, about 1947. My family had a cottage down in Snape, and he used to visit quite often. From 1967 to 1976, I worked very closely with him ... He was really a very shy character. He surrounded himself with people he knew he could trust. Strangers were not very welcome. He worked incredibly fast and would go for long walks on the beach and work everything out in his head before he actually wrote anything down ... He did tend to shy away from anything over-emotional. That's the reason he couldn't bear Puccini. But then came an extraordinary point: At the end of The Turn of the Screw he resorted to a very Pucciniesque reprise. And he never quite knew what to do with it. I think it slightly embarrassed him having done it. It is a wonderful moment when the governess reprises the song the boy sang way back in the first act. Rather like Cavaradossi's tune at the end of Tosca.

John Shirley-Quirk
Baritone who created roles in each of Britten's last five operas, including the Traveller in Death in Venice
I was an amateur singer in London and wanted to be a professional and was doing the rounds. I got an invitation to sing with the Ipswich Bach Choir. Ipswich is very close to Aldeburgh [Britten's festival], and Peter Pears was to sing the tenor stuff. At the end of the performance, a gentleman I did not recognize came up and said, "I very much liked your D-Major aria." I was so green I had no idea in what key I had sung. That gentleman was Benjamin Britten ... One summer I went to Britten's home, Red House, to rehearse a particular Schubert song. It was as good a summer's day as you could ever get in Aldeburgh–bright sunshine and beautiful. But Ben started playing the introduction [on the piano], and I had mental pictures of leaves and twigs and violent wind blowing past my head. He had a marvelous ability to create pictures in people's minds when he played. He was an extraordinary pianist ... When Ben liked somebody and felt comfortable, he was charming. That took a lot of doing, but once he trusted you he was delightful fun.

Philip Langridge
English tenor known for interpretations of such Britten roles as Aschenbach in Death in Venice, Peter Grimes, Captain Vere in Billy Budd, and Quint in The Turn of the Screw
I only sang once with Britten, in Bach's St. John Passion on Good Friday in the early 1970s. I was engaged for the arias, and Pears was to sing the evangelist. Unfortunately, he was sick, and I was asked to work on the evangelist part with Britten. He seemed genuinely pleased with my work, and I was on cloud nine. At lunch, [baritone] Thomas Hemsley warned me to be careful and not to sing too well, but I thought this was completely ridiculous. However, he was proved right, because at the rehearsal following lunch Pears miraculously appeared, coughing and obviously very ill, and I was put firmly back into singing the tenor arias, while Pears tried valiantly to sing the evangelist. The performance was electric, an extraordinary experience I will never forget.

Andrew Porter
Writer and lecturer on the subject of opera; former classical music critic for The New Yorker
One of my earliest assignments was to write a liner note for a recording of Britten's orchestral suites after Rossini. I couldn't trace all the Rossini sources, and wrote to Britten to ask him about those that had stumped me. He wrote back in detail, revealing, incidentally, that the final Matinée Musicale of this series was composed from the memories of the Rossini vocal exercises that his mother used to sing ... I fell from favor in 1953 after my long review of Billy Budd in Music and Letters. I thought it was appreciative, but it was apparently not appreciative enough. The general critical reception of the opera wounded Britten.

Colin Matthews
Composer who worked closely with Britten on orchestrations
I first got into contact with Britten towards the end of the 1960s as a copyist and editor for his publisher, Faber Music. Subsequently, I became his assistant for the St. John Passion and Schumann's Faust at Aldeburgh. After his heart operation in the summer of 1973 I worked on virtually all the music that he wrote in his increasingly weakened state. His last two works were choral and orchestral, and he asked me to orchestrate them, as he found it too tiring to work on a large score ... My most vivid memory is of the last time I saw him, less than two months before his death. I did not suspect that we would not meet again–we had in fact fixed the date for our next meeting–but I believe that he knew how short a time was left to him, and he said a very fond goodbye. There are many things that I now wish I had asked him.