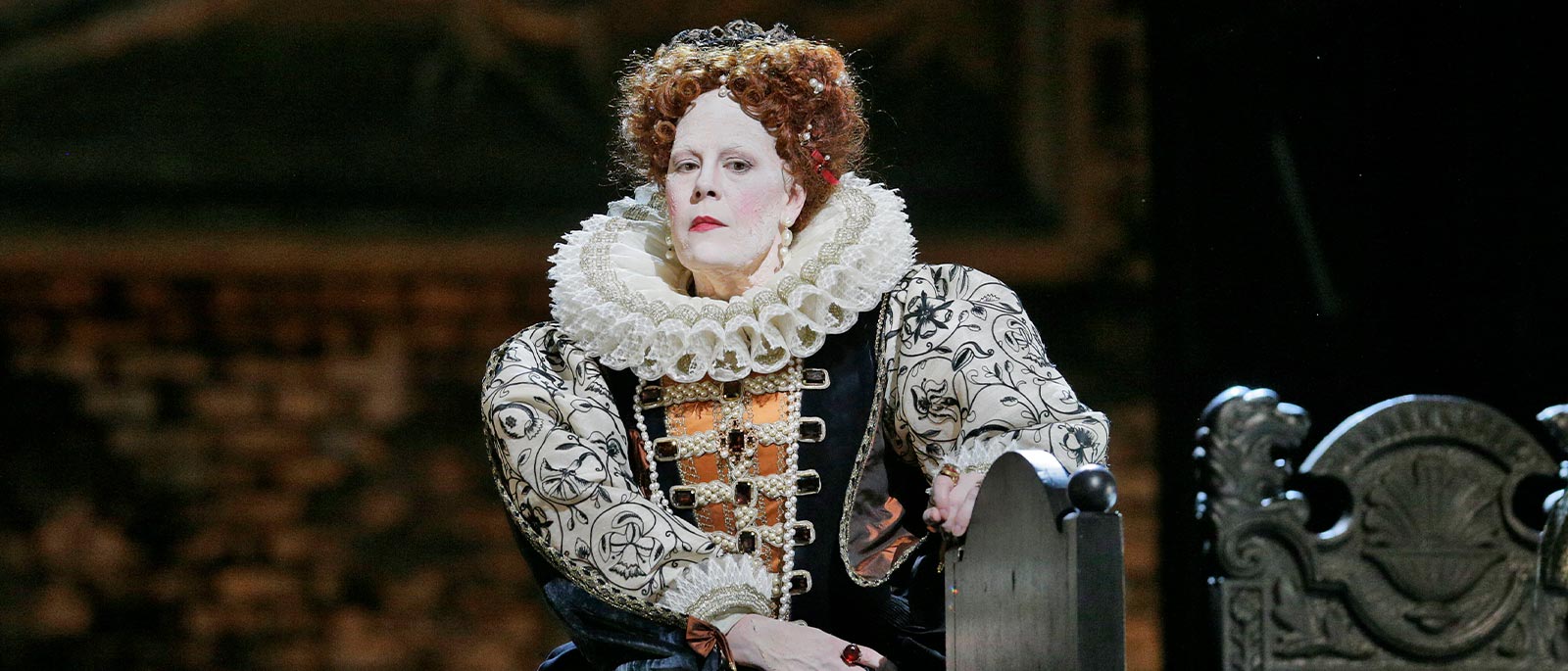 Queen for a Season
Back in the mid-1970s, Beverly Sills confirmed her status as prima donna assoluta when she sang all three of Donizetti's Tudor queens—the title heroines of Anna Bolena and Maria Stuarda and Elizabeth I in Roberto Devereux—in a single season. Sills herself called this New York City Opera bel canto hat trick "my finest achievement," and it landed her on the cover of Time. During the 2015–16 season, for the first time in 40 years, another soprano took on this herculean task on a New York stage when Sondra Radvanovsky tackled all three leading roles in what her director, Sir David McVicar, proclaimed "a one-woman Ring cycle." On the eve of this royal feat, Radvanovsky spoke to the Met's Matt Dobkin about the challenges of her queenly season.
You'll be arriving at the Met soon to rehearsals for your big Tudor queen season. How are you preparing?
You know, opera singers are athletes. What we do is very athletic. Not just those two little muscles in our throat, the vocal cords, but the rest of our body. So I'm really focusing on just making myself the strongest—not only physically, but also mentally—that I can be for this. Because performing these three operas is like being a triathlete in a way. For Christmas, knowing that I was doing the three queens, my husband bought me this wonderful Precor machine. It's down in our basement, and he set up a whole gym for me, with a big television and an audio system. I go there for an hour or two every day, with the music on in the background. I retain music better when I'm in motion.
Let's go back to the beginning. When the Met approached you and said, "Hey, we'd like you to do all three Tudor queen operas in a single season," what was the first thing that went through your mind?
"You're crazy." [Laughs] I said, "Honestly, I would love to tell you yes or no, but I have never heard all three of these operas!" That's how remote of an idea it was for me. So I said, "Give me a week, let me go sing through some of this." But I was already kind of heading in that direction, vocally. I had a Norma planned—I just didn't know these three operas.
You are very open about the vocal surgery you had in 2003 and the fact that you essentially had to relearn how to sing. Did that factor in your decision to make this detour into Donizetti, after being primarily a Verdi soprano?
That's a great question and a lot of people don't ask it, because there's such a stigma attached to vocal surgery. But, you know, athletes have the same issues. I had originally learned how to sing with this impediment, this bump on my cords, which was something I'd had since I was a child. But it had gotten to the point where I had to have two days off between performances because I would go hoarse, because I was singing so much that the polyp in my throat started to interfere with my technique. It was good enough, and I probably could have gotten by for another five, ten years, but having the surgery was like finding my true voice. Before, I was singing with an impediment, like a baseball player with a rotator cuff issue. And there was a price I was paying for singing, not just vocally, but personally—I couldn't go out with my friends after a show because I had to protect my voice. I couldn't do too many interviews. And it got to the point where I said, "I'm sorry, but living life is more important than singing, so if I lose my voice in this surgery, I would be really, really sad because I love singing more than anything. But I have to do this for my life." And what happened is that the surgery uncovered this whole other aspect of my voice, this very high and soft singing. It actually added more of an extension at the top of my voice.
The first time you sang after the surgery, were you terrified?
Of course! I couldn't even speak for four weeks. Not one peep. So yeah, the first time I spoke, I went into the office of my doctor, and I was still miming, and he said, "Sondra, it's okay, you can talk." He looked at my vocal cords before I started singing and said, "You're fine, Sondra—100%. Go and have a great career."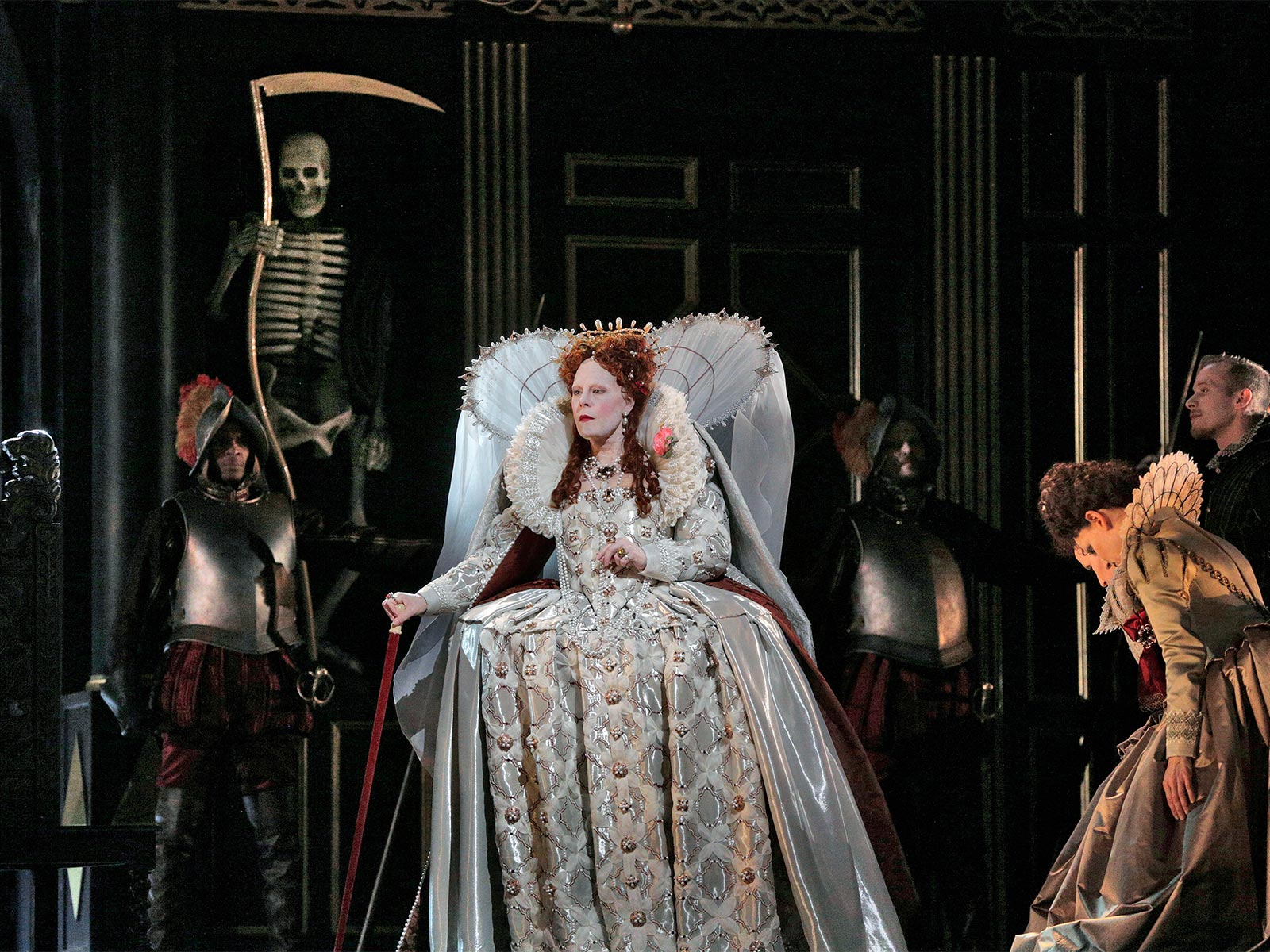 Let's talk a little bit about these three roles, because I know the vocal character of each is quite different.
Well, let me first say that Donizetti did not write these as a trilogy. He didn't necessarily mean for them to be sung by the same person. Anna Bolena is a full lyric soprano role. She was notorious for being hotheaded. She's a very strong-willed character, and that shows in her vocal writing. The tessitura is the lowest, and you have to be careful, because she has a lot of vocal outbursts, and it is by far the longest evening, vocally. Then we get to Mary Stuart, who was a very religious woman, who has turned to God, so she's very different. Except for the confrontation scene with Elizabeth—which is the highlight of the opera—she has really beautiful, melancholy music, very reflective and very pious.
And what about Devereux?
Elizabeth I, for me, is the strongest of these three characters by far. She's at the end of her life, and it's a life that she didn't choose, a life that was put upon her. You will be queen. You have no choice. She's this very bitter, angry woman. Vocally, it's the most demanding with all of the coloratura and outbursts and anger and bitterness. And then she turns on a dime and says, "Oh, what did I do? What did I say? I'm so sorry. I'm so sad." In two beats, she can go from screaming her head off to basically crying. So at the end of Roberto Devereux, I'm exhausted.
How will your director, David McVicar, help you get through it?
I am so excited to be working with Sir David. We did the new production of Il Trovatore
at the Met. He's one of those directors who takes the time to get to know how I work, what things make me excited on stage, what are my strong points and what are my weak points. He does that with all of his artists, and I think that's why he's such a great director.
It's impossible to talk about singing all three queens in a single season without addressing the Beverly Sills factor. Are you feeling any pressure from the inevitable comparison?
I'm trying not to, but it keeps being thrown back in my face! What Beverly did with these roles is amazing. I wish she were still around so I could have lunch with her and talk about how she tackled all three! I only met her once. I was going down the stairs of the lobby as a young artist at the Met, and she was there, talking to someone. I started shaking, because she was so influential in my becoming an opera singer. So here I was, close to tears and shaking, and she just looked at me and said, "Can I help you?" Who would have known that 20 years later—my 20th season at the Met—I'd be tackling the same feat she did?
One last question: I assume at the end of the season, when all is said and done, you have a big vacation. What are your plans?
I go directly to Paris and sing ten Aidas!