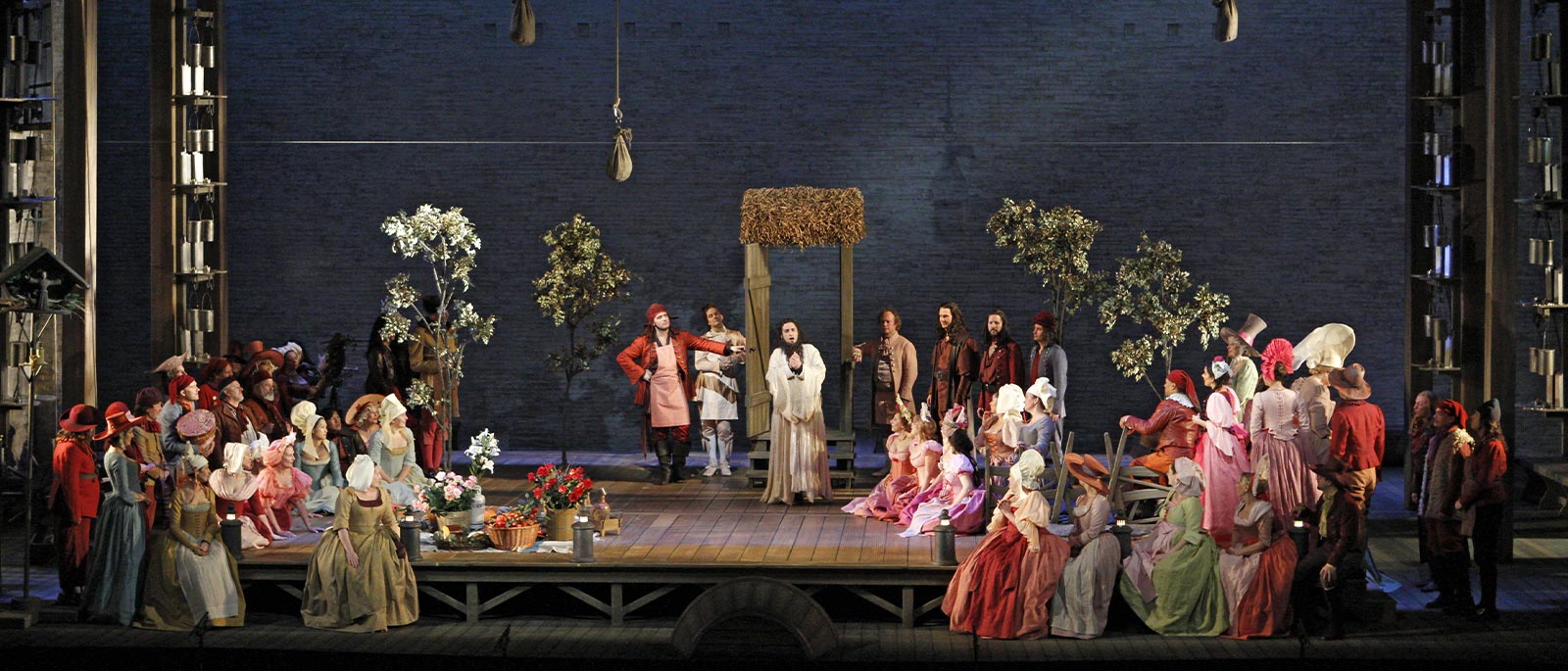 Nun Shall Pass
What does it take for Juan Diego Flórez to sneak into Diana Damrau's castle? In Rossini's Le Comte Ory—which had its Met premiere in Bartlett Sher's 2011 new production—a nun's habit, mood lighting, and a divine vocal gift. By Philipp Brieler
Imagine a picturesque medieval country where most of the men have gone off to fight in the Crusades several thousand miles away. Among the few who have remained behind is a young nobleman intent on seducing as many women as he can. His eye on one virtuous countess in particular, he disguises himself and takes up residence outside her castle to plot his next move. When his cover is blown, he boldly decides to make another attempt at conquest by dressing up as ... a nun.
This is the implausible but charming story of Le Comte Ory, Rossini's 1828 opera that had its Met premiere in March 2011. Tony Award–winner Bartlett Sher, who made his Met debut with a staging of another of the composer's great comedies, Il Barbiere di Siviglia, directed the new production. Coming toward the end of a season populated by gods, kings, and presidents, Le Comte Ory—with its Don Giovanni-in-training hero— might seem like light fare. But this, Sher points out, is precisely the point. "It's an extremely delicate operatic experience—like bubbles on top of a glass of Champagne," he says. "It's not a big meal like a Verdi opera, more like a really special dessert at the end of a wonderful dinner." And Rossini's musical inspiration elevates this course to something not just delicious but moving and memorable.
To bring out every nuance of flavor, the Met assembled an extraordinary cast, led by three of today's greatest bel canto stars: tenor Juan Diego Flórez in the title role, joined by soprano Diana Damrau as Countess Adèle and mezzo-soprano Joyce DiDonato as the page Isolier. All three singers previously collaborated with Sher on Barbiere, as did the maestro, Maurizio Benini.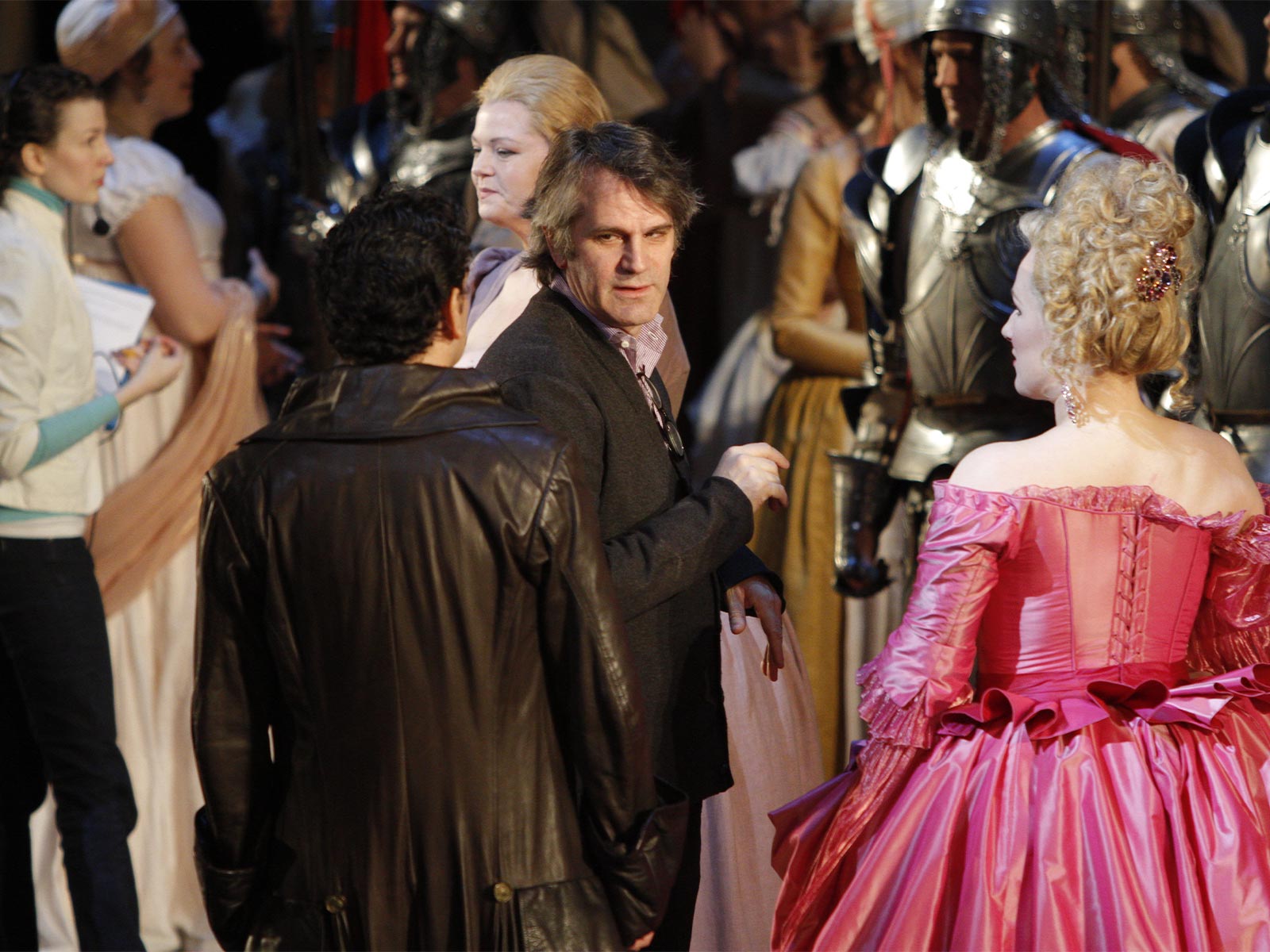 Bartlett Sher in rehearsal
Staging an intimate comedy in the vast space of the Met is a challenge—as Sher knows well. For Barbiere, he transformed the stage into a maze of ever-shifting doors, with a passerelle extending over the orchestra pit to bring the singers closer to the audience. Le Comte Ory suggested a different strategy. "At the heart of my approach to this piece is a love of theater," Sher explains. "So I thought it would be wonderful to see it inside of a theater and actually watch the mechanisms operating—thunder sheets and wind machines and drops being pulled." Adding this extra layer of imagery—while keeping the story itself intact—will give the audience a more intimate, firsthand connection to the characters and their relationships. "By constructing this theatrical environment," Sher adds, "we make the Met a little bit smaller and bring in the walls as far as we can."
For the design, the director turned to longtime collaborators Michael Yeargan (sets) and Catherine Zuber (costumes), both Tony Award–winners for Sher's productions of The Light in the Piazza and South Pacific (as well as veterans of the Barbiere at the Met, not to mention countless other theater and opera works). Yeargan based the look of the set on a historic theater in Parma. "It's an extraordinary space that appealed to both of us as a place in which the opera could happen," Sher says. "We're using it as the frame, the footprint for our stage. It's very elegant and very simple."
The staging remains true to the libretto while framing the Middle Ages setting within a 19th-century theatrical treatment. The color palette of Zuber's costumes was inspired by Hieronymus Bosch's painting The Garden of Earthly Delights; their shapes and forms, Sher says, are "all within the basic silhouette of the Middle Ages." But the costumes will be worn, as it were, by players in a 19th-century production.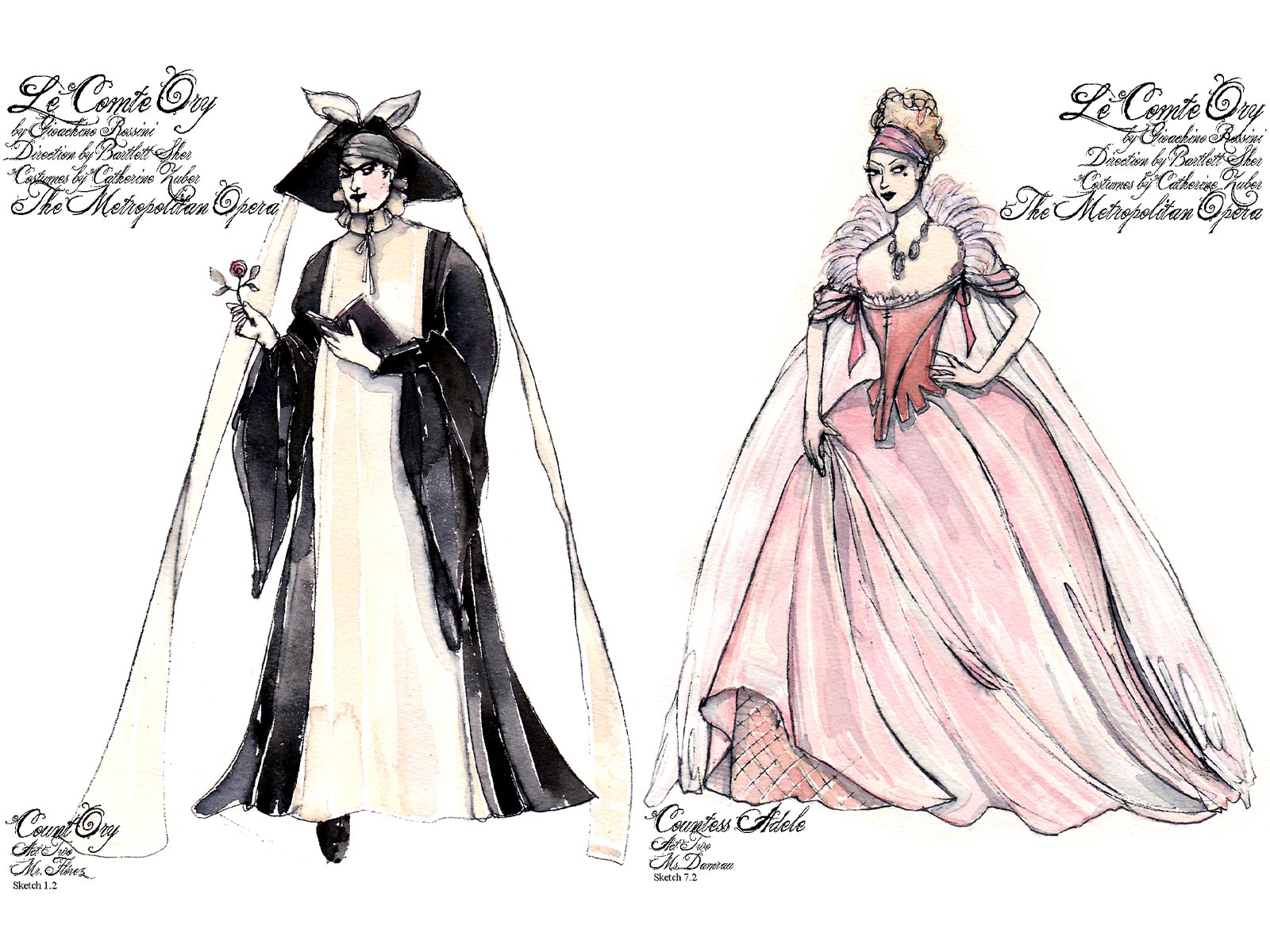 Costume designs by Catherine Zuber
Rossini's medieval comedy had an unusual genesis. He wrote Le Comte Ory toward the end of his operatic career, while he was living in Paris. Four years earlier, just after relocating to the French capital, he had been commissioned to compose an opera for the coronation of the new French king, Charles X; this became Il Viaggio a Reims. It only received four performances, and Rossini later borrowed several pieces from the score for Ory, one of a handful of his stage works to be based on a French libretto. (After this, he completed just one more opera, the epic Guillaume Tell, before retiring from the theater at age 38.)
"With Ory, Rossini was writing in what I think he believed was the French style," Sher says. "It's a bit tricky because it's sort of an Italian opera written in the French style." Four out of six numbers in the first act were taken from Il Viaggio a Reims; of the second act's seven pieces, only two had appeared in the earlier opera, which gives the score an unusual balance and color. "It almost feels like two operas," Sher declares. "The first act is what people would be very familiar with. It's quite Rossini-like, full of life, vibrant, with a grand finale. But the second act is completely different, stylistically. He caught up with the French style in the writing of it."
Instead of trying to visually patch up the musical duality, Sher decided to extend it to the scenic level and to make it a central element of his production. "The first act takes place exclusively in daylight, in vivid sunshine," he explains. "The second act, inside the countess's palace, happens at night. It's a private, sacred place, with the women in their nightgowns. It will be all in candlelight."
The nocturnal atmosphere of Ory's second act (the lighting design is by Brian MacDevitt) is nowhere more ravishingly captured than in the trio for the three leads in the penultimate scene. It has been called one of Rossini's supreme creations—and reportedly left the young Hector Berlioz gazing at the score openmouthed. This eight-minute flow of virtually uninterrupted melody, alternating between dialogue and ensemble sections, comes at a crucial moment in the story. Ory, still in his nun disguise, starts to make advances toward the page Isolier, mistaking him for the countess (who is also present). It's an astonishing combination of comic stagecraft, dramatic insight, and sheer musical bliss. "I have to be honest," Sher declares. "To have three artists like Juan Diego, Diana, and Joyce sing one of the most beautiful trio ever written."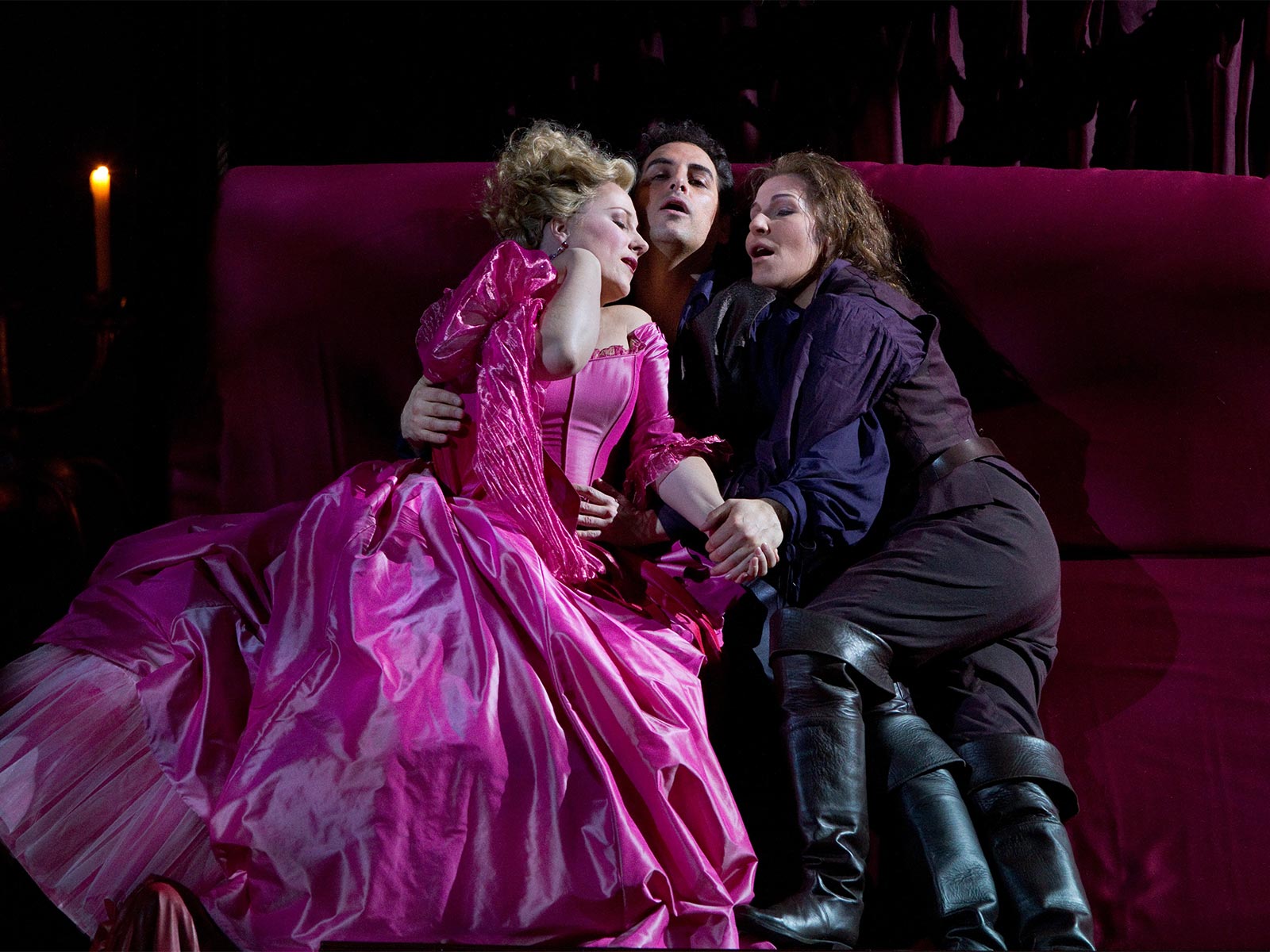 Indeed, thanks to its gorgeous score and Rossini's famously generous theatrical sensibility, Le Comte Ory adds up to more than a light comedy of manners and mistaken identities. It is also a meditation on love, gender, and—in Sher's production—the things that happen in that mysterious space between day and night. "Rossini is one of the great theatrical minds in comedy," Sher sums up. "He is endlessly inventive. But he also expresses something deeply human. And I love the deep sense of love that's in his music. You always feel more capable of understanding love when you get to the end of a Rossini opera."