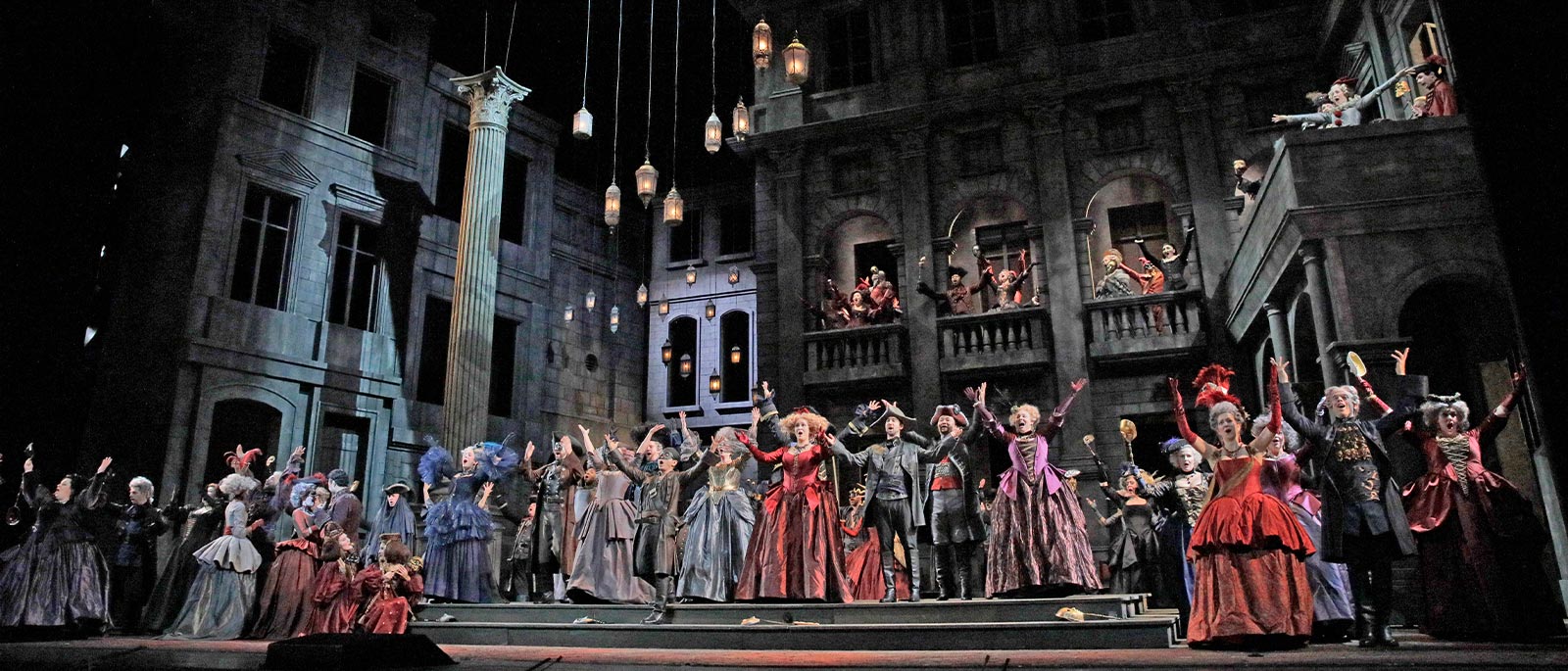 No Ordinary Love
Shakespeare by way of Gounod makes for a decadent, action-packed, and transcendent Roméo et Juliette, says Bartlett Sher. During the 2016–17 season, the Tony Award–winning director unveiled a new production of this sumptuous French opera. By Tom Samiljan
No playwright has had his works retold as many times and in as many different formats as Shakespeare. The bard's best-known plays are such intense, classic, and sturdy tales that they lend themselves uncannily well to other interpretations. "There are many ways to have iterations of Shakespeare—in film, in musicals, in opera," says director Bartlett Sher, whose acclaimed production of Gounod's 1867 opera Roméo et Juliette premiered at the Met on New Year's Eve 2016, after successful runs in Salzburg, Milan, and Chicago. "Opera's one of the best. It's a very good, expressive medium for Shakespeare, especially for certain plays, like Othello and Romeo and Juliet, which are just so heightened. You can really go for the scale of the playwright's expression in the music."
It also helps that Romeo and Juliet is often the first Shakespeare play students read in school, and even those who haven't read it inevitably know the star-crossed-lovers plot and a few of the most famous lines. This makes it easy for everyone from choreographers and film directors to composers and singers to focus on their respective art—the music, the acting, among others—rather than worry too much about making sure the plot is getting across. But that's also what makes it challenging.
"It's a very concrete plot," says Sher, "so it doesn't open up in the way Wagner, or even Faust, does to these sorts of radical deconstructionist interpretations." Sher's production, conducted at the Met by Maestro Gianandrea Noseda, remains very much set in a recognizable reality, Verona in the 18th century, but with a slightly surreal and madcap twist that becomes apparent in one of the opera's earliest scenes, the ball at the Capulets.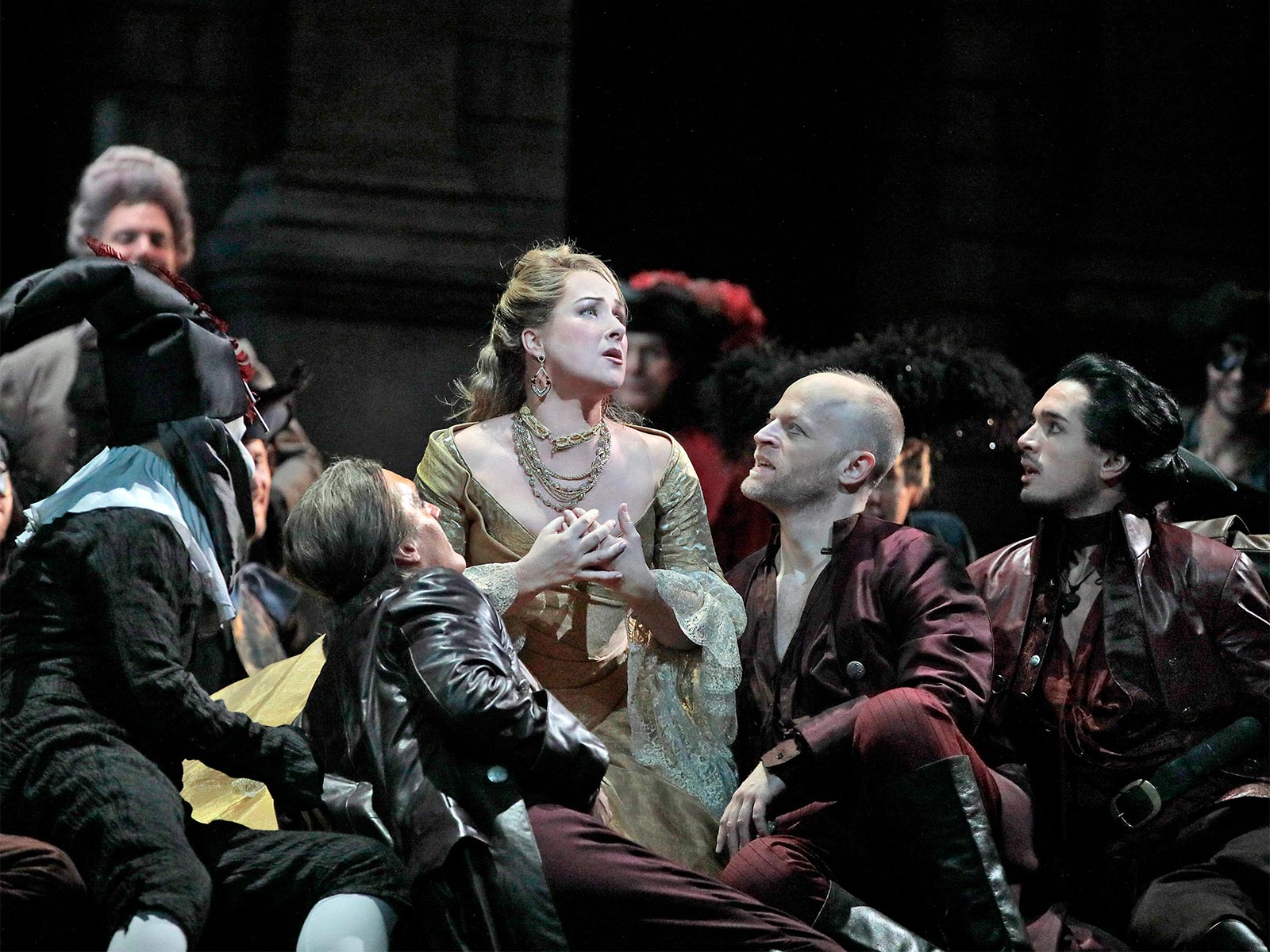 Besides covering their faces with all manner of Venetian carnival-style masks, the party guests are decked out in lavish gowns with ultra-angular panniers, over-the-top fascinators and other headgear, exaggerated hairdos in striking colors, ultra-frilly collars and shirt fronts, and all of this in loud and kooky hues like bright red and purple. If you think this sounds like a Fellini-esque take on the 18th century, you'd be right. Sher and costume designer Catherine Zuber were highly influenced by the Italian director's opulent and surreal 1976 film, Fellini's Casanova, which featured costumes by Danilo Donati (who won the Best Costumes Oscar that year, and, interestingly, also created the costumes for Met mainstay Franco Zeffirelli's 1969 film version of Romeo and Juliet). "I wanted the party in the beginning to feel more decadent and a little bit more layered, so the clothing is pretty extreme in terms of richness and wealth," Sher says. "Also, the 18th century is a bit friendlier when it comes to period stuff than the 16th century, in terms of how the clothes can look."
The extravagant costumes helped inform the fight sequences, too. Broadway, TV, and film fight director B.H. Barry, no stranger to Romeo and Juliet, having created duels for various versions of the story dozens of times, has said that the costumes reminded him of pirates. This in turn made him think of another cinematic legend, Errol Flynn, whose swashbuckling movies and style were ultimately an influence for this production's duels. The battle with Mercutio, Roméo, and Tybalt, for example, features lots of simultaneous movement all around the set, by both the fighters as well as the crowds, which makes for an engaging and cinematic scene overall.
Despite the 18th-century action and costuming in the production, Sher has nevertheless brought some of Shakespeare's 16th century into the mix with the set design and overall mood, which is inspired by Patrice Chéreau's 1994 film Queen Margot. Set in a similarly violent world with tensions between two warring groups—Catholics and Huguenots in the court of French King Charles IX—and a contrastingly sensual and private love story in between all the gore and fighting, Chéreau's film is full of narrow alleys and cramped spaces with very tall walls and buildings, along with a generally dark lighting and austere ambiance. "The biggest influence is Chéreau and his sense of height and design and imposing social structure around the piece," Sher explains. "Our set is a single space, but it's a composite of ancient, Italian, and grim."
In his play, Shakespeare explored the idea of individual love, free from the shackles of arranged marriages, but Gounod was much more about the power of music and the voice in opera to express love in more than just a romantic and passionate way. "Gounod is much more interested in the idea of love's transcendent qualities and how you can lift into it through the music," says Sher. "So he's very influenced by Wagner, and you hear and feel all this spirituality and longing in the music. And in these exceptional duets, he's really trying to reach God somehow." Gounod was serious in this endeavor, because Roméo et Juliette features no fewer than four stunningly gorgeous duets for the lovers—including an extended death scene for the title pair.
"In the end, when they're in the tomb together," says Sher of the "extra" scene the opera's librettists Jules Barbier and Michel Carré added (because what opera is complete without a final duet between the doomed lovers?), "when they see and talk to each other, it is unbelievably soaring and extraordinary, and so full of longing and possibility and mistakes that are made. It's deliciously tragic."