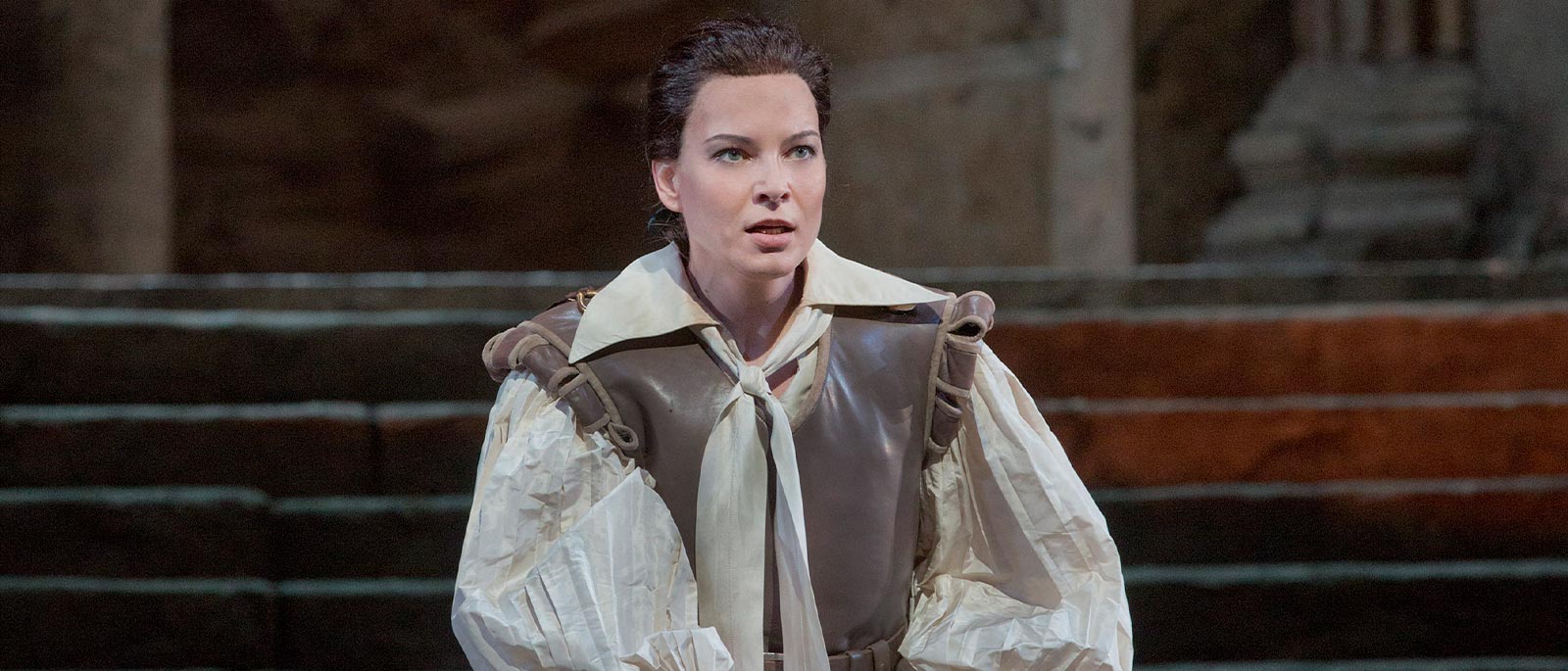 Mozart Mezzo
Before appearing as Sesto in La Clemenza di Tito in 2012, mezzo-soprano Elīna Garanča spoke about singing Mozart's sublime music, her character's conflicting emotions, and the challenges of playing a man.
Over the past few seasons you've scored major successes at the Met in two Rossini comedies and most recently as Carmen. Now you're singing your first Mozart role here. What attracts you to La Clemenza di Tito?
It's a very powerful opera, one of those dramatic opera seria pieces that really hit you in the stomach. Sesto, of course, is very popular with young singers. "Parto, parto," his famous aria with clarinet solo, is sung at every competition and audition, and it's a wonderful piece to draw attention for a young artist. It's part of the "golden repertoire." It's ironic, really, because this will probably be the last time I'm singing the role, and I also did Barbiere and Cenerentola for the last time at the Met.
Mozart's music has a reputation of being deceptively simple ...
It's true, he doesn't write all those portamenti and ecstatic phrases. But it's very instrumental, so you need to have enormous control of your intonation, your breathing, to be able to musically incorporate yourself into the orchestra. Take "Parto, parto," for example. It's really a duet, a love song between clarinet and voice. If you can't adjust your voice to the way the clarinet is playing, you'll end up having two different operas at the same time. It's like a wonderful ping-pong game where you have to know exactly where the ball is going so the other person can receive it and point it back to you. But the most difficult thing in Clemenza are the long recitatives, especially in the second act before Sesto's aria, "Deh, per questo," the long scene with Tito. That's just nerve and emotion and soul-breaking, for the listener and for the people on stage. It's very expressive and really gets down to your guts.
How would you describe Sesto as a character?
He's very easily influenced and he has his demons that he fights—his friendship, his loyalty, his love, his feeling of guilt and also surprise at himself of being capable of killing somebody, and then realizing it and completely giving himself up as a human being, as a lover, as a friend, as everything. He's really badly haunted by the outside world and caught in the middle of all those crazy wheels that are going on around him.

The formal structure of opera seria that Tito is based on had already gone out of fashion in Mozart's time. Does that make it harder to bring these characters to life?
It's a challenge. Many operas translate easily to modern days. Whether you play La Bohème on the streets of today or 100 years ago doesn't really make that much of a difference. But the morals of Clemenza, between the emperor and his charges, the people below him—that's hard to interpret and to make understandable for the audience.

You get to sing quite a bit of coloratura as Sesto, a challenge you also face in your Rossini roles. Do you approach it differently in this opera?
The technical capacity is the same. But I think Mozart coloratura in general is an expression of the feelings inside you. Rossini is much more extroverted. It often becomes just technical brilliance—you show your capacity of how many trills and jumps you can do. In Mozart, and also in Handel, unless you go really crazy with the variations, it's very much about your emotional state, what you want to express. You can make it very intimate and translate the emotions through your whole being.

You have a number of trouser roles in your repertoire—Octavian in Der Rosenkavalier, Romeo in I Capuleti e i Montecchi, Nicklausse in Les Contes d'Hoffmann. It must come easily to you!
When I'm in the role, I completely forget if I'm a boy or a girl. Actually, some years ago, when I was doing Octavian for the first time, I was so deep into the rehearsal process that I once dreamed I was a boy and went to the men's loo (laughs). But now that I'm slowly going into more dramatic repertoire, playing women is the more natural thing for me. My voice needs a different way of expressing itself. It also has to do with my visual appearance. After the birth of my daughter [in September 2011], my whole being has become more feminine. But I'm looking forward to the Met. After the roles I've done here it will be a challenge to see how I'm accepted as a boy!