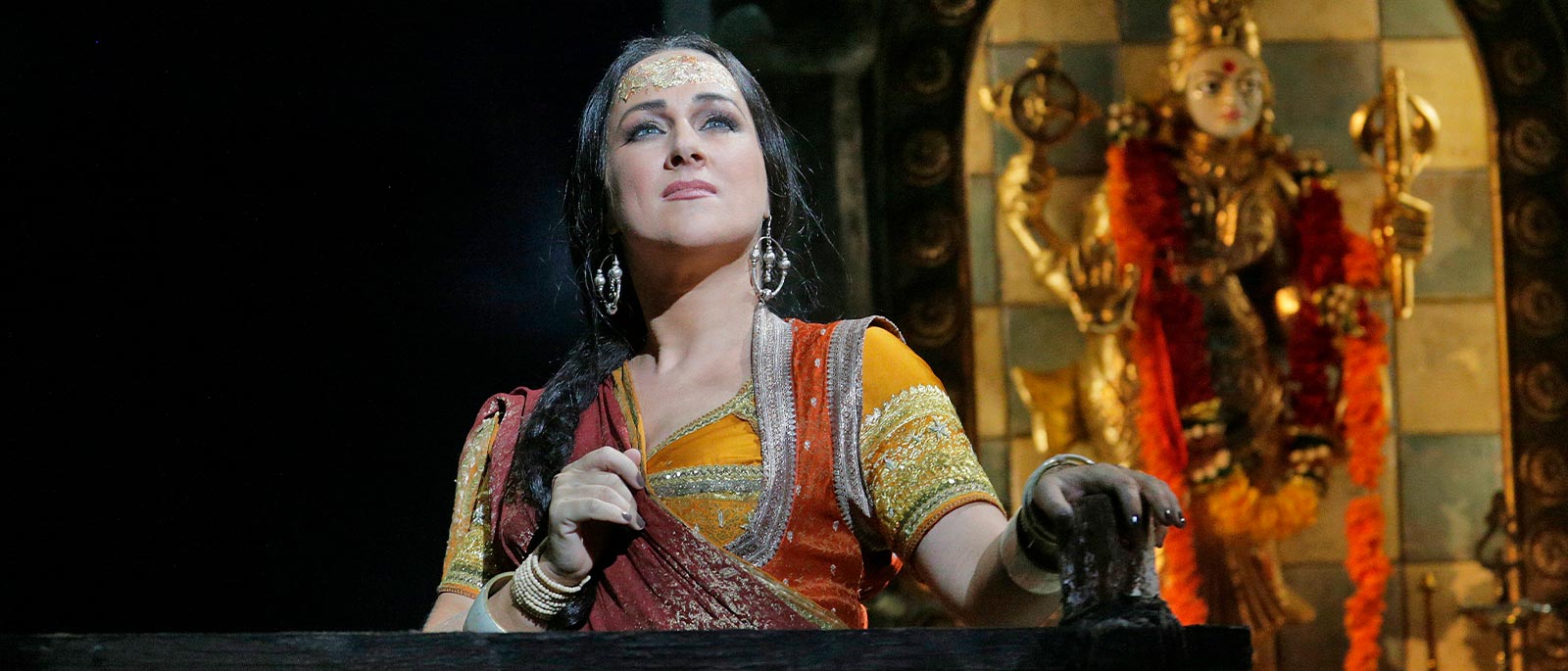 Modern Woman
Diana Damrau, who starred as Leïla in the 2015 premiere of Penny Woolcock's production of Les Pêcheurs de Perles, explained to the Met's Philipp Brieler why Bizet's heroine is stronger than she seems.
The last time the Met performed The Pearl Fishers was in 1916. What excites you most about this first production in 100 years?
I just adore this opera. When the Met asked me what I would love to sing, it was actually my idea to do it. It's a special piece for me. I sang it in 2000 for New Year's in Germany, so I started the new century with it. And then last year, we did it in Vienna. I love the music. You can literally feel India in it, the heat, the humid air, the perfumes. Sure, it's exoticism, which was a great theme in Bizet's days. But it's still fascinating for us. I'm happy we're doing this production. It's set in modern times, but still within the traditions and the religion of Hinduism. So you have the colors of India and the richness of today's culture, combined with Bizet.
Not many people are familiar with this opera, but the first thing they'll tell you is how beautiful the music is. Why do you think it's not performed more often?
I think people assume there's a certain weakness in the libretto. But this is just a plain, beautiful love story, filled with emotions and problems we all have. It's about trust, betrayal, friendship, religion—and most of all it's about love.
Tell us about the character of Leïla.
For the first half of the piece, she is the priestess who has to stay true to her culture and its ancient ways. She has to do what's expected of her, but eventually she stands up to the community. She is quite strong and also very passionate. She has this fragility, but she's still a very strong character. At the end she's ready to die for Nadir. It's a wonderful role to play, really.
The two men get to sing the opera's most famous number, but you also have some spectacular music.
Leïla is a lyric coloratura, and when she's praying, her music has all these Eastern ornaments. That actually plays a big role, because she's singing as a priestess, in character. And then there's her big aria at the top of the second act, with beautiful lyrical lines. It's not as stratospheric. And by the end, she gets quite feisty, especially in the duet with Zurga. That's what I really look forward to!