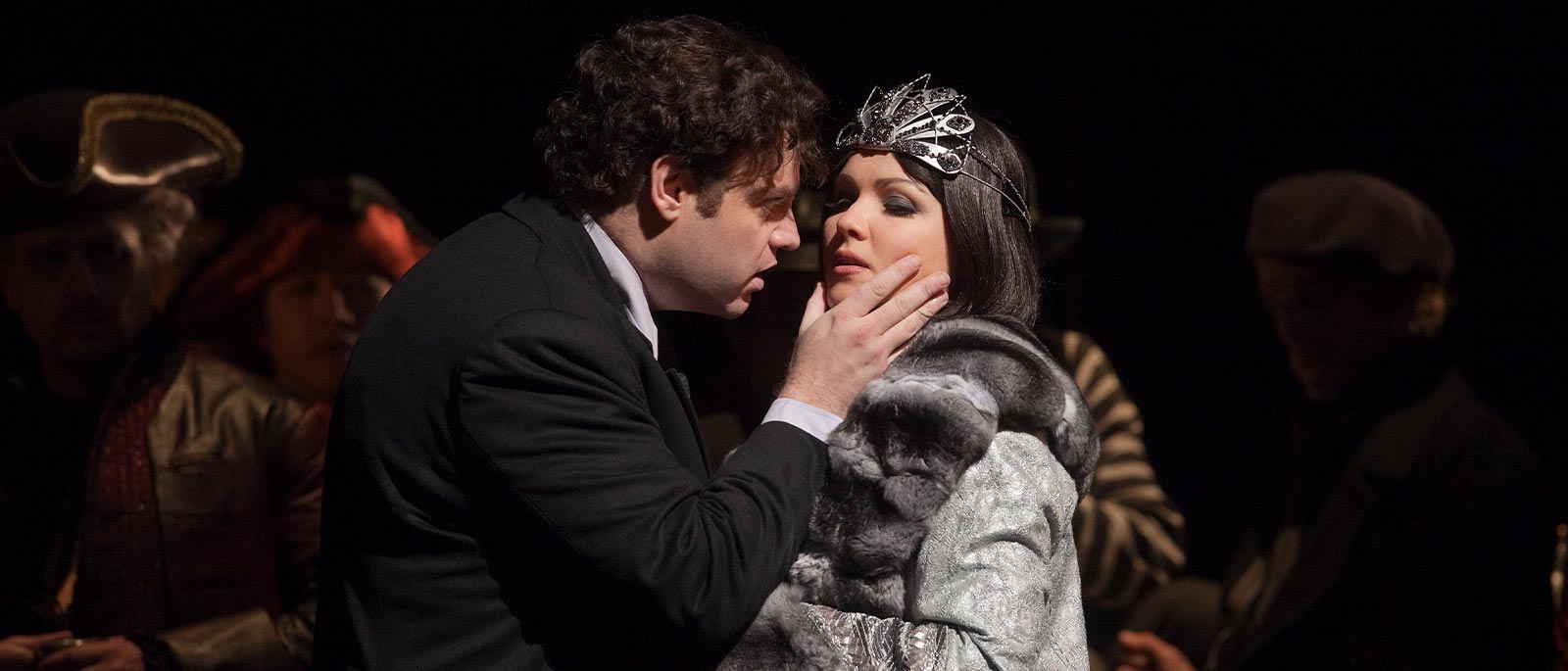 Mind Game
With his production of Les Contes d'Hoffmann, which opened during the 2009–10 season, director Bartlett Sher created a Kafkaesque new staging of Offenbach's phantasmagorical masterpiece. By Thomas May
Offenbach's Les Contes d'Hoffmann resists superficial, run-of-the-mill approaches. Although it ranks among the most popular French operas of the 19th century, the opera is far from a typical example of the genre. With its unusual narrative structure and modern mixture of styles, Hoffmann represents not just an ambitious change of direction for Offenbach (1819–80) but an experiment with the conventions of grand opera.
It's no surprise, then, that the Met marshaled a top-rank creative team for a new production of this composer's masterpiece—the company's first since 1982. Tony Award–winning director Bartlett Sher returned following his smash staging of Rossini's Il Barbiere di Siviglia, with which he made his Met debut in 2006. Tenor Joseph Calleja starred in the title role, opposite soprano Anna Netrebko as Antonia, with bass-baritone Alan Held portraying the four villains. Much as he did with the Rossini, Sher aimed to sweep away the clichés that have accumulated around Offenbach's tale of psychological fantasy.
"The opera is often approached in terms of the crazy imagination of Hoffmann," Sher says, referring to the early German romantic polymath whose stories are used for the opera's episodic plot. "I'm more interested in why Offenbach, who had been a very popular operetta composer, was seeking to write a serious work to gain acceptance. Why, so late in his career, did he feel this need to be accepted? That led me to consider Offenbach's sense of being Jewish and an outsider. Whatever group he was in, he always appears as an outsider who never feels like he belongs, never feels like he's connected."
The son of the cantor at Cologne's synagogue, Offenbach was sent to the Paris Conservatory as a teenager to develop his prodigious talent. (With a gesture characteristic of his wit and love of wordplay, Offenbach sometimes signed his name "O. de Cologne.") He remained in Paris, playing cello and conducting and starting out as a composer. Through the satirical, stylish brand of operetta that he pioneered in such works as Orphée aux Enfers and La Vie Parisienne, Offenbach made himself a fixture of the entertainment scene in the heyday of Paris of the Second Empire. But after France's defeat by Prussia in 1870, the market was less favorable to his wickedly witty lampoons and parodies. Offenbach had moreover become intent on boosting his reputation with a "serious" work of art.
Not that Hoffmann represents a clean break with his past. "Offenbach was playing with fragments of ideas that attracted him and that reflected something deeply inside him," Sher observes. Indeed, Offenbach had been aware of the Hoffmann scenario since the early 1850s, when Les Contes d'Hoffmann was first staged as a play, co-written by two of the eminent librettists of the era, Michel Carré and Jules Barbier (the team who penned Gounod's Faust). More than two decades later, Offenbach decided to compose an opera based on this play, using a libretto prepared by Barbier.
In Offenbach's Hoffmann, the poet-hero of the title recounts three episodes from his unlucky love life, each based on actual stories by E.T.A. Hoffmann, who was a writer, composer, critic, and lawyer all rolled into one. First, he falls for Olympia, a mechanical doll whose singing and dancing reinforce his illusion that she is human (the same story is the source for the Delibes ballet Coppélia). The young musician Antonia returns Hoffmann's love, but she succumbs to a fatal illness that is exacerbated by her singing. And then, there is the Venetian courtesan Giulietta, who betrays Hoffmann for the sake of a sparkling diamond. According to Sher, "These women represent fragments of Hoffmann's desire to be accepted: sexually, emotionally, artistically."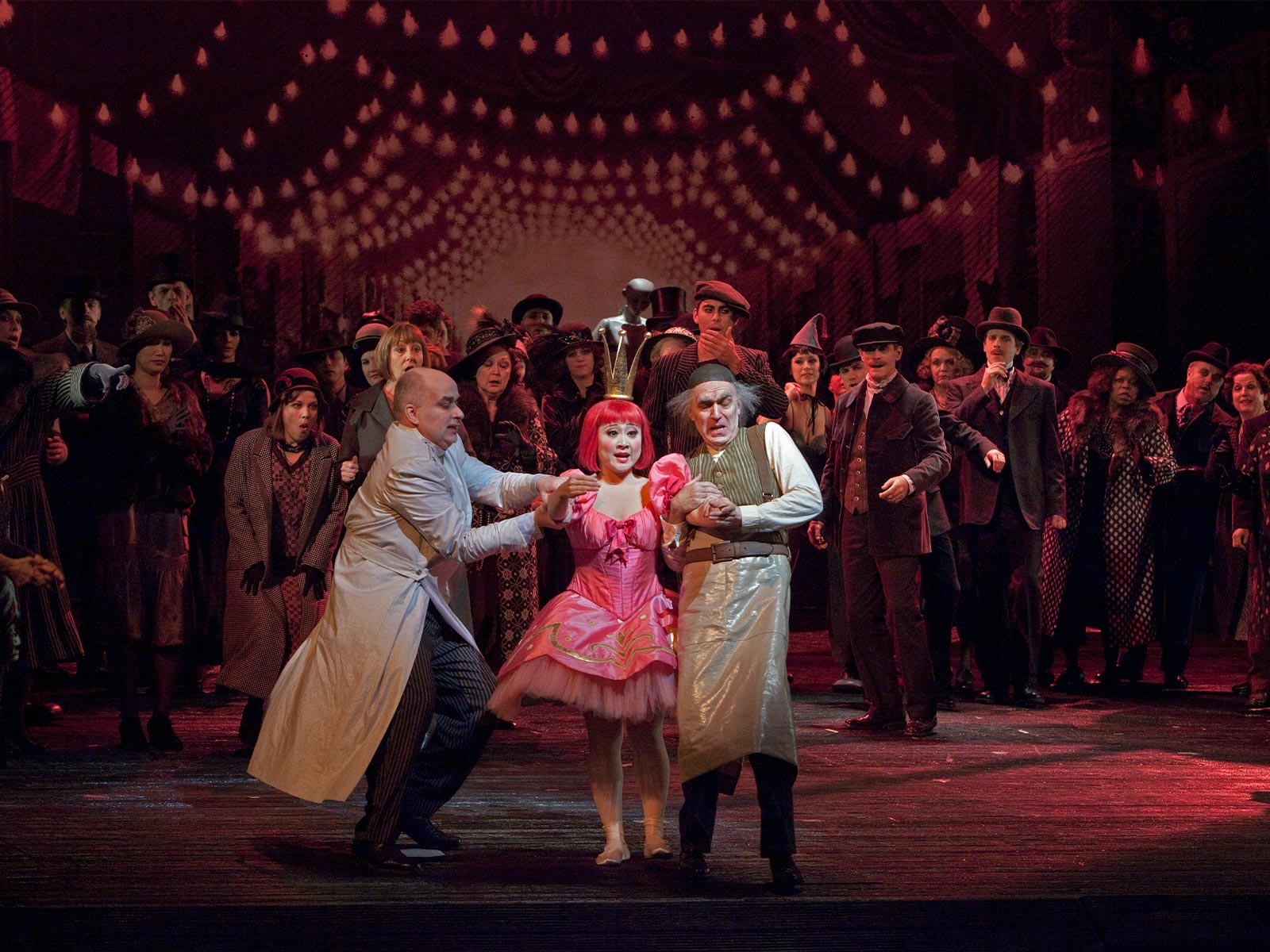 Offenbach's original concept was for a single soprano to perform all three roles, but the distinctive vocal styles of each mean that separate singers are usually cast for the florid coloratura of Olympia, the spinto intensity with which Antonia sings herself to death, and the sensuous mezzo of Giulietta. Maltese tenor Calleja, who made a heralded Met debut as the Duke in Rigoletto in 2006, faced the fiendish challenges of the title role for the first time.
Among the many ironies surrounding Hoffmann is the fact of its incompleteness. A stupendously prolific (and practical) composer, Offenbach produced more than 100 works for the stage. But he left his operatic swan song in a state that required finishing touches before it could be staged. Even the premiere—given at the Opéra Comique four months after Offenbach's death—set an unfortunate precedent for overriding the composer's explicit intentions. The convoluted state of the score as it came to be performed traditionally was the result of intervention by many hands to craft a performable edition from Offenbach's many sketches. The most obvious example was the rearrangement of the order in which Hoffmann's lovers appear; the Met's production uses a version in which Antonia appears second, as Offenbach originally intended.
Sher worked with his award-winning collaborators from Barbiere—Michael Yeargan (sets) and Catherine Zuber (costumes)—as well as lighting designer James F. Ingalls and choreographer Dou Dou Huang (who designed the dances for Tan Dun's The First Emperor at the Met). "I'm mostly concerned about drawing a line so that there's a connective tissue for Hoffmann throughout," Sher says. "That means finding the central philosophical and emotional narrative that needs to be there, so that there's a point of view where the opera often feels fragmented." He found himself drawn to the image of Kafka—"locked in a room, seeking inspiration." Sher also points to a parallel in silent films from the 1920s, like The Cabinet of Dr. Caligari or "the scary part of a Charlie Chaplin film, like The Circus," where Chaplin's obsessions and women just beyond reach echo Hoffmann's strange world.
At the same time, Sher points out that these parallels don't mean a trendy updating to the 1920s. "It's about the central figure of Hoffmann sharing Kafka's sense of outsiderness. Where does he go when he finds his mind is stuck? His muse leads him on a psychosexual exploration as he seeks his way out of this weird maze toward some sense of a real purpose in his writing." The trouser role of the poet's companion Nicklausse doubles as his muse. Sher is fascinated by the way this character balances male and female roles and refers to the image of Marlene Dietrich dressed as a man. This is one example of many of the doublenesses—the ambiguity of split identities—driving Sher's vision of the piece. "For any artist, ambition and paranoia are both always present. The door keeps opening, and there are many Hoffmanns, identities that keep overlapping. I think the real artistic dilemma for Offenbach is the tension between the cover and the internal state, and that's what I hope to try to show."
Are there examples of this tension in the music? Sher, who clearly loves the score, points to the ballad of the grotesque Kleinzach that Hoffmann sings to his audience in the Prologue (and reprises in the final scene) as his personal entry point into the opera's world. "It's percussive, wicked, sharp, and fun," Sher says. It's a fitting choice, since the Kleinzach music is exactly the moment when Hoffmann opens the door into the opera proper and begins to recall his past loves. Offenbach shapes the music as a spiky tune, with chorus; midway through, however, Hoffmann suddenly launches into a seemingly disconnected and rhapsodic reverie of love, finally snapping out of it to conclude the ballad. The device serves as a kind of microcosm for Offenbach's musical juxtapositions throughout the opera, where what seems to be one thing turns out to be something else.
"Kleinzach is where we begin to sense the character's feeling of outsiderness—and his need to cover it in order to access popularity," Sher says. "Hoffmann always takes what seems to be conventional narrative and turns it completely inside out. Why Offenbach is attracted to this is part of the challenge of the piece. You have to make a whole from all these fragments—a whole that has its own sense inside the world of the opera."