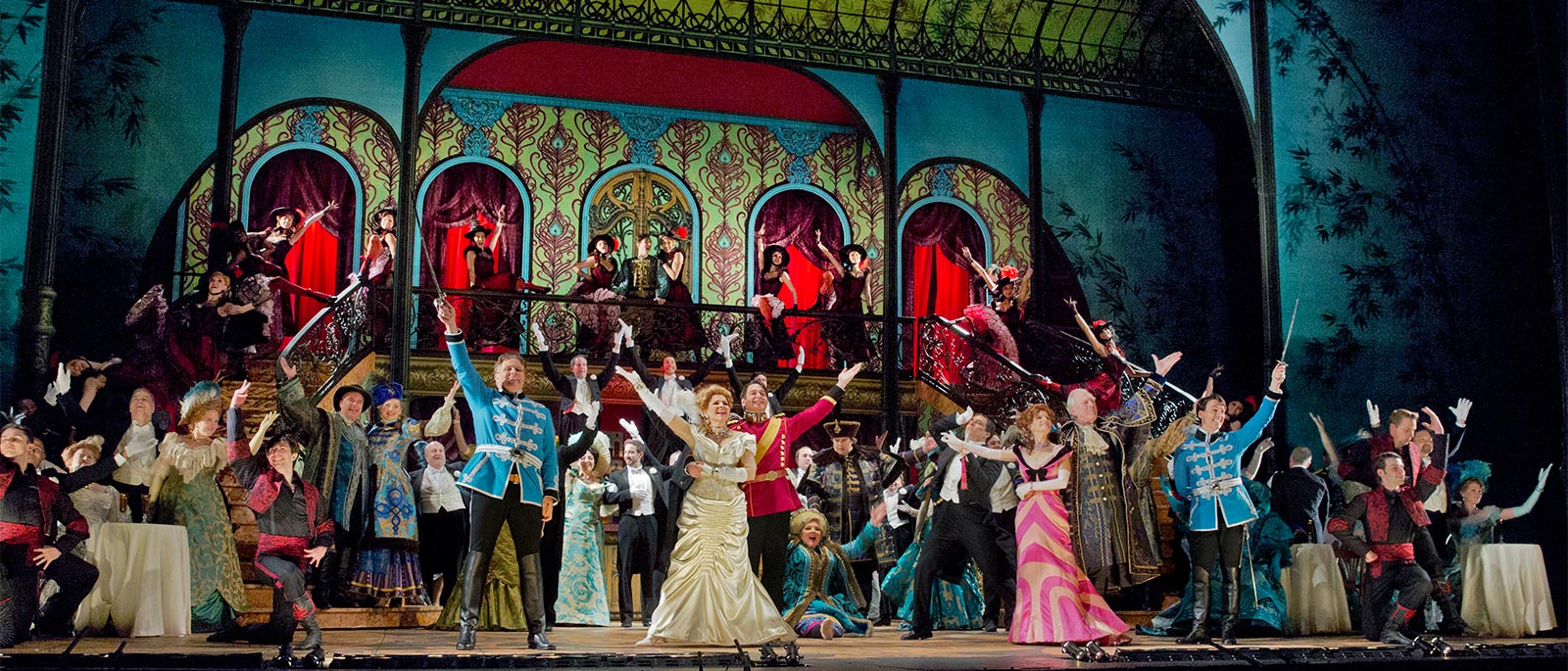 Making Merry
Susan Stroman's production of The Merry Widow opened on New Year's Eve 2014, with soprano Renée Fleming in the title role. Star and director spoke with the Met's Matt Dobkin about the enduring charms of Lehár's enchanting operetta.
When The Merry Widow had its world premiere in 1905, it launched a new era of richer, more complex, and dramatic operetta. Why does it remain so popular today?
Renée Fleming: The most obvious answer, of course, is Lehár's score, which is just packed with unforgettable melodies. The "Merry Widow Waltz" is known and loved all over the world. But most people don't realize until they see the whole operetta how many fun, famous tunes come from this piece. Also, who doesn't want to be transported back to that glamorous, Belle Époque milieu, with Paris, Maxim's, grisettes, the can-can? It really is everyhing an operetta should be.
Susan Stroman: The score is just fabulous—these glorious melodies that stick with you. But I also think it's that the characters are so rich. They have a love for their country, the so-called Pontevedro, which is relying on the wealthy Hanna to keep them afloat. And it's a romance with grownups, which separates it from a lot of what's out there today. I think people find it refreshing that it's a romance between two seasoned individuals. And the role of Hanna is almost a contemporary woman.
RF: It's true—the role really appeals to me because of the strength of the character. Imagine—the financial health of a nation—okay, a tiny principality—depends upon her and her fortune. She's in this position of real power, and she has a significant amount of pride, and she follows her heart. Before she does that, though, she makes the man she loves acknowledge his feelings for her. In spite of the old-world charm and elegance of the story, Hanna is, as Susan says, quite modern.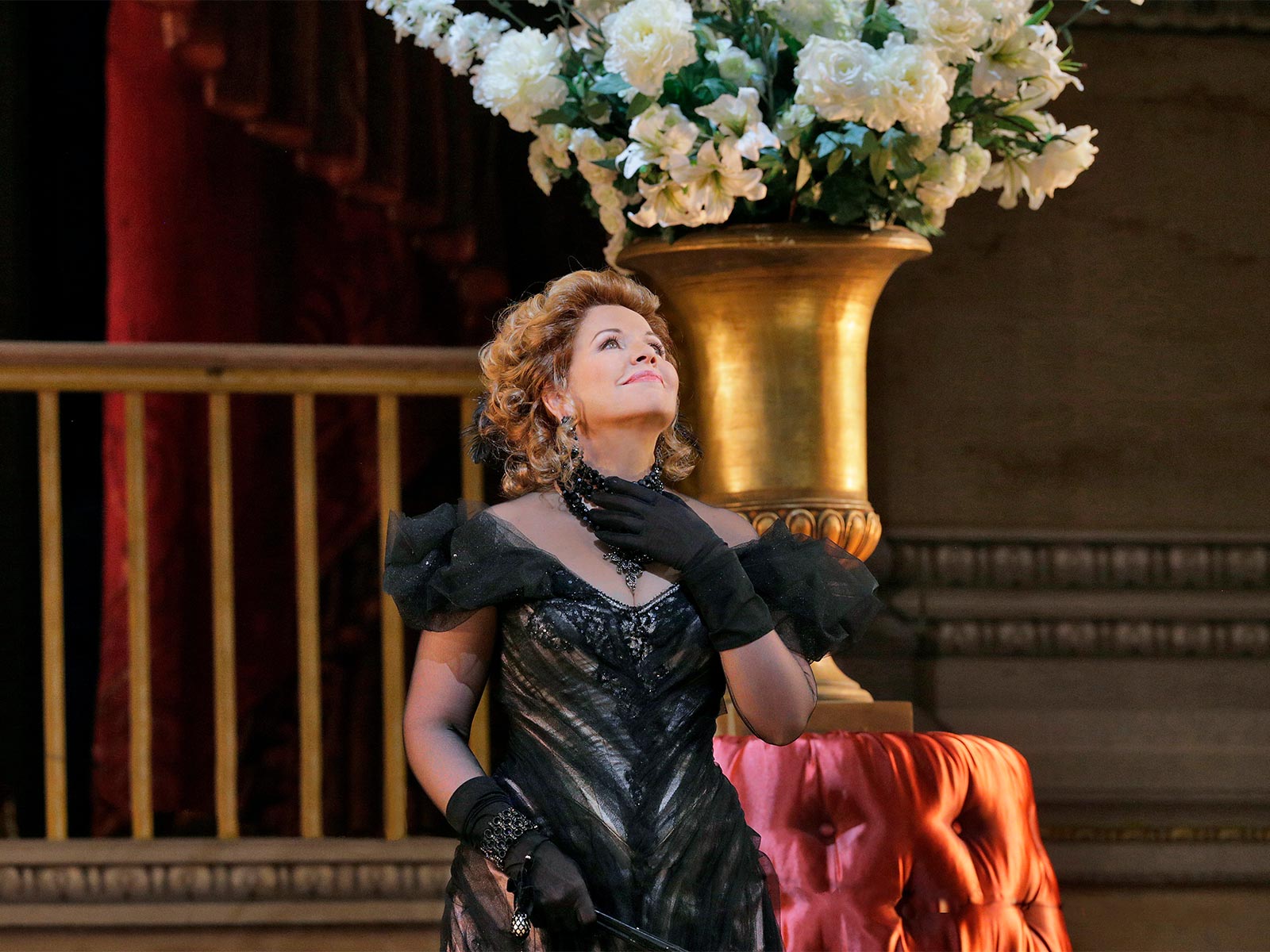 A lot of observers comment on the sexy, seductive aspects of the piece. What are your thoughts on that?
RF: Flirtation and sexual power plays definitely drive the story, but of course true love conquers all. And I think another key to the enduring appeal of The Merry Widow is the way it balances sentimentality with sophistication. That's one reason I'm thrilled that Susan is directing. She has the comic flair to make that balance work perfectly—just look at her record of Broadway hits.
SS: And I must say that the most exciting thing about this project for me is working with Renée, whom I've admired for a long time. She has incredible stage presence, of course, besides being unbelievably talented as a singer. But she is also perfect to play this role because she has grace and wit, and I think The Merry Widow must be played with wit.
How does your production accomplish that?
SS: I think audiences will identify a bit more with Renée's Hanna because you can relate to a woman who knows exactly what she wants and is going to make it happen in the most graceful way possible. Visually, this will be a really fresh look at The Merry Widow—not because I'm taking it into another time period or anything— but because of Julian Crouch's wonderful new set. He's created a gorgeous garden with a view of Paris in the distance and these beautiful stone benches and gazebos where all this wonderful romance happens. And it all comes to a head in Maxim's—Julian has done a beautiful set for that famous club. For the costumes, I thought, "Who could I call to make some of the most famous hats in the world? It would be William Ivey Long!" He is a six-time Tony Award–winner, and he's very right for The Merry Widow because he himself is a romantic, and he loves and understands dance.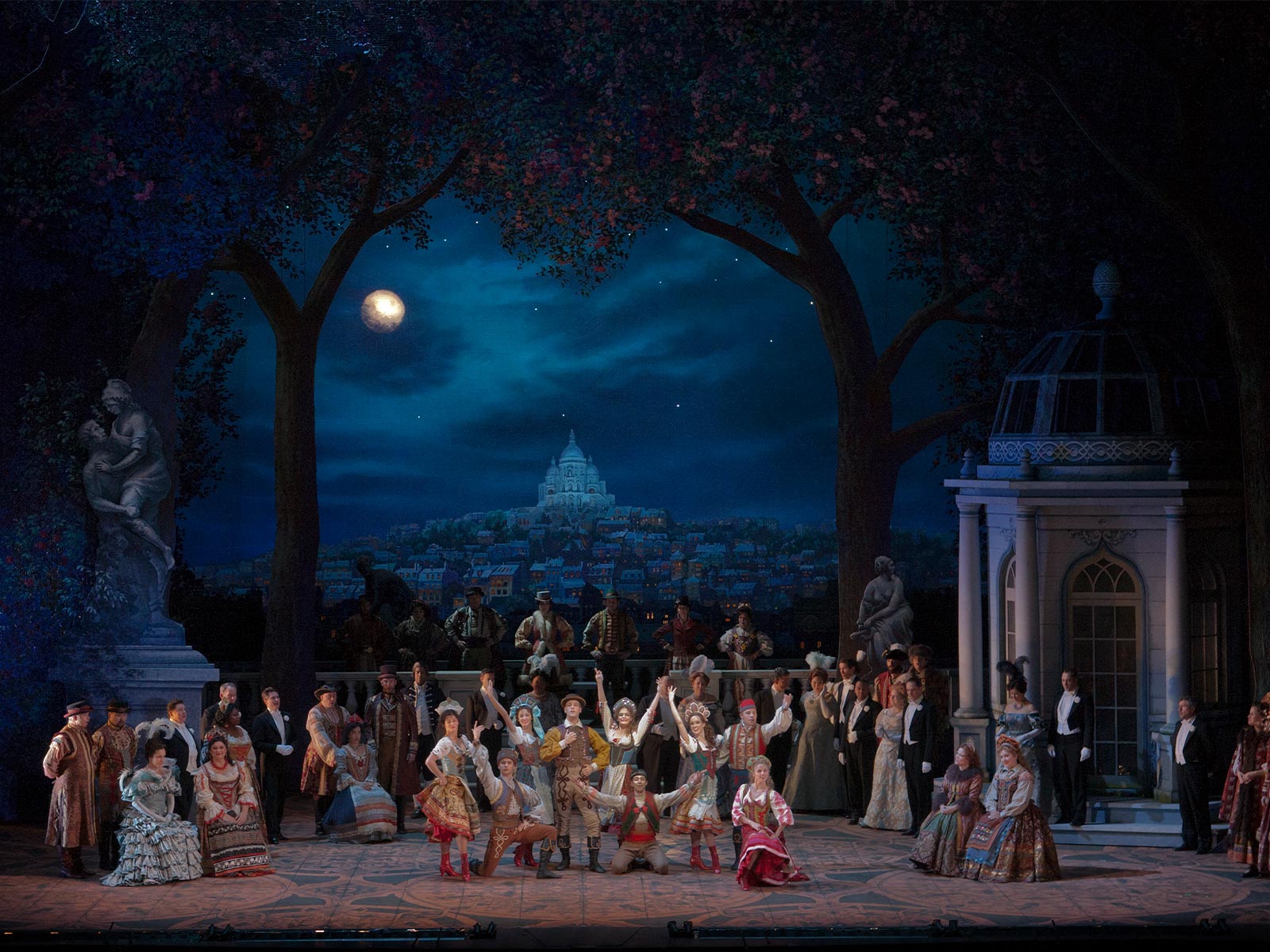 Right, Susan, you're choreographing as well as directing. Have you two worked on any steps yet?
RF: I did have a ... we'll call it "an exploratory dance session" with Susan recently. Let's just say she is very, very patient.
SS: We danced around the studio together. It was good for me to see how much Renée was willing to do in terms of dance, and in fact she was very game for everything. She was willing to try anything, so we waltzed around the room and did a few folk-dancing steps. She was very up for it, and I think it will show audiences another wonderful side of her.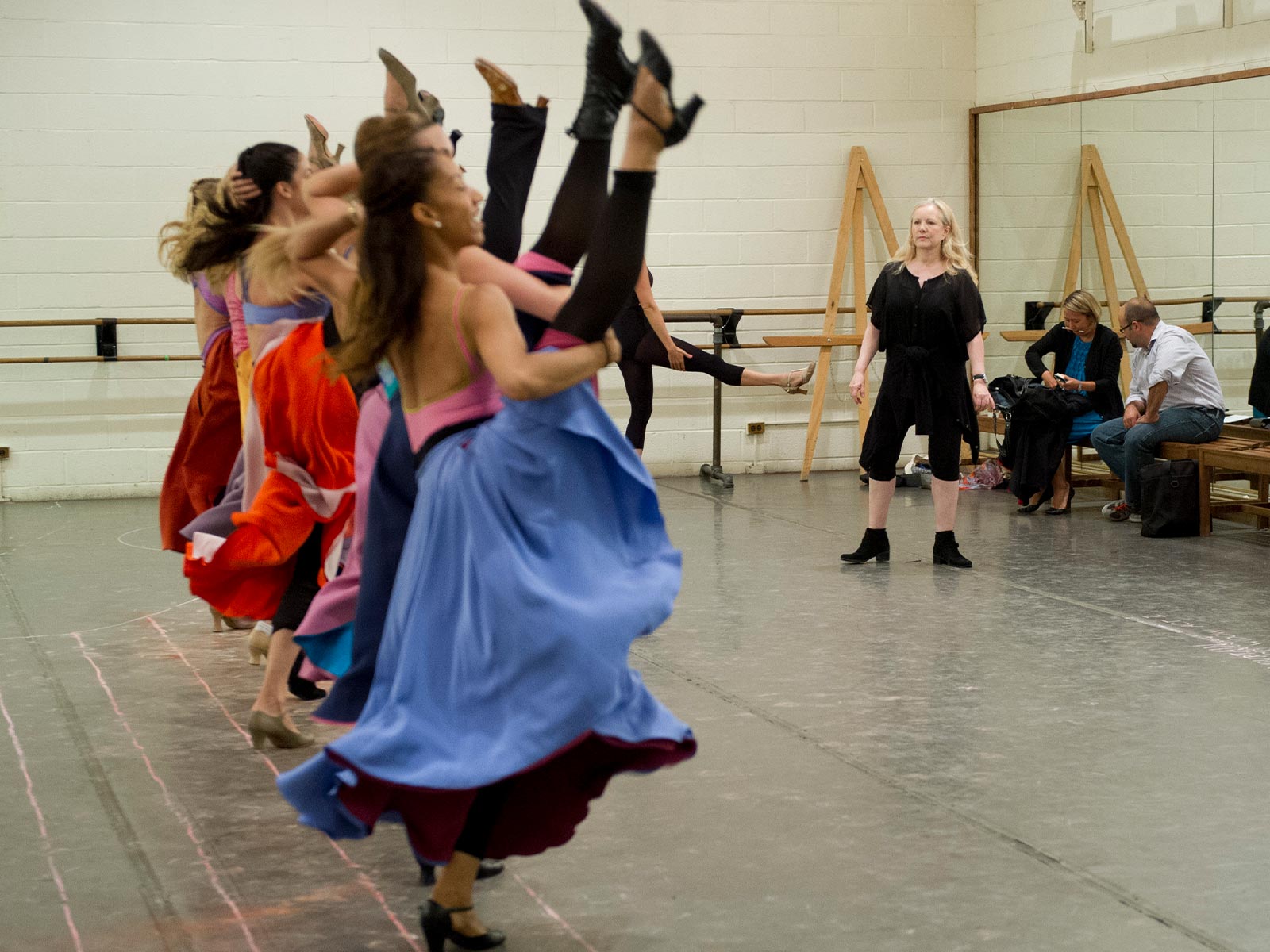 Susan Stroman leads an early dance rehearsal.
I understand, Renée, that you'll also be adding an aria from another Lehár operetta, Paganini? Can you tell us what it is and how that came about?
RF: I was asked to sing this aria, "Liebe, du Himmel auf Erden," translated as "Love, live forever" at the close of the show. This is my first time performing in a full production of The Merry Widow, so I come to it with no preconceptions. Susan and Jeremy Sams, who did this new adaptation, felt that this lovely waltz would provide a melodic statement to sum up the spirit of the production.
SS: We are also running Acts II and III together, so we've added another short piece of Lehár music to play while you see that transition on stage. I know that audiences for The Merry Widow will love all the music. It's very exciting for me to make my Met debut, to be able to direct in this space that is so special, almost sacred in its history. So I really cannot wait to ring in the New Year with The Merry Widow.
Matt Dobkin is the Met's Creative Director, Content and Strategy.