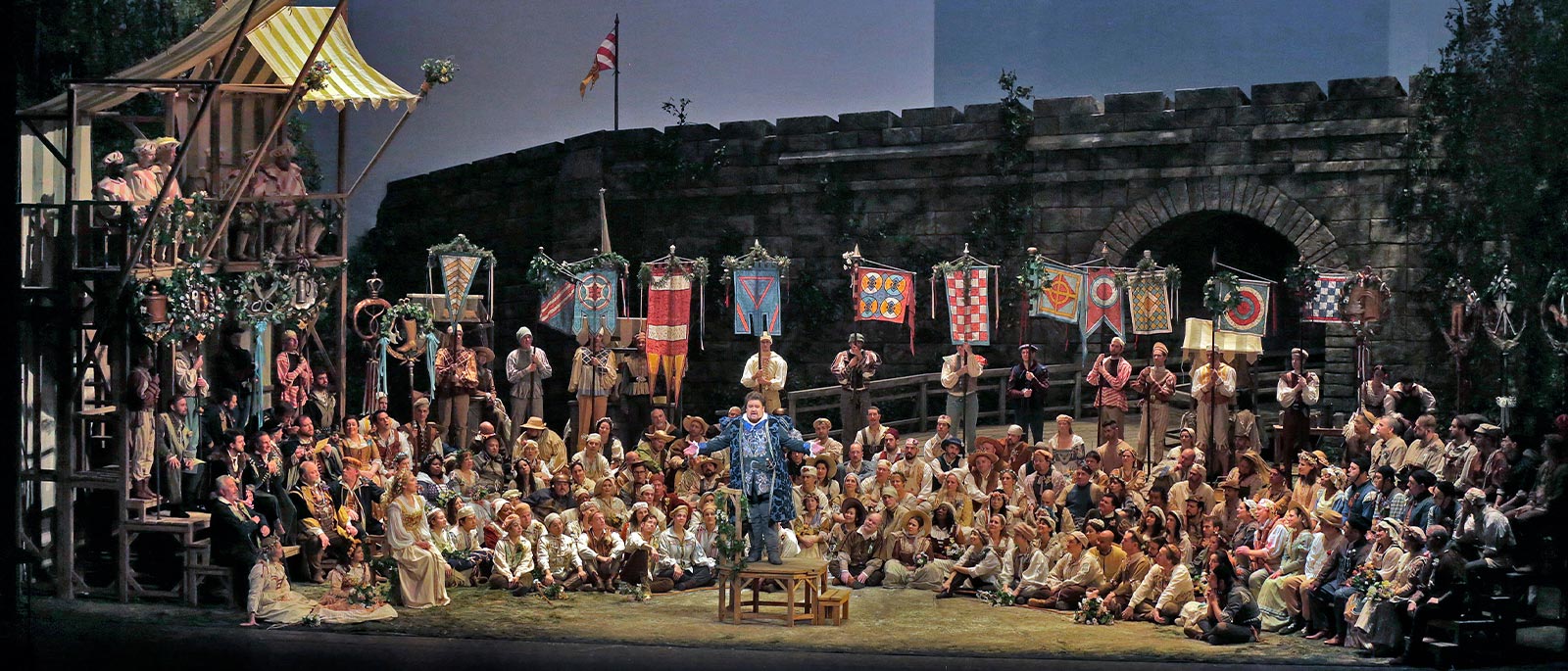 Magical Realists
Few artists had a greater impact on the world of opera during the second half of the 20th century than director Otto Schenk and scenic designer Günther Schneider-Siemssen, with a collaboration spanning 60 productions for theaters around the globe. By Christopher Browner
In everything that they created together for the Met—beginning with a picturesque vision of Wagner's Tannhäuser that drew inspiration from medieval art—Otto Schenk and Günther Schneider-Siemssen combined a historically informed approach with sumptuous, beautifully designed tableaux. About their landmark production of Wagner's Ring, for example, The New York Times observed, "[It is a] realistic, lushly Romantic staging, rich in storybook imagery and free of conceptual agenda … [or] Freudian overtones"—a description that could well characterize any of the pair's 11 Met productions.
Schenk (right) and Schneider-Siemssen (center), with tenor Peter Hoffmann in 1988
Although Schneider-Siemssen and Schenk made their Met debuts within less than a year of each other—the former designing the sets for Herbert von Karajan's legendary staging of Wagner's Die Walküre in November 1967 and the latter directing Birgit Nilsson and Franco Corelli in Puccini's Tosca the following October—it would be another decade before they would first work together in New York. But following the success of their Tannhäuser in 1977, a production still active in the company's repertory, they would continue to join forces at the Metropolitan for the next 16 years.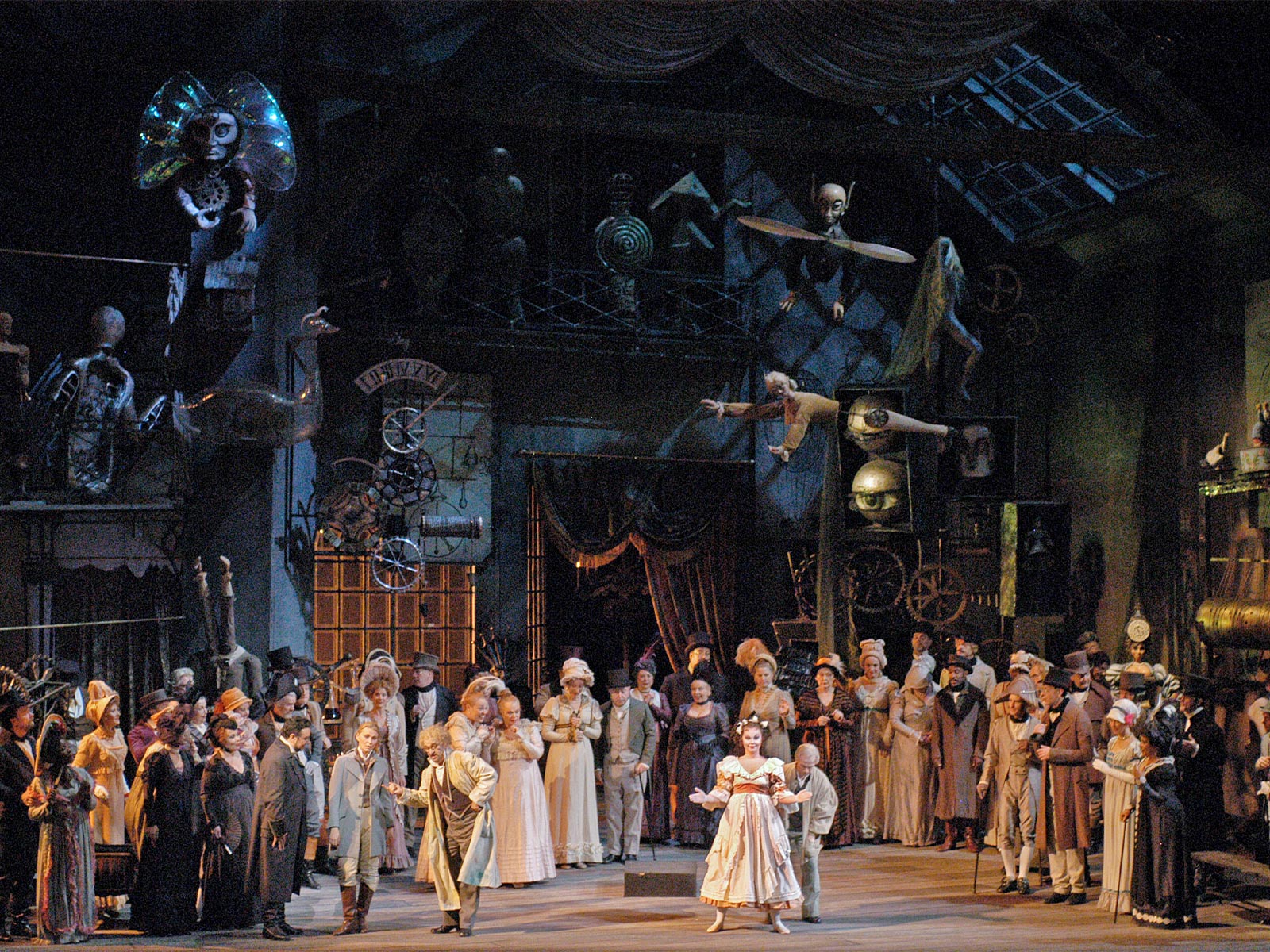 Act I of Offenbach's Les Contes d'Hoffmann
For the Met, Schenk and Schneider-Siemssen collaborated on memorable productions of some of opera's lighter fare, such as Offenbach's Les Contes d'Hoffmann in 1982, Richard Strauss's Arabella in 1983 (streaming free this week), and Johann Strauss II's Die Fledermaus in 1986, but the core of their output lay with Wagner's grand music dramas. After Tannhäuser, Schenk and Schneider-Siemssen next tackled the composer's monumental Der Ring des Nibelungen, beginning with Die Walküre in 1986 and completing the three remaining operas over the course of the next three years. "I had an oath in heaven that I would not dare to do it in my life," Schenk once admitted. "But when the Met asked if I would do a Romantic Ring, as Wagner wrote it, I said yes. We wanted to take advantage of the technical possibilities of the Met to tell a human story. This human element is the great strength of the Ring."
But while Schenk was apprehensive about staging his first Ring, for Schneider-Siemssen, it was just one of seven full cycles that he would design over the course of his career. It's no wonder, then, that he gained the nickname the "Lord of the Ring."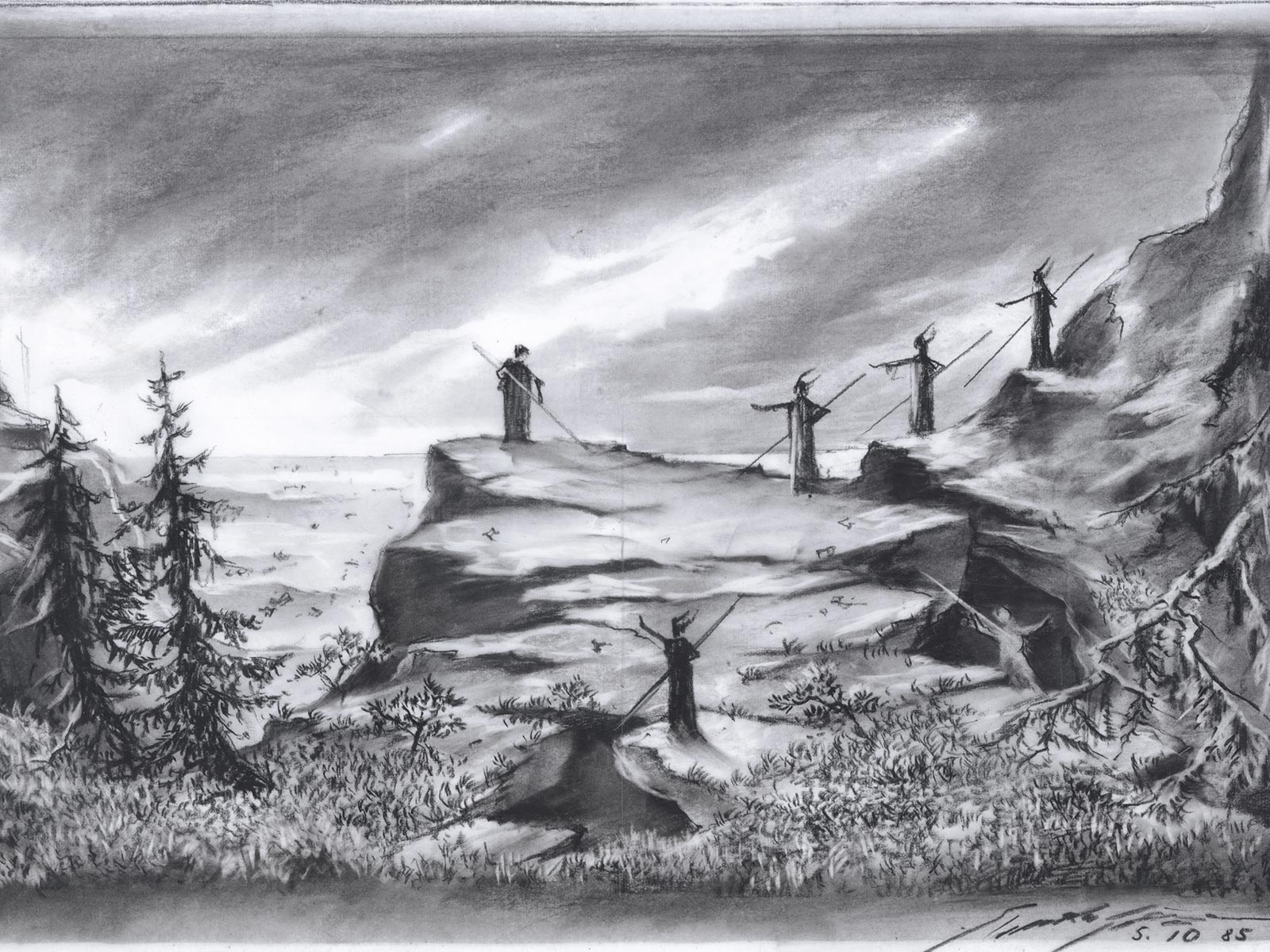 Schneider-Siemssen's design for Act III of Wagner's Die Walküre
The Schenk–Schneider-Siemssen Ring would remain a staple of the Met repertory for more than two decades, with their productions appearing a combined 174 times. Their cycle was also broadcast on PBS over the course of four consecutive nights in June 1990—at the time, the largest opera telecast ever undertaken on American television.

Act II of Wagner's Die Meistersinger von Nürnberg
In 1991, the pair unveiled a mystical staging of Wagner's Parsifal, and in 1993, they created their final two productions for the Met, an exuberant Die Meistersinger von Nürnberg (pictured at the top of this page) and the company premiere of Dvořák's Rusalka. Of the Meistersinger, The New York Times noted, "Günther Schneider-Siemssen's sets in turn emphasized realism, creating a medieval atmosphere without artifice or spectacle … finely detailed, at once photographic and hauntingly attractive." Met audiences will have the chance to enjoy their take on Wagner's great comedy when the work is revived during the 2021–22 season.
Christopher Browner is the Met's Associate Editor.