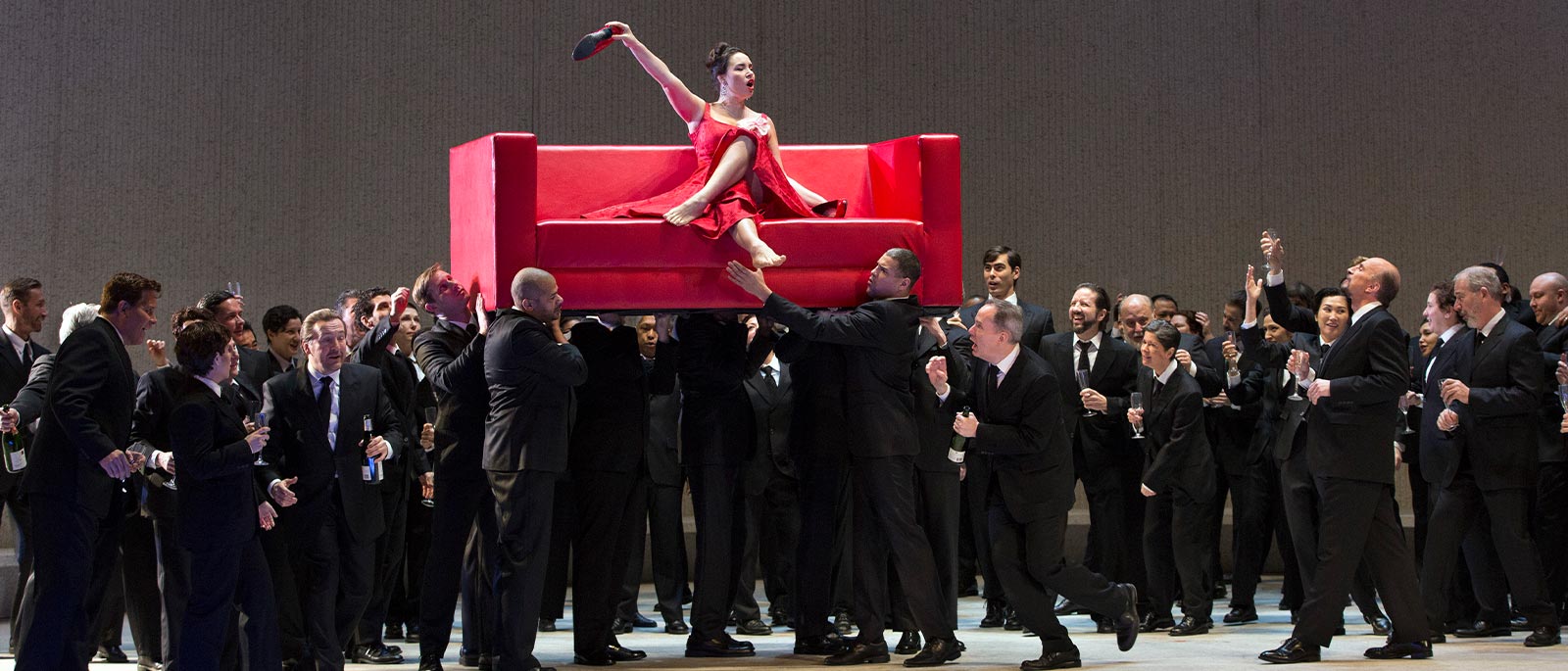 Mad About the Girl
Everybody loves Violetta: Alfredo, Verdi, and director Willy Decker. In his elegant and insightful new production—which premiered on New Year's Eve 2010—Decker explored why audiences have adored the heroine of La Traviata for more than a century and a half. By Ellen Keel
In the tremendous roster of vivid and complex characters that Verdi created, Violetta in La Traviata stands in a class of her own, utterly dominating her opera, perhaps more than any other Verdi protagonist. "Verdi is absolutely focused on Violetta," says Willy Decker, who made his Met debut in 2010 directing a new production of the beloved masterpiece. "He follows her like an obsessed lover through this piece."
The composer originally fell in love with Violetta when she first appeared on stage, as the heroine of the hit play La Dame aux Camélias (The Lady of the Camellias) in Paris in 1852. Alexandre Dumas fils had adapted the play from his own novel, based on true events, about a courtesan who falls in love and ultimately sacrifices everything for her love. Verdi was so struck by the drama that he began La Traviata almost right away, even though he was already working on Il Trovatore. Composing at a fervidly inspired pace, he created a peerless diva role in Violetta, an intensely moving characterization that remains remarkably free of either sensationalism or condescension—she's no poor little thing but a woman of exceptional mental and moral substance. The opera is the most enduringly popular of the numerous settings of The Lady of the Camellias. Even the original novel and play have gone in and out of fashion, but La Traviata has never wavered.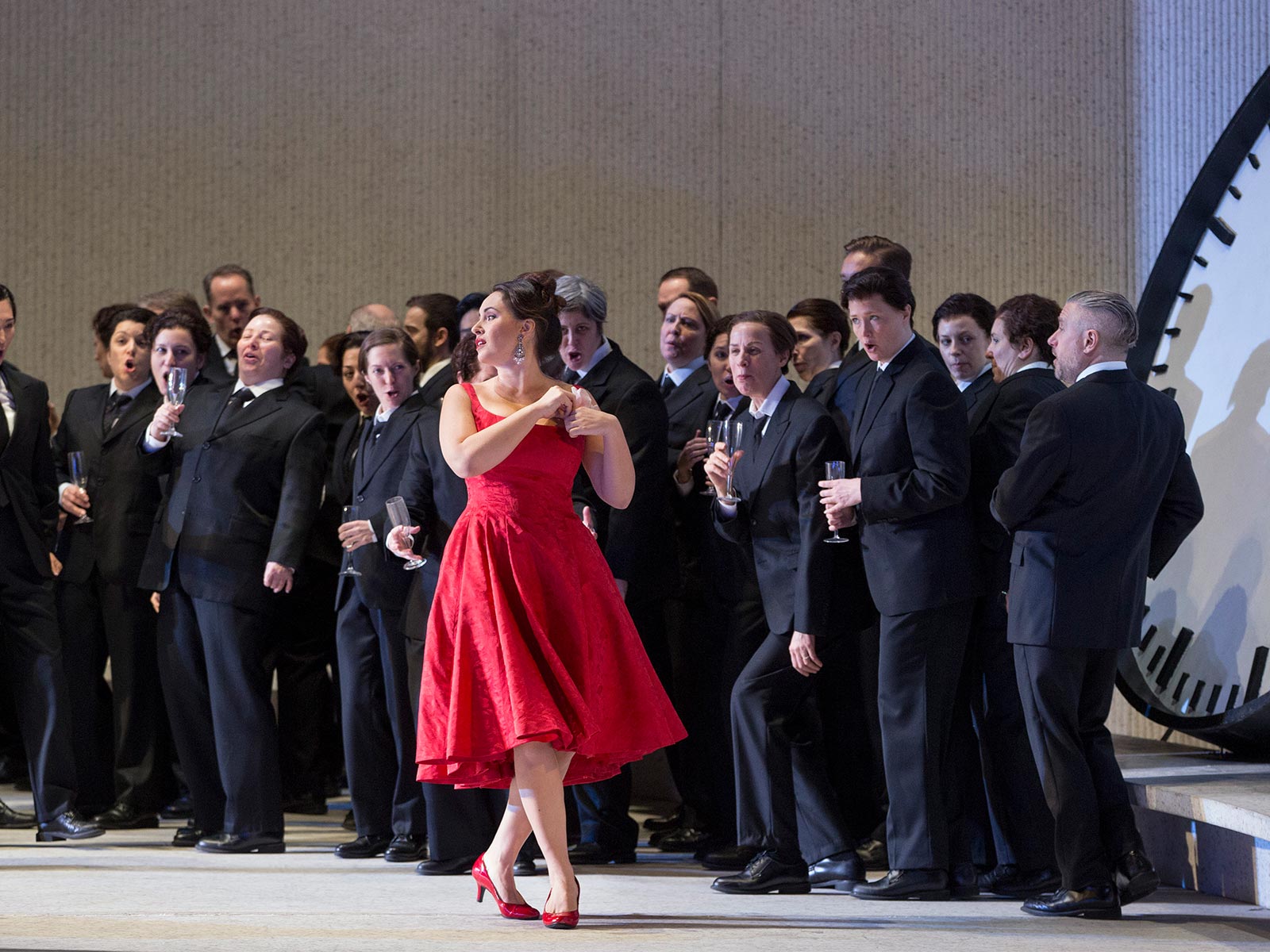 There's an old joke that most opera plots can be summarized in two words: She dies. But in the case of Violetta, the tragic end is much more than a conventional plot device. "What interested Verdi is that the person dying knows that she is dying, and she knows it from the very first moment," Decker declares. "More than in any other piece that I know, the primary theme of La Traviata is extremely focused and strong—and that is death." Verdi, in fact, originally planned to title the opera Amore e Morte—"Love and Death." Decker views all of Violetta's actions in light of her constant awareness of her impending demise. At the beginning of the opera, for instance, "Her reaction is to fling herself into life ... into this endless waltz, and these nights that she doesn't sleep. But throughout every bit of music that she has, and that the piece has, you have this 'tick, tock, tick, tock' of the time running out."
Decker, who studied violin in his youth in Germany, is particularly attuned to La Traviata's musical nuances. When he was searching for what he calls the "basic form" of the opera, he drew his inspiration from the waltz-time music that pervades the score. For Decker, the unstoppable feeling of this rhythm suggests a circle, a motif that appears in different ways throughout the production, which features sets and costumes by Wolfgang Gussmann, lighting by Hans Toelstede, and choreography by Athol Farmer. A giant clock on stage more or less counts down Violetta's waning life, and Decker points out that even the structure of the opera is circular; the famous overture begins with the haunting theme that eventually also introduces the final stage of Violetta's illness. Or, as Decker puts it, the opera begins with the end. "The basic form of human life," he says, "is a circle. And this piece goes about human life in a very essential way."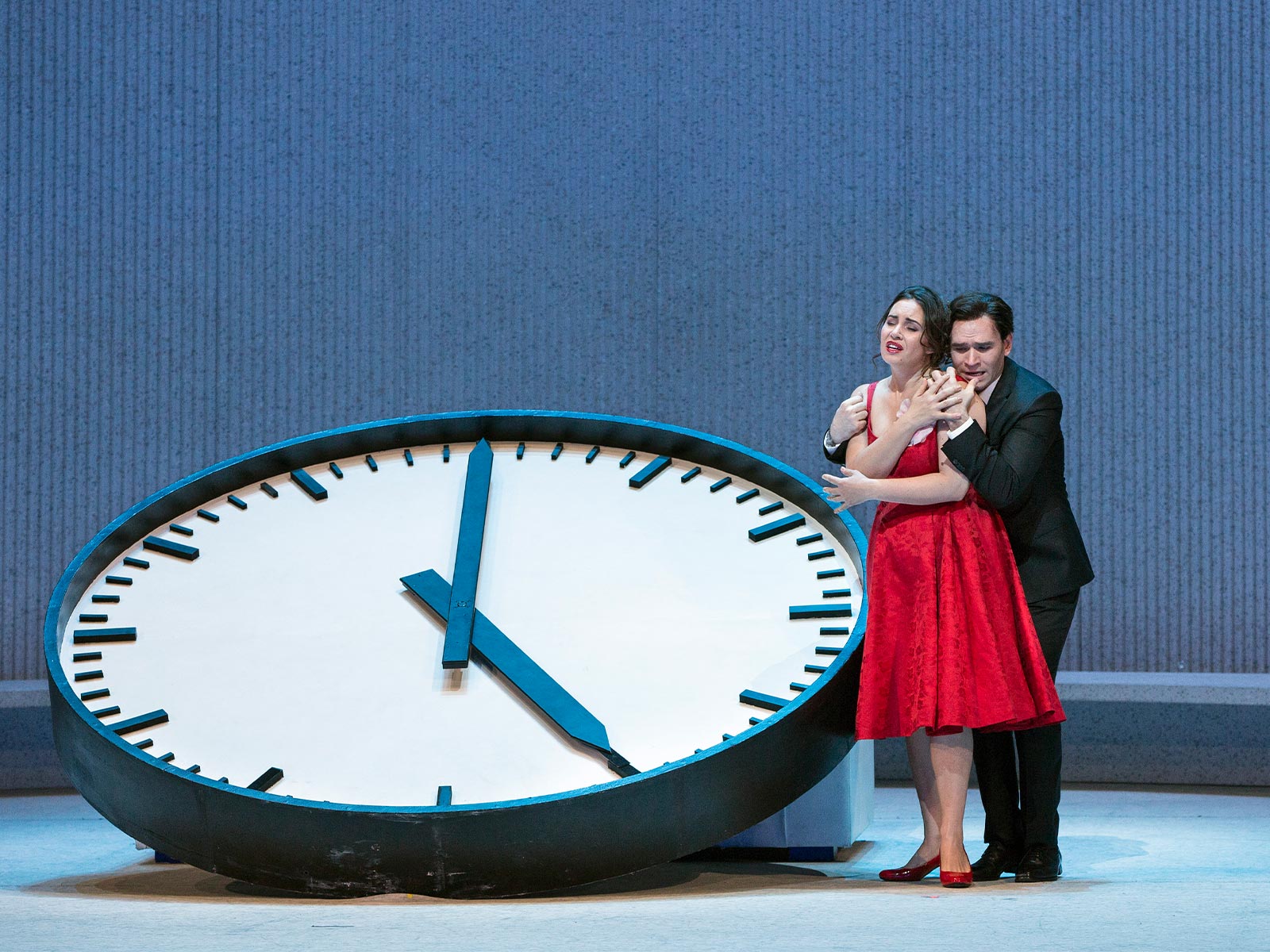 Of all Verdi's operas, La Traviata is by far the composer's most intimate treatment of the human struggle against destiny. There are no major political consequences to Violetta's tragedy, no royal intrigues, epic battles, or other such elements by which an opera composer might raise the stakes for a story's outcome. Instead, Verdi pours his efforts into making us care so acutely about his heroine that her heart and happiness, in and of themselves, become the highest stakes possible. The awareness that she is shunned by respectable society gives her decisions a greater moral purity. And to add to her isolation, no one else in the opera seems to feel the urgency of her physical plight (until it's too late). In Decker's staging, death, as personified through the character of Dr. Grenvil, is her one constant companion. He is on stage not only in the scenes indicated in the score, but throughout the entire opera, sometimes hovering above the action, sometimes interacting with Violetta.
Ultimately, Decker's aim is to keep the focus on Violetta. For him, an ideal physical production should be "a clear background for strong characters," that supports an intense exploration of the psychological aspect of the story—or, at least, doesn't distract from it. Emphasizing Violetta's isolation, for instance, her costume in the party scenes is a red dress that stands in sharp contrast to the choristers, all of whom (men and women) wear black-and-white male garb. Costumes and sets are modern but with an elegantly clean aesthetic that makes the exact period ambiguous.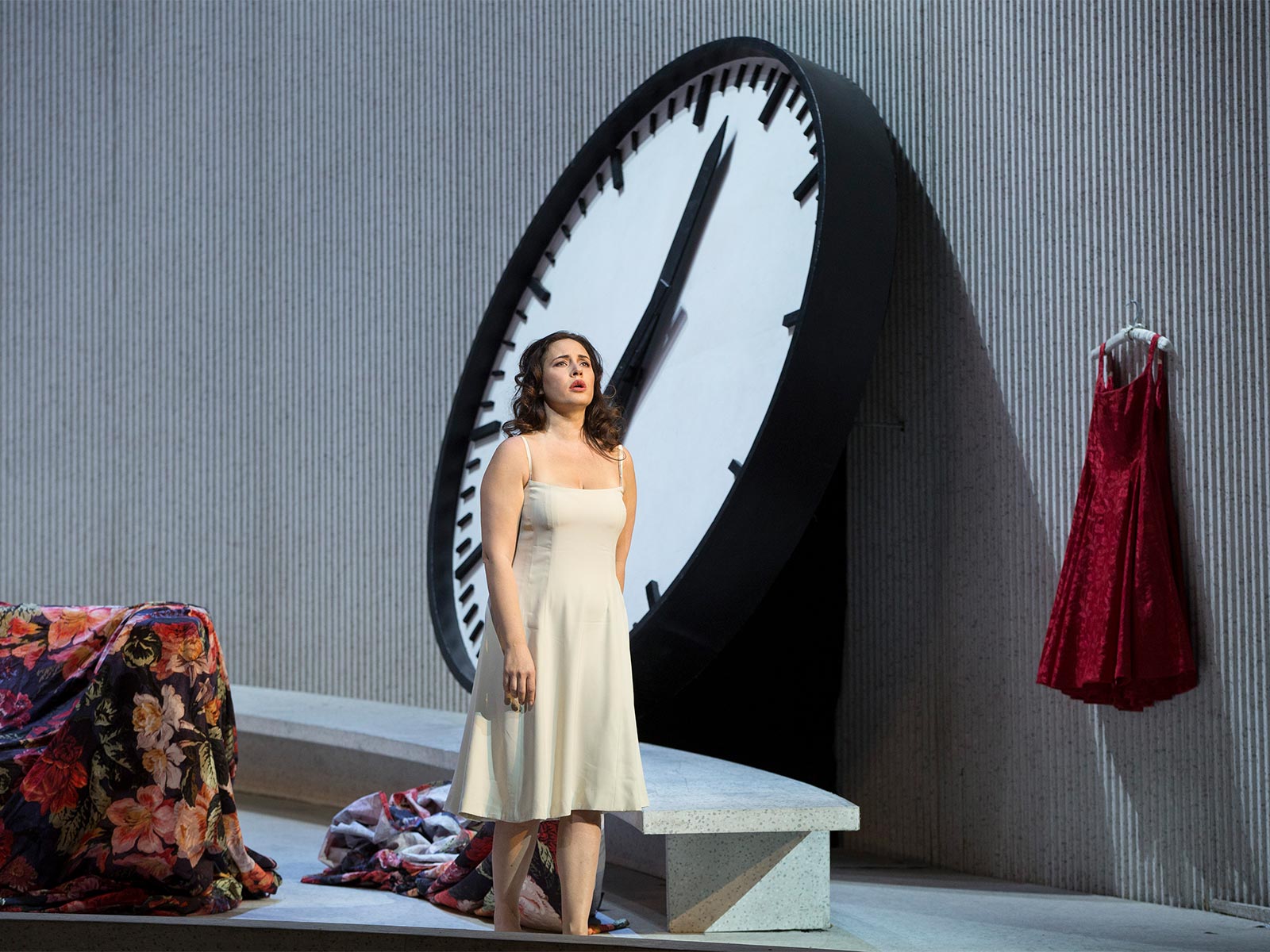 Verdi himself was delighted to present a story based on a contemporary literary source, and it was one set in a social sphere not far from his own. More than 150 years later, in spite of shifting societal norms, Francesco Maria Piave's libretto still reads as the most plausible the composer ever put to music. Of course, Verdi's genius was such that he could connect us to his characters' emotions in even the most unlikely stories. But with La Traviata, there is a notably direct path between the audience and what Decker describes as the goal of theater and opera: the exploration of human relationships.
Ellen Keel is the Met's Senior Radio Producer.