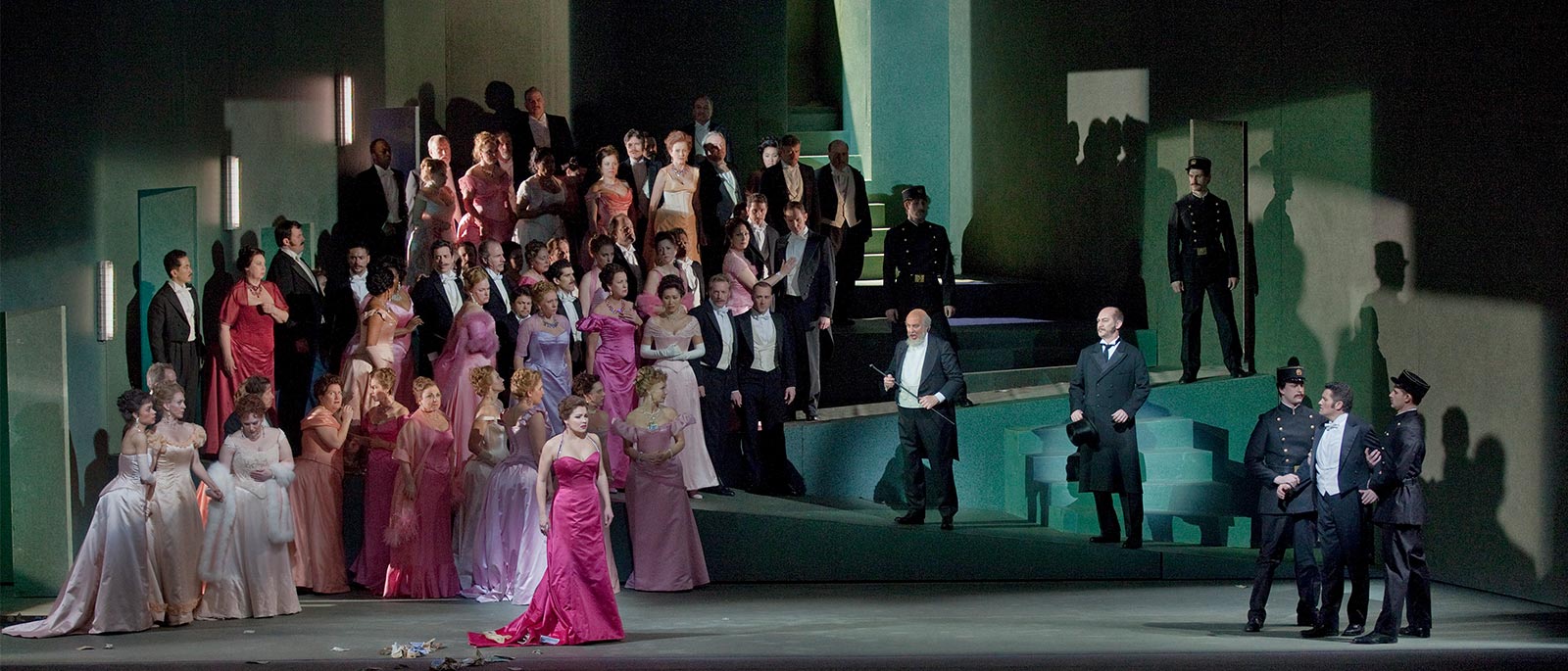 Love and Money
In Laurent Pelly's production of Manon—which first took the Met stage during the 2011–12 season—soprano Anna Netrebko explored the extremes of Massenet's irresistible heroine. By Ellen Keel
In the passionate duet halfway through Massenet's Manon, the heroine wins back her lover, Chevalier des Grieux, after having broken his heart by leaving him earlier for a life of wealth and glamour. She begs him to look at her, listen to her, and forgive her. "Am I no longer Manon?" she asks. Given the dizzying arc the character has taken since the beginning of the opera, des Grieux could be forgiven for questioning just who this woman is and what she's after. But, in fact, Manon has been breathtakingly true to herself all along, morphing from wide-eyed country girl to young woman in love to queen of Parisian high society by simply following her own impulsive desires. Laurent Pelly, director of the Met's 2012 new production, marvels at the complexities of these desires, finding the personality of Manon "both naive and manipulative—extremely lively, extremely free, spontaneous, and inconsistent."
Capturing Manon's extremes is a notoriously grueling challenge for any diva. She's present in every scene of the opera and must retain the audience's sympathy while committing some decidedly unsympathetic acts. But it's a challenge that Anna Netrebko has conquered, to rapturous acclaim, in opera houses around the world. This production introduced her portrayal to Met audiences. Pelly says of his star, "She has sex appeal, an absolutely bewitching voice, and she's a great actress. She's a seductress, with power over the audience." The admiration is mutual: Netrebko says Pelly "knows exactly how a production has to look and has to be. He is one of those directors I trust completely, so easy and natural to work with."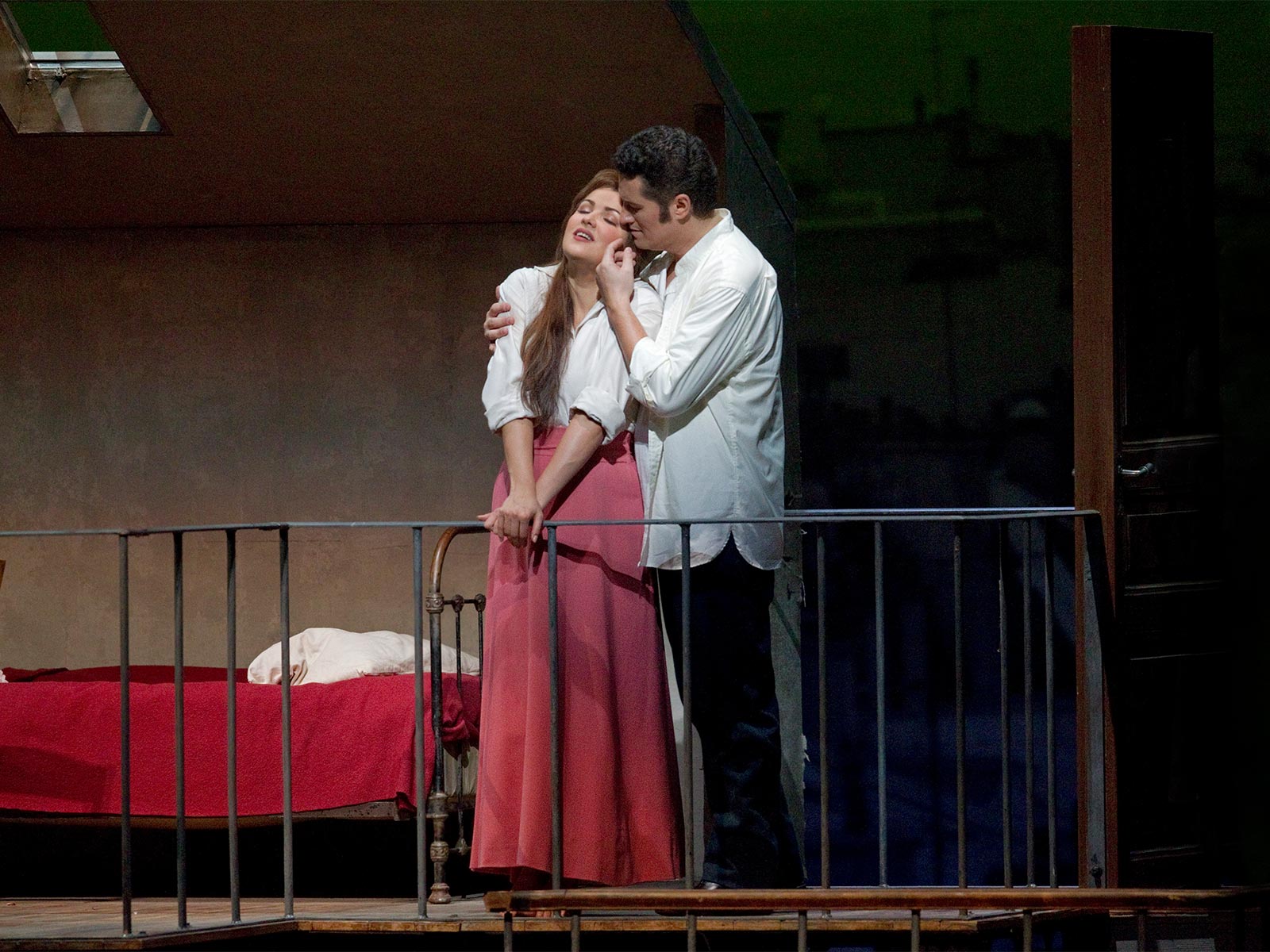 Fabio Luisi was on the podium for the new Manon, adding French opera to the remarkably varied repertoire he's performed with the company. And lyric tenor Piotr Beczała took on the role of des Grieux for the very first time, after his successes on the Met stage portraying such haplessly devoted romantic heroes as Gounod's Roméo, Rodolfo in La Bohème, and Edgardo in Lucia di Lammermoor. One might say that des Grieux has it worse than any of those lovers because he knows he's up against more than external obstacles—it is Manon's very nature that stands in the way of their happiness. As Pelly explains, "the whole story is about the passion between these two characters. She is very much in love, but at the same time, she's attracted by all that glitters—by money, by a world of easy pleasures, by the attention of men. She cannot bear to live in poverty ... but neither can she live without her true love."
This essential conflict lies at the heart of the novel on which the opera is based, the Abbé Prévost's L'Histoire du Chevalier des Grieux et de Manon Lescaut. Published in 1731, the book's open description of the protagonists' illicit, hot-blooded relationship caused it to be banned by the authorities—and devoured by the public. Though the narrator tells the story from des Grieux's point of view, it was the character of Manon who caught people's imagination, and by the time Massenet's opera had its premiere, in 1884, she had already been the title character of a ballet by Halévy and an opera by Auber. That didn't stop audiences from embracing Massenet's work, and ten years later, Puccini succumbed to the lure with his own Manon Lescaut. Massenet even wrote a one-act sequel of sorts, Le Portrait de Manon, that finds des Grieux, years later, still enthralled by Manon's memory.
Pelly updated the setting of the opera from Prévost's 18th century to the period in which Massenet composed it, otherwise known as the Belle Époque. Pelly describes the age as a curious blend of freedom and repression—the rise of the Catholic bourgeoisie coinciding with the burgeoning of immense artistic liberty. Working with set designer Chantal Thomas and lighting designer Joël Adam, he turned to the art of that period for inspiration. Pelly, who designed the costumes himself, especially drew upon the work of Impressionist painters such as Caillebotte and Renoir, but stripped down to their purest, most graphic aspects.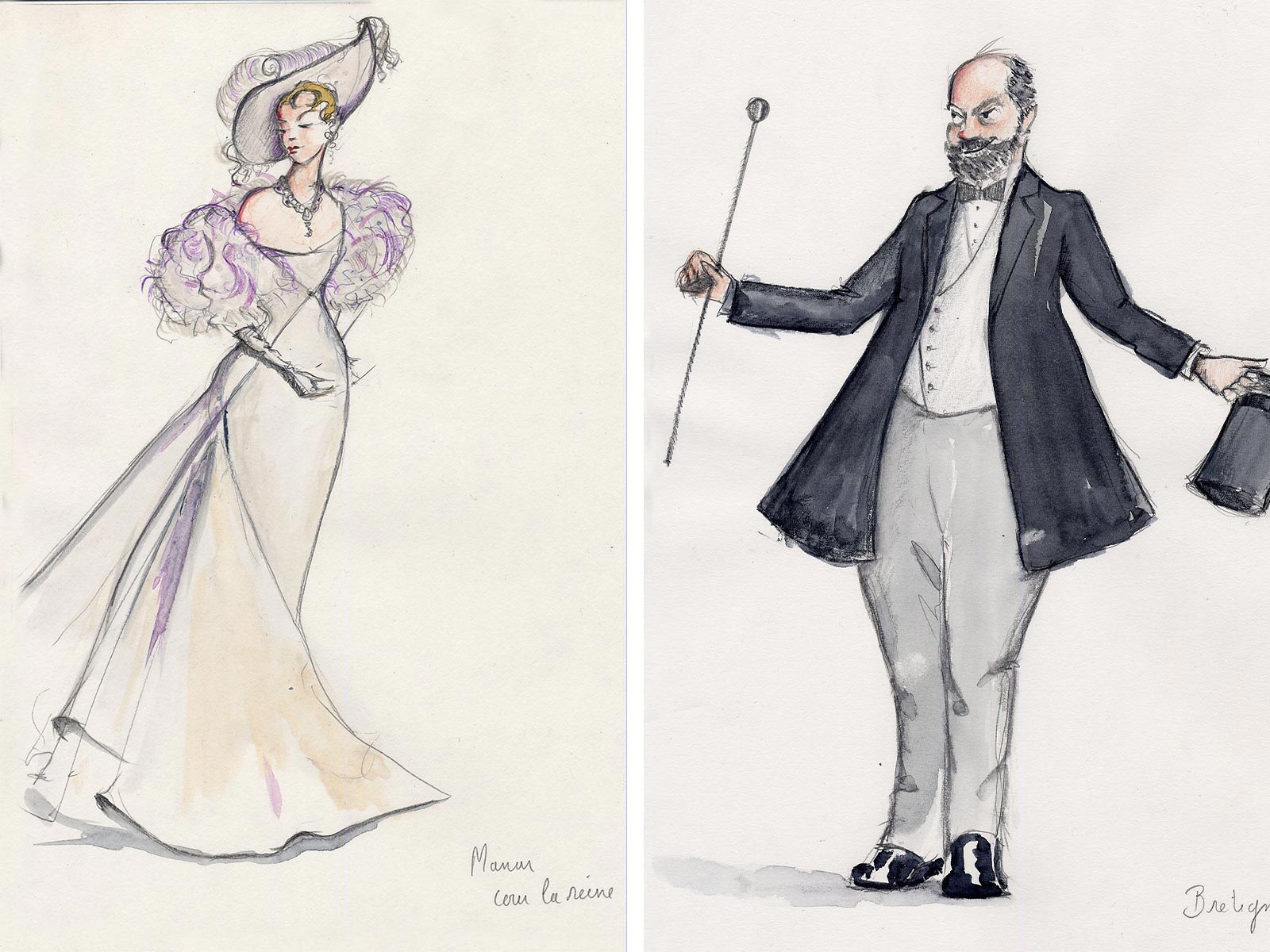 Costume designs by Laurent Pelly
It is the Belle Époque era's demonization of "loose" women that Pelly finds particularly interesting, and he draws a parallel between Manon and such heroines as Bizet's Carmen and Violetta in Verdi's La Traviata. Certainly, the archetype of the woman whose sexual liberties are, effectively, punished by death is found throughout literature and opera in the late-19th century—Massenet even visited it again later with Thaïs. "A free woman is dangerous: That's what these stories tell us in the end," Pelly reflects, observing that the public was "obsessed, fascinated, and terrified by that type of character. There's a breath of scandal in such a work."
And yet, with Manon in particular, the men who surround her are as responsible for her tragedy as she is, if not more. The 15-year-old girl, on her way to the convent as the opera begins, has barely stepped out of the coach before worldly roués begin to ogle her. Even her cousin, who ought to protect her, sees her as a vehicle for his own advancement. Pelly's production emphasized the fine line Manon walks, between femme fatale and victim, by playing up the point of view of the men who observe her in vivid moments such as the Cours-la-Reine scene that opens the third act. Manon cavorts among her admirers and revels in their adulation, having become, as Pelly puts it, "a monster of egotism, arrogance, and pretension." At the same time, he says, we feel the undercurrent of menace as men in formal black evening dress circle her "like predators."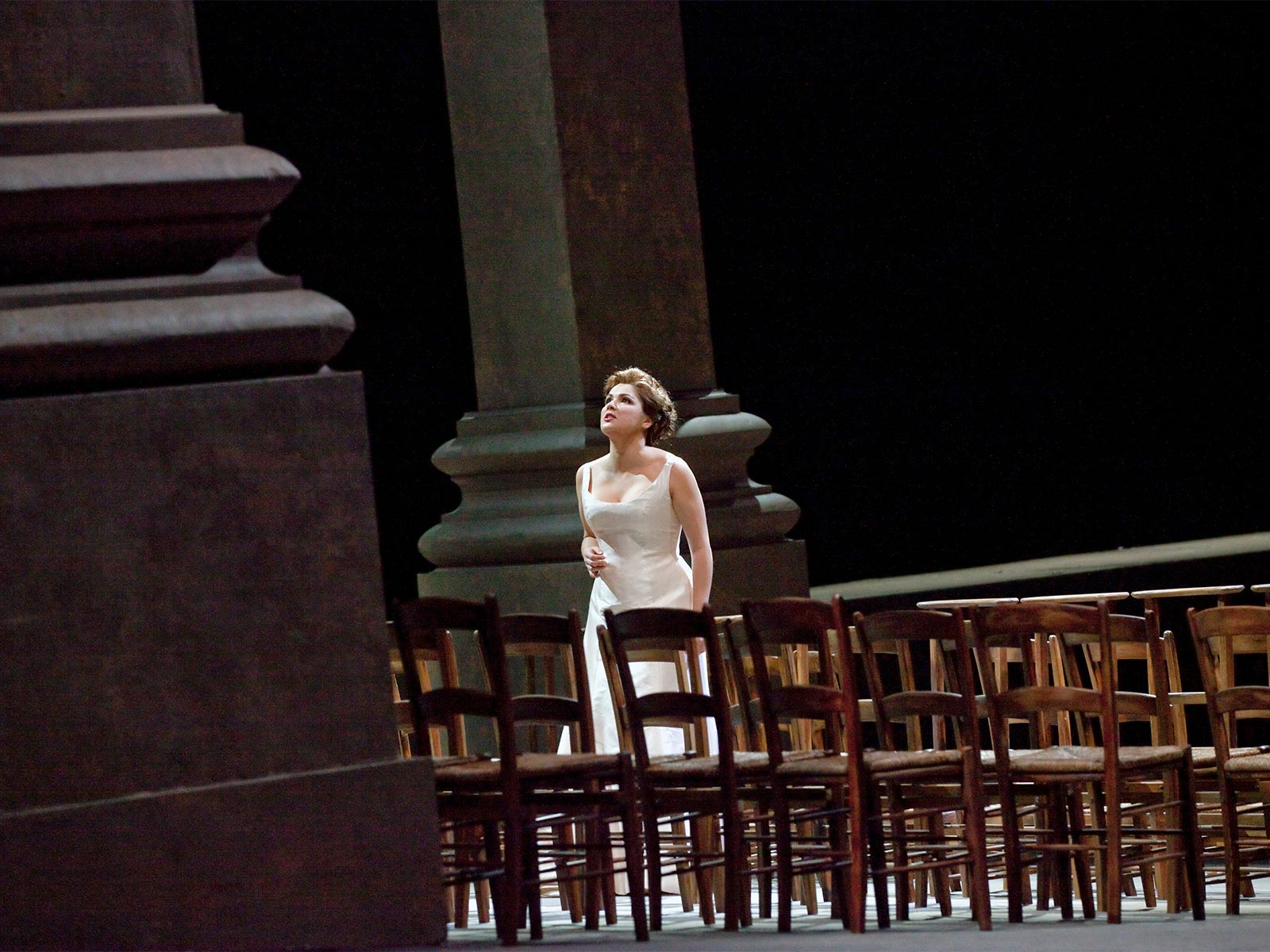 Ultimately, as Pelly sees it, Manon behaves as she does almost unknowingly, sometimes in spite of herself. This interpretation brings an extra layer of poignancy to her dying words, which echo what she tells des Grieux when they first meet: "And that is the story of Manon Lescaut." It's a story Pelly describes as "almost cinematic and constantly surprising—a great adventure that entertains at the same time it moves and frightens. And Massenet's music tells it so well."
The combination of gripping storyline and sumptuous score makes Manon an irresistible vehicle for a soprano with the gifts and temperament to handle it. As Netrebko herself declares, "This role has practically everything. It's funny and passionate. It's a dream for any soprano and actress."
Ellen Keel is the Met's Senior Radio Producer.