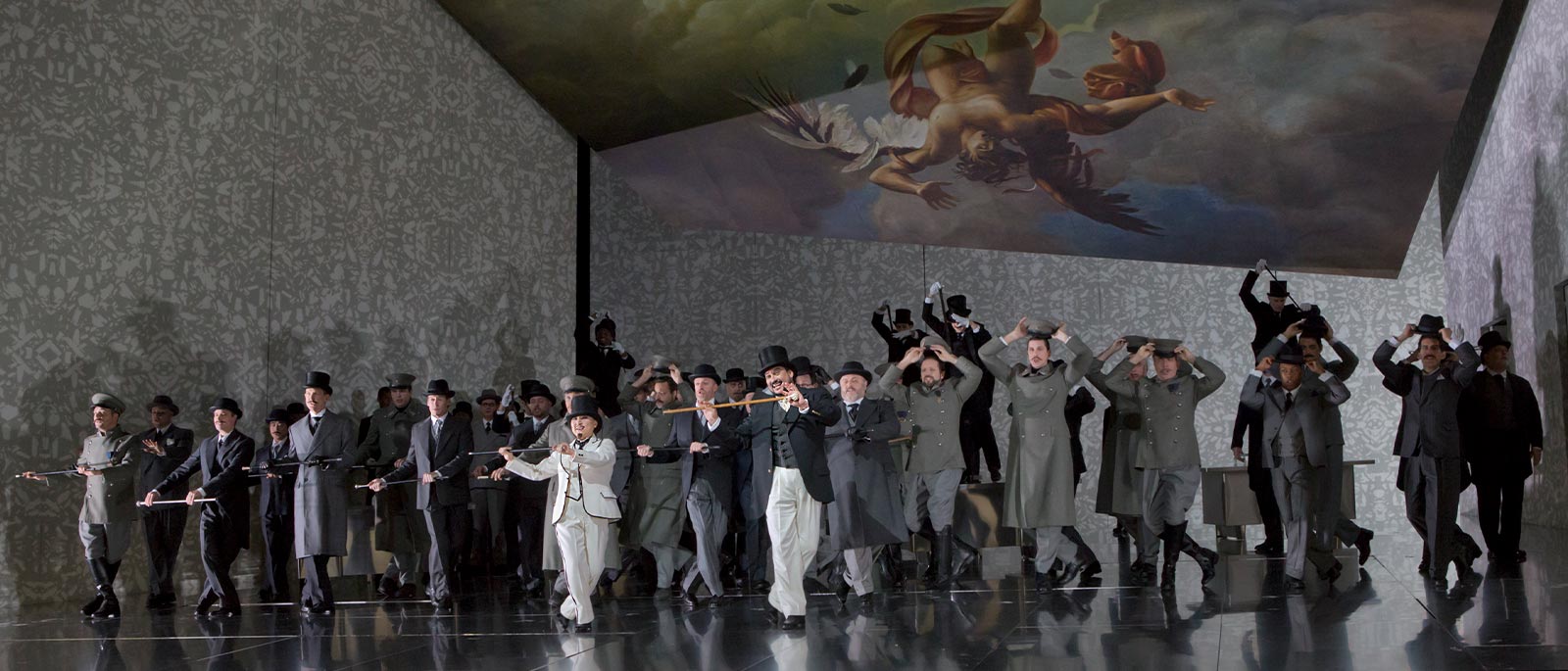 Light and Dark
With his 2012 production of Un Ballo in Maschera, set in a cinematic Swedish atmosphere, director David Alden aimed to integrate the stylistic paradoxes of Verdi's endlessly intriguing opera. By William Berger
"Un Ballo in Maschera is a famous opera—all the great singers have sung it," David Alden says. "But do people know what this opera really is and the madness within this piece—the danger within it, and also the almost schizophrenic layering under the realistic surface? One could think about Ballo forever and never really get to the bottom of it."
That, of course, is precisely what the director attempted to do with his new production of this Verdi favorite, which premiered in the fall of 2012. Alden believes the varieties of musical and dramatic tones are part of Ballo's appeal, and he embraced the opera's myriad, sometimes conflicting identities rather than avoid them. He had the benefit of an extraordinary cast of Verdi singers helping him uncover the nuances of this dynamic score, including soprano Sondra Radvanovsky as Leonora; tenor Marcelo Álvarez as the king, Gustavo, who loves her; baritone Dmitri Hvorostovsky as his most trusted adviser (and Leonora's husband) Anckarström; and mezzo-soprano Stephanie Blythe as the fortuneteller Madame Arvidsson. Fabio Luisi conducted.
Ballo's tortuous birth process is one of the factors contributing to the challenge of staging it. Commissioned by the Teatro San Carlo in Naples to write an opera in 1859, Verdi turned to his librettist Antonio Somma, who offered a text about a royal assassination at a masked ball. This was based on a play by Eugène Scribe, which in turn derived from the 1793 murder of Sweden's King Gustavus III by a disgruntled courtier, Anckarström (dramatic license turned him into the husband of the king's beloved). Verdi instantly recognized the libretto as operatic gold. "Unfortunately," Alden explains, "it came up against the censors, because the political times in Italy were very tense." The assassination of a monarch on stage wasn't going to fly.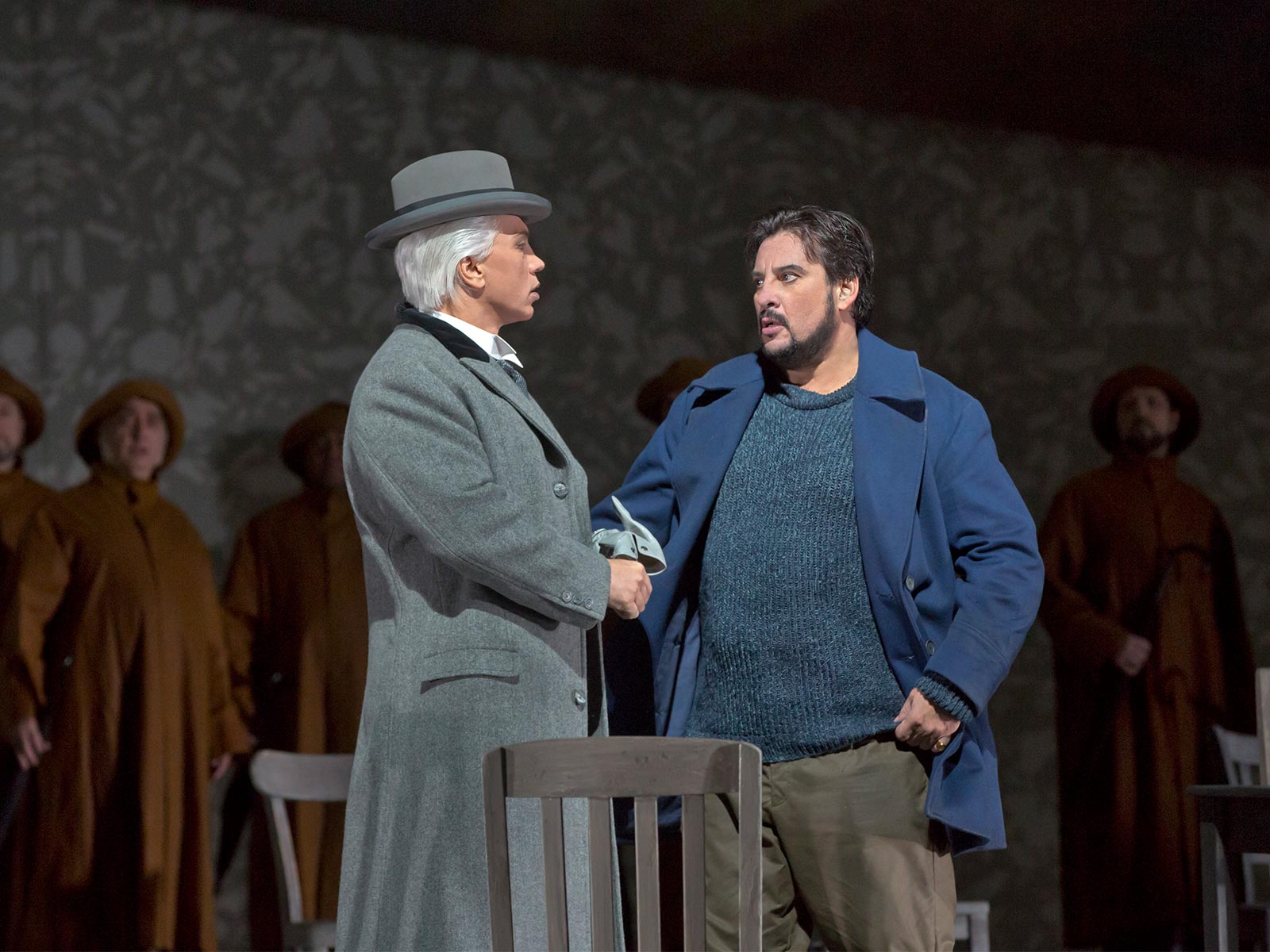 The censors proposed outrageous changes, including setting the opera in a pre-Christian Viking epoch—surely the unlikeliest locale for a masked ball. But Verdi would have none of it: He took his opera to papal Rome, where the authorities were apparently more flexible than those in Naples. For the Rome Opera, Verdi and Somma came up with the compromise setting of colonial Boston, eliminating the drama's regicide. The capital of Puritanism was only slightly more plausible than a prehistoric Viking camp, but it was enough for Verdi. Ballo was produced in Rome and was a hit.
The usual parameters of the debate about "authenticity" and "what the composer intended" were already obliterated before the opera even hit the stage, so the choice of a Boston or a Sweden setting remains fraught. Alden elaborates: "For an American director, it's amazingly seductive to do a Verdi opera that takes place in Boston. But, to be honest, it's just not right. It never was right, because the music that Verdi wrote, especially for the court, is so European and so elegant, and it's weirdly out of place in colonial Boston. If one can go back to the Swedish location, why not?" Alden and his team, including longtime collaborators Paul Steinberg (sets) and Brigitte Reiffenstuel (costumes), developed an aesthetic that is clearly Swedish, but different from the bewigged baroque background traditional for this choice. "We've made a dreamlike, slightly nightmarish early-20th-century environment, a very correct, buttoned-up Swedish court," Alden explains. "It's closer to Strindberg and Ingmar Bergman than to a Swedish Versailles."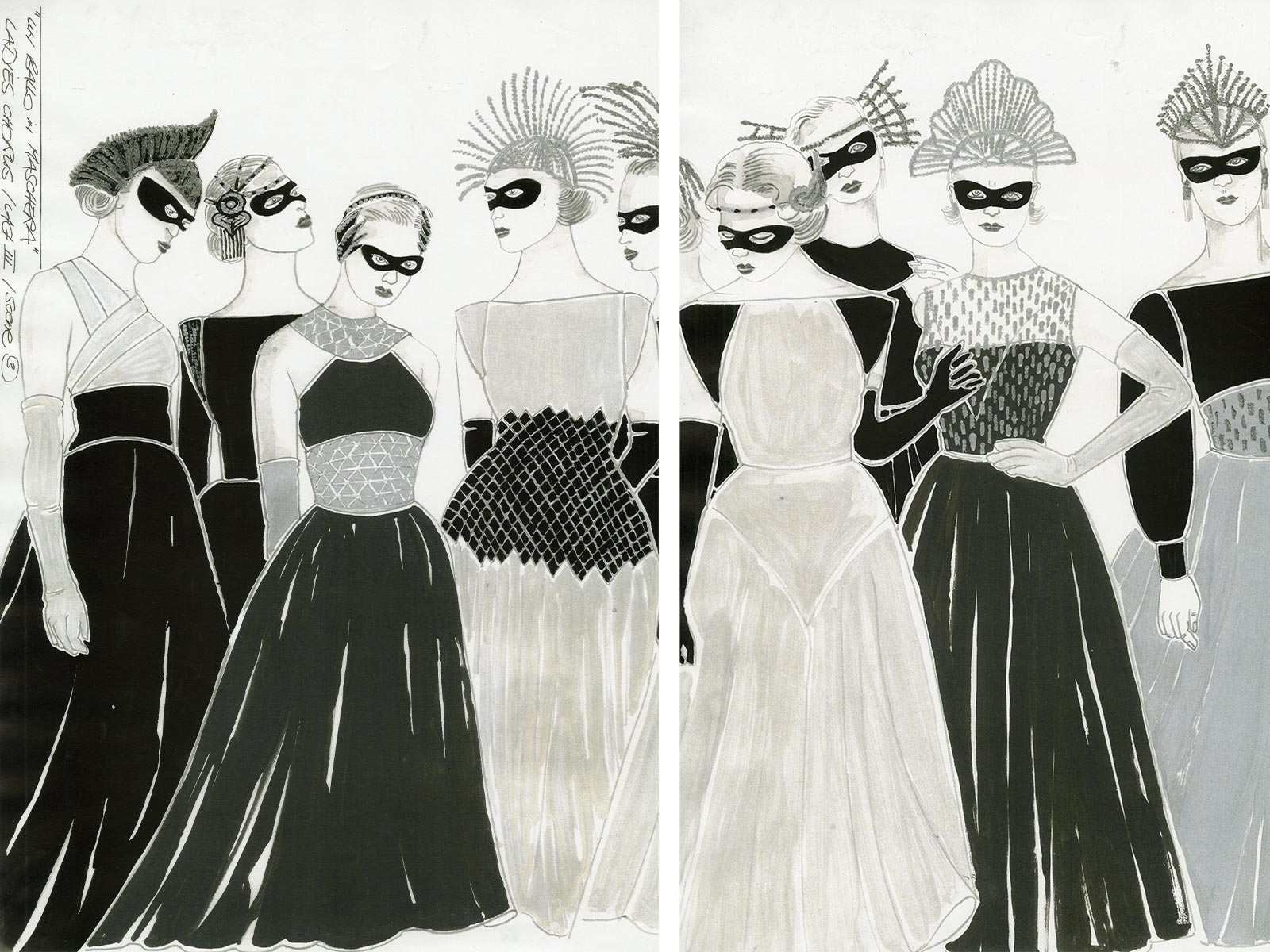 Costume designs by Brigitte Reiffenstuel
The setting, though, is only one of the unusual aspects of Ballo. There is also the trouser role of Oscar the page, sung by a lyric coloratura soprano and unique in Verdi's works. There's also the Act I scene with the fortuneteller, which delves into the supernatural, though, as usual in Verdi, the supernatural is less important than the human characters' reaction to it (as with the curse in Rigoletto, the magic forest in Falstaff, and the witches in Macbeth, for example). The fortuneteller scene reveals much more about the king's character than it does about, say, Swedish notions of the occult.
Verdi often wrote about kings (Nabucco, Don Carlo, etc.), but Alden notes that Gustavo is different. "This piece is about a king who doesn't want to be a king anymore. He wants to disappear from all of his obligations and responsibilities. He's formed, in his imagination, more than anything else, a passion for the wife of his best supporter. He's trying to destroy the man who's trying to save him from assassination attempts and plots. It's like he's plotting his own death, rather beautifully and aesthetically and passionately. There's a kind of weird madness to this guy."
In Alden's production, the king's room features a striking detail: a classical painting of Icarus, who, as Alden reminds us, "created his own wings but flew too close to the sun and plunged to his death. It's the ultimate image of someone seeking too much pleasure, life, and power, and it somehow accompanies the king throughout the landscape of his adventures and to his death. The king is a sort of Icarus figure."
Gustavo revels in the precariousness of his situation, even dramatizing it. "Every scene in this opera is like a masked ball," Alden says. "He turns every scene into a party." This includes the fortuneteller scene, which concludes with an elaborate ensemble that encapsulates Gustavo's character: "È scherzo od è follia," "It's a joke or it's madness."
This tension between darkness and levity is emphasized throughout the opera. In one scene that ranks among Verdi's greatest, Oscar unknowingly interrupts a conspiracy to assassinate the king with the announcement of the masked ball (he uses the actual phrase "un ballo in maschera," underscoring this scene's importance). Oscar's music is pert, buoyant, and laughing, but in the context of the conspiracy, it's also irritating, goading, even ominous. "Verdi takes that kind of operetta-esque music and turns it inside out, because there's a dark element to this king's pursuit of escape and love and fun," says Alden. "There's an almost suicidal side to it. You have all these levels going on at the same time. It's like two or three different operas, kind of pushed together in this very interesting way."
Actual gallows humor concludes Act II in a superbly understated and effective finale, as the men of the town laugh at the humiliated Anckarström at the Hangman's Post. Not even Wagner's Alberich (in Das Rheingold) or Kundry (in Parsifal) deliver more cynical depictions of the cruelty that can underlie laughter than the courtiers in this scene. "There are so many different kinds of laughter in this piece," Alden says. "There's light laughter; there's dark, demonic laughter; there's the laughter almost from the grave."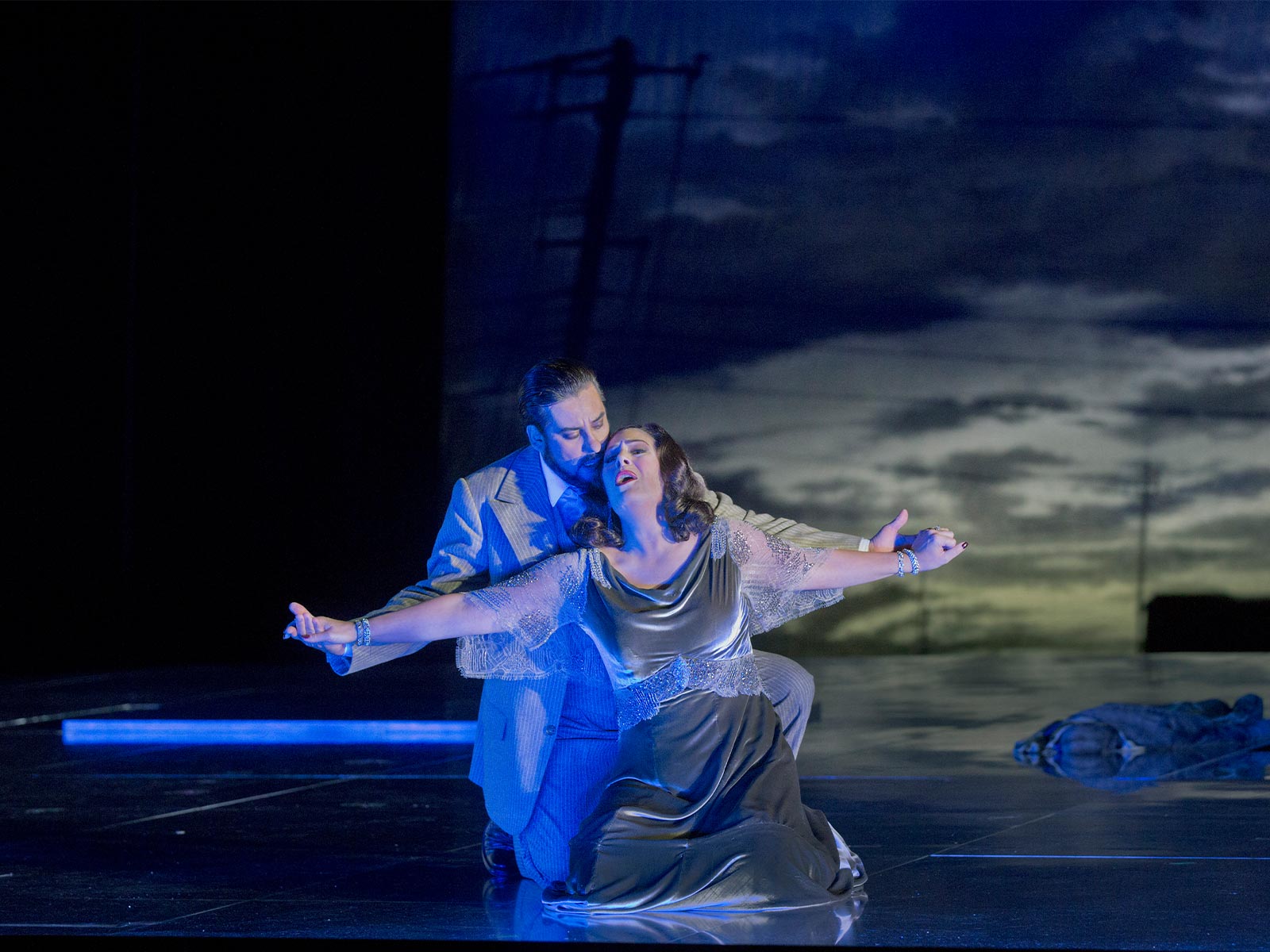 Alden's production aimed to integrate these seeming contradictions. "I think Verdi is asking for a theatrical style that can encompass lots of moods and can turn on a dime," he says. This challenge extends to the singers, whom he wants "to find acting styles that encompass the elegance and the music but that can also be unlocked to become very intense and emotional and melodramatic." Alden calls Ballo theatrical and musical "dynamite," an explosive mix because of, rather than in spite of, its disparate elements. "It's a truly amazing opera," he says, "because it's such a combination of different styles."
William Berger is a Met Radio Writer and Producer.