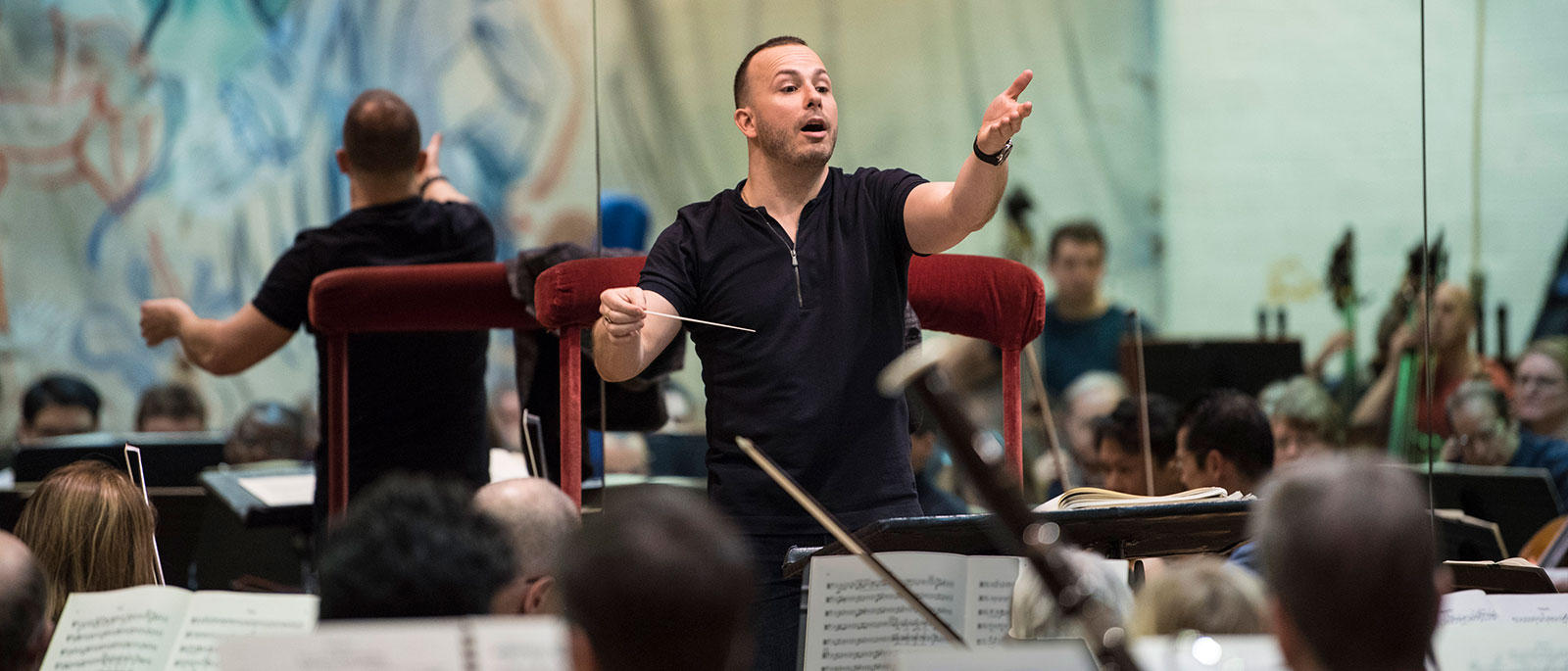 Lasting and Profound
Yannick Nézet-Séguin brought his first season as the Met's Jeanette Lerman-Neubauer Music Director to a close with a revival of Dialogues des Carmélites in May 2019. As he prepared to lead Poulenc's powerful opera of faith and martyrdom, the maestro spoke to the Met's Jay Goodwin about what makes this masterpiece of 20th-century music unique.
You finish your 2018–19 opera season with Poulenc's Dialogues des Carmélites. Have you conducted it before?
No, but I worked on it as chorus master and assistant conductor when I was in Montreal, years ago. And around the same time, I attended a performance of this great John Dexter production at the Met. Both experiences made the most lasting and profound impression on me.
It's an opera that seems to have such an effect on almost everyone, the first time they encounter it. What do you think gives it such power?
The first thing is Poulenc's musical style, which is a mixture of very simple meters and harmonies, but which is charged with tension that goes right to the soul and immediately affects us psychologically and emotionally. It brings us, right away, to a place where we can be moved.
And, of course, the story of a group of nuns who are martyred during the French Revolution is devastating.
Yes, it's a story about friendship, purity, sacrifice, love, rejection, aspirations—subjects that you find in other operas, but rarely so tied together the way they are in Carmélites. And it's hard not to be moved by the final scene, which puts right in front of you the cruelty of this moment in history as you watch, with emotional music, the passing of all these devoted women.
Carmélites stars mezzo-soprano Isabel Leonard, who appeared at the Met earlier this season as Mélisande in Debussy's Pelléas et Mélisande, which you also conducted.
I believe very much in friendship in music. I believe the more we make music together, the better we are at knowing each other, and we can then bring out the best of the music we play and sing. Isabel has had a big year at the Met, starring in three operas, and it has been great to share this French focus and perspective with her throughout the season.
This is an unusual work in that, for obvious reasons, it depends almost entirely on female voices. What effect do you think that has on the music and the drama?
In the creative discussions we have with composers as part of the Met's commissioning program, there's often discussion about how we have to be careful to distribute the voices evenly, and not have only high or only low voices. But this is an opera that breaks all of these rules, putting all the weight of the story on female voices. This has the risk of becoming tiring or unbalanced, but Poulenc counterbalances it with the harmonies, and with the delineation of the characters. Constance, for example, is the most pure and innocent of them all and sings in the highest register, whereas the lower-voiced ones are older. They've lived, and are more tired. This is all masterfully done and becomes an integral part of the story. All of this is where Poulenc shows his genius.
Jay Goodwin is the Met's Editorial Director.