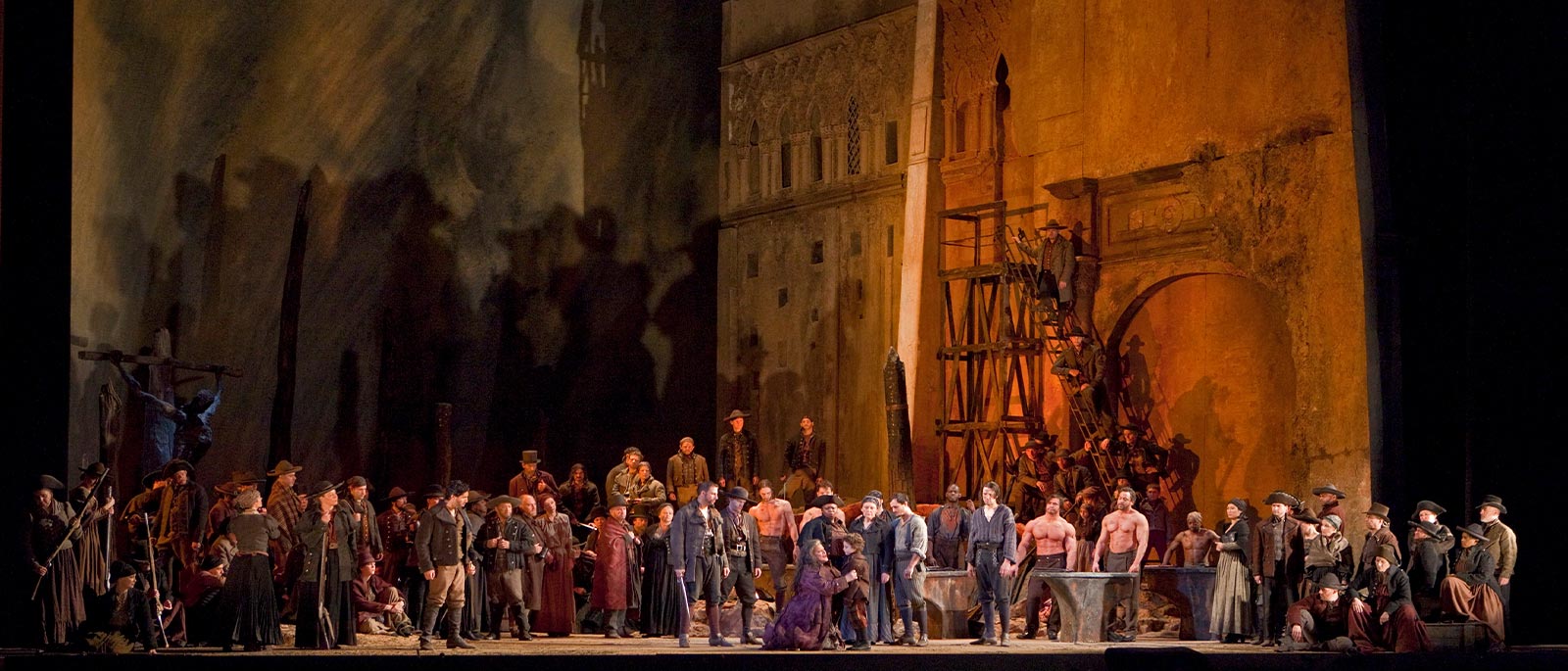 Into the Fire
In Sir David McVicar's 2009 staging, Verdi's Il Trovatore reclaimed its place as a dramatic—not just musical—masterwork. By Ellen Keel
If Verdi had written an opera based on the back story of Il Trovatore, it would have been a gripping piece of music drama: A Gypsy woman is burned at the stage for allegedly cursing old Count di Luna's baby son; her daughter Azucena avenges her by kidnapping the child, intending to cast him into the fire; but in a moment of delirium, she slays her own son instead! Verdi would no doubt have created a sensational mad scene for Azucena. (The librettist for Trovatore, Salvadore Cammarano, wrote the libretto for another famously unhinged heroine in Donizetti's Lucia di Lammermoor.) And the existence of such an opera might have prevented future generations from carping about Trovatore's plot, a habitual hazard for this great work.
Il Trovatore has seized the imaginations of opera lovers for more than 150 years, and to claim that this is in spite of its story does an injustice to Verdi's inspiration, as though he wrote nothing but a hit parade. Consider that the plot twists most often ridiculed 
as far-fetched center around Azucena—whom many consider to be the opera's most complex and compelling figure, and whom Verdi originally intended to make its title character. Opera thrives on the extreme emotions that arise out of extreme situations, but Verdi's genius for humanizing them raises the stakes on "believability."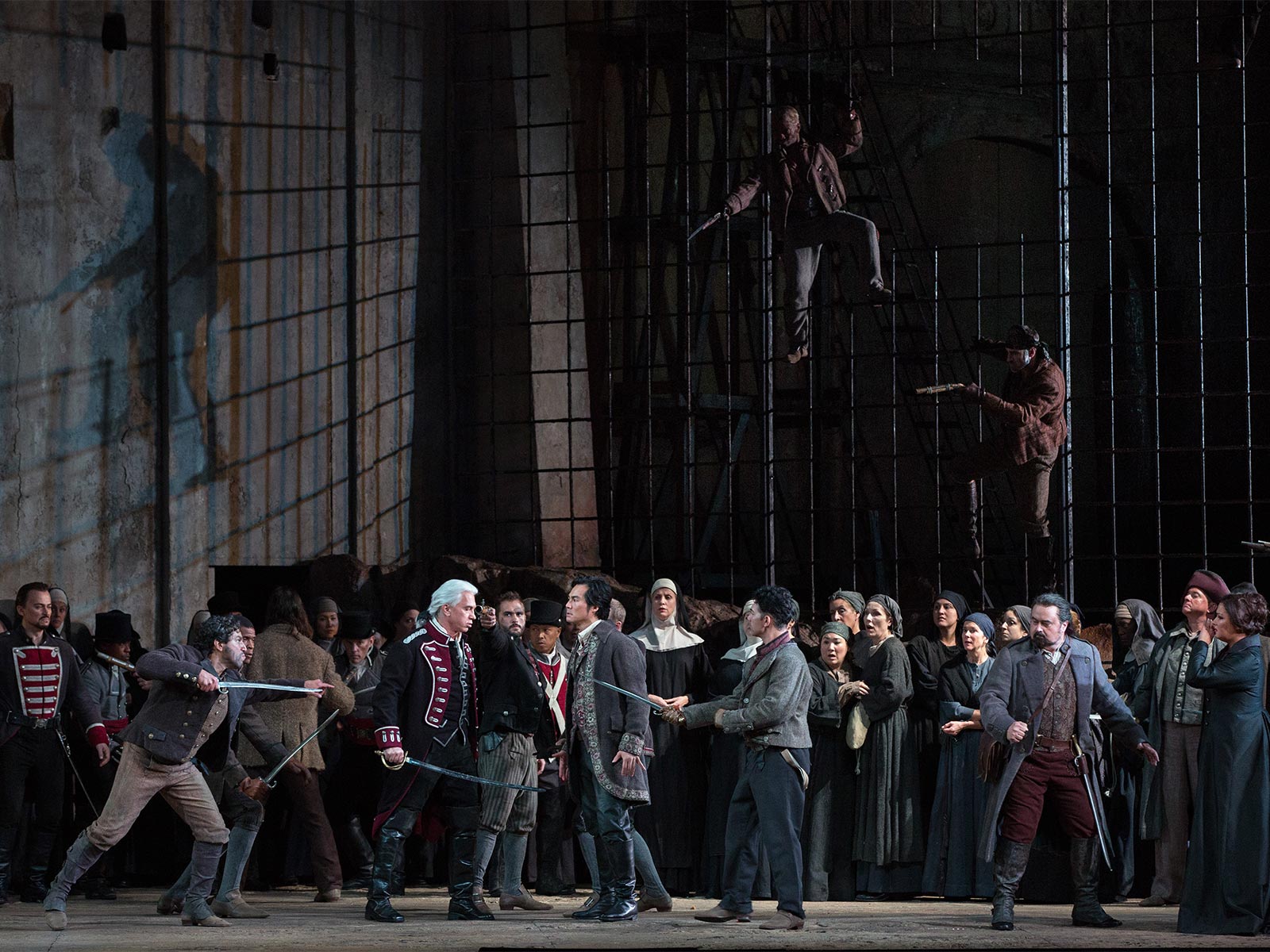 For Sir David McVicar, director of the Met's 2009 new production, the opera is very much a product of its period—a melodrama from the height of the 19th-century Romanticism. But at its heart are elements that resonate as powerfully today as they did when the work premiered in 1853: "I think the message of Trovatore is what happens when a society rips itself apart, and brother is pitted against brother without acknowledging or even being cognizant of their blood relationship and the love they should have for one another."
McVicar has chosen to leave the setting in Spain, but during the Peninsular War (1808–1814). The look of the production was inspired by the work of Francisco Goya—particularly his famous prints "The Disasters of War," with their haunting depictions of that time, and his nightmarish "Black Paintings."
The costume designs by Brigitte Reiffenstuel were also Goyaesque, particularly for the Gypsies, though McVicar was interested less in what these characters would actually be wearing than in how they were perceived by the people who feared and persecuted them. The sets, designed by Charles Edwards, sat on a turntable to minimize scene change breaks. "We wanted to keep the thing powering ahead," McVicar explains. "It's important to be swept along by the virility and power of the music."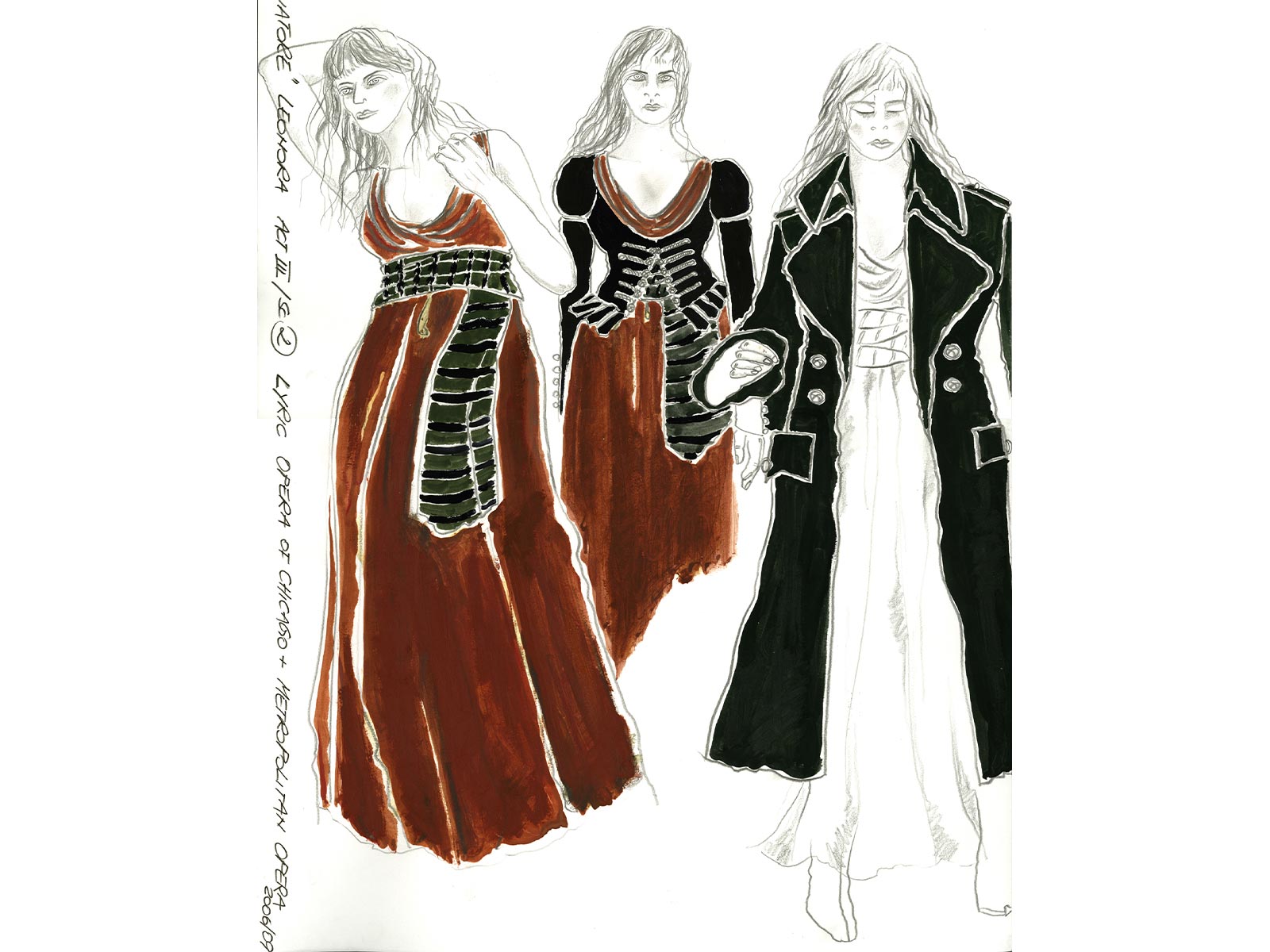 Costume designs by Brigitte Reiffenstuel
People stumble over the somewhat abrupt way that the back story is revealed. It falls to Ferrando, the captain of the guard—not one of four principal characters—to narrate most of it at the top of the opera. But this was a conventional style of exposition in Verdi's day, for theater as well as for opera. Indeed, the playwright who created El Trovador, on which the opera is based, also wrote the source for Simon Boccanegra, another Verdi opera that routinely undergoes the same kind of sniping.
As with all opera stories, it's not meant to be read but experienced with the full force of the music. Azucena herself tells the rest of the back story, but the emotional impact of her revelations can become a casualty of casual title reading. A fidgety audience with a highly developed sense of irony might chuckle when the words "I'd burned my own son!" come up on the screen. No one who's truly immersed in the musical and dramatic moment, however, would so much as crack a smile when a mezzo does justice to the harrowing way Verdi sets the line, "Il figlio mio... il figlio mio avea bruciato!"
From what she says, the audience (if not Manrico) can easily deduce the situation: Manrico is actually the son of the old Count di Luna and the brother of the current count. This is a wonderfully suspenseful setup for the opera's present-tense plot, which has been described as three subplots skillfully woven into one. There's the romantic part, a classic love triangle between Manrico, the noblewoman Leonora, and the count; the political, involving a struggle for power in Spain; and the "Gypsy's revenge."
Even if an audience member is not crystal-clear on the specific details of a situation as it's happening, the brilliance of Verdi's writing is such that in the moment, there's never really much doubt about who wants to do what to whom—unless Verdi wants there to be. In spite of the work's reputation as a grand operatic potboiler, Verdi courts intimacy and psychological ambiguity throughout it. In addition to the back story, several major action moments never make it to the stage. Instead, we hear about them afterwards and gauge them through someone's reaction: the duel between Manrico and the count, Azucena's search for Manrico on the battlefield, Leonora's decision to take the veil, Manrico's failed attempt to rescue Azucena, and his subsequent capture—even Manrico's execution.
Legendary tenor Enrico Caruso famously joked that all that's required to mount a production of Il Trovatore is the four best singers in the world. It's certainly a wickedly difficult sing, requiring both bel canto grace
 and sheer volume. Audiences have rightfully been quick to forgive singers if they've conquered the vocal hurdles but had little left over to make the characters believable. The opera's bad rap for dramatic flimsiness isn't helped by either the "stand and deliver" approach or the over-the-top style of acting it can engender. Leonora, for instance, is often played in a rather stately manner, when in fact her actions make more sense when inspired by what McVicar calls "passion verging on madness," while both Azucena and di Luna are in danger of being interpreted with more scenery chewing than they deserve.
Then, there's the title character, the troubadour Manrico, whose reputation for being rather dense and blustery makes him the hardest for some to accept dramatically. But when judged not on his famous cabaletta "Di quella pira" (which is, after all, a call to arms) but on his exquisite lyrical moments, he also holds more depth, subtlety, and even mystery than often thought. The tender aria that precedes it, for instance, is McVicar's entry point. "It's almost certain they're not going to get out of there alive ... I find the Byronic sense of doom, a fatalism expressed at that point, a really good way to understand Manrico and to make an intelligent and dignified character."
Perhaps some directors have a hard time trusting the story of Il Trovatore because they harbor a kind of snobbishness toward hit tunes. Not so with McVicar. "Verdi was a self-consciously populist composer," the director says. "He was not ashamed of that, and I think that's a very healthy thing." The Anvil Chorus, for instance: "There's no way that you can't acknowledge that it's a famous tune, and the audience is waiting for it. It's a hit number, and a hit number has to be delivered. But it has to be delivered with showbiz aplomb."
Appreciating Verdi means realizing that there's nothing mutually exclusive about catchy melodies and keen psychological insight, or improbable plot turns and dramatic urgency. The burden of believing in these characters and their stories has already been shouldered—by him, beautifully. We have just to give ourselves over to be moved and thrilled.
Ellen Keel is the Met's Senior Radio Producer.