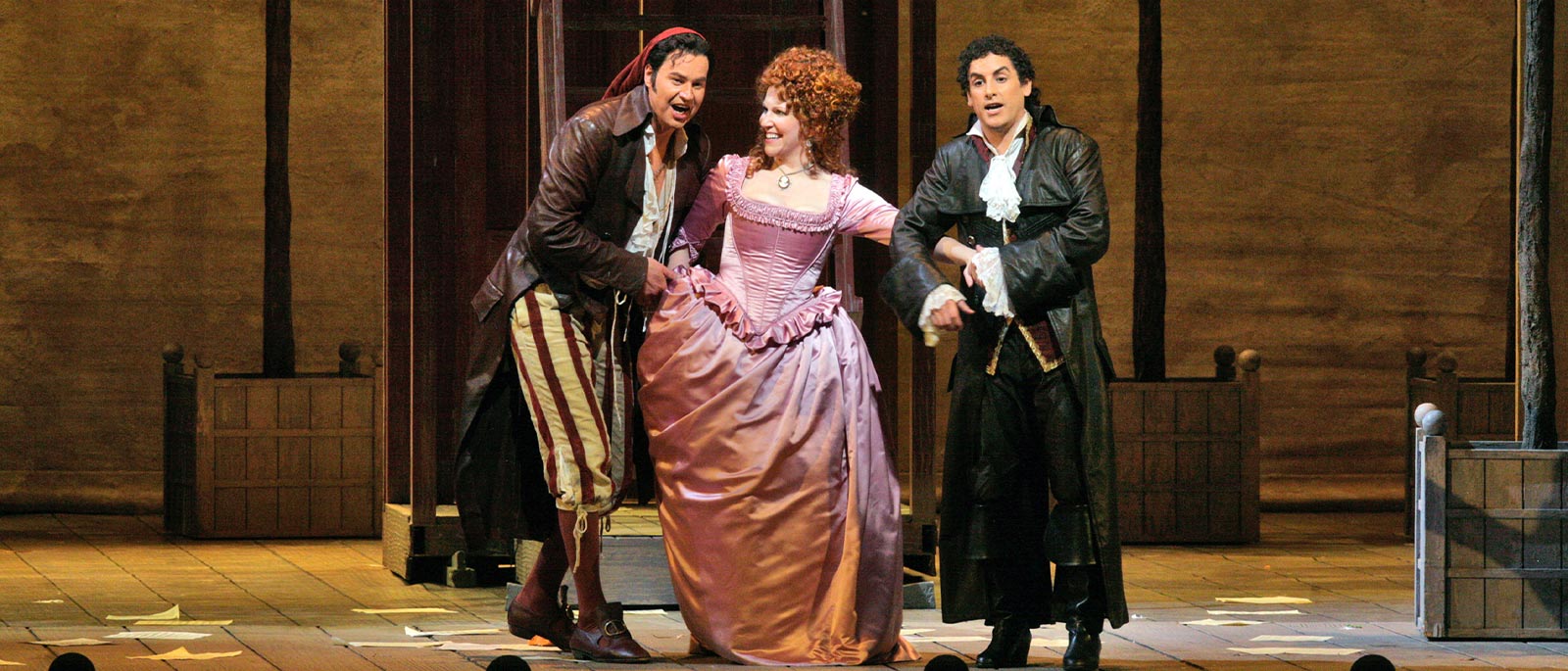 How to Sing Rossini
"You have to sing it fast!" says Juan Diego Flórez of Rossini's quicksilver coloratura. "Otherwise, it's not exciting." As one of the world's leading Rossini singers, Flórez knows better than most about fast and exciting. The tenor appeared in Bartlett Sher's production of Il Barbiere di Siviglia when it premiered at the Met in 2006, impressing audiences with his mastery of Rossini's dazzling vocal flights.
Quick-moving roulades, which abound in Barbiere, are an essential part of bel canto, a challenging style of singing, but one that comes naturally to Flórez, who first discovered his affinity for rapid-fire vocalism as a student at Philadelphia's Curtis Institute, where he sang his first Barbiere. "I really felt that the coloratura was easy for me," Flórez recalls of his student days. "I could do the high notes and everything."
And yet the tenor points out that it's not Rossini's tricky fireworks that most appeal to him but rather the vocal elegance that underlies the crowd-pleasing display. "I like the refinement of it, the musicality of it," he explains of Rossini's vocal lines. "For me, Bach and Haydn and Mozart and Rossini are all part of the same style. The melody, the line—that's very important for me."
Peter Mattei, who has made a specialty of the role of Figaro, in both the Rossini and Mozart incarnations, feels similarly about balancing feeling and filigree. Rossini's barber is best known for his textually demanding aria "Largo al factotum," but the Swedish baritone finds that side of the character "too braggy." "It's like a guitarist who plays a solo and is just showing off his technique," he explains. "I don't look at Rossini as showing-off music. I don't want it like that. It should be fluent, vital—life, youth! If you focus on the quick things, you're focusing on the wrong place. The characters' needs must come through the music."
Rossini himself would be glad to hear it. Despite his supreme gift for churning out memorable tunes, he was also a deeply theatrical composer, intent on creating vivid characters of substance and humanity—who just happen to deliver giddy and exacting melodic runs.
For the singers, that means preparing not just technically but emotionally. "It's like a sprinter running the hundred meters," Mattei says. "If he thinks he has to run 9:46 to beat the world record, he will run it in 12 seconds. But if he thinks about moving the body and doing what his training taught him and not forcing his muscles, then maybe he will come close to his goal. If you only think about running quickly, then you're off."