From the Archives: Pavarotti at the Met
By Peter Clark
In the storied history of the Metropolitan Opera, Luciano Pavarotti holds a secure place as one of the company's most celebrated tenors, following in the footsteps of such legendary artists as Enrico Caruso, Giovanni Martinelli, Beniamino Gigli, Jussi Björling, Richard Tucker, Carlo Bergonzi, and Franco Corelli—to name only a few who sang in similar repertory.
Considering the illustrious career Pavarotti would eventually enjoy at the Met, his debut in 1968 was remarkably inauspicious. Contracted for eight and a half weeks in the fall of 1968, he was to have sung eight performances split between La Bohème and La Sonnambula. Unfortunately, on arrival in New York he came down with the Hong Kong flu and his scheduled debut as Rodolfo on November 16 had to be put off until November 23. Supported by his childhood friend Mirella Freni as Mimì, and in spite of his ill health, Pavarotti attained a genuine success that day. New York Times critic Peter G. Davis gave a glowing report of his singing that would remain an apt appraisal for many years to come, "Mr. Pavarotti triumphed principally through the natural beauty of his voice—a bright, open instrument with a nice metallic ping up top that warms into an even, burnished luster in midrange. Any tenor who can toss off high C's with such abandon, successfully negotiate delicate diminuendo effects and attack Puccinian phrases so fervently is going to win over any La Bohème audience, and Mr. Pavarotti had them eating out of his hand."
But a complete triumph at the Met was not in the cards just yet. At his next Bohème performance on December 5, he canceled after Act II, then withdrew from all the Sonnambula dates due to illness. Pavarotti returned to the Met two seasons later for three roles, Edgardo in Lucia di Lammermoor, Alfredo in La Traviata, and more Rodolfos in La Bohème. These were interspersed in what was then the Met's typical repertory system of constantly rotating casts so that he sang 11 performances with eight different leading ladies, most notably Renata Scotto as Lucia and Joan Sutherland as Violetta. This time his success was more marked. He received excellent notices for all three roles and garnered a glowing review for his Bohème from New York Times chief critic Harold Schonberg entitled "Pavarotti at the Met: A Golden-Age Voice."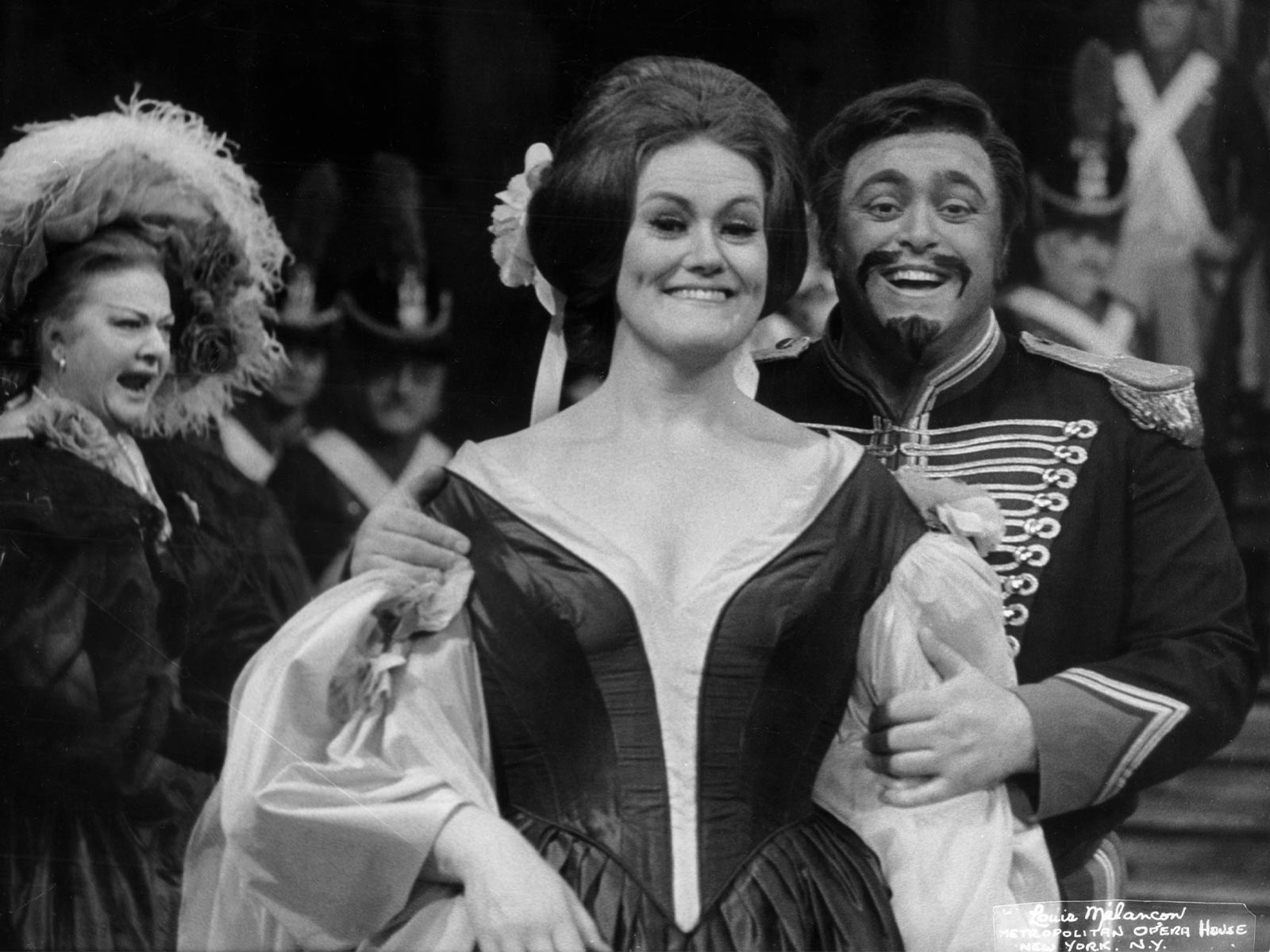 It was in his third Met season that Luciano Pavarotti would skyrocket to stardom. The company imported Covent Garden's production of Donizetti's La Fille du Régiment in 1972 (pictured above) as a vehicle for Sutherland. The great Australian diva indeed enjoyed a huge triumph, but the surprise for the audience was the young Italian tenor by her side who shared an equal part in the phenomenal success. The extraordinary quality of Pavarotti's timbre and his easy top notes had already been noted by critics, but many in the audience had not heard his earlier performances and were discovering this amazing voice that could be by turns sweet, limpid, potent, and brilliant. The aria "Pour mon âme," with its nine high C's tossed off with abandon by the tenor, sent the house into delirium. Pavarotti's stage deportment, which had heretofore been seen as "self-conscious" and "stiff," was suddenly liberated by his comedic instincts and the spoof-like production of Donizetti's opera. As a rather large, naïve young peasant and a rather large diva dressed in feminine military attire but who was clearly no young girl, Pavarotti and Sutherland romped about the stage unselfconsciously and soaked up the audience's amused adulation. "Two virtuosos, two gorgeously matched voices, making music together rather than trying to outdo each other," read Schonberg's New York Times review. Of Pavarotti, he wrote "today he is the reigning tenor in the lyric side of the Italian repertory," and compared him to Beniamino Gigli, the legendary tenor Luciano had idolized in his youth.
From this point on, Pavarotti was an opera star of the first magnitude. He appeared in every Met season for the next 29 years, although in several of those it was only for a special gala or concert. As the major tenor stars of the previous generation began to retire, Met management became more and more determined to grab as much of Pavarotti's time as he could make available. He sang more often at the Met than at any other opera house in the world, some 378 times in all and including 20 roles. New productions with him as the lead tenor were mounted on a regular basis: I Puritani (1975–76), La Bohème (1976–77), La Favorita (1977–78), Un Ballo in Maschera (1979–80 and 1990–91 [pictured below with Aprile Millo]) , Idomeneo (1982–83), Ernani (1983–84), Il Trovatore (1987–88), Rigoletto (1989–90), L'Elisir d'Amore (1991–92), I Lombardi (1993–94), and Andrea Chénier (1995–96).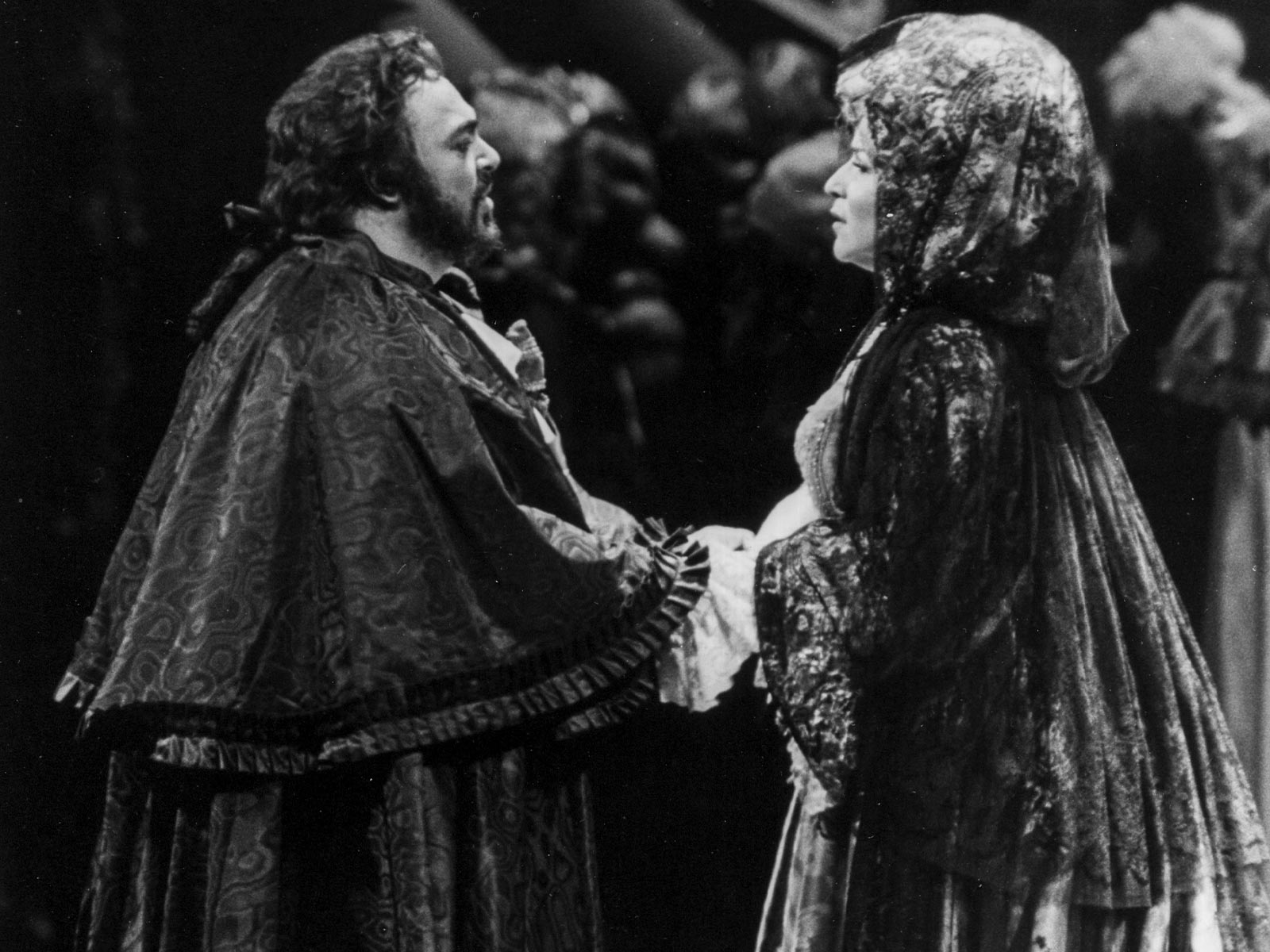 Except for the title role in Mozart's Idomeneo (pictured below) and the supporting part of the Italian Tenor in Strauss's Der Rosenkavalier, Pavarotti's repertory at the Met was confined to the Italian Romantic repertory, from Bellini to Puccini. His opera roles were all sung in his native language, save the one that made him famous, that of Tonio in La Fille du Régiment, which was in French. Perhaps this was fitting, as Pavarotti communicated so instinctively to his audience in Italian. He possessed a clarity of diction rarely found in opera singers, so that even audiences with only a modest knowledge of the language could understand. Beyond that, Pavarotti's essential artistry, the musicality of his phrasing, and his idiomatic inflection of the text was deeply connected to the natural rise and fall of the Italian language. It was this, as well as the pure beauty of his voice that elicited an almost primal response in audiences.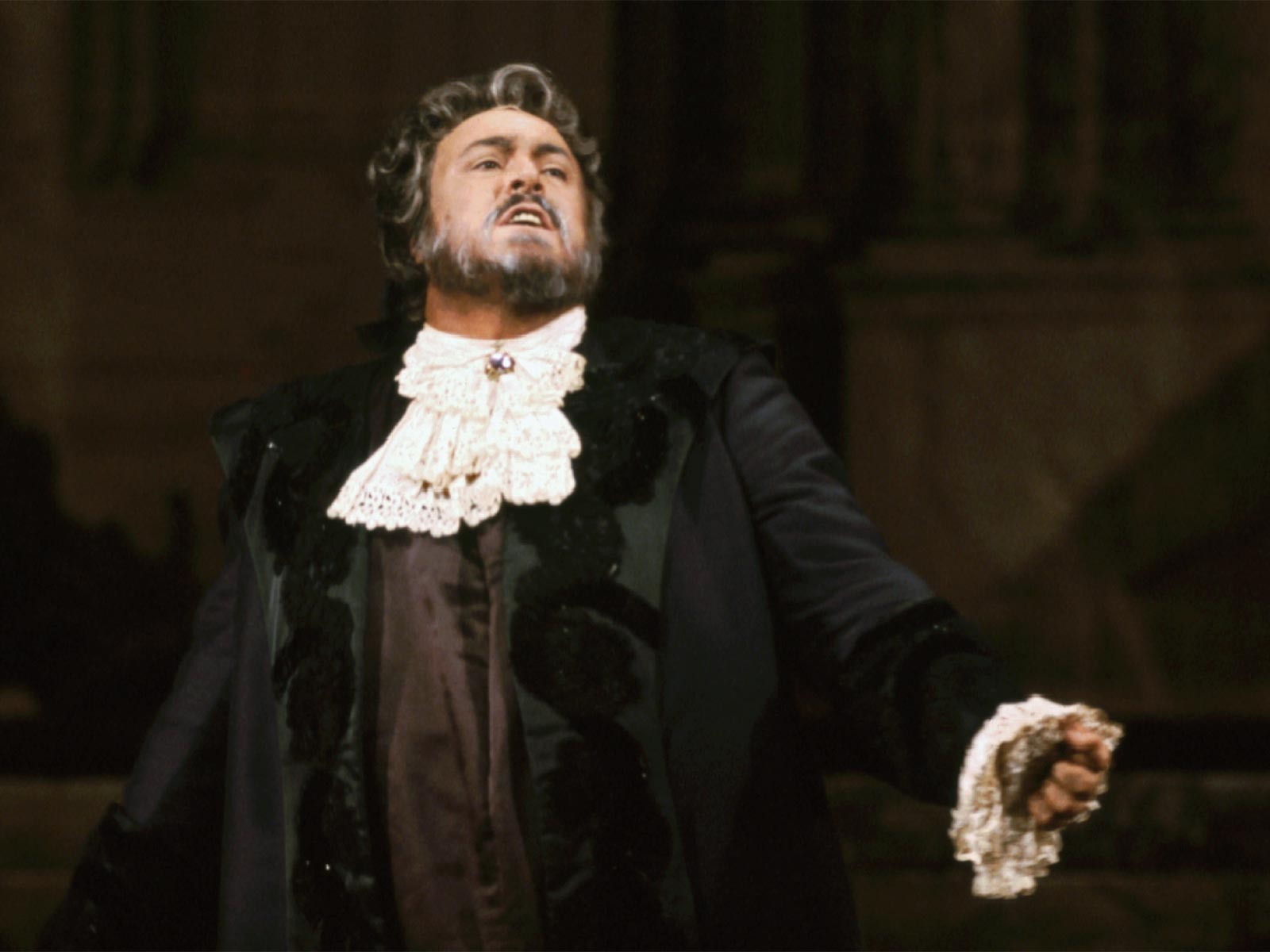 Never gifted as a physical actor, Pavarotti interpreted his roles almost entirely through vocal means. His refined singing was particularly crucial to such bel canto operas as Donizetti's L'Elisir d'Amore (pictured below with Kathleen Battle). In some ways, Nemorino was his most successful interpretation, and he sang it 49 times at the Met. As with Tonio in La Fille du Régiment, the character of the simple peasant boy with a heart of gold fit his lyrical and comic instincts in a particularly appealing way, and he was a more engaged physical actor as Nemorino than he was in tragic roles.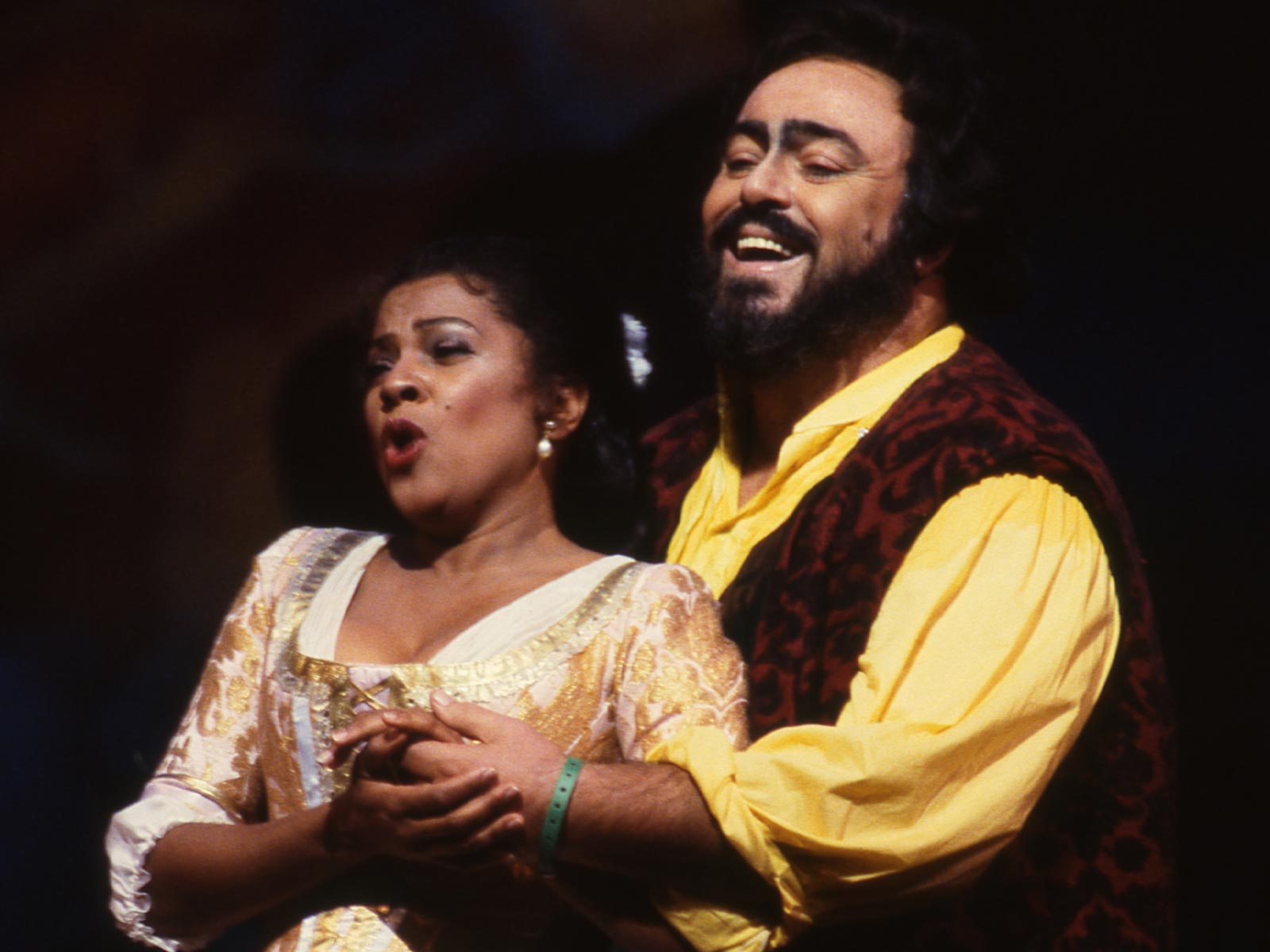 Pavarotti had a special connection with the music of Giuseppe Verdi, who had lived, after all, no more than 100 kilometers from where young Luciano grew up in Modena. From the early years of his career, the tenor undertook the lyrical protagonists of Verdi's early and middle periods. Later, he added the more dramatic Radamès in Aida, singing a total of eight Verdi roles at the Met, plus the tenor solos in the Requiem. His seamless legato and ability to spin a melody in an elegant arching phrase were the musical means through which he revealed the hearts and souls of Verdi's tenor heroes.
Pavarotti's most frequent role at the Met was Cavaradossi in Puccini's Tosca, which he first sang in 1978 with Shirley Verrett in the title role. Later, as he passed the age when most tenors retire, Cavaradossi would become his "go to" role. He sang it 60 times at the Met, including for his final performance on March 13, 2004. The other Puccini role he sang often, Rodolfo in La Bohème, is preserved in a 1977 performance with Renata Scotto as Mimì and James Levine conducting (pictured at the top of this page). This was the historic first Met performance telecast live on PBS as part of the long-running series that continues to the present day.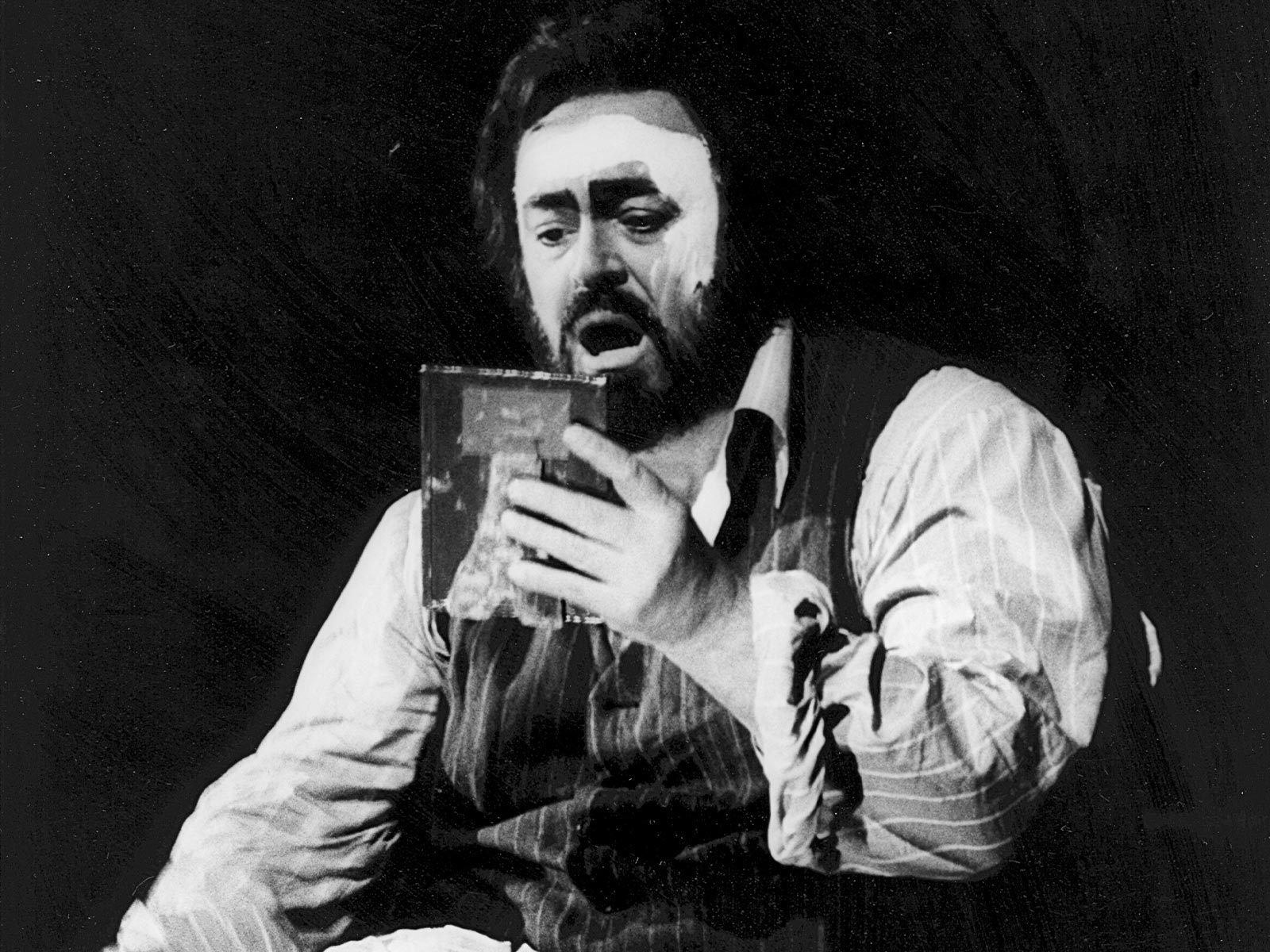 In 1994, as he approached his 60th birthday, Pavarotti took on the new role of Canio in Leoncavallo's Pagliacci (above), for the opening night of the Met season. Pavarotti "showed why he is still a great singer seeming to love the words and tones even as he was producing them," said New York Times critic Edward Rothstein who even praised his acting. "When Mr. Pavarotti carried the limp body of [Teresa] Stratas [as Nedda] to the edge of the commedia stage as Leoncavallo's familiar strains were heard … Verismo became real."
Two years later, Pavarotti sang what would be his final new production at the Met, the title role of another verismo opera, Giordano's Andrea Chénier. Writing for the Los Angeles Times, critic Martin Bernheimer saluted his enduring vocal qualities. "He sang on Tuesday like an artist who had somehow discovered the fountain of youth. His tone emerged bright, fresh and vibrant, a few pardonable signs of stress in ascending passages notwithstanding. His phrasing was a model of suavity and grace, his diction a model of clarity and precision. He shaded the text with telling finesse in moments of romantic introspection, caressed the line with sensuous allure in moments of impetuous ardor. It was wonderful, and the multitudinous fans responded with de facto delirium."
By the last few seasons of his 36-year Met career, Pavarotti's health had deteriorated to the point that he had difficulty walking or standing for extended periods. Astoundingly though, his voice retained much of its golden tone. Writing of his farewell performance on March 13, 2004 (pictured above), critic Tim Page of the Washington Post said "he was still recognizable as Pavarotti, the man with the lambent, sun-splashed voice, diminished now but still perhaps the most sheerly beautiful sound made by any tenor since Jussi Björling… At the end of the show, there was pandemonium, of course—banners unfurled, rhythmic stomping, hoarse-making shouts of 'Bravo!' Pavarotti took the stage again and again, triumphant and overwhelmed."
Peter Clark is Director of the Met's Archives.