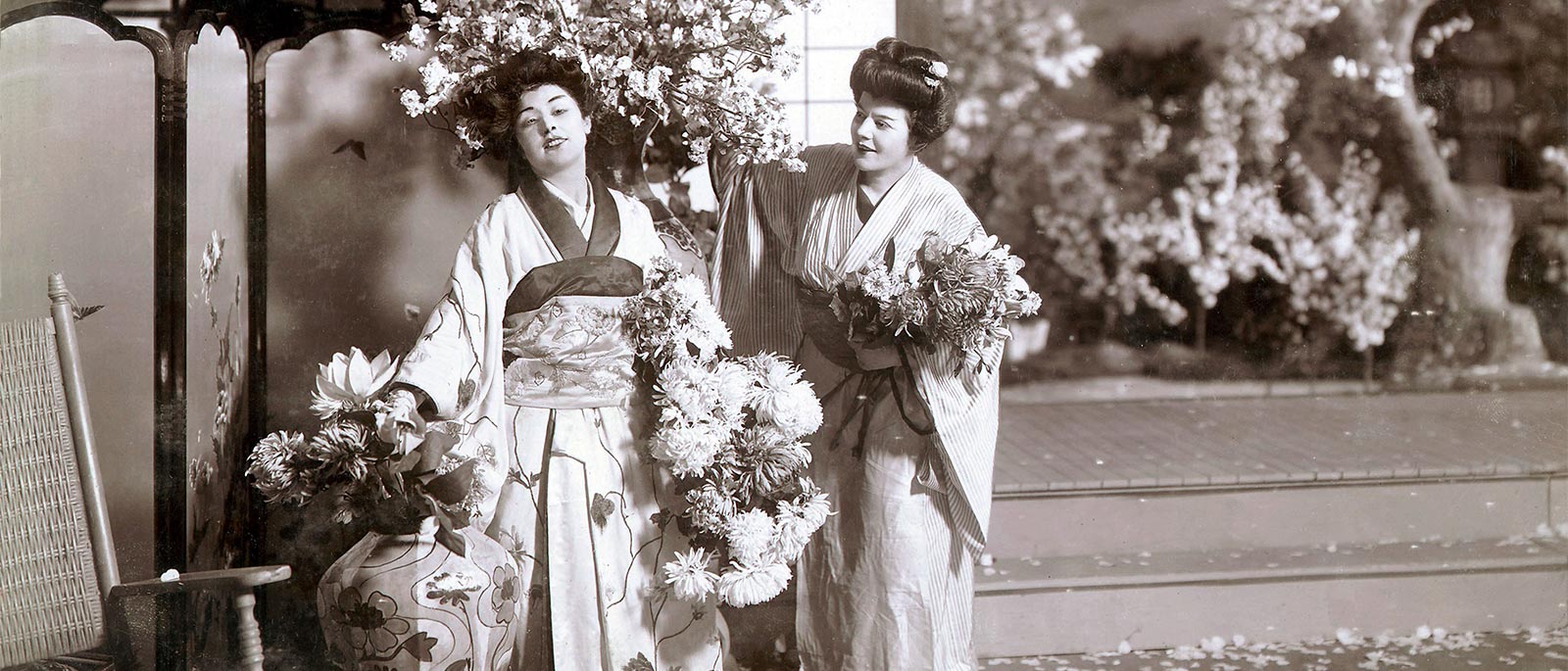 From the Archives: Madama Butterfly at the Met
By Peter Clark
Today, Puccini operas are an essential part of the core repertory for opera houses around the world. But at the beginning of the 20th century, Puccini was a contemporary composer churning out pieces for opera houses hungry for new works. Although his Madama Butterfly was poorly received at its 1904 world premiere, he quickly revised the opera, and it began to conquer the operatic world. Three years after the world premiere at La Scala, Puccini was invited to the Metropolitan to oversee its first staging here. Apart from the composer's presence, the stars of that first Met Madama Butterfly were Geraldine Farrar (pictured above, with Louise Homer as Suzuki) and Enrico Caruso in their first performance together. They would henceforth be the Met's biggest box office duo. Farrar's youth and beauty were as much a part of her fame as her voice, and as her fame grew over the next 15 years, she developed a fan-base of mostly young women called "gerryflappers" who imitated her style. On the other hand, Caruso was idolized for his voice, which, especially through his recordings, made him the most beloved singer in the world. Puccini confided in a letter that he was not particularly pleased by either of the stars. Although he was normally highly vulnerable to beautiful women, he wrote cryptically that Farrar "was not what she ought to have been." And while he admitted Caruso's voice was "magnificent," he thought him lazy and unwilling to learn. Nonetheless, when the composer's La Fanciulla del West had its world premiere at the Met in 1910, Caruso was the lead tenor. Farrar, though, was not invited to sing Minnie.
The year following Madama Butterfly's Met premiere, the opera was revived with the same lead singers, but this time with maestro Arturo Toscanini (pictured above, with Farrar and General Manager Giulio Gatti-Casazza). He, too, took issue with Farrar. At a rehearsal, she told him he should follow her lead, as she was the star. Toscanini's famous response was: "The stars are all in the heavens, mademoiselle. You are but a plain artist, and you must obey my direction." An explosion ensued, but Toscanini won out. As time went on, their antagonism turned into something quite different, most likely a torrid love affair that may have been a chief factor in Toscanini's quitting the Met in 1915.
From 1908 onward, it was a rare Met season in which Madama Butterfly did not appear. The exception, predictably, was during World War II. The 1941 season opened on November 24, and five nights later, Madama Butterfly was given. Then, on December 7, the Japanese attacked Pearl Harbor, killing many Americans and bringing the nation into the war. Madama Butterfly was not offered again at the Met until 1946.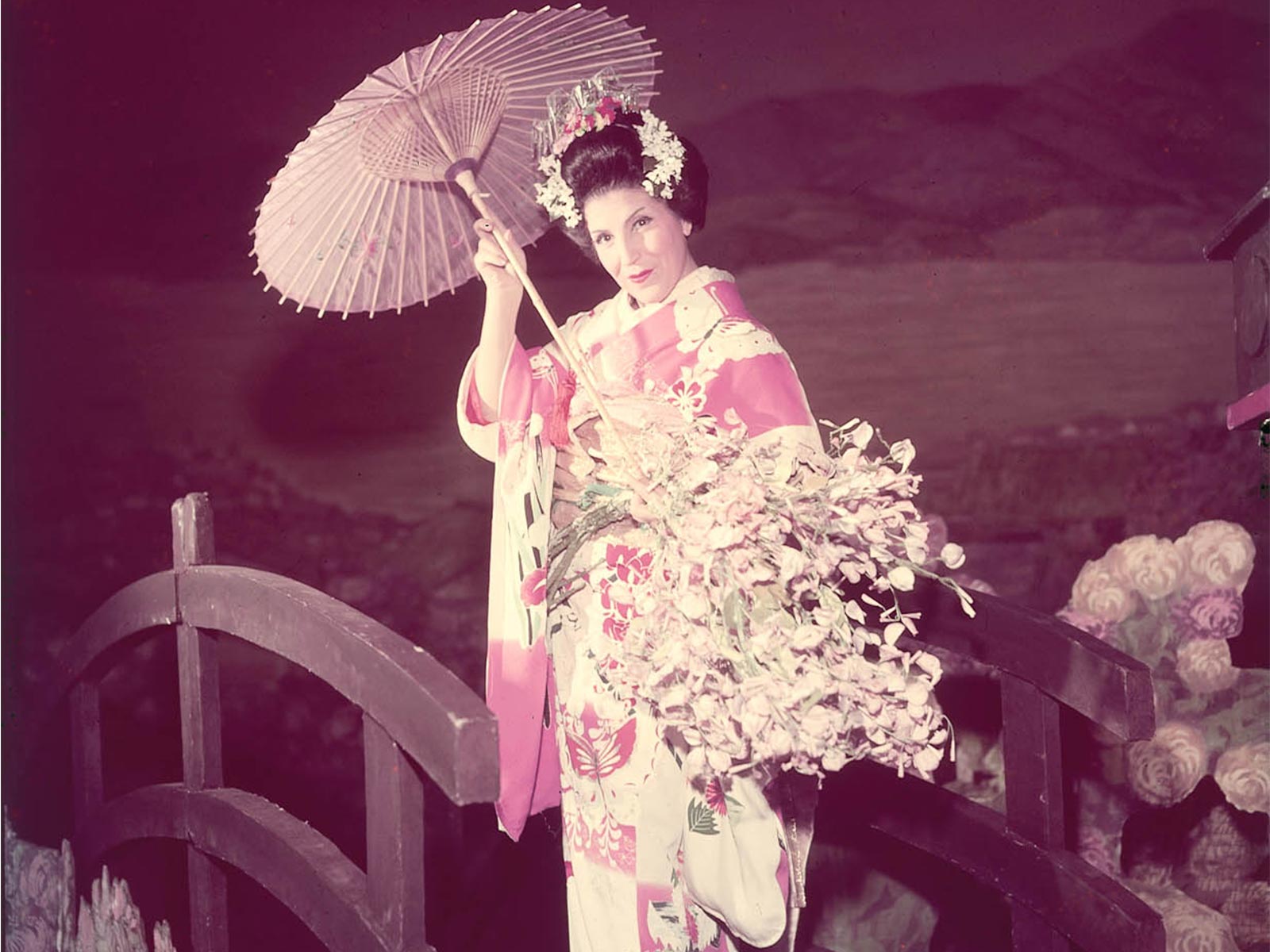 The Met's leading Butterfly in the 1940s and 50s was Italian soprano Licia Albanese (pictured above), whose 72 appearances as the betrayed geisha were second only to Farrar's (139) in frequency. Other notable sopranos who have interpreted the part at the Met include Victoria de los Angeles (pictured below), Dorothy Kirsten, Catherine Malfitano, Leontyne Price, Elisabeth Rethberg, Renata Scotto, Antonietta Stella, and Renata Tebaldi.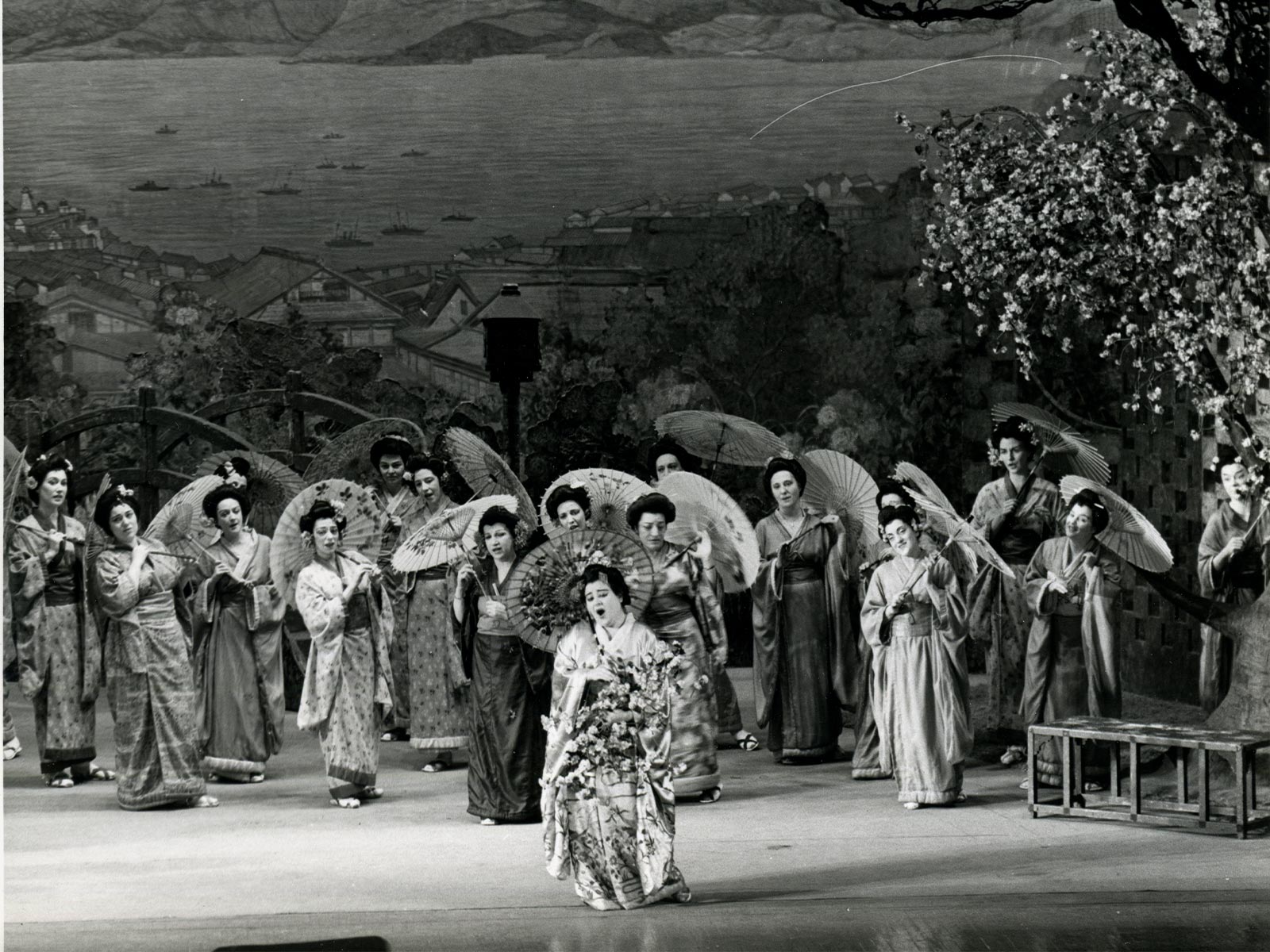 Given the popularity of Madama Butterfly—to date, there have been 881 Met performances—it is surprising how few new productions there have been. Following the premiere production, a new production in 1922 lasted in the repertory until 1958! That year, the Japanese team of Yoshio Aoyama, director, and Motohiro Nagasaka, designer, created a widely admired production that played for an equally long time, until 1994. Giancarlo Del Monaco's 1994 production was succeeded by that of Anthony Minghella, which was chosen as the opening night of General Manager Peter Gelb's first season in 2006.
Peter Clark is the Met's Director of Archives.