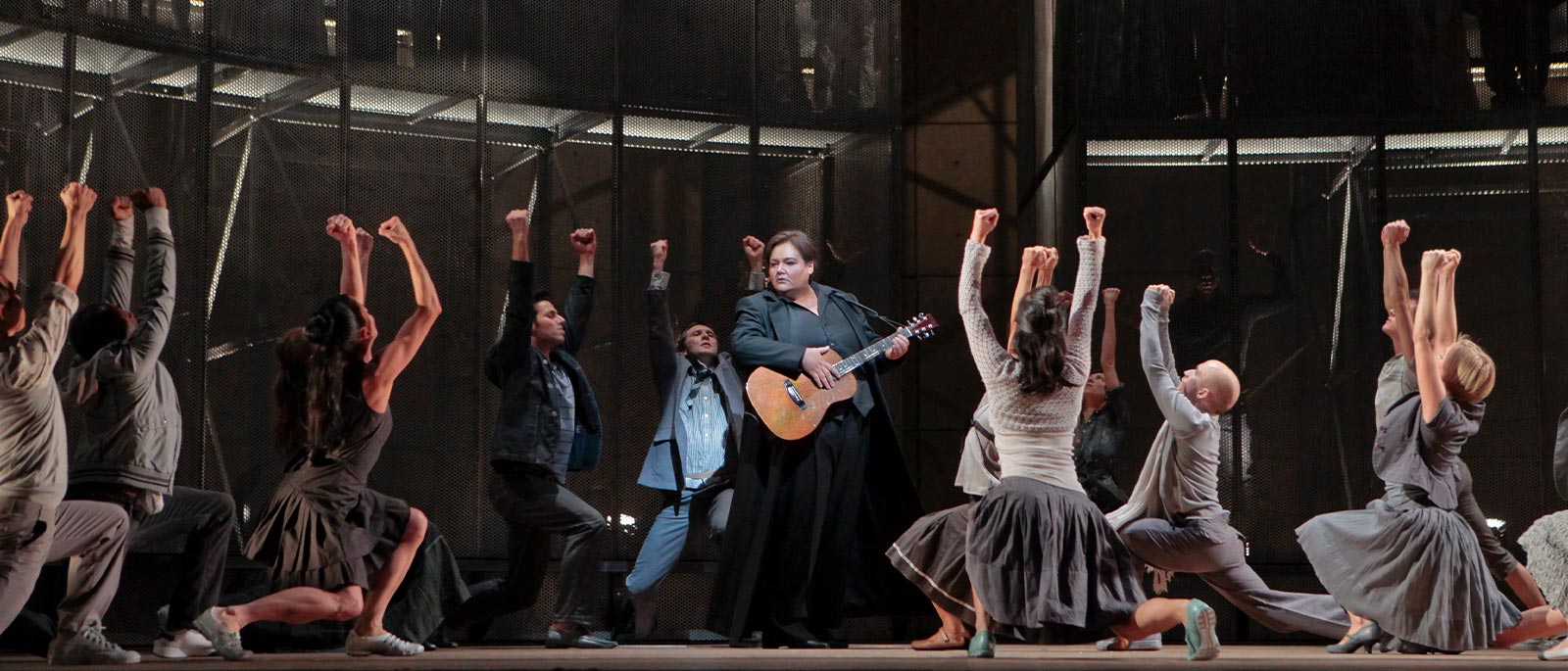 Finding Orfeo
As she prepared to bring the "father of music" to the Met stage, mezzo-soprano Stephanie Blythe discussed starring in Mark Morris's spirited—and spirit-filled—production.
In Gluck's opera, Orfeo is on stage for almost the entire time, and he has several big solos. What are the musical and dramatic challenges of this role?
Being onstage for most of the time is actually helpful in dealing with the drama of this role. When you go offstage to your dressing room, there are so many things that may come your way and interrupt your focus. You may have a conversation with a colleague, or have to deal with a costume or wig issue. When you have to focus for an hour and a half it may be tiring, but you are in that character the whole time. Musically, this role sits in a very comfortable part of my voice. So, while I have to be smart when I sing and husband my resources accordingly, it's a more relaxed and enjoyable sing than many of my other roles.

What is it about this role that you enjoy the most?
I enjoy everything—the character, the music, the language. What I really adore is that although Orfeo is almost always singing on his own, it feels very much like an ensemble piece. Orfeo is very exposed, but I never feel alone, not while I am surrounded by those wonderful singers and marvelous dancers. And just hearing those gorgeous choruses sung by the incredible Met Chorus ...

Mark Morris's production combines traditional staging with choreography and a very unusual set. How would you describe the director's approach to telling the story?
First, I have to say that working with Mark Morris and his remarkable team has been a complete joy. I think I can speak for all my colleagues when I say that the process of putting this production together has been lovely. I think that Mark's approach to the story is simple, clear, and totally expressed through the music, first and foremost. As a singing character, Mark has made me feel as if everything around me, meaning the chorus and dancers, are a real expression of everything that is going on in Orfeo's heart and mind. We all inform one another and make the story move forward. When Euridice and I are on our own, the production becomes super-focused. We have a limited space, and the most difficult aspect is that [because of the opera's storyline] I cannot look directly at Danielle de Niese. Allen Moyer's set is very helpful, but when your partner is singing so passionately to you and you cannot react, it's a tough situation! But those challenges are what make this piece and this production so wonderful.

Orfeo is known as the "father of music." Does that element of the character factor into your interpretation at all?
I don't know if it really factors into my interpretation of the role, but it sort of makes me feel as if singing is my super power. That is certainly a better power to have when you're trying to placate the furies at the Gate of Hades! Better than, let's say, leaping a tall building with a single bound.

Do you like playing pants roles?
I don't do it often, but I always like playing a different side of myself. It's a different expression, a different feeling, and always a challenge. As a singing actor, every role I play has its difficulties—how can I be a goddess, a princess, a gypsy, an old woman? But you find what there is of you in each character, and that is where you start. For me, it all grows from that place, and in Orfeo the starting place is his love and devotion for Euridice—hopefully a place we can all find within ourselves. I hope to find that playing a man, as I have most certainly found it as a woman.