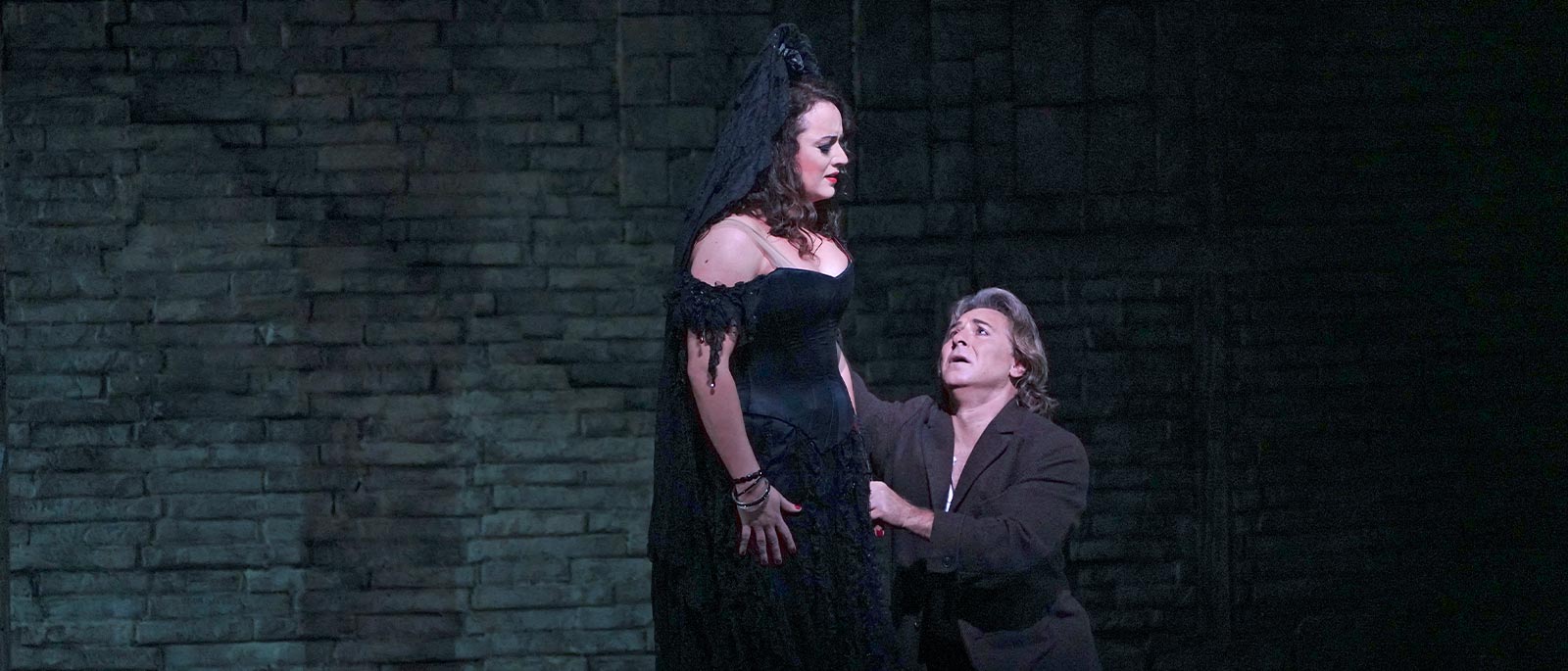 Drop Dead Sexy
In Richard Eyre's production of Bizet's masterpiece, which premiered during the 2009–10 season, Carmen's life-or-death quest for freedom is driven by sex. By Matt Wolf
Richard Eyre has had no shortage of success directing women in larger-than-life roles, both on stage and on screen. But as complex and unforgettable as such real and fictional characters as Iris Murdoch, Hedda Gabler, Miss Adelaide, Violetta Valéry, and even Mary Poppins are, Bizet's Carmen is something else entirely: a sexual outsider embroiled in a furious face-off with death.
"Carmen would say her character is fate," Eyre says. "But how much freedom is she going to be allowed, considering she's a woman who is going to live her life as she chooses? Because she's a Gypsy, she's consistently unacceptable—unacceptable, indeed, by definition."
Eyre made his Met debut charting the thrilling if doom-laden arc of a Gypsy at her most feral, a woman who embarks on both a quest for liberation and a collision course with destiny (borne out in the thrilling final moments of Bizet's score). Carmen, the director explains, "exists in an independent universe where her existence is defined by her desire for men and their desire for her—always on her terms. And she burns up whomever she desires."
Ever since its 1875 premiere, Bizet's opera has shocked, awed, and even aroused audiences in equal measure; over time, it has become one of the most popular operas in the repertory, its heroine familiar to everyone. The director acknowledges the pervasiveness of Carmen in all its forms in the cultural zeitgeist, but "I try not to think that I'm in a race with history. What I try and do is discover what the piece is about." He speaks of his way into the work at hand as operating from the inside out. "It's the rationalist approach that I felt when I did Hamlet with Jonathan Pryce: that I was approaching it as if it were a new play. It's much more about trying to understand the piece of work than a desire to be iconoclastic and challenge the part."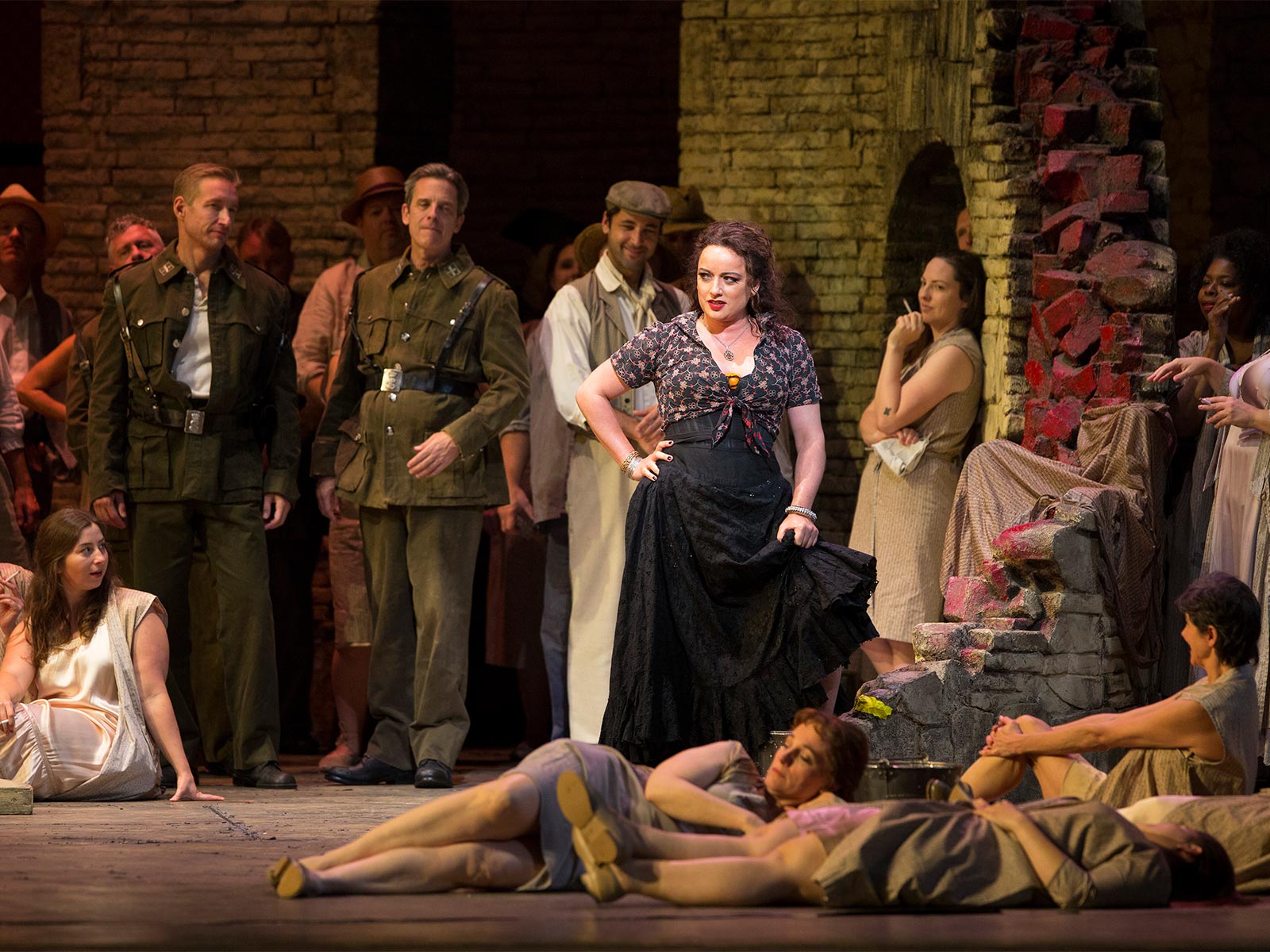 Eyre believed that capturing the fundamental essence of the opera is a task that rests largely on the shoulders of the leading lady. "What's so attractive and finally tragic about Carmen is her extraordinary defiance: Her defiant assertion that her life will be lived on her terms," Eyre says. "In playing the piece, you have to find some extraordinary spirit within the singer that will be able to embody that life force."
For nine years, Eyre famously ran London's National Theatre, where he distinguished himself with work of unerring psychological probity. Carmen gave the director an opportunity to deploy these gifts in the largest auditorium for which he has ever directed: even Mary Poppins, the Disney/Cameron Mackintosh musical that carries Eyre's signature, had never toured to as large a venue. At the same time, he was furthering an interest in opera that made this his third-ever such assignment, following a 1994 La Traviata at Covent Garden and Le Nozze di Figaro, in Aix-en-Provence. In later seasons, he returned to the Met to create stagings of Werther, Le Nozze di Figaro, and Manon Lescaut.
Helping his cast to realize multilayered, psychologically insightful portrayals in a house the size of the Met was a challenge, but the payoff, Eyre says, was a real thrill. "It might be tempting to think that it's not worth bothering with the detail; that you can only use large brushstrokes, and in a sense that might be architecturally true. But in terms of the detail you put on stage, I do believe that it accumulates: that what the audience becomes aware of is an aggregate of detailed, thought-out, observed behavior."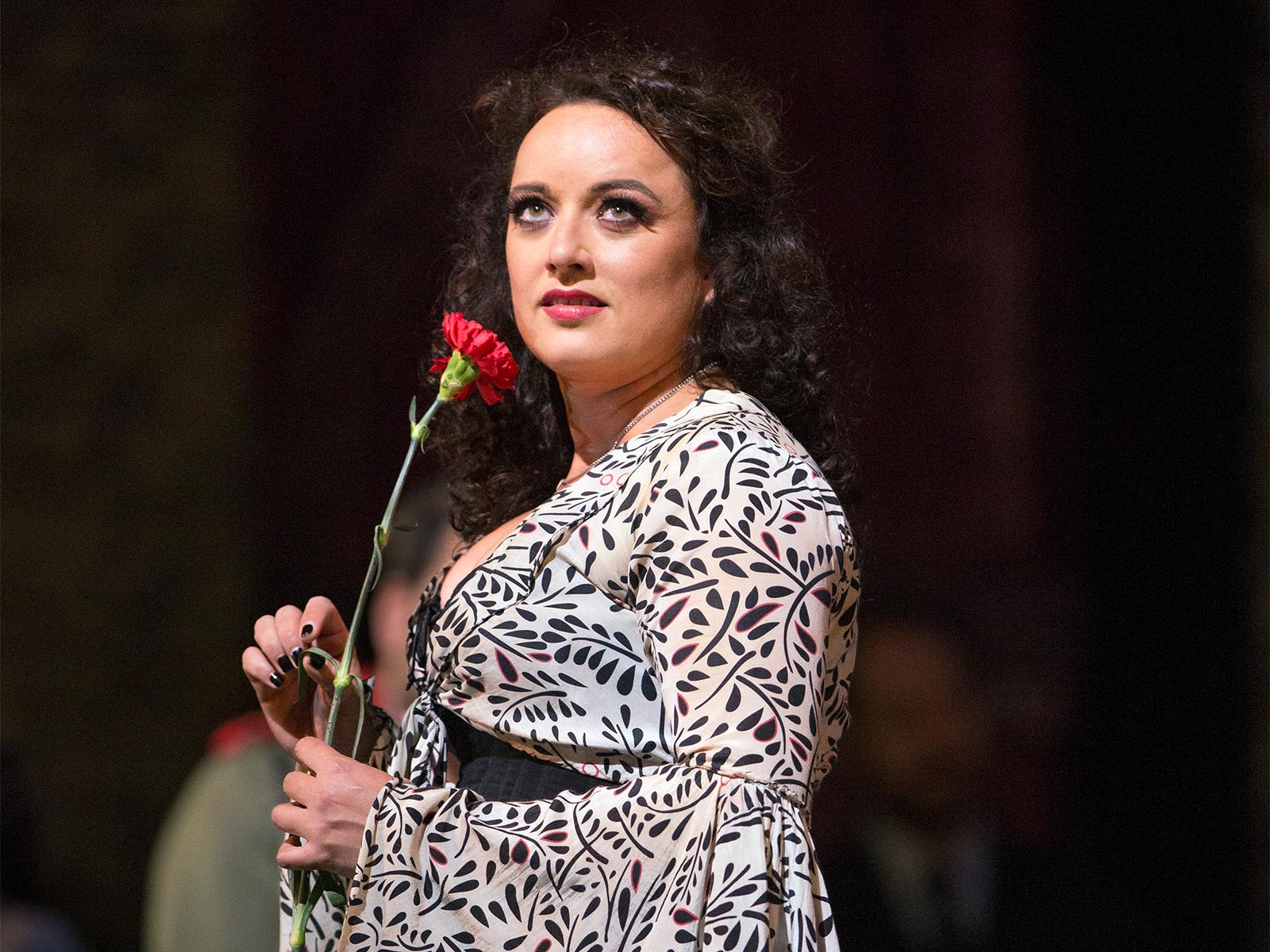 The aim wasn't a pretty-picture Carmen but an exacting, invigorating one that does justice to the sweep of a piece that moves toward and away from a series of intimate, combustible face-offs, "kind of like a movie," says Eyre, "that fills a very, very wide screen with action for a short period and is then occupied by two heads in close-up. That's the conundrum of doing this opera at the Met—giving those intimate duets their power in that space."
Luckily, Eyre's set and costume designer was a longtime collaborator: Tony winner Rob Howell, with whom he was working for the fifth time. The lighting was by Peter Mumford, and the English choreographer Christopher Wheeldon created the dances. Howell saw his job as honoring "what for much of the opera is a two-hander and then letting it stretch and expand so that you can have 150 people on stage without making it seem visually like there are four separate aesthetics for the four different acts." He took the idea of a scar as a leitmotif of sorts: "What is it in Carmen's life that has been the scar or the trauma that she has been through in order to turn her into the person we spend three hours with?" Howell came away with the visual emblem of something ripped or torn. "It won't be surprising to anyone that red is a featured color and that the torn line seems to be bleeding and to have a red center to it."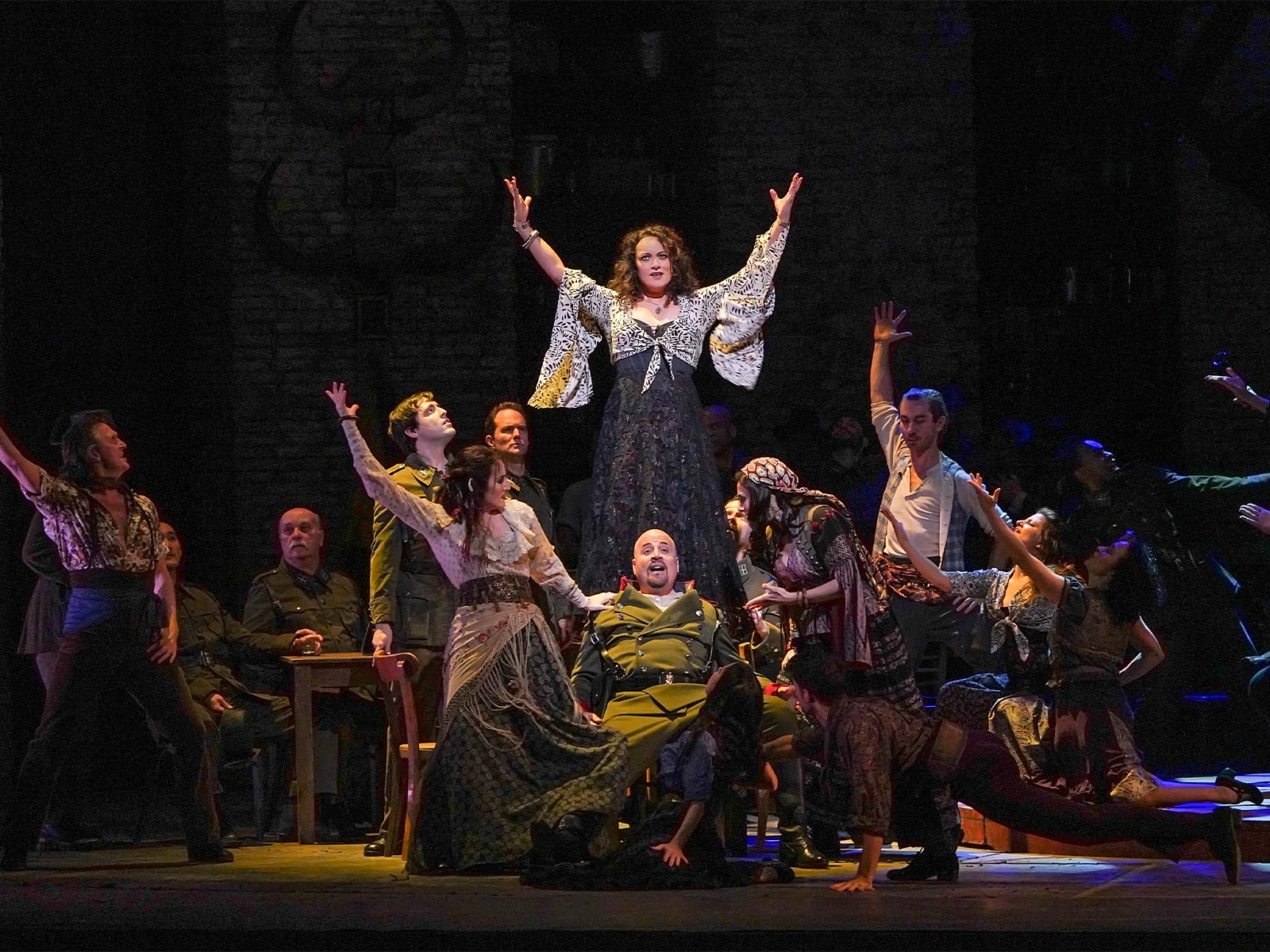 Howell believed Eyre was particularly well-suited to this work. "Richard's got this laser-like intellectual approach that doesn't carry with it any dry baggage. He knows about the sexual dynamics between human beings."
The challenge was to calibrate the humanity of a piece that can sometimes come off as a mere amalgam of greatest hits, rather than a highly volatile emotional roundelay. "If there's any virtue in getting me to direct Carmen," says Eyre, "it's that I've spent my life developing the psychology of characters by working with actors so that they feel their actions are plausible. I don't come with, as it were, a model book and say to the singers, 'This is what you must do, and you must move here when I say move here.'" And Carmen, of course, has a sheer dimension to it, a scope, that you find infrequently in theater—"these extravagant forces of a huge orchestra and magnificent voices, telling the story in as expressive a way as possible," as Eyre describes it. "When it all comes together with opera— those gigantic forces along with the power of the emotion and the size of the sound—then it reaches parts of the soul that theater does not."