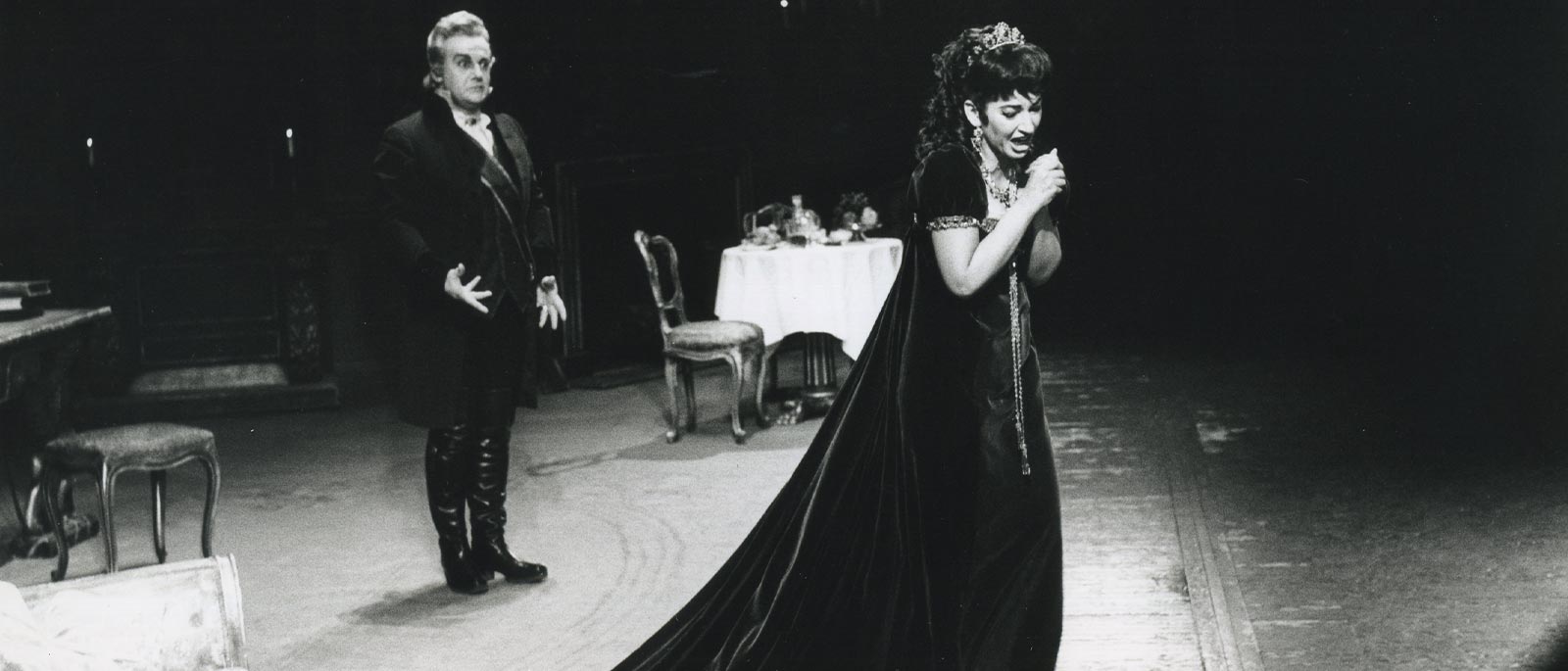 Defining Diva
Puccini's operatic thrill ride Tosca features a fictional diva that's one of the ultimate showcases for the real thing. But at a time when the term "diva" is thrown around seemingly willy-nilly, what exactly did the composer have in mind? By William Berger
What is a diva? The word is applied frequently, even promiscuously, to anyone who stands out from the crowd, a woman (and occasionally a man) who seems larger than life, who possesses an unshakeable sense of self. But what does the term really mean when it is applied in its operatic context, to someone who, in theory, truly deserves it? A diva is a goddess, or, at minimum, a woman infused with divinity. She is a medium—a kind of intermediary between us and the eternal.
The character of Tosca in Puccini's searing, controversial, and marvelously unsettling opera is a true diva. She is a female opera star (and one of surprisingly few characters we meet in opera who are actually opera singers). A diva singing the role of Tosca, then, is a meta-diva. Her nemesis, Baron Scarpia, the evil Roman police chief desperate to get her in a compromising (read: prostrate) position, even says that she is as compelling an actress off the stage as on it, further blurring the boundaries between theatrics and the more baffling mysteries of real life. Her great aria is "Vissi d'arte," literally, "I lived for art." No soprano can sing those words and that music without bringing her own experience as an artist, and as a woman, to the performance.
The opera was written with a very specific setting—Rome, 1800—a time and place when women had only recently been permitted on stage and had not yet achieved the fanatic followings that leading ladies enjoyed elsewhere in Europe, a fact that would have been well known to the opera's opening night audience (Rome, 1900). This anachronism makes us think about the mythical implications of "diva": such a woman does not inhabit time and space the way the rest of us do. Her feelings are bigger than ours, and once they are ignited, they affect others more intensely than ours do. Her jealousy is greater than regular people's. To cross her or incur her ire means death—but to love her can be just as fatal. The men in her world are stunned by their encounters with her, and we see no other living women around her. The only women she mentions are also sacred or superhuman in some sense (the Madonna, the Queen of Naples), or else trying to pass themselves off as such, like the Marchesa Attavanti, whose likeness in a portrait of St. Mary Magdalene painted by Tosca's lover sends the diva into a fit of jealous rage.
This rage is bigger than life, and Tosca's over-the-top emotions are a source of wonder to modernists who find her baffling. Even the ancients, who worshiped divas in temples, were intimidated by their passions. It is perhaps not surprising that one of Tosca's greatest interpreters was opera's ultimate prima donna, Maria Callas (pictured above), whose preternatural onstage intensity was matched by her similarly turbulent offstage life (case in point: her tumultuous romantic relationship with Aristotle Onassis, who left her for another, non-operatic diva, Jackie Kennedy).
At the Met, a long line of great sopranos have inhabited the woman who represents the mystical heartbeat of opera itself: intense, baffling, somehow unreal and too real at the same time, and thoroughly unforgettable. In other words, a diva.
William Berger is a Met Radio Writer and Producer.