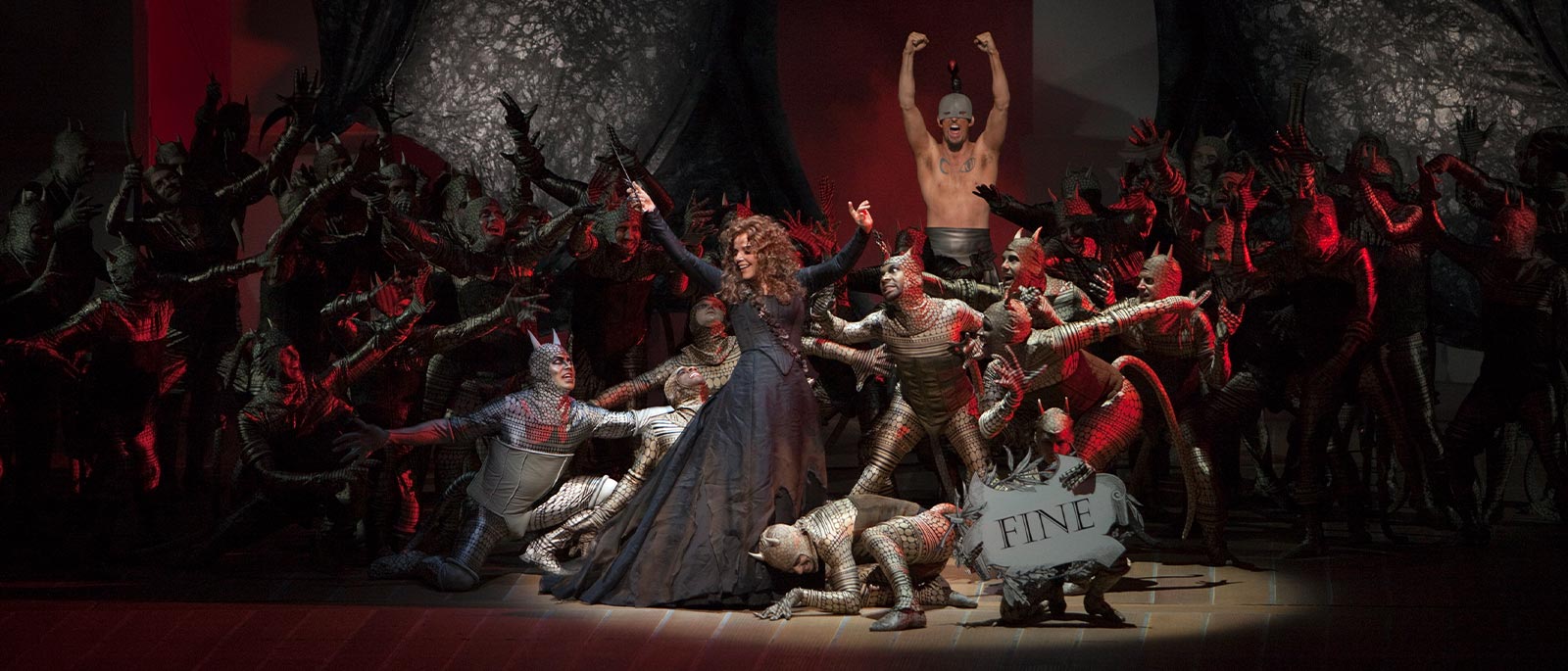 Casting a Spell
As Rossini's raging sorceress Armida, soprano Renée Fleming conjured her lustrous vocal powers in Mary Zimmerman's Met-premiere production, which opened during the 2009–10 season. By Ellen Keel
When Rossini wrote Armida for the Teatro San Carlo in Naples in 1817, he had two major assets at his disposal. One was the theater itself, newly reconstructed after a fire and boasting some of the finest technical resources of the day. The other was the diva creating the title role: Isabella Colbran, a charismatic artist with great coloratura prowess and dramatic flair, who drew Rossini to new levels of inspiration (and eventually to matrimony).
In 2010, the opera arrived at the Met, with its vast and versatile stage—and with another stunning soprano in the title role: Renée Fleming. Having triumphed as Armida at the Rossini Festival in Pesaro earlier in her career, she champions the work against the undeserved neglect into which it has fallen. "One of the greatest joys of performing is inhabiting a character who lies in total opposition to who I am," Fleming says. "A man-destroying sorceress has captured the creative imagination of many writers and composers, not to mention interpreters. Armida's passions run deep, and are expressed to every histrionic and vocal extreme."
The new production was by Tony Award–winning director Mary Zimmerman—her third bel canto staging for the Met, after Donizetti's Lucia di Lammermoor and Bellini's La Sonnambula. Compared to Armida, both of these operas count as standard repertory, and Zimmerman was delighted at this opportunity to introduce a rarity to Met audiences. "It's like coming across a buried treasure under the sea, a box of jewels," she says, and she credits Fleming for it. "She led us to this opera—it's a revelation."
Joining the director to unearth this operatic treasure were conductor Riccardo Frizza, set and costume designer Richard Hudson, lighting designer Brian MacDevitt, and choreographer Graciela Daniele.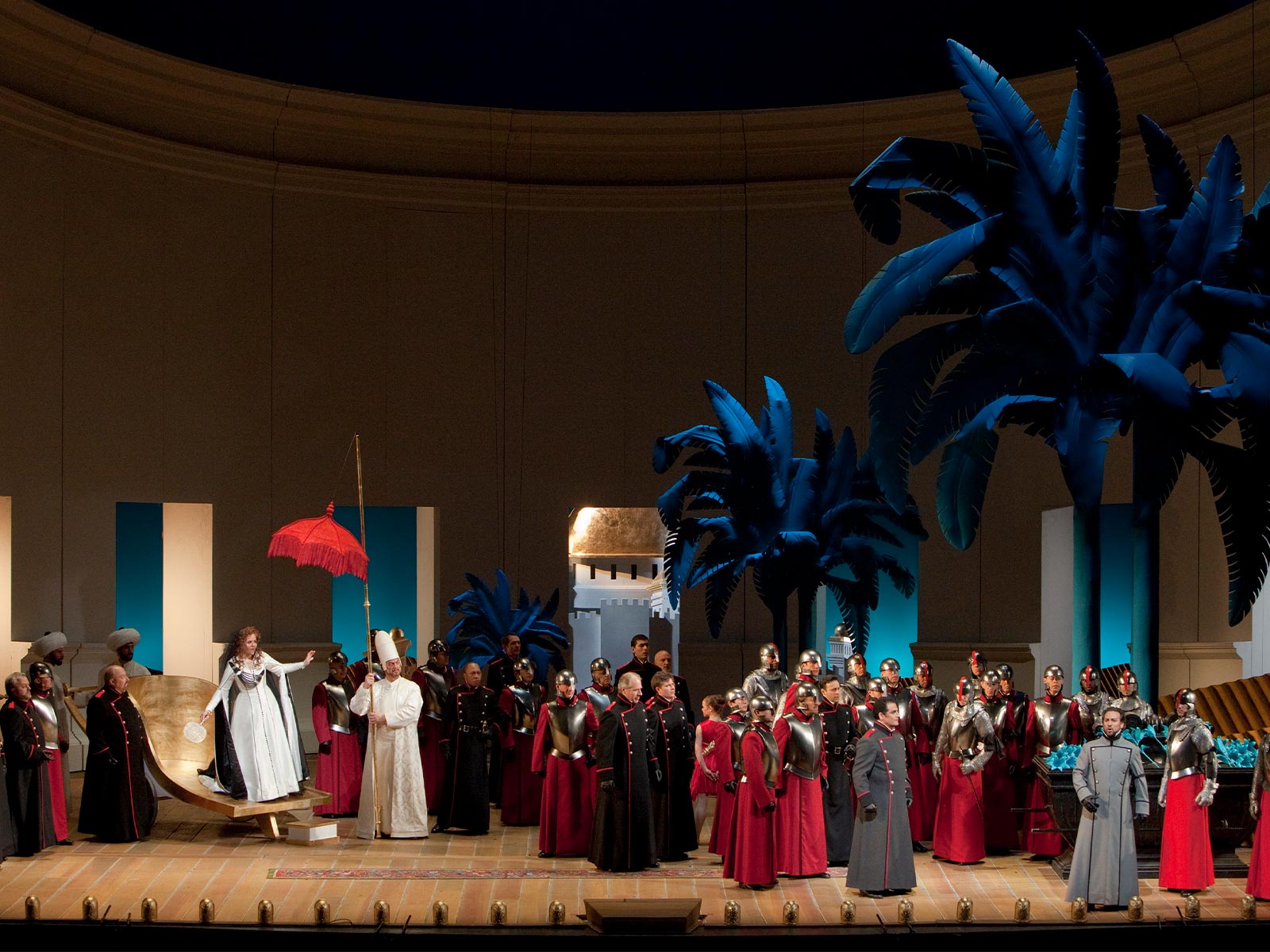 Zimmerman's groundbreaking work bringing epic and mythical literature to life on the stage—including acclaimed productions of Metamorphoses, Arabian Nights, and The Odyssey—stood her in good stead for Armida. The story is drawn from the epic Gerusalemme Liberata (Jerusalem Delivered) by the 16th-century Italian poet Torquato Tasso. The poem has inspired countless adaptations, including Tancredi, an early Rossini hit based on a Voltaire play about one of its characters. The figure of the sorceress Armida, in particular, has seized the imaginations of opera composers. She has already appeared on the Met stage, in fact, as one of the villains of Handel's Rinaldo. Literally dozens, from Lully to Haydn to Dvořák, have told the story of this Damascene princess who uses her magical powers and beauty to lead men astray from the Crusades, only to be derailed by her own love for one of her victims, the knight Rinaldo.
"It is a tale of feminine seduction," Fleming says, "and that, in fact, is Armida's real power, with a dark or desperate side. It takes both Armida and Rinaldo captive and away from their former selves and lives. Love does that—making one want to shut out the world. When rejected, unlike other operatic heroines who accept their status as victims, she interestingly chooses action and vengeance." Tasso ended Armida's storyline with a nice conversion to Christianity. But Rossini, along with many other opera composers, chose to stop with her abandonment. He wrote a mesmerizing gran scena during which she addresses the figures of Love and Revenge, who are literalized onstage.
Scorned women have intrigued storytellers throughout the ages—and giving them magical means of both seduction and retribution is also a time-honored way to up the dramatic ante. Armida's forebears include Medea and Circe in Greek mythology and Alcina in another famous Italian epic, Orlando Furioso. (Fleming, incidentally, has enjoyed notable success in Handel's opera Alcina.) Each is humanized by her discovery that magic is not enough to keep herself from falling in love or to keep the man she loves from leaving her. "When Armida is herself undone by love," Fleming says, "she has our complete sympathy."
Rossini may have had an aversion to magic in his operas, famously stripping the Cinderella story of most of its fantastical elements for La Cenerentola, for instance. But he was under contract in Naples, and the impresario Domenico Barbaia was eager to show off what his lavishly equipped theater could do. Giovanni Schmidt had the unenviable task of being the umpteenth librettist to adapt Tasso's story, and he left the sorcery in. So Rossini proved amenable—surely more than amenable, given the extraordinary level of musical inspiration to be found in the magic-related parts of his score. He even wrote a ballet, an entertainment Armida conjures for Rinaldo that mirrors the hero's seduction.
Zimmerman was eager to present the story in all its traditional glory, explaining, "I feel an aversion to playing a variation on a melody when no one's heard the melody." She embraces the effects and illusions wholeheartedly, placing them in a flexible, neoclassical setting, punctuated by vivid colors and exotic touches such as giant birds and a field of red poppies. "We're trying to be self-consciously theatrical and to use simple methods of old-time theater in the way the opera instructs you to. I think all the theatrical enchantment that the libretto and score call for—the power of change and transformation—is a mirror of the sorceress's power. It's saturated with that."
The dizzying spectacle of Armida's vocal writing is also a perfect manifestation of her seductive powers, as demonstrated in the most famous excerpt from the opera, her fiendishly difficult theme-and-variations aria "D'Amore al dolce impero." Rossini wrote numerous roles for Isabella Colbran, including Desdemona in Otello, Elena in La Donna del Lago, and the title role of Semiramide. But one could make a case that none of them—in fact, none of the roles he ever wrote, period—contain music quite as erotically charged as Armida's. With Rinaldo, sung at the Met by the elegant and exciting young Rossini specialist Lawrence Brownlee, she shares three strikingly sensual duets. The French writer Stendhal even noted after a performance of the first duet that its "extreme voluptuousness" rendered ladies in the audience speechless with embarrassment.
Perhaps it was all just too much for the operagoers of that period. The work virtually disappeared from the mainstream several years after its premiere, not resurfacing until the 1950s, when the great Maria Callas revived it. Perhaps it is the challenge of casting six able tenors that has daunted opera companies. Even at its premiere, some of these roles were doubled. The Met's performances, however, featured six different tenors, including Lawrence Brownlee, Barry Banks, and Kobie van Rensburg. (There are also two basses— villains, both.)
Against this phalanx of male voices, Armida is the only female soloist. "What's fascinated me historically in opera is that strong women are either portrayed as saints, whores, or rage-driven monsters," Fleming says. "A sorceress can be all three; feigned or otherwise, which makes Armida so three-dimensional. This opera begs the question: what is it about powerful women that fills men with terror? Even today empowerment in women is sometimes met with violence or fear." Rinaldo's comrades literally drag him away from Armida. While there is no denying that she begins as a political enemy of the Crusaders, by the end of the opera that is no longer the central issue. Her efforts to keep Rinaldo by her side shift from a military scheme to a deeply personal desire. And the conflict is not about Christians versus heathens, but about what Zimmerman calls the archetypal masculine versus the feminine. The music is squarely on Armida's side—it's hard to imagine a better metaphor for the power of beauty than bel canto itself. Armida may lose her battle, but she wins our allegiance.
Ellen Keel is the Met's Senior Radio Producer.