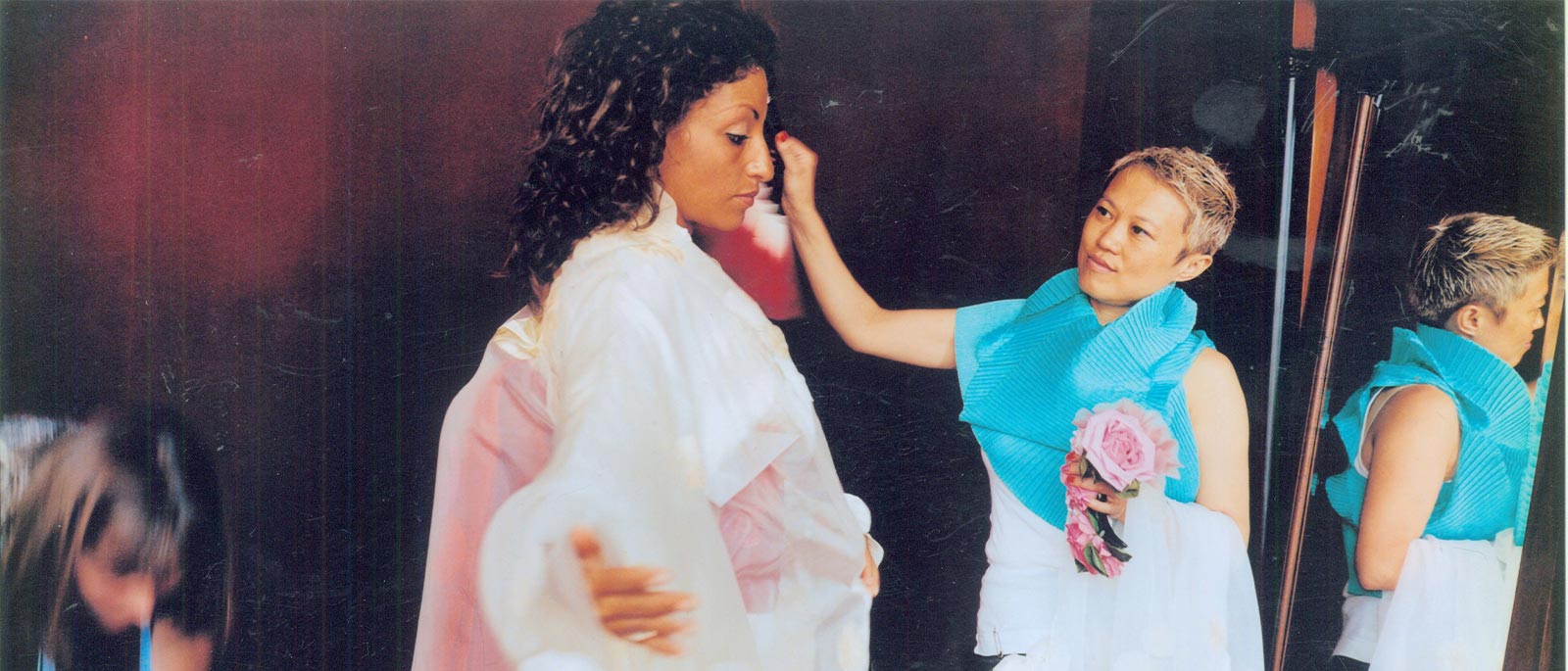 Butterfly Effect
When the late filmmaker Anthony Minghella's breathtaking production of Puccini's Madama Butterfly premiered at the Met in 2006, it became an instant company classic, breaking hearts with its vivid depiction of a too-trusting young geisha and her callous American lover. The staging owed much of its success to the gorgeous costumes, created by Han Feng, the first Chinese fashion designer to show at New York Fashion Week but an opera neophyte when she agreed to work with Minghella on the show. Seasons later, Han Feng recalled meeting Minghella and taking this operatic leap.
How did you come on board the creative team for this production?
Well, it's an amazing story. When Anthony was working on the movie The Talented Mr. Ripley in 1998 or 1999, his wife, Carolyn Choa, called me, and she said, "I'm the wife of Anthony Minghella," but I didn't know the name. So then she said, "Oh, he did Truly, Madly, Deeply." I didn't know it. And then she said, "Well, he also did The English Patient," and I said, "Wait a minute, that one I know! I watched it three times, and I cried so much!"
And what was her reaction to that?
She said, "Well, my husband asked me to meet you." Later, I found out that she had bought a pair of my pants, and Anthony thought they were very interesting and said, "You know, two years ago, I bought you a coat, and these look like they're from the same person." They looked at the label, and they were both mine, so he asked her to find me. The next day, the two of them came over, and he asked if I had done any menswear, and I hadn't. So he said, "Okay, I'm your first male model. I will only wear your clothes." After that I didn't see him for ages, but one day I get a phone call from his assistant out of the blue, saying he wanted to have lunch with me. I went to meet him, and he said "I have business to discuss with you. Have you done opera before?" I said no, and he said "Me neither. Let's have some fun."
And what was your immediate thought?
"Sure! Why not? Do something with Anthony Minghella? Of course!" But I had no idea how to do it, really. I remembered seeing in Spain some beautiful Renaissance paintings, with beautiful pastel blues, oranges, yellows, pinks, and I thought, maybe I should make this whole opera like a beautiful Renaissance painting. But then Anthony said, "Han Feng, I want to make everybody cry so much in the end. But before that, to give them so much hope, a beautiful dream." So after that, I forgot my idea for the color palette and used really beautiful, bright colors, like a celebration.
That's one of the reasons why the production is so beautiful. The set is very simple, with the black lacquer floors and the Japanese screens— it's the perfect backdrop for the bright colors of your costumes.
Yeah, but first a dramatic thing happened in January 2005. After a first meeting the previous November, nobody really talked to me about the costumes, so I just made six suitcases of clothes to bring to the next meeting with Anthony and the team.

A collage design for the chorus women
You just showed up with six suitcases of costumes?
It's just unbelievable, how innocent I was about everything. I didn't know how the process worked, and I just brought all these clothes in suitcases. No one had talked to me, so I thought I'd better just go with all the stuff, right? So I pull out my suitcases, and started showing them. "Can you imagine this for Cio-Cio-San? And what do you think about this for Pinkerton?" And I remember his wife tried to be very nice, but I could tell I had made a mistake. I thought, "Anthony didn't like it." But then later, Anthony said, "When I hired Han Feng, I know I made the right decision. It's my fault. She told me from day one that she had never done this before, and I forgot."
So how different were the final designs from what you pulled out of your suitcases?
It was exactly the same thing! Exactly the same thing—but it's really about how to present, how to make people understand what you're thinking. Costume designers usually make these amazing sketches of their ideas, and I couldn't do that. But I thought about it, and I realized what I could do. I used fashion magazines as my colors and my brush, and I made collages to show my ideas at the next meeting. And Anthony loved it. He looked at them and said, "You can go home. You're done."
And then, of course, the production opens and becomes a sensation ...
Yes, you know, Anthony said to me, "You want to know why I took this job? Because I want everybody to know you're the best designer." He was a father figure, you know? I thought then that he was only like that with me, but I realize now that he loved everybody. That's what was so beautiful about him. He really made you want to try your best for him. I've never met anybody else who could do that like he did. That's why I think, of all the operas I've done now, this is the best, most beautiful one. It was almost a little too easy. Our first opera—how could everything be so perfect?
The Met presents Butterfly often. Do you still come to see it when you're in town?
I still go to see it, and I still cry every time. I'm a hopeless person. I get completely into it, and it's just—tears, you know?