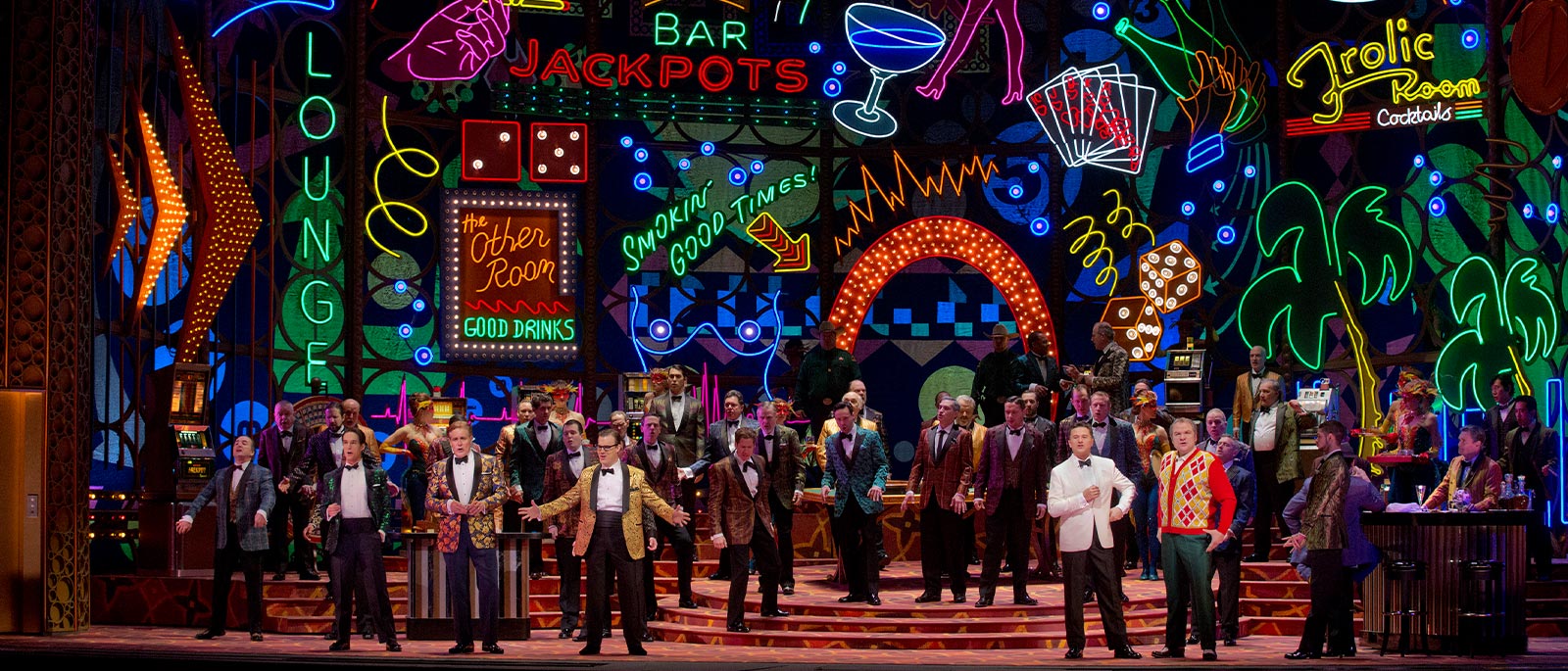 Bright Lights, Sin City
Few Met productions are as distinctive as Michael Mayer's 1960s Las Vegas Rigoletto. The mind behind its lurid, inimitable scenery is Christine Jones, who has won Tony Awards for her work on American Idiot and Harry Potter and the Cursed Child. The celebrated set designer spoke with the Met's Jay Goodwin about bringing Verdi into the neon age.
Your background was originally in spoken theater. How did you come to the musical side of things?
Michael Mayer! The first piece we did together was the musical Spring Awakening. One of the most wonderful things about working with Michael is that he has given me the opportunity to work on a huge range of projects. After Spring Awakening, we made American Idiot, Tony Kushner's play The Illusion, more musicals, and then Rigoletto.
Does anything about your process or philosophy change when designing for opera vs. musical or spoken theater?
My approach is similar no matter what kind of project I am working on. I investigate the text thoroughly, whether it is made of spoken words or sung lyrics. I love using music as inspiration, so even with a project that is not an opera or musical, I make a playlist. Listening to music, or the music, helps one feel the rhythm and the color of the design.
The time period and location of this Rigoletto production are obviously very different from Verdi's original setting. What are some of the particular challenges and opportunities presented by that change?
Actually, setting our production in Vegas in 1961 helped us solve numerous problems! One of the toughest puzzles to solve involved the kidnapping of Gilda. Rigoletto is present during this kidnapping but is wearing a mask, which for some reason also prevents him from being able to hear what is going on. Credibility is stretched. By using the elevator towers in our set, we were able to make more logical sense of how Rigoletto could be involved in the kidnapping of his own daughter and not realize it sooner.
How did you go about researching and orienting yourself in 1961 Las Vegas?
To me, when you hear Vegas, you see neon. I dove into researching neon signage in every configuration I could find, with an emphasis on period signage. I was more interested in capturing the mood of Vegas in the Rat Pack era as opposed to the literal architecture of the time, although we certainly did look at period architecture. A phrase that I distilled from the lyrics and used for inspiration was: "The reign of voluptuous delights—to disturb this fete is fatal." It's a boozing, womanizing, gambling, feasting party. Rigoletto attempts to protect his daughter and fails. He doesn't play along, and the consequence is that his daughter ends up dead.
Had you worked with neon before?
Lighting designer Kevin Adams and I created a layer of neon in the design for Spring Awakening, a story based on a play from 1891, set to 21st-century music. We used neon as a juxtaposing design element that could literally come alive with the songs to express the inner burning adolescent fire the characters were hiding inside their Victorian, buttoned-up school uniforms. Similarly, Kevin and I had a field day with Rigoletto. It is made with miles of neon tubing, and many of the pieces are recreations of actual period signs. It's a collage of neon meant to express the decadence and abandon of the Duke's turf.

Dark and Stormy Jones's jagged, abstract design for the Act III storm sequence
The Act III storm sequence—the dramatic climax of the piece, during which Gilda is killed—asks a lot of any scenic designer. The audience has to be able to see and hear what's happening inside and outside the hitman Sparafucile's house at the same time, and you also have to portray the storm itself somehow. Can you describe your solution?
We thought about where a character like Sparafucile would live in our Vegas world. We imagined that the "lonely inn" might be a bordello on the outskirts of the main drag. And as the action unravels, so too does the neon. What began as recognizable signage has transformed into a zig zagging landscape—like an EKG and, I realized as well, an electrical storm. I liked the idea that the storm could be expressed visually along with the music, so we did that with the pulsing and flashing of the neon. Kevin is a master at cueing bold electrical gestures along with music. He has had a lot of practice in musicals, and I love giving him a canvas to paint with.
Jay Goodwin is the Met's Editorial Director.