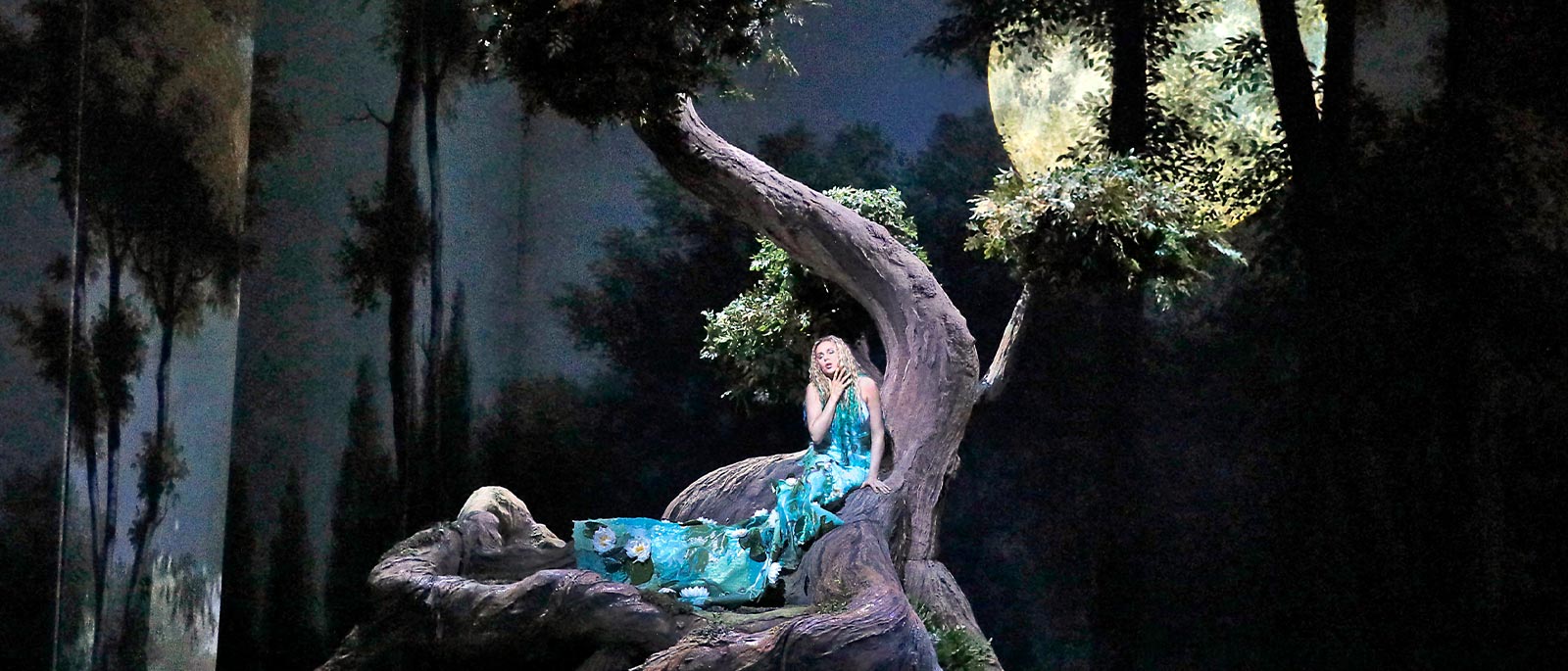 Breaking the Surface
In the Met's 2017 new production of Dvořák's Rusalka, with Kristine Opolais in the title role, director Mary Zimmerman explored powerful, universal questions by diving below the opera's fairy-tale veneer. By Jay Goodwin
Antonín Dvořák, who was concerned throughout his career with achieving a true representation of his Czech homeland in music, made numerous attempts at writing opera, which he considered the greatest vessel for his musical nationalism. Of his 14 works for the operatic stage, however, only Rusalka, his next-to-last effort, has managed to secure a place among the standard repertoire. A startlingly original "lyric fairy tale," it clearly transmits the spirit of Dvořák's native Bohemia and the composer's own unique musical gifts, and it has proven to be an enduring masterpiece in the Czech Republic and around the world.
Mary Zimmerman, who directed the Met's newest production of the work in 2017, embraced Rusalka's fantastical side, calling it "a wonderful opera for a director because you get to imagine a world that is connected to this world but that has never really been, that's imaginative." But she also saw in it the opportunity to touch on profound, humanistic themes that resonate in all of our lives.
The story is familiar. Based on several fairy tales and literary sources—most significantly Friedrich de la Motte Fouqué's Undine but also influenced by Hans Christian Andersen's The Little Mermaid—Rusalka tells of the eponymous water nymph, sung by acclaimed soprano Kristine Opolais, who falls in love with a human prince, played by Brandon Jovanovich. Longing to connect with him and despite the warnings of the Water Sprite, a father figure played by Eric Owens, she makes a disastrous bargain with the witch Ježibaba, sung by Jamie Barton, giving up her voice in order to become mortal and pursue the prince on dry land. The witch cautions her that if she fails to win the heart of the prince, she will be damned and he will die, but Rusalka is confident that love will prevail.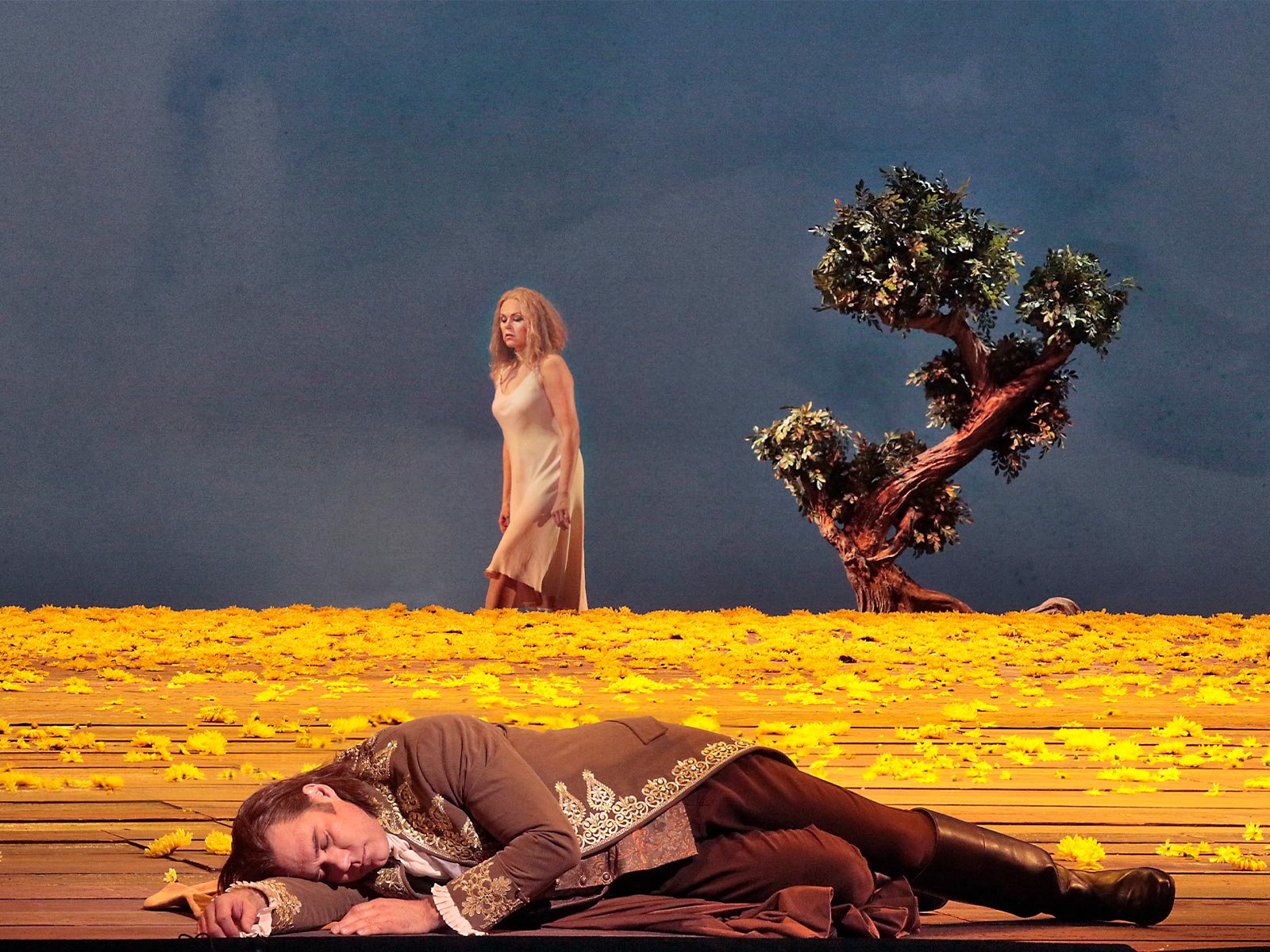 "Rusalka losing her ability to speak, especially to the person she most wants to speak to, is a radical thing," Zimmerman says. "To me, it stands for the idea that if you have to undergo a radical transformation of yourself for love, it's likely not to lead to a good place because you have gone away from your own nature to become visible." Rusalka's sacrifice of her voice is even more devastating in the context of an opera, the director says. "To give up your voice, to have the expressive means that you've trained since childhood to use taken from you by the composer—there's something brutal and violent about that."
Opolais, who lead the cast in the title role, agrees. "I see this role in a more dramatic way than probably most people," Opolais says. "It's a terrible tragedy when Rusalka realizes that the human world is not for her—she is suffering there. And I want to show the depth of this tragedy. I don't like the idea that Rusalka is just a simple fairy tale, which is not so; it's a very deep, human drama."
This production marked Opolais's first American appearances in a role that played a significant part in her rise to stardom following internationally acclaimed performances in Munich in 2010. "Rusalka is very special to me," Opolais says. "Some of my friends who are Czech say I must have been a Czech girl in a previous life. I just feel that this music is in my blood and feel that this story, this girl, is me."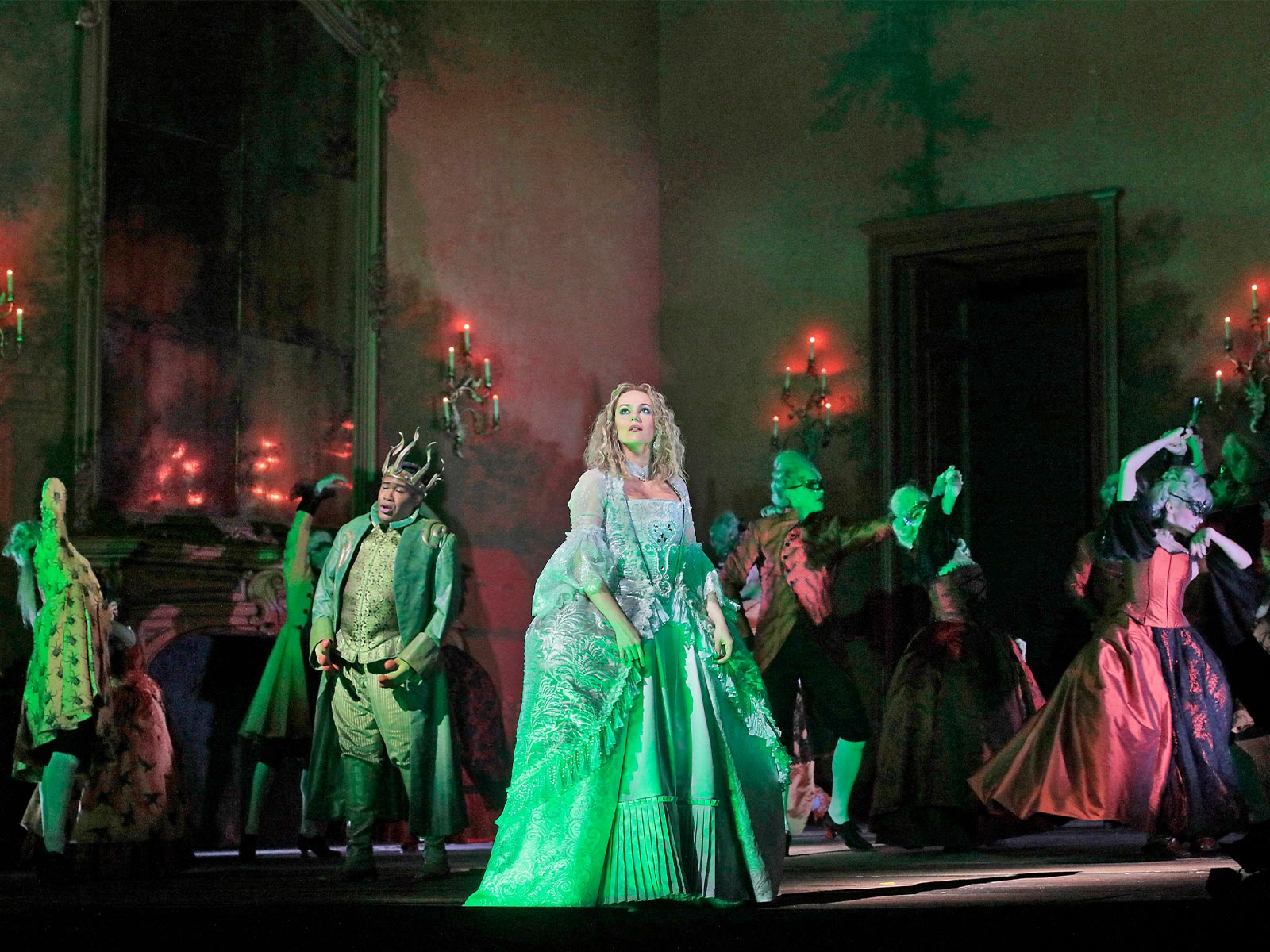 To depict the opera's familiar yet fantastical world, Zimmerman, set designer Daniel Ostling, and lighting designer T. J. Gerckens tapped into a somewhat abstract 18th-century aesthetic. "There's a difficulty in any show which asks you to represent the outdoor world," Zimmerman explains, "because when you try to do it very naturalistically, it's always missing one thing, which is that nature is animated—it's always a little bit in motion." Instead, they created a series of portals that provided a painterly depiction of the forest as a sort of wallpapered room. When the action shifts to the prince's palace following Rusalka's transformation, the wallpaper is the same but in the opposite color, a deep red that Zimmerman describes as being "saturated with the feeling of romance and love but also somewhat oppressive and a little menacing." The room itself glows, and there is a fireplace that emits hot, exaggerated firelight.
Similarly, the costumes, designed by Mara Blumenfeld, evoked both the literal appearance of the characters and the psychological and dramatic roles they play. Rusalka, for example, wears a dress that turns at the bottom into a trail of water lilies. "She speaks about being tangled in them," Zimmerman says, "and we wanted the dress, although beautiful and graceful, to be a little cumbersome for her, to make it a bit difficult for her to walk." The wood nymphs, reflecting their different environment and the spikier, more incisive nature of the music they sing, look entirely different, with branches and foliage woven into their skirts.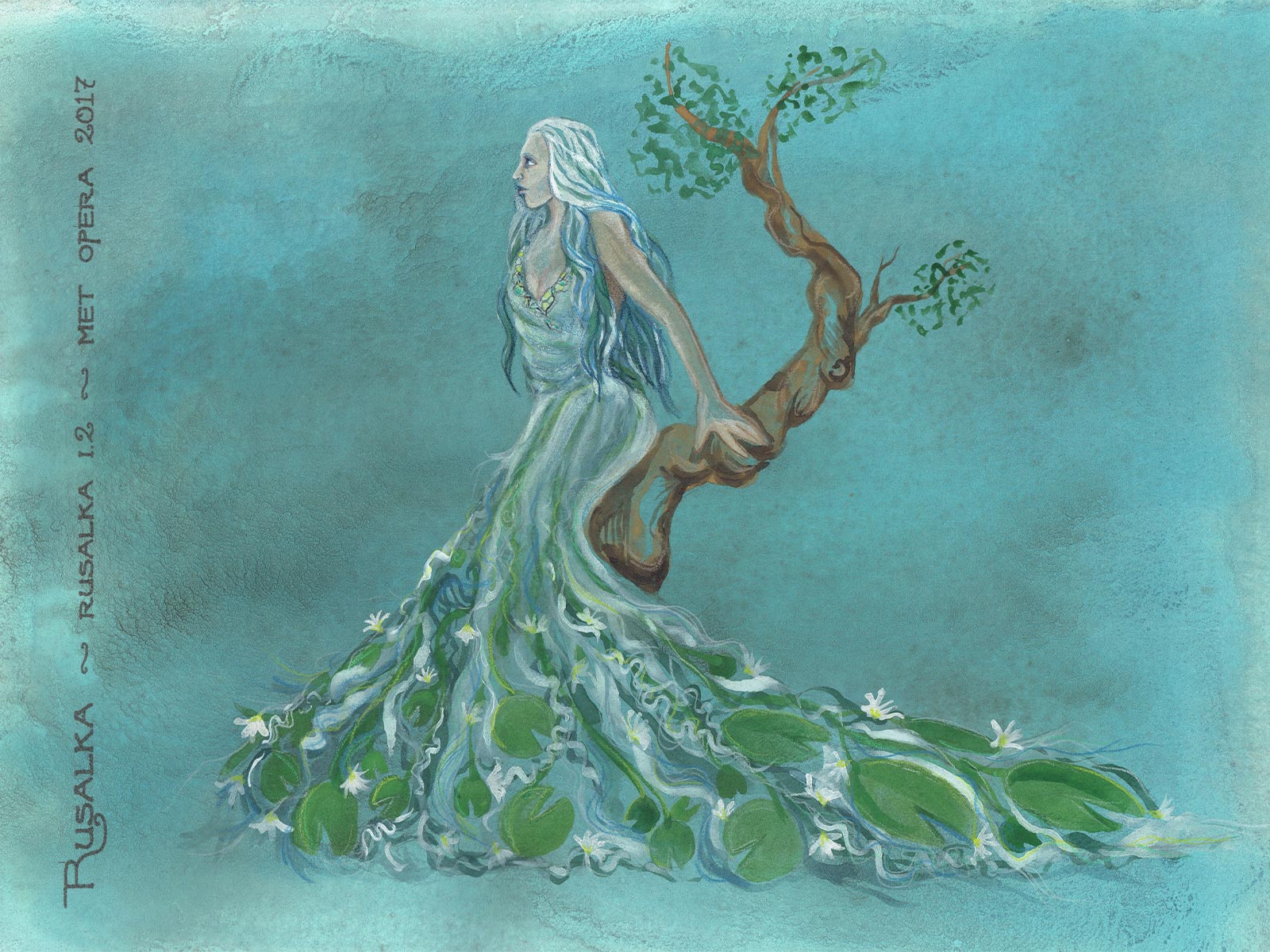 A costume design by Mara Blumenfeld
Predictably, Rusalka's plans go awry quickly upon her arrival at the castle. Though she initially succeeds in winning the affections of the prince, she is soon displaced by a foreign princess, sung by Katarina Dalayman, who not only has the advantage of being able to carry on a conversation, but also radiates normal human warmth, whereas Rusalka is clammy and cold. Realizing the impossibility of her love for the prince and regretting her sacrifices, Rusalka returns, dejected, to her woodland home, finding it changed in a way that reflects her disillusionment and disappointment, her betrayal in love. "When you're first in love," Zimmerman says, "the whole world is luminescent and so vivid and beautiful. And then, when something goes wrong, it feels greyed out and used up, as though your love was perhaps an illusion, that you were fooled somehow by the beauty of the world."
Sir Mark Elder conducted Dvořák's remarkable score, which overflows with the composer's unsurpassed gift for melody, often inspired by the folk music of his homeland, and masterful use of orchestral color and shading. Apparent too is Dvořák's experience as a symphonist—he had completed all nine of his symphonies by 1893, seven years before he embarked on Rusalka—as well as his study of Wagner's leitmotif system and seamless musical progression. As a whole, the opera is a testament to one of the Romantic period's most gifted composers at the height of his powers and inspiration, finally fulfilling his dream of writing a great Czech opera—great not because it is Czech but because it transcends its origins and speaks meaningfully to anyone who has ever been in love.
"We've tried to create a sense of journey and of moving through time and through Rusalka's metamorphoses," Zimmerman says. "I hope that the audience leaves with perhaps a wistful recollection of their own profound and unanswered love and what it did to them—and maybe how it was necessary to go through."
Jay Goodwin is the Met's Editorial Director.