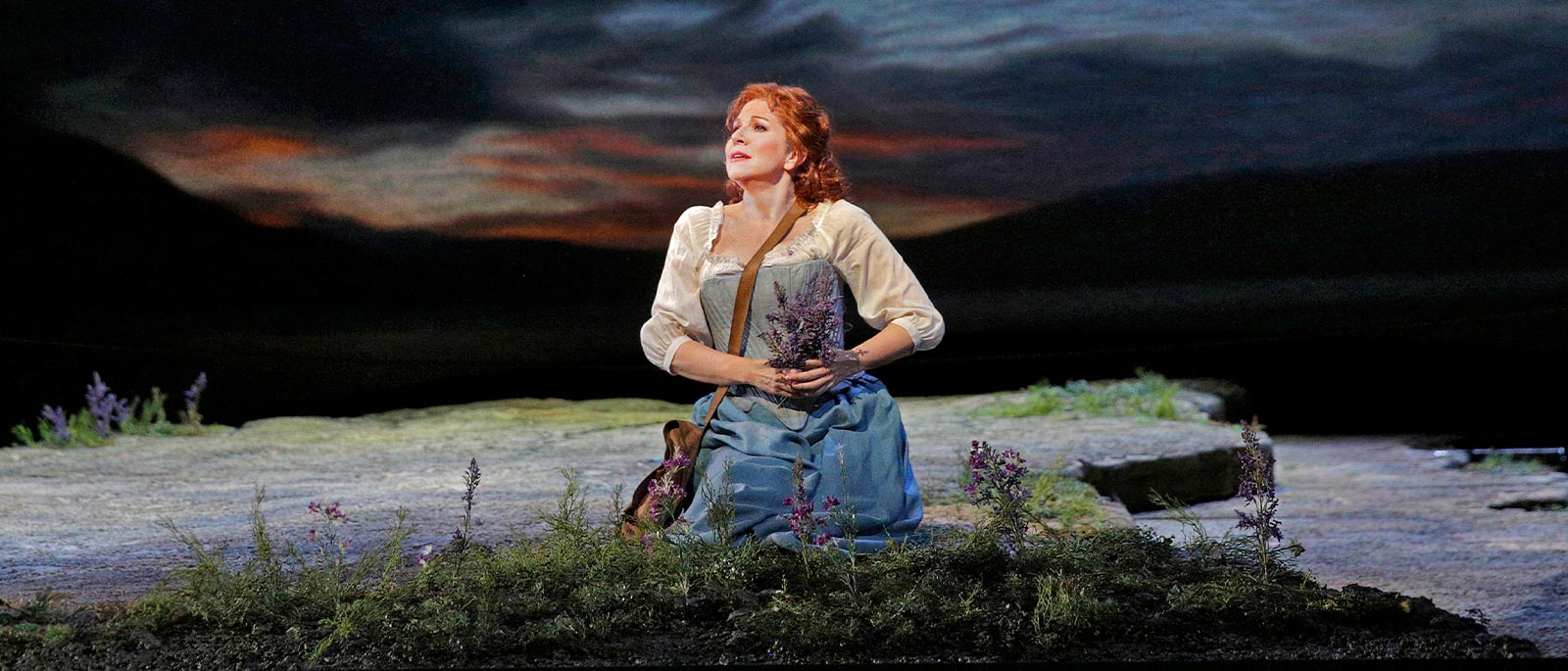 Bella Donna
Before she sang Elena in the Met premiere of Rossini's La Donna del Lago in 2015, mezzo-soprano Joyce DiDonato spoke to the Met's Matt Dobkin about the challenges and rewards of the art of bel canto.

La Donna del Lago was composed in 1819, but it's only now having its Met premiere. Since our audience isn't necessarily familiar with it, what are the opera's virtues, and why is it time to finally stage it at the Met?
You never know what history is going to say, but I think when people look back at this particular period we're in, they're going to see it as a very important moment in terms of Rossini singing. This is a piece that you do when you have the cast to do it. I mean, we have just extraordinary tenors, in particular, right now, and I also think Elena and [the pants role of] Malcolm are two roles that are very difficult to cast. Elena isn't quite a soprano, isn't quite a mezzo, fits somewhere in between the two. Malcolm is just fiendishly difficult, and there are not a lot of those kinds of voices around today. So when the stars align and they bring you singers who can really do justice to the piece, I think it's time, especially for a theater like the Metropolitan Opera, to present it.

When did you first encounter the opera?
Well, the first time I sang the aria "Tanti affetti" in public, it was at Carnegie Hall for Marilyn Horne's 70th birthday. You know, if you're going to do something, do it big, right?! It was a gala concert, and I was finishing the whole performance with "Tanti affetti," and to make it worse, Frederica von Stade was introducing me—no pressure! She and Marilyn Horne together really brought the opera back into the repertoire, and they had a famous production that played in Houston and London. When I did the opera in London a few years ago, they were still talking about that production. So that was the first time I sang the aria in public. Then, when I recorded my Rossini album, I knew that I was going to start stepping into these "big girl" roles of Rossini. You know, graduating from Rosina in The Barber of Seville and Cenerentola and stepping into Donna del Lago. I'm glad I didn't do it earlier, because it's a bit more dramatic and you need some heft, particularly in the second act. You can hear Verdi coming with this score!
For people who don't necessarily know how the opera world works, how do you go about taking on these big girl roles, as you call them? Is it something that you take the lead on—"I need to find a director or a company who wants to do this for me"—or are people approaching you?
Happily, at this moment, theaters are asking me what I'd like to do, so I have an incredible opportunity to really steer my career into the exact direction I want it to go. It's important for me, if I take on a new role, that I know I'm going to have the chance to do it a number of times. You know, I just sang my fourth production of Maria Stuarda in Barcelona, and I feel like I'm just now figuring her out. With Elena, it's a big role with a lot of depth—but not obvious depth. You have to look for it.

You starred in this production when it premiered in Santa Fe. How did you and the director, Paul Curran, work together to find your way into the role?
Well, it's asking a lot of questions. I mean, I came to this staging having done three very different productions. My first production was by Christof Loy, and he set it in the context of Lars von Trier's film Breaking the Waves. It was very psychological, and Christof found stuff in it that I would have never guessed, so I started off with a very experimental bang. And then I did different productions in Paris and London. So I came to Santa Fe with a lot of angles and ideas, and Paul was very open to discussion because he had not done it before. He's Scottish, so he brought out a lot about the importance of hospitality, the importance of custom, the importance of clan, which I hadn't really delved into before. And what I love about Paul is that he insists on finding the emotional content of each scene. So people may say that the plot is at times implausible, which is perhaps true—but in terms of emotion, absolutely not. Here is a girl who is stuck. She's stuck with her family. And I think about somebody growing up in a fundamentalist religious family, or, say, a President's daughter. They are stuck in certain roles, and there are certain obligations that are demanded of them. It's the same thing for Elena—but then her world opens up when she sees this stranger [the king in disguise], and it's exciting and it's dangerous and she discovers things about herself that she did not know were in there. God, that happens all the time! So if I look at the story on an emotional level, it's entirely plausible, and that's how I have to play it.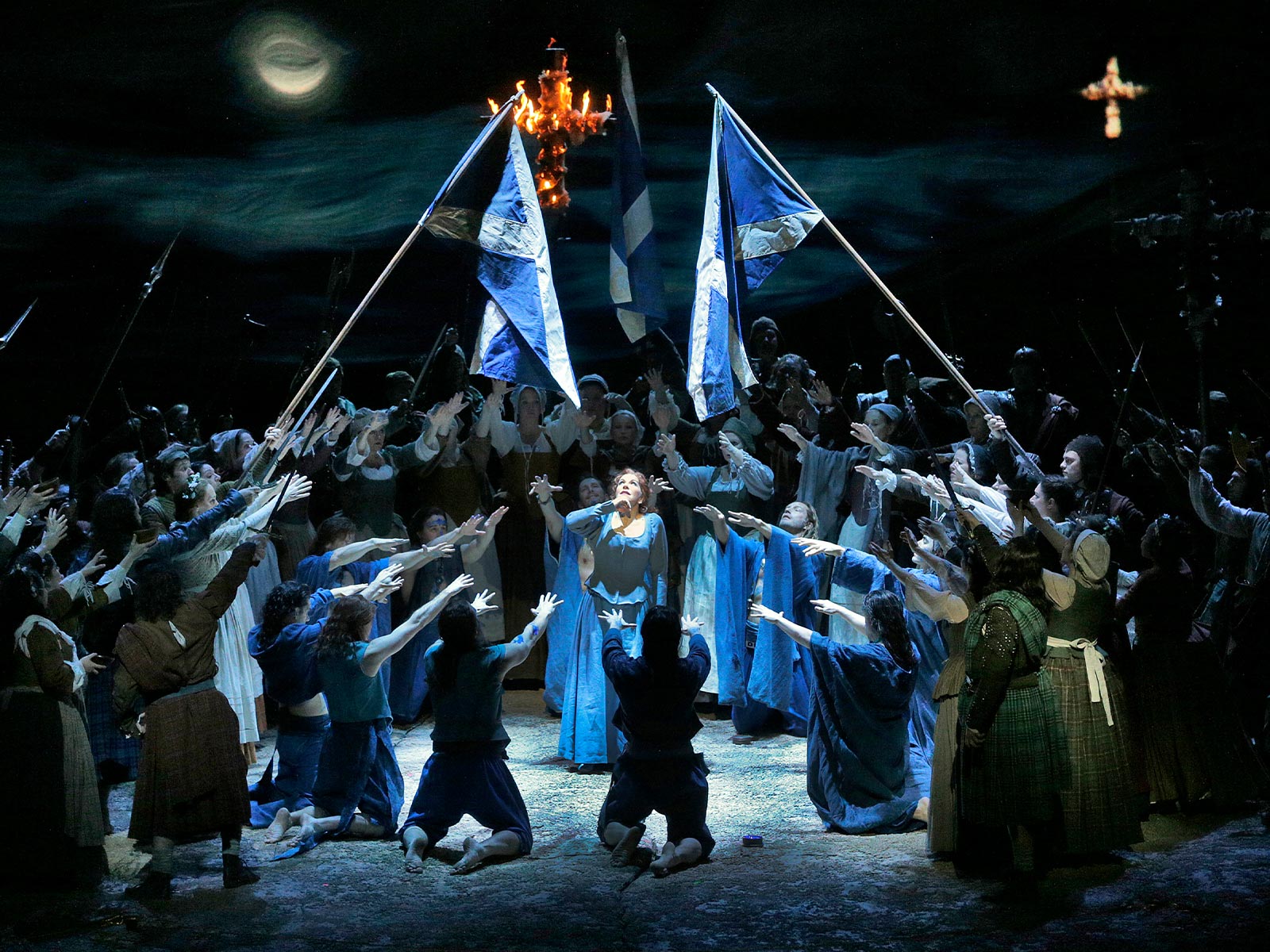 Curran said in an interview, speaking specifically about you singing this kind of repertoire, "Joyce won't do anything without a reason." Is that true?
Yes, it's true. If I'm on stage doing this crazy thing called opera, I have to believe 100% in what I'm doing. It's not even a case of believing what I'm doing in terms of acting. I have to believe it even more than if I were doing straight acting—the issues at stake have to be so strong that I can't simply talk about it, I have to sing it. The emotional imperative has to be
 so concentrated and strong that the only solution for my character in that moment is to sing. Because I love so much, or I hate so much, or I'm so scared, or things are so beautiful and so magical, it has to be sung. That's how I make sense of going out on stage in this amazing art form and opening my mouth and singing. And honestly, I think the piece deserves it, I think the character deserves it, and I think the audience deserves that I take it that seriously.

Let's talk a little about coloratura. There are really only a handful of people in the world who can sing this kind of repertoire at the level of you and your co-star, Juan Diego Flórez. As a young singer, how did you discover that you had a talent for this kind of singing?
It's trial and error. You know, the teacher gives you some pieces to work on, and one is slow and one is fast. And I could do the fast. It's a little bit like if somebody has athletic ability: there are certain bodies that are built for sprinting and certain bodies that are built for marathon and endurance running. I just always had this facility. The thing I had to work on was accuracy and breath control. So my voice would move, but that didn't mean I could do it over the course of these long phrases without breaking between middle voice and high voice. There was a lot of technical work I had to do so that it appears easy—on a good day.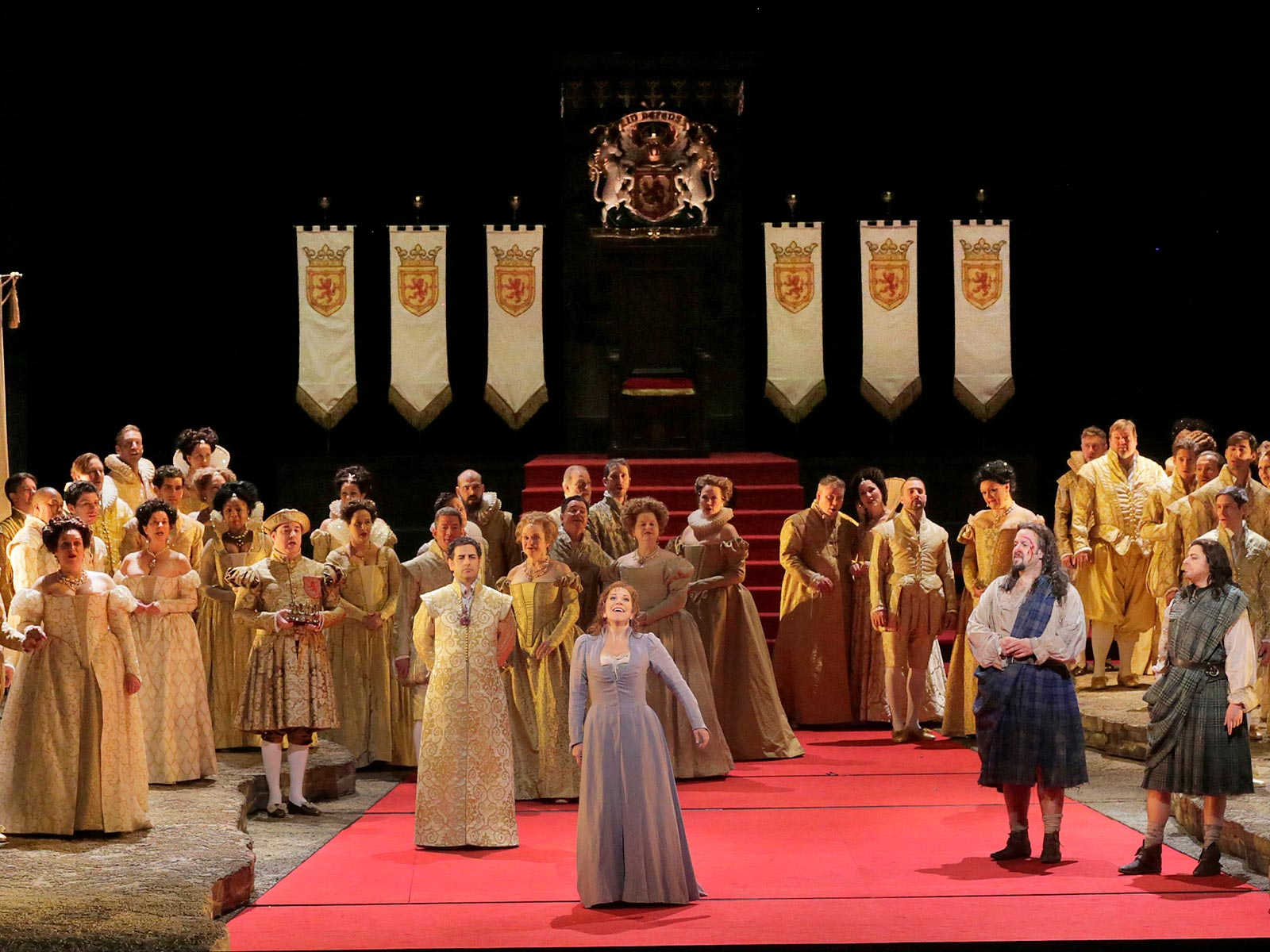 What about the slower, less flashy, more beautiful moments of bel canto— which some people say are actually more challenging?
Again, it depends a little bit on what your voice does naturally—and it's why bel canto is so great, because we have both sides of the coin. You have those soft moments that should bring a tear to your eye and make the audience lean forward and be pulled in, and just when you have them there, you blow them back with the big finale.

You've worked with Juan Diego many times, and the two of you are really at the top of the field in this repertoire. Do you get something extra when you're performing with him?
Yes, there's something very special because Juan Diego's really a singer of historic significance. The fun part is that we go back to the beginning of each other's careers, more or less. He's a little younger than I am—barely!—but he started quite a bit before I did. I mean, I'm sort of five years behind him in terms of getting started with my career, and he blasted into the top right away while I was more of a slow burn. The first time we sang together was in 2002, La Cenerentola in Paris, and we've been together pretty much every season since then without exception. We've been a part of some of each other's biggest successes, so there is a sense that we're part of something quite unique. I know that he makes me a better singer, because he does so many incredible things that I'm like, "Okay, I've got to match him! I have to bring my A-game!" [Laughs.]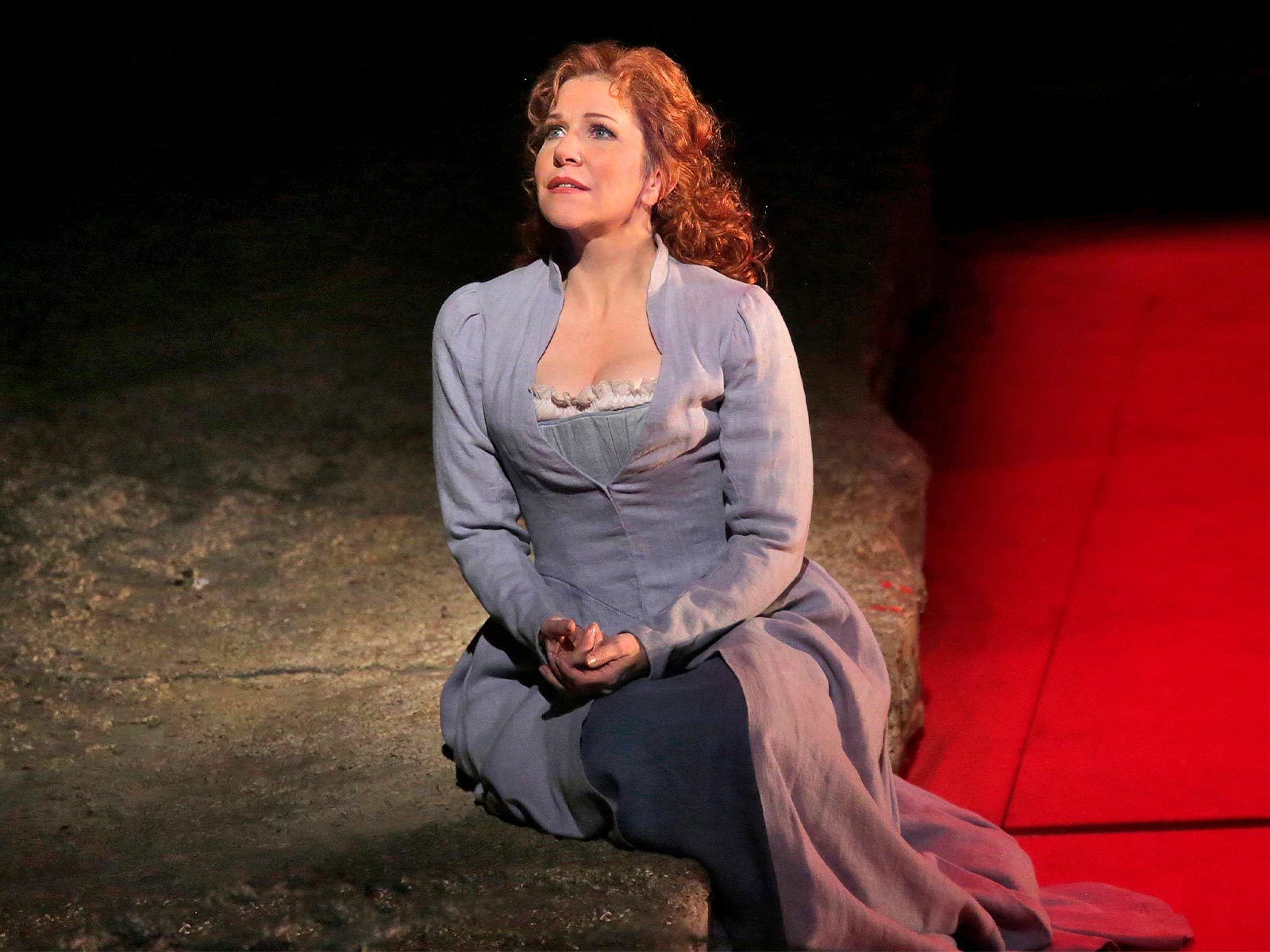 You're so passionate about spreading the word about opera. I'm curious why this is so important to you.
It comes from the fact—and it just deepens and deepens over time—that I think opera has the potential to show humanity at its very best through this vehicle of beauty and truth. I cannot think of anything that the world needs more than that. I feel so honored to be a part of it, and what I want us as an art form to do is to embrace exactly what we are, and then share it with the world without apology. Because when opera is great, there's nothing else that touches it.
Matt Dobkin is the Met's Creative Director, Marketing and Strategy.