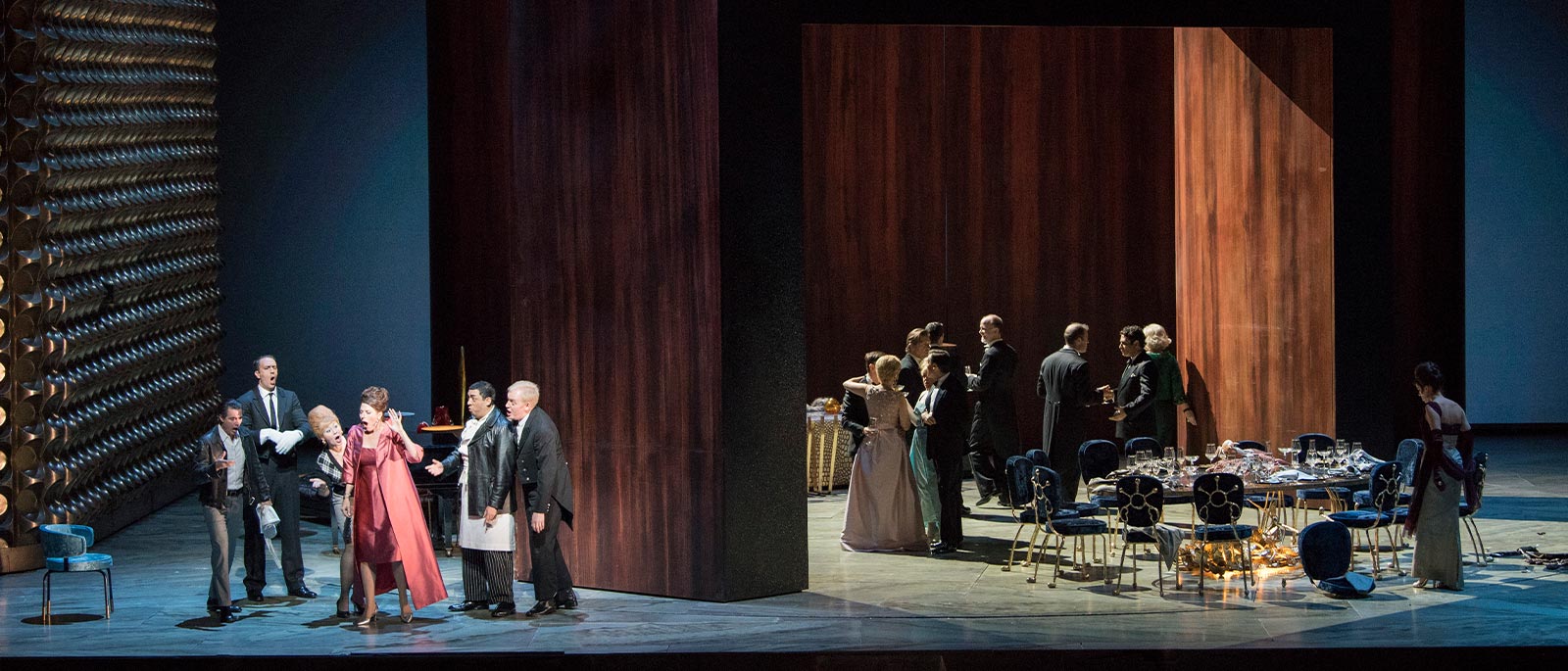 Angel in America
Thomas Adès's brilliant new opera The Exterminating Angel received its highly anticipated North American premiere at the Met following acclaimed runs in Salzburg and London. The production, directed by Tom Cairns, embraced the mesmerizing weirdness of the opera, which is inspired by Luis Buñuel's classic surrealist film. By Thomas May
Not every composer has a knack for finding operatic potential in unlikely sources. But over the past two decades, Thomas Adès has followed his dramaturgical instinct to some of the most spectacular successes in contemporary opera.
At first glance, the feasibility of transforming surrealist director Luis Buñuel's film El Ángel Exterminador (The Exterminating Angel) into a large-scale ensemble opera seems unlikely. Filmed in Mexico City in 1962, Buñuel's screen classic—in which an upper-class dinner party devolves into madness and chaos as the guests find themselves inexplicably unable to leave—blends political satire, eccentric humor, and the logic of nightmares into a genre-defying enigma. Yet despite their unusual inspiration, Adès and Tom Cairns, who adapted the libretto together with the composer and who also directed this premiere production, created an opera that feels like an inevitable and natural development of the material—and delivered one of the most exciting new works in recent seasons.
The Met's production featured an outstanding ensemble cast, including soprano Audrey Luna in the stratospheric coloratura role of an opera prima donna, soprano Amanda Echalaz and tenor Joseph Kaiser as the party's hosts, and bass Sir John Tomlinson as a doctor who tries to maintain some level of order, with mezzo-soprano Alice Coote, countertenor Iestyn Davies, and tenor David Portillo among the other guests. The composer himself returned to the Met to conduct.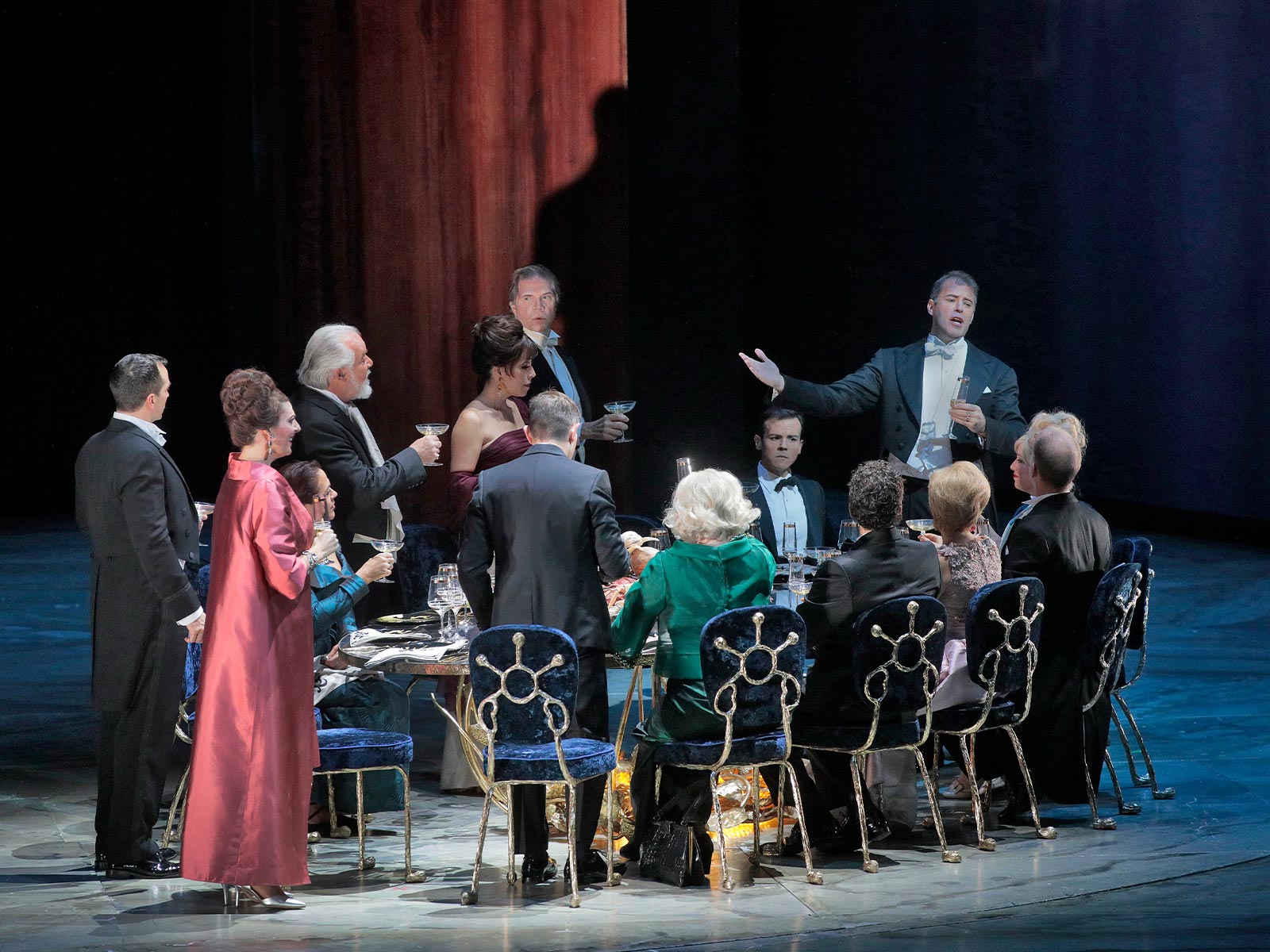 Adès, who was born in 1971 into an artistic London household—his mother is an art historian, his father a poet and translator—recalls first being impressed by Buñuel's black-and-white film while still a teenager. The composer's inclination to make it into an opera, he says, derived from the film's absurdist sensibilities and multilayered nature, encompassing elements of fairy tale and horror, as well as the macabre and dreamlike. "All of this feeds into music very naturally for me," he says. "And also, it feels extremely modern."
The Exterminating Angel's world premiere at the 2016 Salzburg Festival was greeted by a standing ovation and rapturous reviews. The Financial Times judged the score "more than good. It is brilliant. This is utterly assured writing, clever, effective, dazzling, complex yet awfully easy to listen to." The response was no less enthusiastic when the opera made its way to London's Covent Garden in April the next year. The work so effectively immerses the audience in Buñuel's inescapable dinner party, as The Guardian noted in its review, "that one half expects to encounter some kind of force field at the Covent Garden doors."
Adès's adaptation of Buñuel marked the composer's third major operatic success in as many attempts. First, in 1995, when he was just 24, the composer scored a sensation with his debut opera, Powder Her Face. Inspired by a sex scandal from the 1960s involving the downfall of an aristocratic woman, this chamber opera revealed Adès's remarkable talent as a musical dramatist. He turned the tables on a made-for-the-tabloids story of degradation and managed to humanize his heroine. At the same time, Adès was hailed for his precocious skill at blending markedly different musical styles into a distinctive, coherent language. Major commissions from leading institutions around the world followed.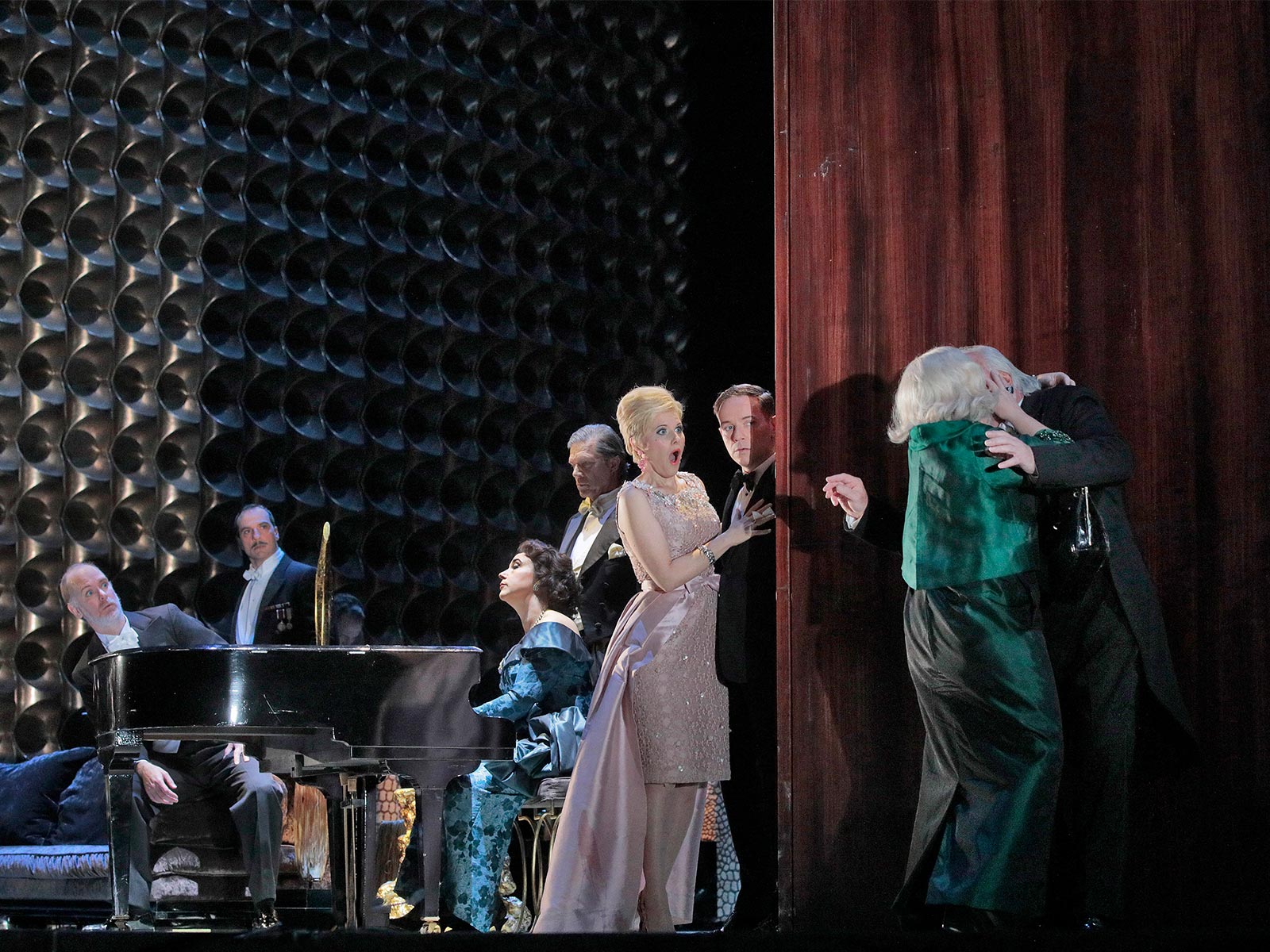 When the youthful composer's next opera was ready to be unveiled, the stakes were high—all the more so considering that Adès had abandoned an earlier idea for another opera based on recent history in favor of an adaptation of Shakespeare's The Tempest. At its 2004 premiere in London, the resulting opera won over critics and the public alike and was quickly recognized as much more than a mere "decoration" of the play. It is, rather, a fresh work, idiomatically conceived for the operatic medium that illuminates the familiar from new and valuable perspectives. In the fall of 2012, The Tempest became a highlight of the Met's season in a new production directed by Robert Lepage, after which The New York Times hailed the work as "one of the most inspired, audacious, and personal operas to have come along in years."
For his third opera, Adès once again shifted his attention to something completely different. The source film dates from relatively late in Luis Buñuel's career, when the adventurous Spanish-born director was just beginning to return to Europe after years of self-imposed exile in Mexico. The Exterminating Angel revolves around the plight of a group of mostly self-involved upper-class characters, who have been invited to a lavish, late-night dinner party hosted by the cultivated Edmundo de Nobile and his wife, Lucía. Most of the servants inexplicably get spooked at the work's beginning and flee the mansion before the party gets underway.
For no apparent reason, the guests find themselves unable to leave the party, becoming trapped—psychologically, as if by some invisible force—in the increasingly claustrophobic salon. Social conventions rapidly dissolve as the implications of this imprisonment take hold. The characters are driven to extremes (think Lord of the Flies meets Waiting for Godot): A pair of young lovers engages in a suicide pact, an old man wastes away and dies, and the most aggressive guests threaten to murder their host in rage. "This very grand and elaborate bourgeois group of people," observes director Cairns, "is reduced to shredded clothes, completely destroyed by the experience."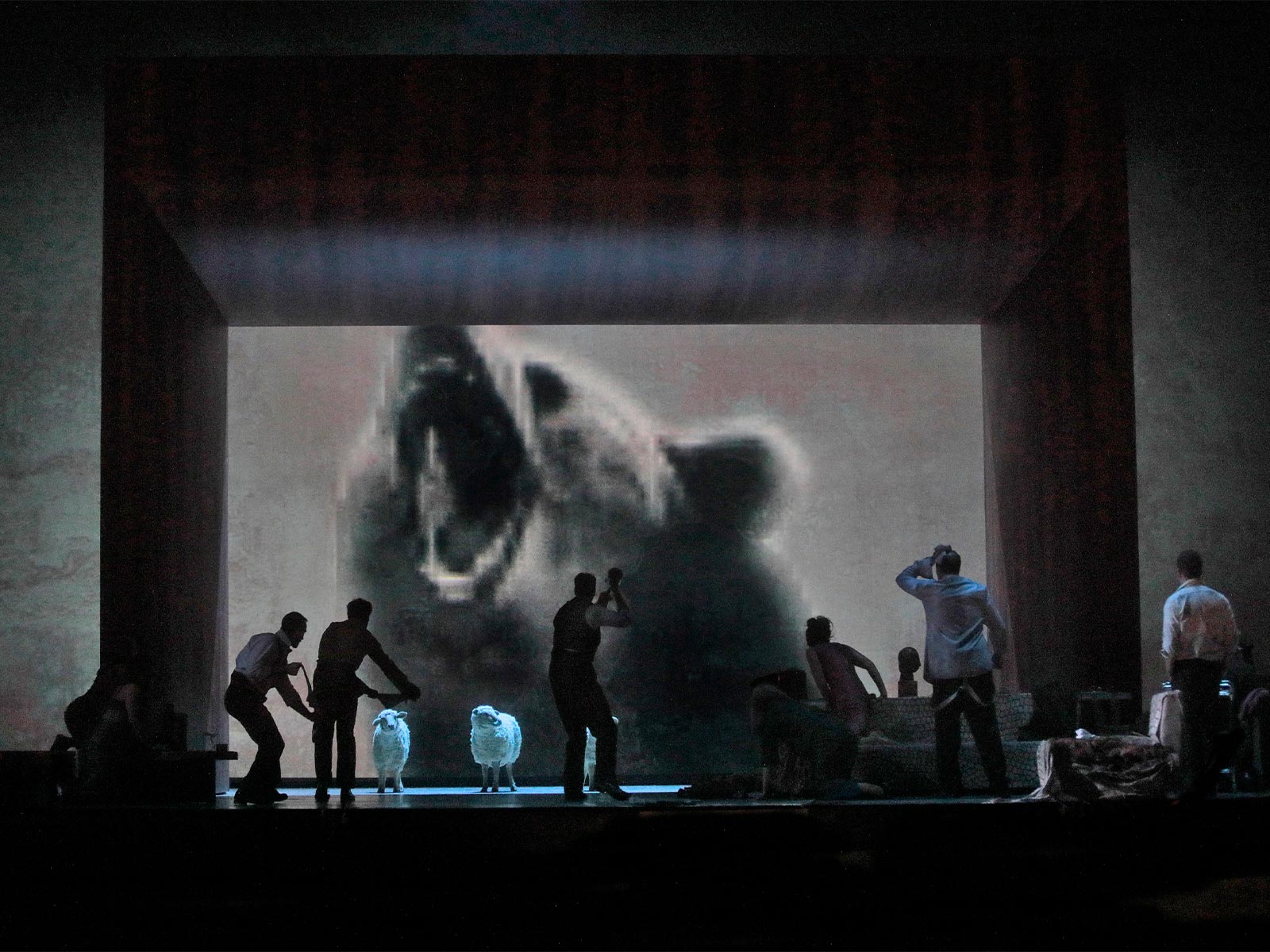 For his musical conception, Adès drew on a historically far-reaching spectrum of stylistic allusions—the Viennese waltz, Baroque decorum, densely clotted modernist harmonies—but transcended facile eclecticism. The kaleidoscopically shifting soundscape is a character in its own right, heightening the drama on stage and illuminating our impression of gathering doom.
The film's large cast of privileged guests, servants, and various external crowds—along with a flock of sheep and a bear—naturally had to be compressed. But even trimmed down to 15 principal roles (along with supernumeraries and chorus), the opera posed extraordinary challenges for both composer and director, given the scenario's basic premise that these characters remain onstage throughout. Adès cleverly uses contrasts of vocal types to emphasize "strongly differentiated characters, so you can tell one person from the other," he explains. "It's actually easier to do that in music than it is in the film," with only spoken language to work with. Particular figures come into musical focus from one scene to the next, "like a merry-go-round" where different groups of horses stick out as the carousel continues to turn.
Visually, the challenge—particularly with the enormous Met stage—was to imply something that was "hugely, existentially bigger" than any specific subject, says Cairns, even though "the actual situation is domestic: to contain that and not allow it to get lost on such a vast stage area." Dominating Hildegard Bechtler's set is an immense, flexible wooden door frame: an imposing threshold and sculpture that in one sense suggests "elements of the 'exterminating angel' itself—the unknown." A gigantic projection screen used for both lighting and images can shift the mood from the everyday to the unnervingly surreal.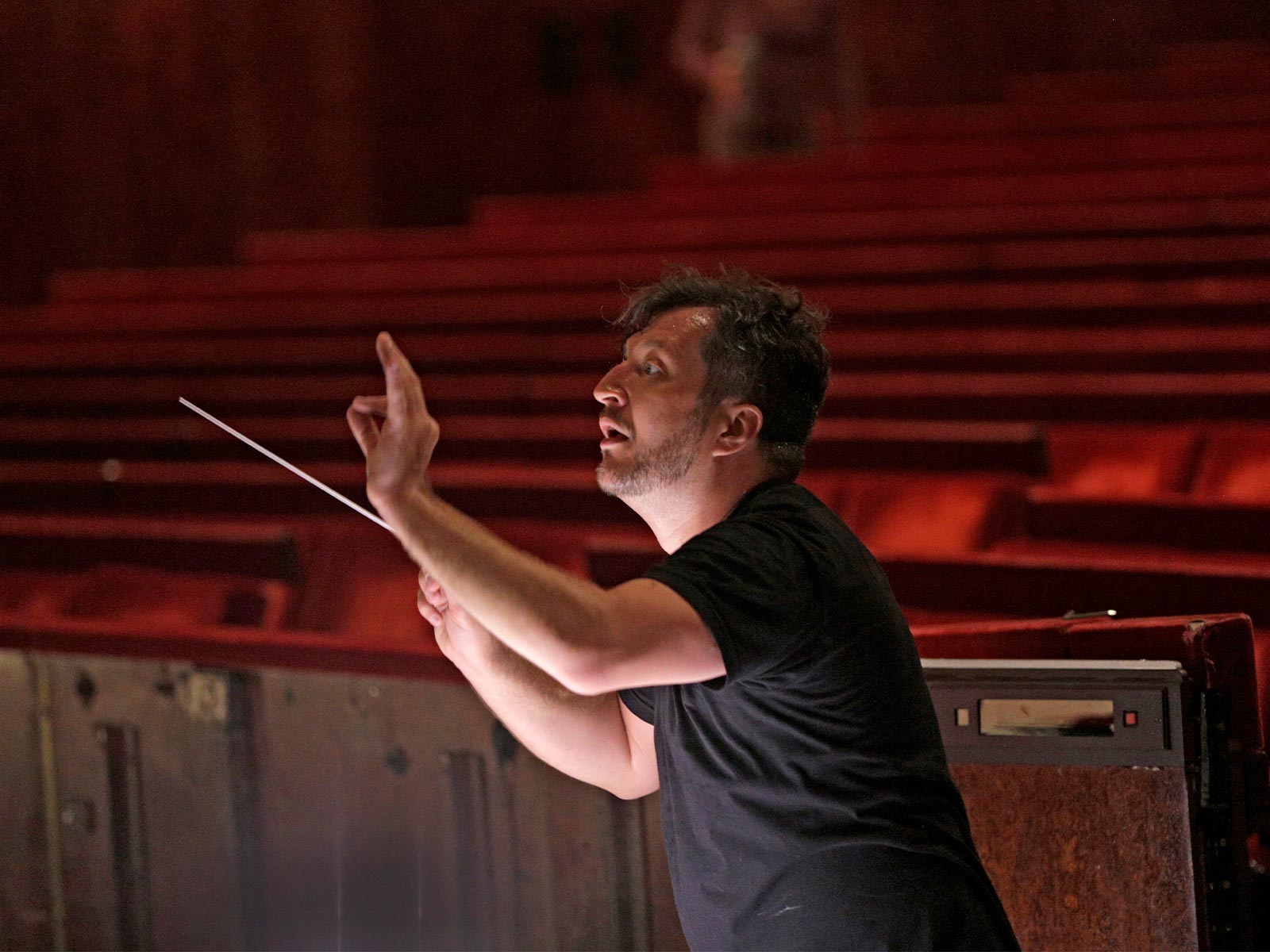 As he did with The Tempest, Adès conducted the Met Orchestra in his own intricately detailed, mesmerizing score. Cairns notes that Adès calls for a "huge, powerful, symphonic sound that really drives the piece forward." And his soundscape includes some unusual choices as well. Along with solo piano and guitar, Adès reserves a prominent role for ondes Martenot, a pioneering electronic instrument whose eerie sonority (evoking old sci-fi films) becomes a musical symbol of the mysterious, invisible force holding the guests captive. (Read more about this unusual instrument.) He also calls occasionally for the elfin sound of miniature violins one thirty-second the usual size, an ominously slammed door, gunfire, and the contraforte, an extremely low bassoon that plunges to sepulchral depths.
Adès says he hopes that everyone who experiences the work "will feel that they've been through something that is enjoyable … and puts them somewhere completely new, maybe which they didn't expect. I hope it's a thrill for them, as it has been for me."