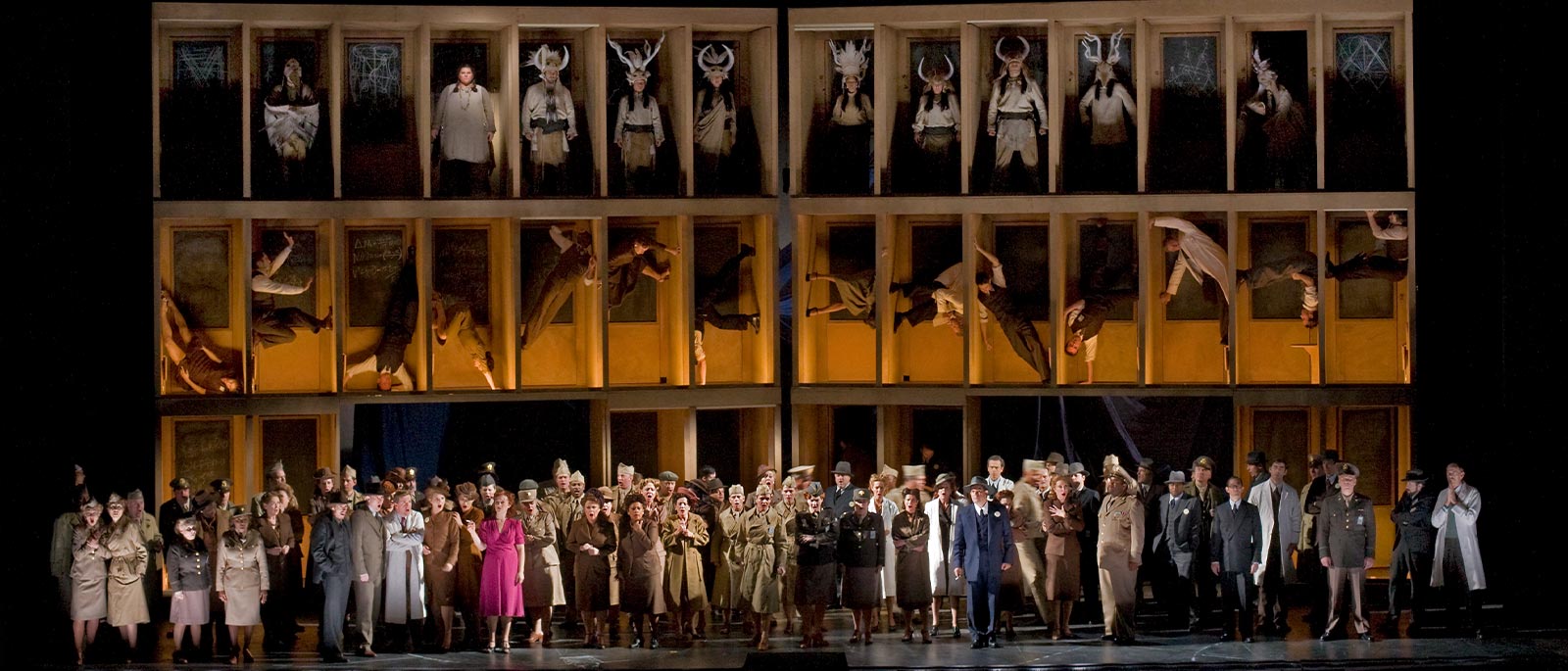 American Prometheus
In his remarkable Doctor Atomic, which had its Met premiere in 2008, composer John Adams explores the life and work of Robert Oppenheimer and the march toward one of the most controversial inventions of 20th-century science. By Thomas May
Opera inevitably deals with characters caught in larger-than-life emotional or political turmoil. But in the case of John Adams's Doctor Atomic, the subject matter is particularly compelling. The opera, which had its Met premiere during the 2008–09 season in a new production by acclaimed filmmaker Penny Woolcock, conducted by Alan Gilbert, dramatizes a modern-day event of truly epic implications: the inauguration of the nuclear era with the first atomic bomb test during the tense final summer of World War II. "The manipulation of the atom, the unleashing of that formerly inaccessible source of densely concentrated energy, was the great mythological tale of our time," Adams writes in his 2008 memoir, Hallelujah Junction. With the bomb's successful explosion, "the relationship between humans and the planet they inhabit changed unalterably."

Adams, one of today's most successful and frequently performed composers, has developed a reputation for mining the tremendous mythic and symbolic potential of contemporary stories and events. At the same time, his colorful and sensuous music appeals to audiences in a way rarely achieved by a 21st-century composer—a combination Woolcock found particularly stimulating: "I feel like the luckiest person in the world working on this, because John's music is so beautiful, and the subject is so thrilling and important."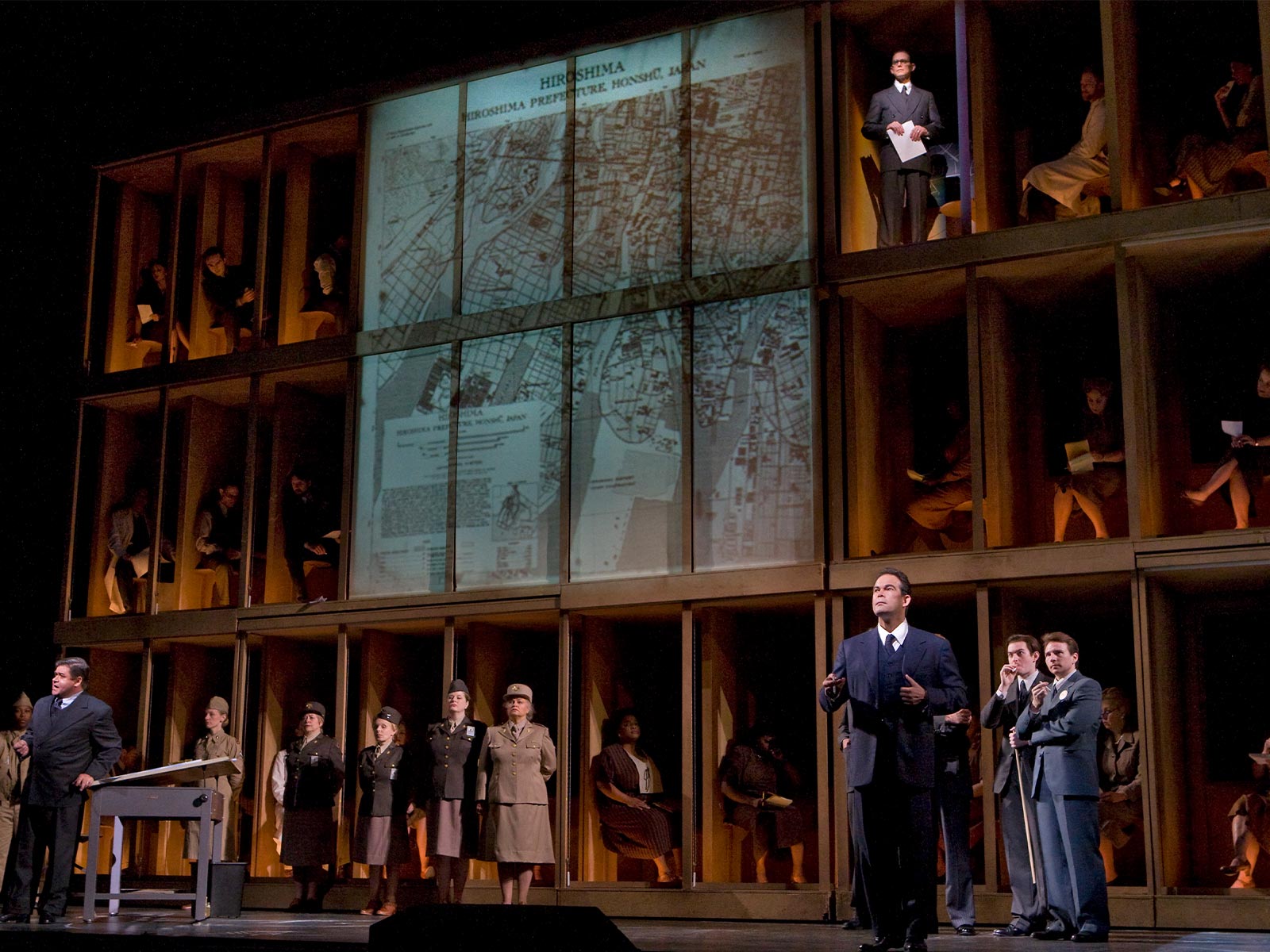 Doctor Atomic is the fifth of Adams's stage works, and with its focus on the resonance of figures and events familiar from contemporary American history, it follows the example Adams established in his first opera, the 1987 Nixon in China (which considered the clashing ideologies of the Cold War). In physicist J. Robert Oppenheimer and his quest for the bomb, Adams found a modern figure who seemed custom-made for his high-stakes approach to opera. Oppenheimer, one of the most brilliant minds in 20th-century science, oversaw the Los Alamos Laboratory, where the Manhattan Project came to its climactic conclusion with the testing of the first atomic bomb in the remote New Mexico desert, at a site designated "Trinity."

"For me, the key thing is this feeling of excitement," says Woolcock, who made her Met debut directing this production. "You have the cleverest people in the world all locked together in the most beautiful place in the world, in Los Alamos, and they're working at pushing the boundaries of knowledge, connecting with the essence of the universe." Also remarkable, she adds, was the relative youth of these scientists (Oppenheimer himself was only in his early 40s at the time). "I think they lost sight of the fact that what they were dealing with was death and destruction."

Oppenheimer, certainly, was a highly cultured and immensely gifted genius who saw the order of physics mirrored in his profound love of poetry, music, and painting. An accomplished linguist, he endlessly quoted Baudelaire in the original French and even learned Sanskrit to read the Bhagavad Gita. Yet he was fated to harness this humanist sophistication for the purposes of managing the development of an obscenely destructive weapon.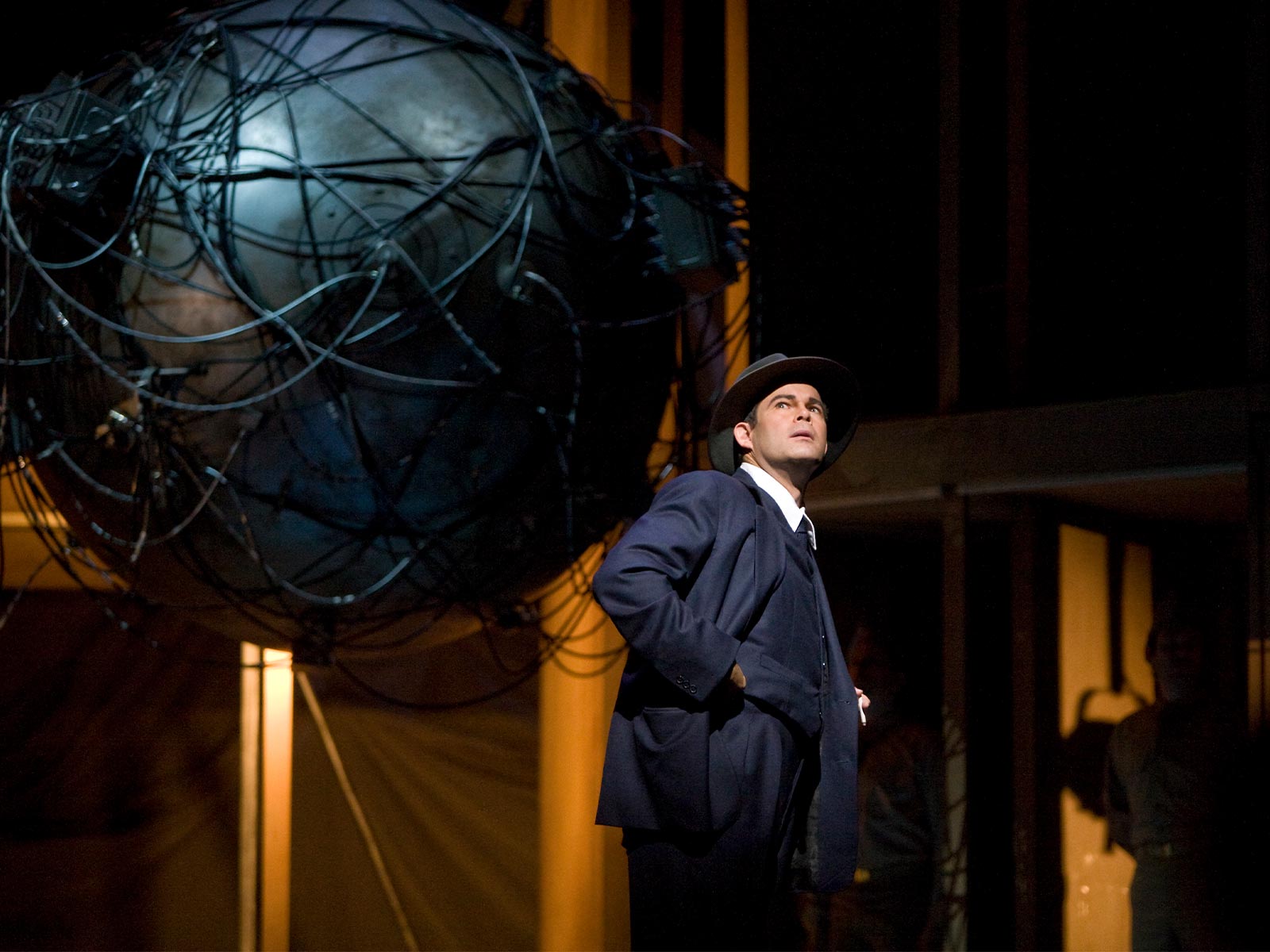 Canadian baritone Gerald Finley, who played Oppenheimer at the Met, created the demanding role in the 2005 world premiere at San Francisco Opera and sang it in subsequent productions in Chicago and Amsterdam. For him, the physicist's combination of scientific and artistic insights creates an irresolvable conflict. "He is challenged by his supreme gift as a human being, both intellectual and spiritual," Finley explains. "That's the one thing he wrestles with. What makes him such an interesting character is that one or the other of those sides of him rises up and tries to justify the other. And then, because of his critical, scientific mind, he also realizes he's a weak human being in terms of his own moral fiber."
This profound tension and sense of moral contradiction, a key element of Doctor Atomic, is reflected in the unusual nature of its libretto. In place of realistic dialogue, Peter Sellars—Adams's long-term operatic collaborator who directed the American and European premieres of Doctor Atomic—wove a mélange of "found" texts, all from pre-existing material. His libretto juxtaposes chilling memos and meeting minutes from government documents that were only recently declassified with memoirs and the poetry Oppenheimer uses to express his most intimate thoughts.

Working with Woolcock in bringing Doctor Atomic to life on the Met stage were designers Julian Crouch (sets), Catherine Zuber (costumes), and Brian MacDevitt (lighting), with video projections by Fifty Nine Productions and choreography by Andrew Dawson. The opera's setting entails a dramatic confrontation of perspectives. Anyone who has visited Los Alamos knows the breathless beauty of the high-desert landscape. Doctor Atomic contrasts the technical prowess that fashioned the bomb with the attitude toward nature represented by the ancient traditions of the native Pueblo Indians. "The Indians are no less rational," says Adams, "but rather than being actors in this drama, they are the observers. They know that if they listen carefully enough, the rocks may reveal other secrets that science is powerless to explain."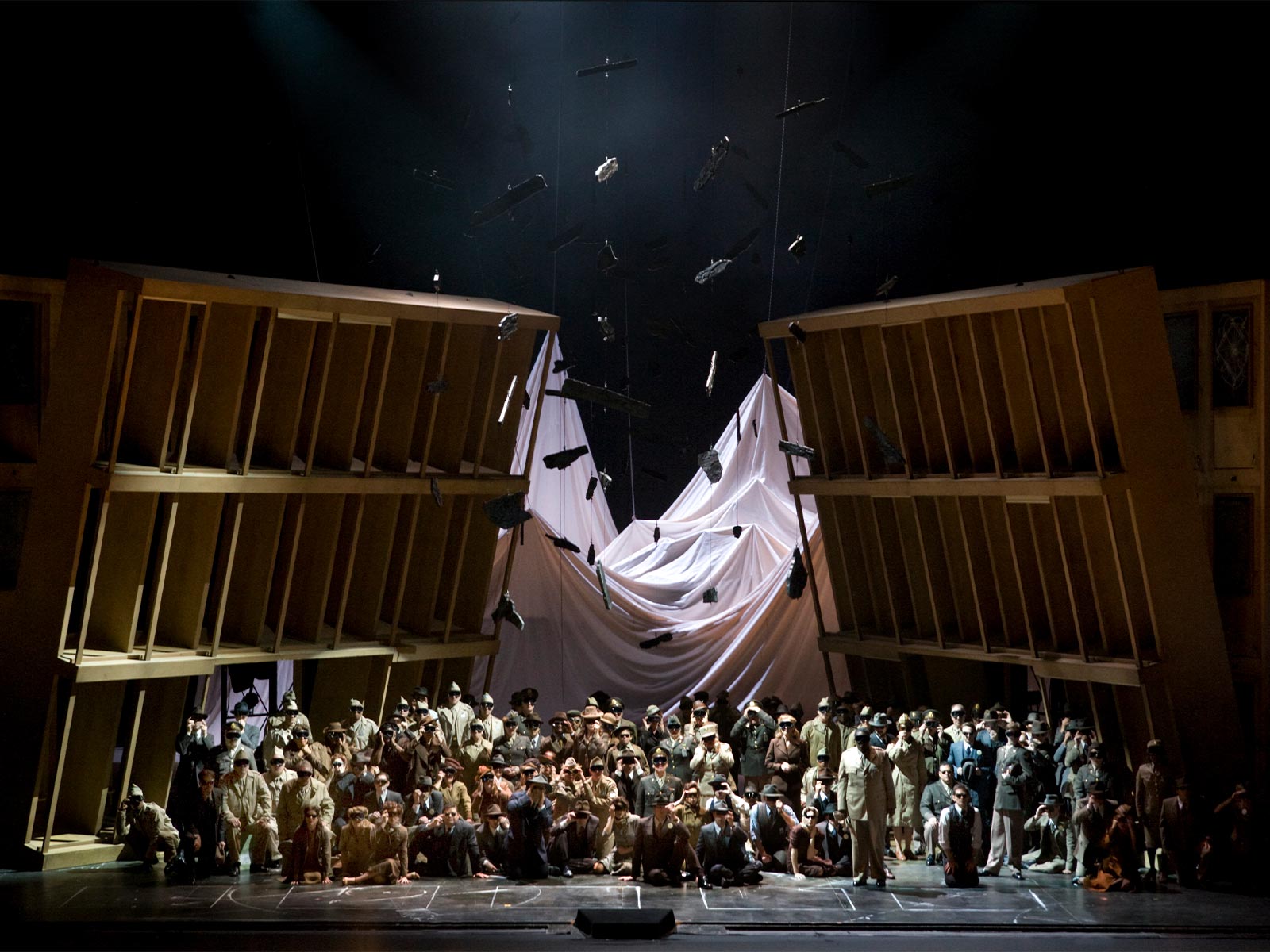 Woolcock was especially interested in the awareness of a "disruption to the natural order" that the opera's female characters (Oppenheimer's wife, Kitty, and their Tewa maid, Pasqualita) experience while the men congregate on the desert floor to conduct their experiment. Together with Crouch—the designer and associate director of the Met's stunning Satyagraha—Woolcock says that her staging aims "to create a space that is easily transformable and able to shift from desert to lab to domestic interior." After making a personal visit to the original New Mexico locations, she realized that one challenge of their visual concept would be "to create something very beautiful, even though the opera is probably about the darkest, most dreadful subject you could choose."

The outward drama that Doctor Atomic recounts is a story whose outcome we of course already know. But Adams's music generates a momentum of present-tense anticipation through its ingenious manipulation of rhythmic energy and richly colorful orchestration (including an electronic soundscape). Among the complex score's many challenges is sustaining the hallucinatory sequence that threads through the final act, as the countdown dissolves into the musical equivalent of relativity. "The great thing about writing for the stage," says Adams, "is that it prods you to come up with musical ideas you would never have thought of otherwise."