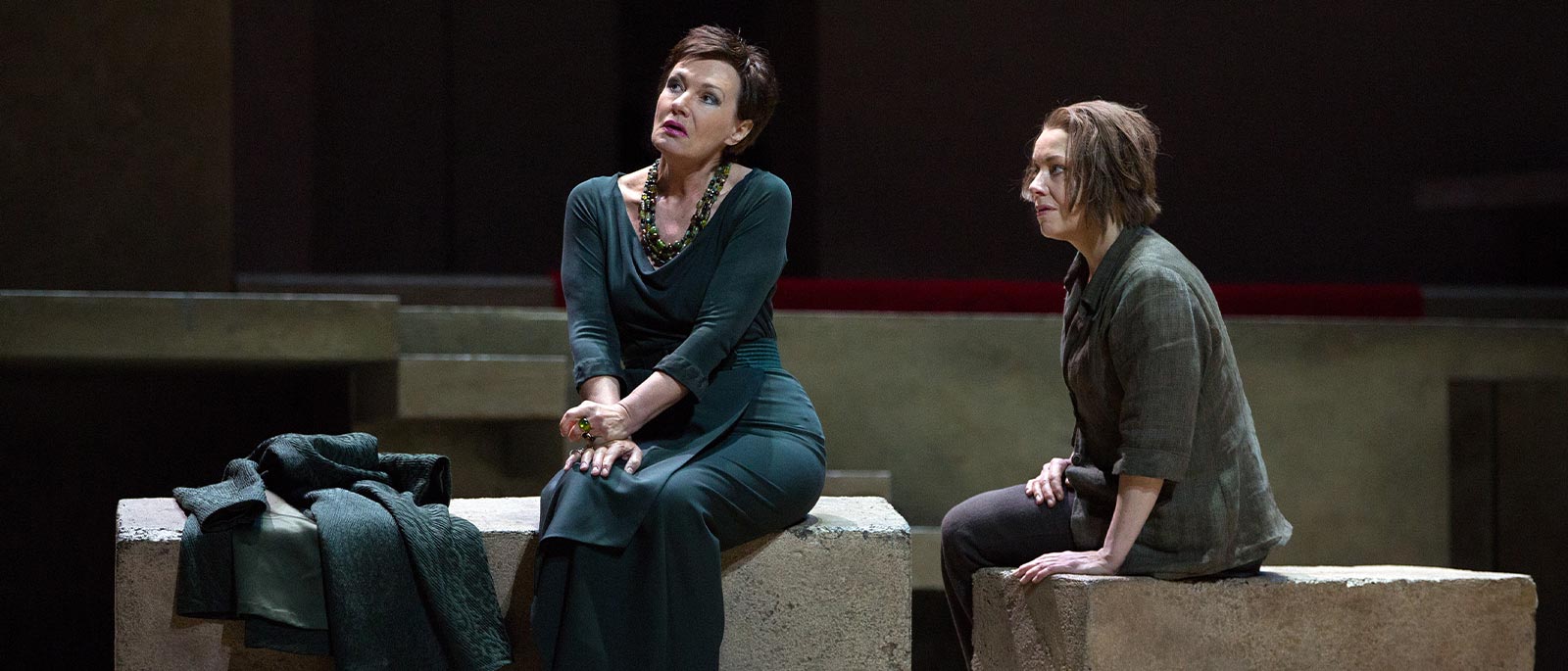 All in the Family
Patrice Chéreau's humanistic 2016 Met production of Strauss's Elektra—featuring the great Nina Stemme in the title role—revealed the psychological depth and family drama at the heart of a work that is much more than a simple, violent tale of revenge. By Jay Goodwin
The Greek myth of Electra—in which the title character and her brother, Orestes, kill their mother, Clytemnestra, in revenge for her own murder of their father, King Agamemnon, upon his return from the Trojan War—has provided the foundation for many works of art and culture. From classical plays by Sophocles, Euripides, and Aeschylus to mid–20th-century dramas by Eugene O'Neill and Jean-Paul Sartre, and even Carl Jung's psychological theory of the Electra complex (the female counterpart to Freud's Oedipus complex), the inhabitants of the myth have been used so repeatedly that they have become almost stock characters in Western culture. The individual circumstances of Clytemnestra and Electra's tragic story are overwhelmed as the characters are reduced to the archetypal murderous wife and vengeful daughter, or stand-ins for mother-daughter strife in general.
In his vision for Richard Strauss and librettist Hugo von Hofmannsthal's Elektra, legendary director Patrice Chéreau, who died only a few months after the production's premiere at the Aix-en-Provence Festival in 2013, stripped away all of this excess baggage to reclaim the fundamental human drama of the myth and the individual motivations of the characters—the same approach he took with his only previous Met production, the universally praised From the House of the Dead.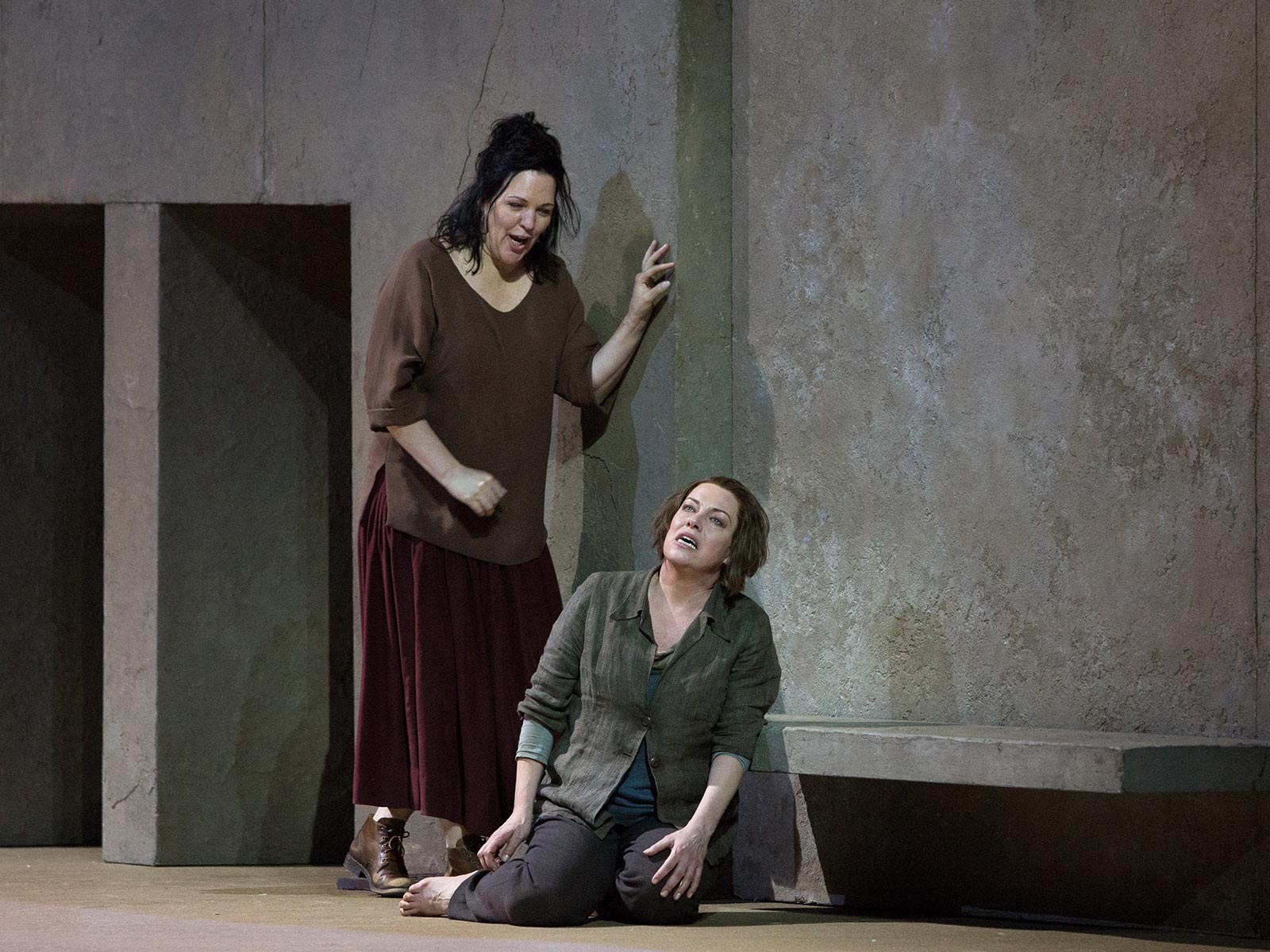 "Patrice somewhat jokingly said to me that his approach to Elektra is that this is a normal family," says conductor Esa-Pekka Salonen, who led the 2013 performances of this production and once again took the helm for its 2016 premiere at the Met. "He felt that the people are really people. They're not caricatures. They're not monstrous. They have their good sides and their bad sides, their dilemmas and their neuroses. But, also, every character has something good in them."
For Chéreau, the climax of the opera was not the long-awaited revenge killing of Klytämnestra by Orest or Elektra's subsequent ecstatic, deranged dance 
of death, despite Strauss setting that scene to some of his most overwhelming, cataclysmic music. Instead, the soul
 of the work was the earlier encounter between mother and daughter, in which Klytämnestra's own feelings and vulnerabilities are revealed with music much more questioning and ambiguous.
Chéreau's vision for the opera is in fact focused as much on Elektra's mother as on the title character herself. "He was shocked and upset by the way most directors portrayed Klytämnestra as a kind of hysterical old witch," says Vincent Huguet, Chéreau's assistant director for the project and the steward of the production for its Met performances. "Maybe this woman 
is violent and she killed Agamemnon and all that—but maybe she had very good reasons! He saw this production as a way to look at the idea that people are never as you think they are."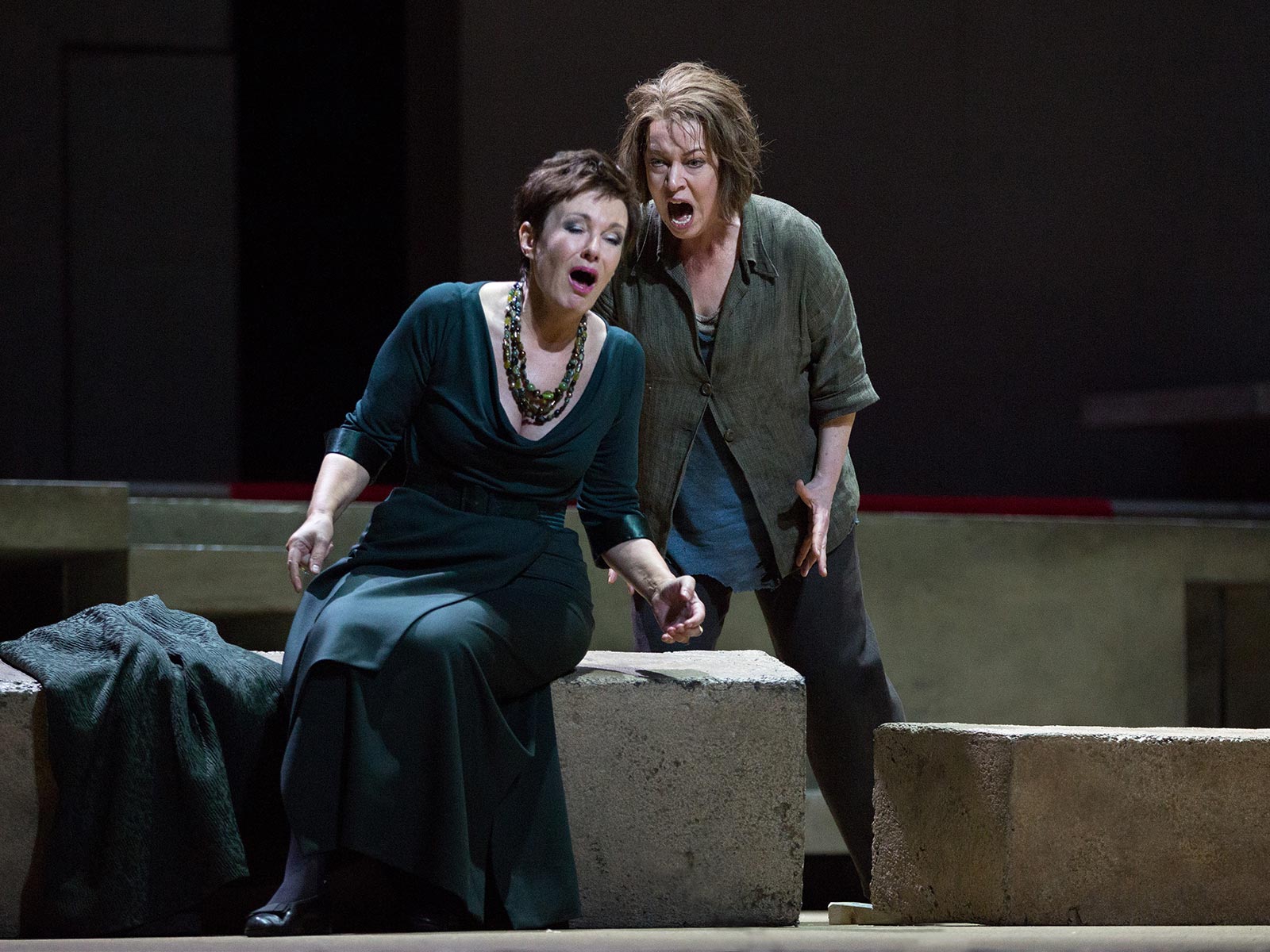 Salonen was particularly inspired
 by Chéreau's re-imagination of Klytämnestra. "Here she is actually more a mother than anything else," he says,"a mother who has lost contact with her daughter and is actually kind of desperate to reconnect. But Elektra is not having any of it. She is driving her mother into a position where she has no way out."
The maestro also looked to Strauss's innovative music for insight into the characters' unspoken feelings and true intentions, especially those of Elektra herself. "My theory is that when Elektra launches into a Romantic, tuneful, expressive kind of melody, she's always pretending," he says. "She's trying to manipulate somebody by singing these beautiful, Romantic lines. And when 
she sings in short bursts, in shrieks 
and yells and gurgles, this is her true expression—that's what she really thinks. That's unique; usually it's the other way around."
Effectively portraying these two sides of Elektra's persona—not to mention simply meeting the heroic feats of vocal technique and endurance that Strauss demands of his title character—make this one of opera's most difficult roles. Rising to the challenge was Swedish soprano Nina Stemme, who is one of today's preeminent singers in the heroic female roles of Strauss and Wagner. "She is the perfect artist," Salonen says. "She is incredibly dedicated and focused, works hard, thinks and rethinks things over and over until she arrives at a solution that is ideal—and the voice is legendary. Beyond all this, it's never about her; it's always about the music and the role and the expression."
Joining Stemme were renowned mezzo-soprano Waltraud Meier as Klytämnestra and soprano Adrianne Pieczonka as Elektra's sister Chrysothemis, both reprising their roles from the production's Aix-en-Provence premiere. Met favorite Eric Owens made his role debut as Orest.
"I'm very happy to be doing Chéreau's production at the Met," Salonen says. "We took it to La Scala in 2014, sadly without him. Every time we performed it and rehearsed it in Milan, he was really there with us. And I know for a fact that he wanted this production to go on, to have a life, so to take it to New York is the right thing to do."
Huguet agrees. "For Patrice, New York was a special place, and he was very proud to bring his Elektra here," he says. But Chéreau never saw revivals as repetitions, and Huguet is eager to honor the director's memory by infusing the Met production with renewed creative life. "To work in the spirit of Patrice Chéreau is not to do a copy, but to find opportunities to go further."
Jay Goodwin is the Met's Editorial Director.