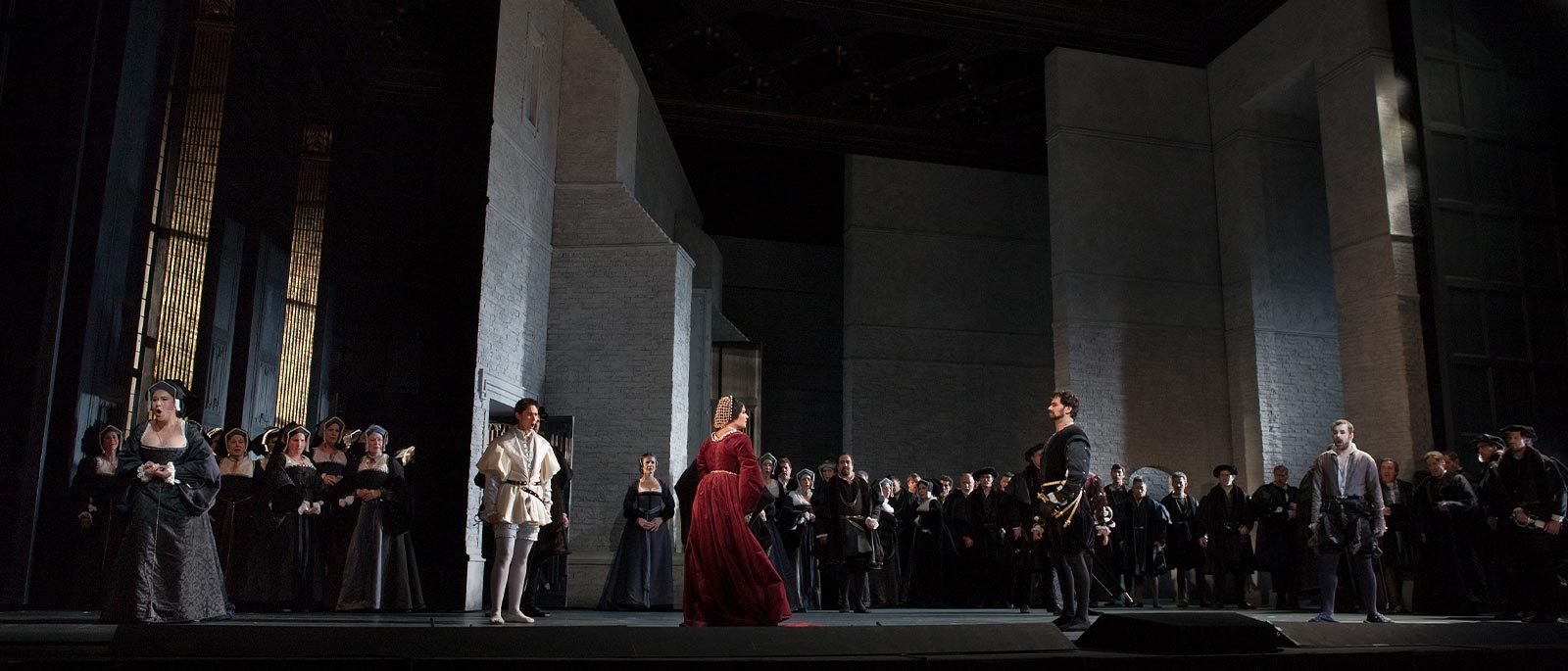 All Hail the Queen
Star diva Anna Netrebko opened the 2011–12 season in the title role of Donizetti's Anna Bolena. Sir David McVicar's historically detailed Met-premiere production painted a vivid portrait of the downfall of Henry VIII's second wife. By Matt Dobkin
Of all the episodes in world history, few have excited such a feverish and enduring cultural fascination as the romantic, political, and religious tribulations of the court of King Henry VIII. Anne Boleyn, the king's second wife, exerts an especially powerful hold on the collective imagination—even some 500 years after she was sent to the Tower of London to be beheaded. In the past few years alone, she's been featured on television in The Tudors; on movie screens in The Other Boleyn Girl (in which she was portrayed by Natalie Portman); in Hilary Mantel's Man Booker Prize-winning bestseller Wolf Hall; in the cover art of a Courtney Love album; and in references on Ugly Betty and Gossip Girl. She may have lost her head, but Anne Boleyn lives on.
The queen at last made her way to the Met on Opening Night 2011, when Anna Netrebko sang the title role of Donizetti's Anna Bolena in the opera's company premiere. It was the first part of a three-season unveiling of the composer's trilogy of so-called "Tudor" operas, each of which was directed by Sir David McVicar, who had a Met success with his 2009 production of Il Trovatore.
"All the historical figures in Anna Bolena are very recognizable, particularly to us, a British team," says McVicar, who worked with frequent collaborators Robert Jones (sets) and Jenny Tiramani (costumes). "This is part of our history. And certainly, when one considers the figure of Henry VIII, it's very interesting that this is not the obese tyrant that we're so familiar with from a later period. This is still the virile lover, the strong, proud lion of the English monarchy, desperate to create an heir and failing to do so with Anne. And this is really the lynchpin of the story: Anne's inability to provide him with the male heir that he craves."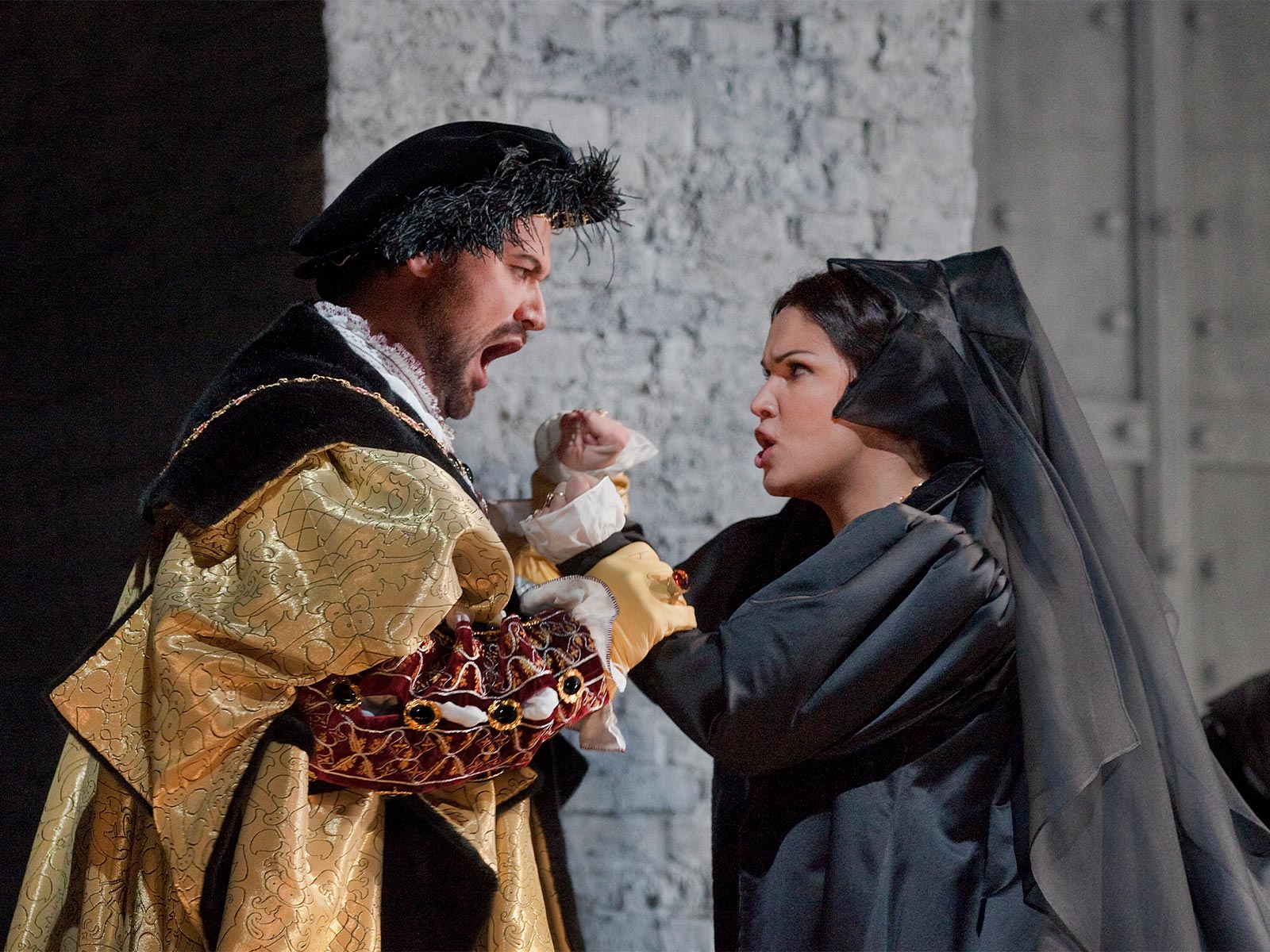 For Netrebko, the role provided the opportunity to perform in what she calls "one of the most beautiful operas ever written. It is very dramatic. For me as a singer, it has lots of challenges, and I will have to use all my skills, vocal technique, and knowledge to perform the role at the highest level." At the Met she sang alongside Russian compatriots Ildar Abdrazakov as the king and Ekaterina Gubanova as her successor in royal matrimony, Giovanna (Jane) Seymour, as well as Stephen Costello as Lord Percy.
If it has become common practice for many opera directors to stage productions in settings other than what's described in the score or libretto, McVicar, with Anna Bolena, goes in the opposite direction. For him, historical accuracy was paramount, particularly when it comes to the costumes. That's one reason he enlisted Tiramani, who is widely regarded as one of the world's foremost experts in 16th-century costuming—and who goes far beyond what one sees on The Tudors. "She works as an historicist works," McVicar explains. "She's very, very interested in structure. She's interested in what underlies the costumes and how the underwear is historically correct, to give the correct shape to these costumes."
To achieve this kind of visual precision Tiramani turned to the portraiture of Hans Holbein, Henry VIII's court painter, whose work has an almost photographic detail, whether the subject is king or commoner. But it's not just 16th-century imagery that inspires Tiramani; she also has direct experience with clothing from the era. "Jenny actually knows how these garments were put together," McVicar says. "She has examples in her house—and she will let you touch them if you're very, very lucky! This is terribly exciting, because it's getting away from what I call the 'operatic shorthand,' which can happen when someone decides to set a production in its specified period. It very often doesn't really look like the period. The fabrics are not correct; the stitching is not correct. This is one of the things that we're really trying to do: to create the illusion that the 16th-century English court has come back to life."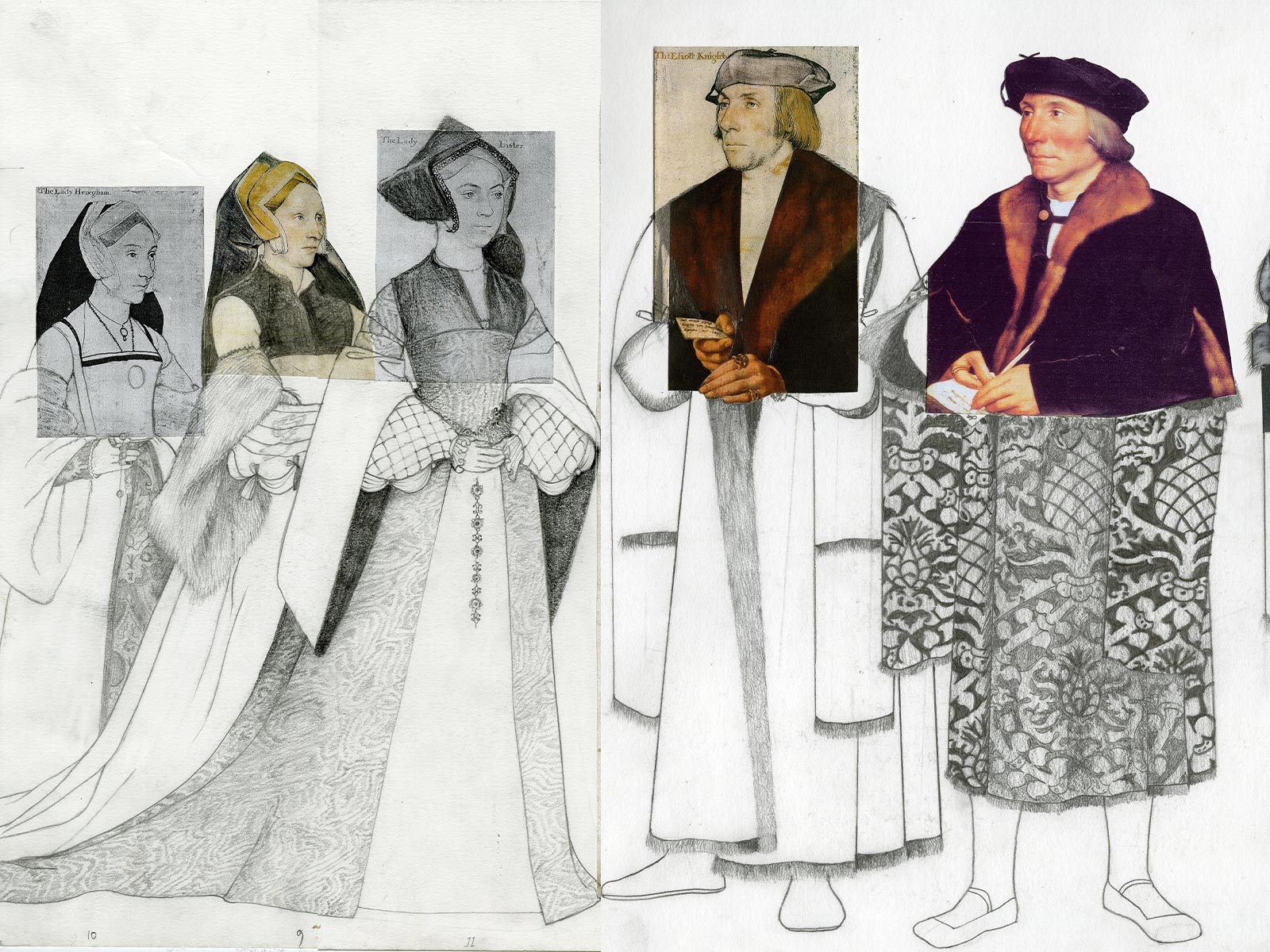 Costume designs by Jenny Tiramani
For Netrebko, this approach meant preparing in ways that go beyond studying the score. "I visited the Tower of London, where they have a letter with her writing, her signature, which was very interesting to see," the soprano recalls. "The Tower has a strange atmosphere. It must have been horrible. And it was interesting for me to find out that she was not young at all when she married Henry—not for that era. She was an experienced woman. And I think that a woman who makes men fall madly in love with her—enough to change a country's religion—she really has to be something special."
That's one reason why Netrebko was cast in the first place. "Peter Gelb was terribly excited by the idea of challenging Anna with this very demanding role," says McVicar, who first worked with Netrebko on his Covent Garden production of Verdi's Rigoletto. "I find her the most hard-working, delightful, enchanting colleague. She is a beautiful woman with a beautiful voice. But, better than that, she's a mensch."
Though his star and creative team are familiar, one thing that's new for McVicar is the bel canto genre itself. But the director sees clear parallels between Donizetti and the Baroque composers whose work he has made something of a calling card. "As a director, I'm always very, very interested in form," he says. "I'm interested in operas that seem on the surface to have a very rigid, strange, antique form—because I actually find form a very liberating thing. Donizetti is similar to Handel in that he takes the bel canto form, which is quite rigid sometimes, and explores every possible dramatic opportunity within it."
As in Baroque opera, Anna Bolena has many scene changes, but McVicar felt it was important to keep the curtain up at all times. The set, he says, required "an organic, changing nature. I wanted to do something quite dazzling as the scene changes happen, which Robert has achieved."
The end result is that the audience's attention should be squarely on the performers, whose characterizations are heightened by the historical verisimilitude of the production, rather than overshadowed by it. In the end, Anne Boleyn was a real, flesh-and-blood woman, whose story should be front and center. "She's a wonderful character," Netrebko says. "She has this incredible power. There are some people who have a power to make everything revolve around them, and that's what she did. She was very ambitious, and she knew what she wanted. She wanted power, she wanted to be a queen. She got it, but only for a very short time, and her drama is in how quickly everything ended for her."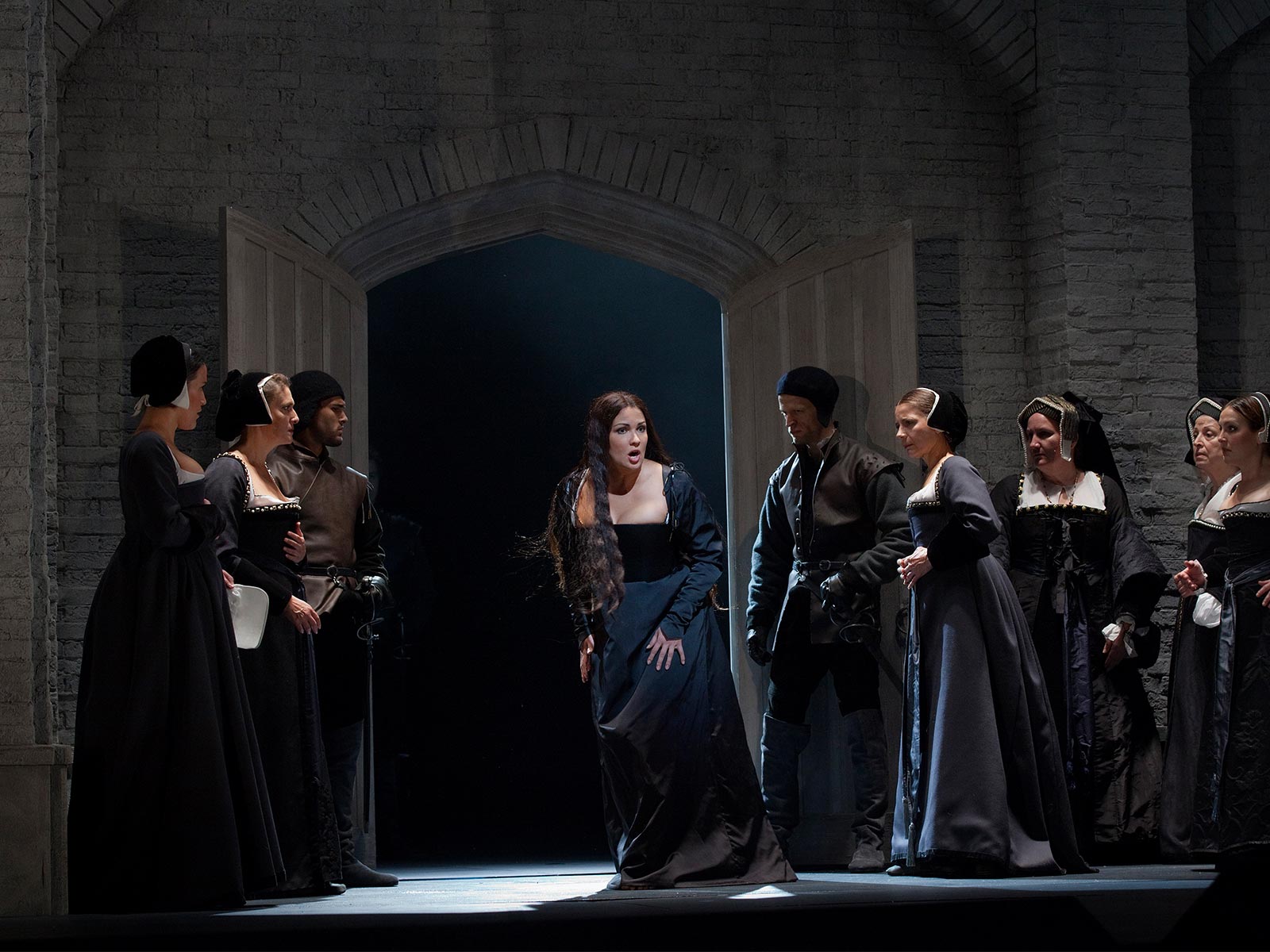 McVicar agrees. "We're asked to be very sympathetic towards Anna in Anna Bolena," he says, "even though she herself realizes she's been paid in the same coin for usurping Catherine of Aragon, Henry VIII's first wife. And, of course, to be a wife of Henry VIII is to risk as much as you gain. It's very interesting that she's treated sympathetically in this opera but in Maria Stuarda, the second opera in the trilogy, Mary Stuart hurls insults at Anne's daughter Elizabeth and calls her the 'impure bastard child of that whore Bolena.' I'm very attracted to the idea that Donizetti is even-handed and allows the characters to express their own points of view, from whichever perspective they are seeing the world."
Even-handed as he may have been, Donizetti was nevertheless bound by certain conventions of bel canto opera. Hence the obligatory—and spellbinding—tour-de-force mad scene that ends the opera. This may be the one element in which the production does not hew to historical reality. Although she relishes the vocal challenge of the mad scene, Netrebko nevertheless feels Anne Boleyn was far from crazy. "She's not like Lucia," she says. "She's mentally weak because of all the things that have happened to her, but underneath she was very strong. That's why I have such respect for this woman. She may have been ambitious, she may have gotten to the throne in a sneaky way. But I don't care about that. She was very proud, and at the end, she was not scared—she even made jokes about her skinny neck! This is what I want to show. She was a queen, and she died as a queen."
Matt Dobkin is the Met's Creative Director, Content and Strategy.