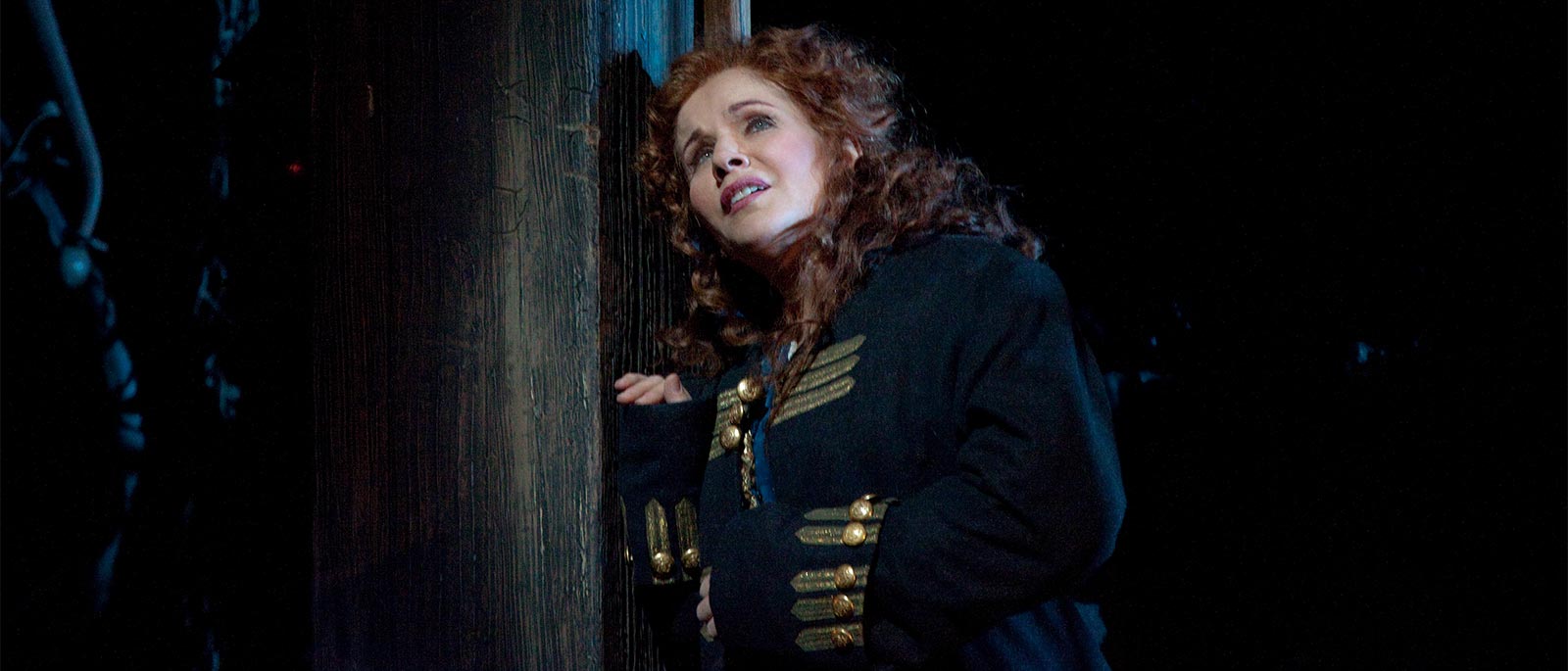 A Return to Rodelinda
As she prepared to reprise her portrayal of the title heroine of Handel's dramatic opera, soprano Renée Fleming explained why the composer continues to seize audiences' imaginations.
When Rodelinda had its Met premiere in 2004, the production was created especially for you. Why did you want to do this opera at the Met?
Well, I happen to really love Handel. And even though Rodelinda is a Baroque opera, it just seems to fit exactly right in this time and place—there's something about Handel that feels modern. When I really looked closely at the Handel repertoire, this was one of the most interesting parts for me. First of all, how many times do I get to play a mother? As a soprano, it's very rare. Secondly, she's a powerful woman—her character wins the day. There were just so many aspects to the character that interested me.

The response to the premiere was extraordinary.
Yes, people loved it. I said to one of my daughters not long after, "What would you recommend as a first-time opera for another child?" And I was stunned when she said Rodelinda! [Laughing] I thought, "Right, okay. A Handel opera with 30 arias and no ensembles ..."

Are there special challenges to this kind of Baroque repertoire? What is the hardest part about singing Handel?
The coloratura—I'm not a specialist. People who sing this music all the time have a facility that I don't. But I like to do things where I'm outside my comfort zone.

Why—what do you get from that?
I like to challenge myself, and I happen to enjoy doing things that are somewhere off the beaten track because I'm interested in learning about repertoire as well. And then it also comes down to the fact that I'm simply not someone who sings the bread-and-butter Italian repertoire. It's never been right for me. So I have to choose things that I will enjoy, and very often that means stepping outside the standard repertoire.

Tell me a little about Stephen Wadsworth's approach to this piece.
With a Handel opera, you really want to find what keeps the audience's imagination and gets them involved in the story, and Stephen has done that. Not through any concept, but by telling the story in a powerful, romantic way. So many directors are more interested in creating conceptual worlds for Handel. But what Stephen proves in the way that he works is that, actually, this is good theater on its own terms. And he's wonderful to work with, a real singer's director.

The rest of the cast is extraordinary—Stephanie Blythe, Andreas Scholl, Joseph Kaiser, Shenyang ...
Oh, Shenyang! I did a master class in Shanghai a few years ago and was very impressed overall with the level. But then he came out and there was something so fully formed about him that I was just amazed. This will be our debut together, so I'm very excited. And Stephanie and I had the same first voice teacher, so we have the same roots. We go way back.

This will be your third time singing Rodelinda at the Met, after the premiere run and a revival in 2006. What are your expectations this time around?
One thing that has always intrigued me is that you can sing a role for the first time and come back to it two or three or five or six years later, and it will be better, without you ever having looked at it or thought about it or done anything at all. It's kind of like learning a language. I was just in Paris for five weeks, and I tried to brush up on my French. I probably won't speak a word of it between now and the next time I go back, but I know that my French will be better then. And the same is true with singing.