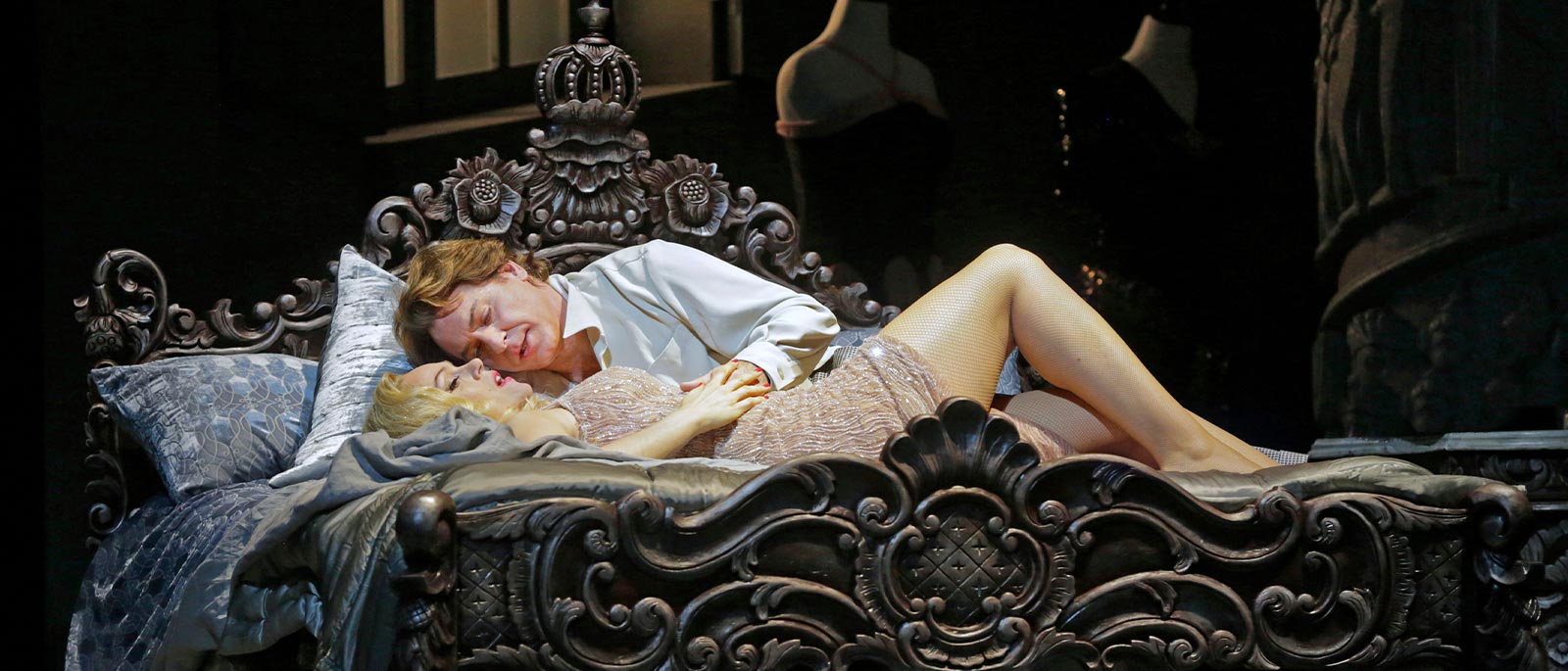 Nightly Met Opera Streams
During this extraordinary and difficult time, the Met hopes to brighten the lives of our audience members even while our stage is dark. Each day, a different encore presentation from the company's Live in HD series is being made available for free streaming on the Met website, with each performance available for a period of 23 hours, from 7:30 p.m. EDT until 6:30 p.m. the following day. The schedule will include outstanding complete performances from the past 14 years of cinema transmissions, starring all of opera's greatest singers.
The streams are also available through the Met Opera on Demand apps for Apple, Amazon, and Roku devices and Samsung Smart TV. To access them without logging in, click "Browse and Preview" in the apps for connected TV, and "Explore the App" on tablets and mobile devices.
Met Stars Live in Concert
If you enjoy the Nightly Opera Streams, be sure not to miss our groundbreaking new pay-per-view concert series, presenting opera's greatest stars performing live via satellite from striking locations across Europe and the U.S. The next concert features Roberto Alagna and Aleksandra Kurzak, live on August 16.
Support the Met and Protect its Future
Hundreds of thousands of people have been tuning in daily to our free performance streams, and many of them have kindly been asking how they can help the Met during this economically perilous time. In response, we have added a "Donate Now" button below. We thank you for your help.
Or, donate by text message: Text METOPERA to 44321 in the U.S. or 1-917-999-0700 for other countries. Standard text messaging rates apply.

UPCOMING SCHEDULE
Each stream becomes available at 7:30PM EDT and remains accessible for on-demand viewing until 6:30PM EDT the following day, with the exception of the August 15 stream of La Bohème, which will be available until August 16 at 12PM EDT. The August 16 stream of Luisa Miller will begin at the normally scheduled 7:30PM EDT.
Week 22
Supplementary content—including synopses, articles, and more—is available here.
Monday, August 10
Puccini's Manon Lescaut
Starring Karita Mattila, Marcello Giordani, and Dwayne Croft, conducted by James Levine. From February 16, 2008.
Tuesday, August 11
Bizet's Carmen
Starring Aleksandra Kurzak, Clémentine Margaine, Roberto Alagna, and Alexander Vinogradov, conducted by Louis Langrée. From February 2, 2019.
Wednesday, August 12
Verdi's Rigoletto
Starring Christiane Eda-Pierre, Isola Jones, Luciano Pavarotti, Louis Quilico, and Ara Berberian, conducted by James Levine. From December 15, 1981.
Thursday, August 13
Puccini's Turandot
Starring Nina Stemme, Anita Hartig, Marco Berti, and Alexander Tsymbalyuk, conducted by Paolo Carignani. From January 30, 2016.
Friday, August 14
Wagner's Tristan und Isolde
Starring Deborah Voigt, Michelle DeYoung, Robert Dean Smith, and Matti Salminen, conducted by James Levine. From March 22, 2008.
Saturday, August 15
Puccini's La Bohème
Starring Kristine Opolais, Susanna Phillips, Vittorio Grigolo, Massimo Cavalletti, Patrick Carfizzi, and Oren Gradus, conducted by Stefano Ranzani. From April 5, 2014.
Sunday, August 16
Verdi's Luisa Miller
Starring Renata Scotto, Plácido Domingo, Sherrill Milnes, Bonaldo Giaiotti, and James Morris, conducted by James Levine. From January 20, 1979.


Week 23
Monday, August 17
Puccini's Tosca
Starring Patricia Racette, Roberto Alagna, and George Gagnidze, conducted by Riccardo Frizza. From November 9, 2013.
Tuesday, August 18
Zandonai's Francesca da Rimini
Starring Renata Scotto, Plácido Domingo, and Cornell MacNeil, conducted by James Levine. From April 7, 1984.
Wednesday, August 19
Tchaikovsky's Eugene Onegin
Starring Anna Netrebko, Elena Maximova, Alexey Dolgov, Peter Mattei, and Štefan Kocán, conducted by Robin Ticciati. From April 22, 2017.
Thursday, August 20
Verdi's Un Ballo in Maschera
Starring Aprile Millo, Harolyn Blackwell, Florence Quivar, Luciano Pavarotti, and Leo Nucci, conducted by James Levine. From January 26, 1991.
Friday, August 21
Verdi's Simon Boccanegra
Starring Adrianne Pieczonka, Marcello Giordani, Plácido Domingo, and James Morris, conducted by James Levine. From February 6, 2010.
Saturday, August 22
Rossini's Il Barbiere di Siviglia
Starring Kathleen Battle, Rockwell Blake, Leo Nucci, Enzo Dara, and Ferruccio Furlanetto, conducted by Ralf Weikert. From December 3, 1988.
Sunday, August 23
Humperdinck's Hansel and Gretel
Starring Judith Blegen, Frederica von Stade, Jean Kraft, Rosalind Elias, and Michael Devlin, conducted by Thomas Fulton. From December 25, 1982.