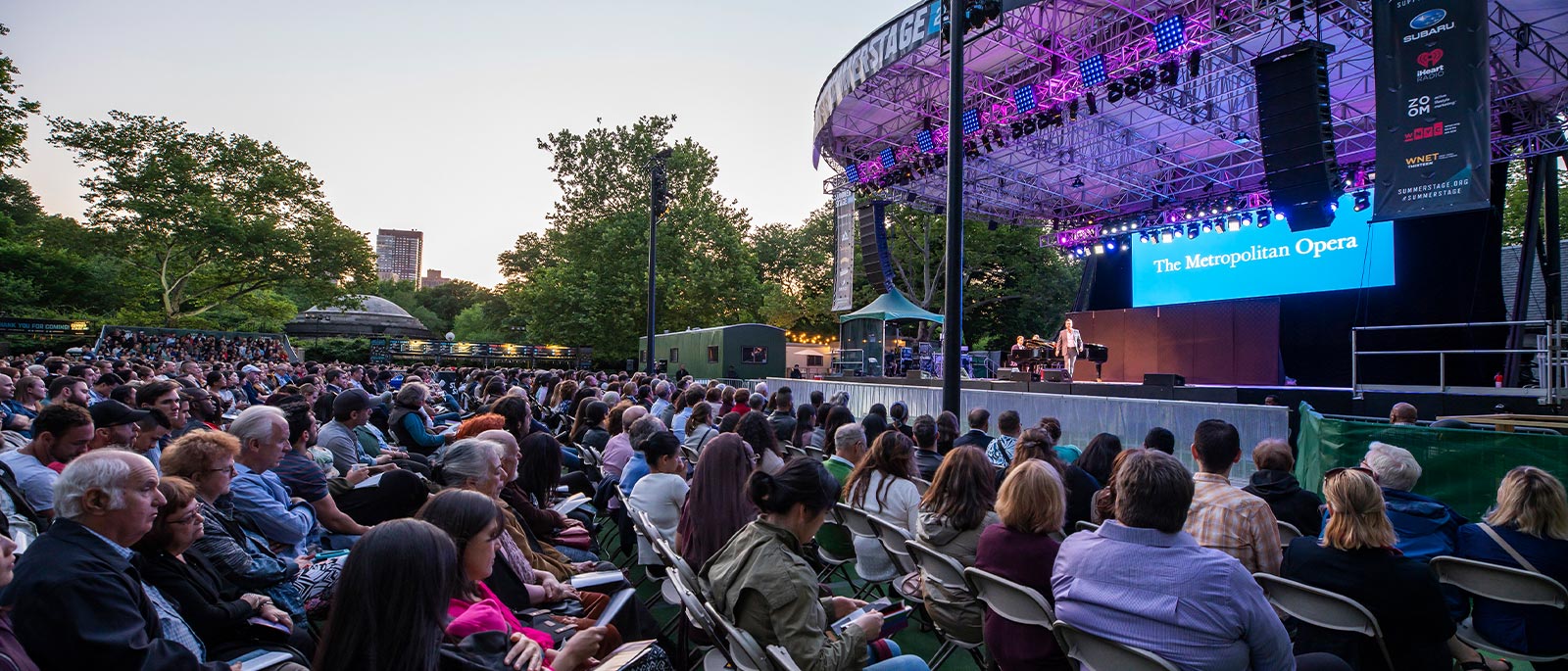 2023 Summer Recital Series
The Met's popular concert series in New York City parks kicks off the New York summer season with six free outdoor recitals in all five boroughs. Presented in collaboration with Capital One City Parks Foundation SummerStage, the series will start at Central Park SummerStage on Tuesday, June 20, and Brooklyn Bridge Park on Friday, June 23, featuring soprano Gabriella Reyes, tenor René Barbera, and baritone Will Liverman, joined by Met assistant conductor Dimitri Dover at the piano. Four additional concerts will take place on Saturday, June 24, in Manhattan's Jackie Robinson Park; Monday, June 26, at the Williamsbridge Oval in the Bronx; Wednesday, June 28, at Queens's Socrates Sculpture Park; and Friday, June 30, at Clove Lakes Park in Staten Island; showcasing soprano Erika Baikoff, mezzo-soprano Cierra Byrd, and baritone Thomas Glass, accompanied by assistant conductor Juan José Lázaro.
All recitals are free. | CityParks Foundation Attendance FAQs
The Met's Summer Recital Series is funded by the Elizabeth B. McGraw Foundation, in honor of Mrs. McGraw.
Additional support has also been provided, in part, by public funds from the New York City Department of Cultural Affairs, in partnership with the City Council, and in collaboration with the Department of Parks and Recreation.
Tuesday, June 20, 8PM
Central Park, Capital One City Parks Foundation SummerStage—Manhattan
Friday, June 23, 7PM
Brooklyn Bridge Park, Pier 1—Brooklyn
Saturday, June 24, 7PM
Jackie Robinson Park—Manhattan
Monday, June 26, 7PM
Williamsbridge Oval—Bronx
Wednesday, June 28, 7PM
Socrates Sculpture Park—Queens
Friday, June 30, 7PM
Clove Lakes Park—Staten Island