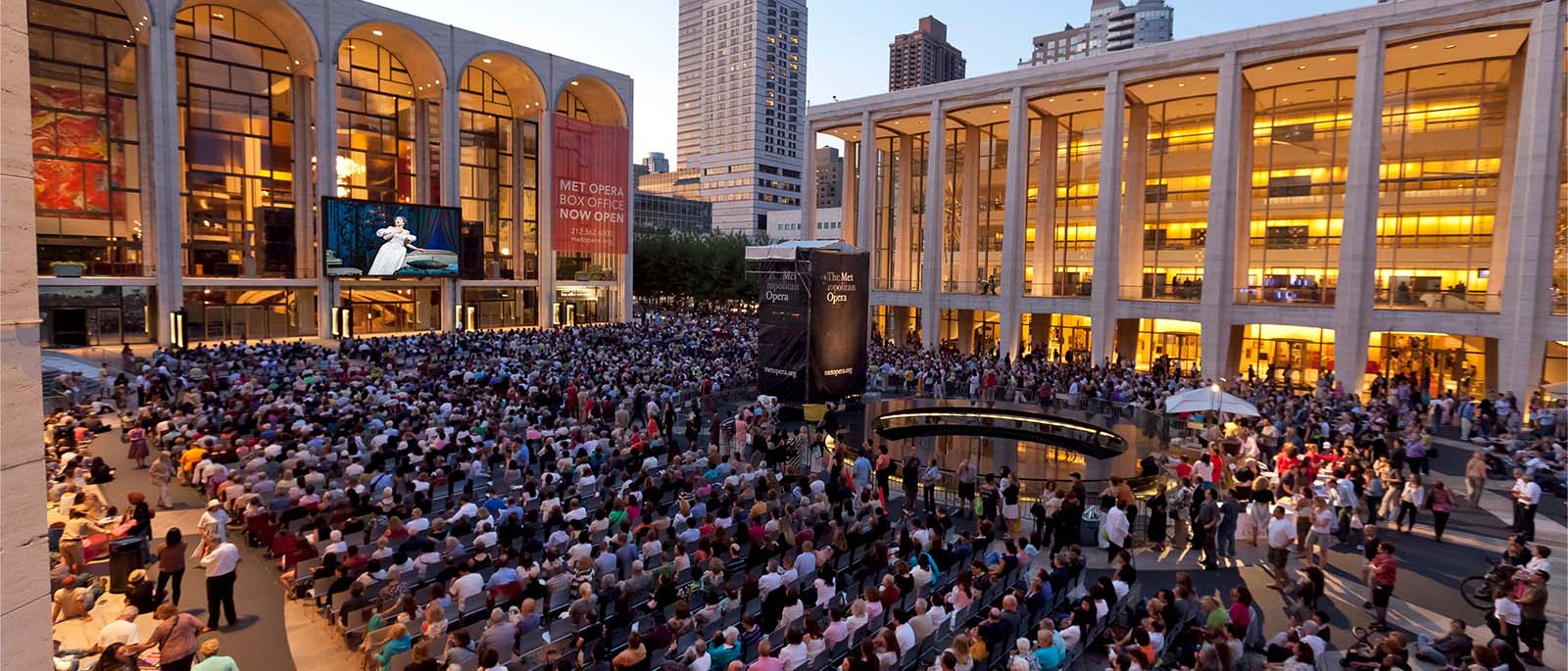 2023 Summer HD Festival
The Met's 14th free Summer HD Festival features ten thrilling performances from the company's Live in HD series of cinema transmissions—plus a special screening of the fan favorite Moonstruck, co-presented with Film at Lincoln Center. The showings run from August 25 to September 4, with more than 2,500 seats set up in front of the opera house each night, as well as additional standing room in designated areas around Lincoln Center Plaza. Seating is general admission on a first-come, first-served basis. No advance tickets or reservations are required.
The Met's HD Festival presentations will include full open captions.
Cancellation Policy
Summer HD Festival screenings will go on as scheduled in the case of rain but will be canceled in the event of thunder/lightning or high wind. Canceled screenings will not be rescheduled. Thank you for your understanding.
The Summer HD Festival is generously supported by the Robert W. Wilson Charitable Trust.
The Met: Live in HD series is made possible by a generous grant from its founding sponsor, the Neubauer Family Foundation.
Digital support of The Met: Live in HD is provided by Bloomberg Philanthropies.
The Met: Live in HD series is supported by Rolex.
---
Friday, August 25, 8PM
Moonstruck
Co-presented with Film at Lincoln Center
Approximate running time: 1 hour, 40 minutes
Saturday, August 26, 8PM
Giuseppe Verdi
La Traviata
Incandescent soprano Nadine Sierra stars as the doomed heroine Violetta Valéry in Verdi's timeless tragedy, headlining a vivid staging by Tony Award–winner Michael Mayer.
Original transmission: November 5, 2022
Approximate running time: 2 hours, 15 minutes
Sunday, August 27, 8PM
Luigi Cherubini
Medea
Soprano Sondra Radvanovsky gives a tour-de-force performance as the bloodthirsty sorceress Medea, going head to head with tenor Matthew Polenzani as her unfaithful lover.
Original transmission: October 22, 2022
Approximate running time: 2 hours, 20 minutes
Monday, August 28, 8PM
Kevin Puts / Libretto by Greg Pierce
The Hours
Sopranos Renée Fleming and Kelli O'Hara and mezzosoprano Joyce DiDonato join forces in Kevin Puts's adaptation of the award-winning novel and film.
Original transmission: December 10, 2022
Approximate running time: 2 hours, 30 minutes
Tuesday, August 29, 8PM
Giuseppe Verdi
Falstaff
Baritone Michael Volle leads Verdi's Shakespearean comedy, starring in an uproarious staging that updates the action to the 1950s.
Original transmission: April 1, 2023
Approximate running time: 2 hours, 15 minutes
Wednesday, August 30, 7:30PM
Brett Dean / Libretto by Matthew Jocelyn
Hamlet
Shakespeare's great tragedy gets a contemporary reimagining starring tenor Allan Clayton.
Original transmission: June 4, 2022
Approximate running time: 2 hours, 45 minutes
Thursday, August 31, 7:30PM
Mozart
Così fan tutte
Phelim McDermott's witty and whimsical staging transports Mozart's sly comedy to a seaside boardwalk inspired by Coney Island—with Broadway legend Kelli O'Hara as the cunning Despina.
Original transmission: March 31, 2018
Approximate running time: 3 hours
Friday, September 1, 8PM
Giordano
Fedora
For the first time in 25 years, Giordano's passionate melodrama retakes the Met stage, with soprano Sonya Yoncheva as the elegant Russian princess who falls in love with her fiancé's murderer.
Original transmission: January 14, 2023
Approximate running time: 1 hour, 55 minutes
Saturday, September 2, 8PM
Terence Blanchard / Libretto by Michael Cristofer
Champion
Grammy Award–winning jazz composer Terence Blanchard's knockout first opera stars bass-baritones Ryan Speedo Green and Eric Owens as boxer Emile Griffith.
Original transmission: April 29, 2023
Approximate running time: 2 hours, 30 minutes
Sunday, September 3, 8PM
Verdi
Rigoletto
Baritone Quinn Kelsey stars as Verdi's cursed court jester, sharing the stage with soprano Rosa Feola as his headstrong daughter, Gilda, and tenor Piotr Beczała as the libertine Duke of Mantua.
Original transmission: January 29, 2022
Approximate running time: 2 hours, 15 minutes
Monday, September 4, 8PM
Puccini
La Bohème
Franco Zeffirelli's ever-popular staging stars soprano Sonya Yoncheva as the fragile seamstress Mimì and tenor Michael Fabiano as her lover, the poet Rodolfo.
Original transmission: February 24, 2018
Approximate running time: 2 hours, 5 minutes