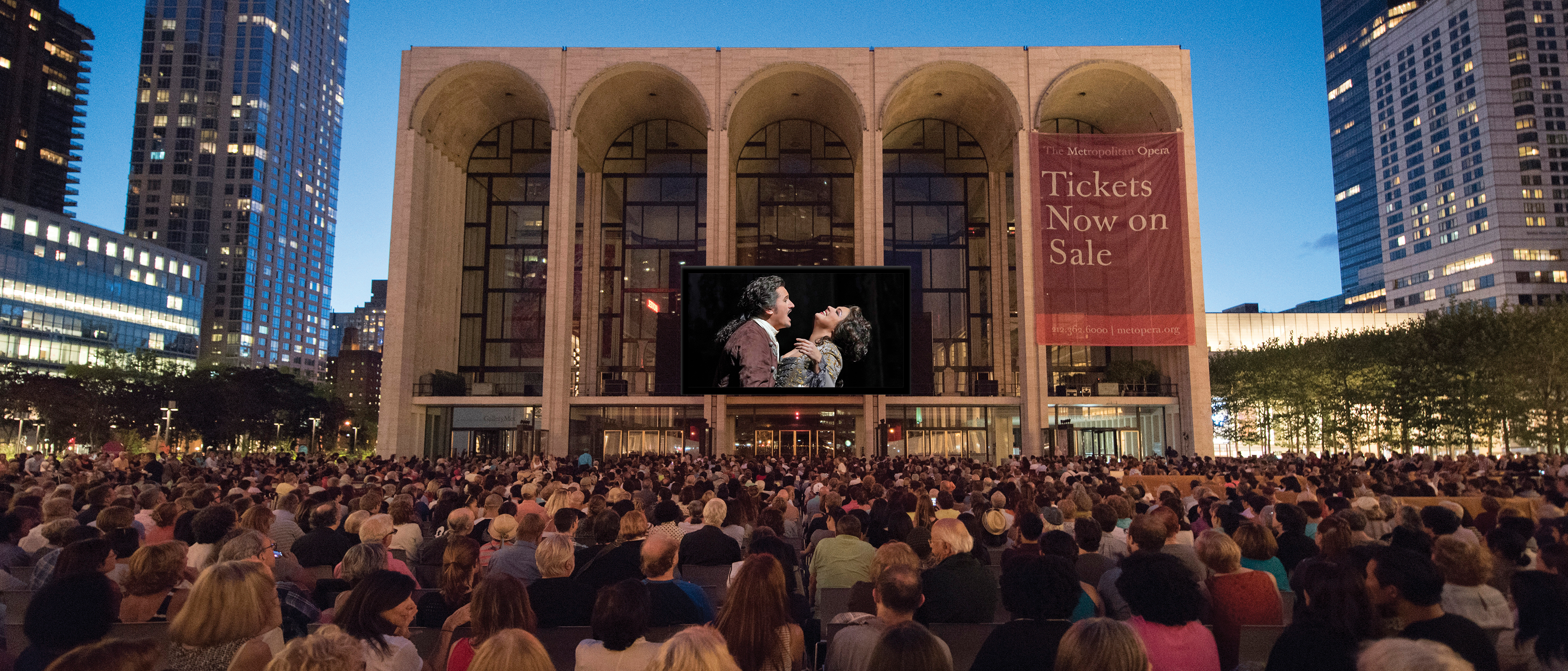 2019 Summer HD Festival
The 11th Summer HD Festival features ten thrilling performances from the Met's Live in HD series of cinema transmissions—plus a special pre-festival screening of Stanley Donen's enchanting Funny Face, featuring songs by George and Ira Gershwin, a co-presentation with Film at Lincoln Center. The free showings run from August 23 through September 2, with approximately 3,000 seats set up in front of the opera house each night, as well as additional standing room around Lincoln Center Plaza.
Cancellation Policy
Summer HD Festival screenings will go on as scheduled in the case of rain but will be canceled in the event of thunder/lightning or high wind.
Canceled screenings will not be rescheduled. Thank you for your understanding.
The Summer HD Festival is generously supported by the Robert W. Wilson Charitable Trust.
The Met: Live in HD series is made possible by a generous grant from its founding sponsor the Neubauer Family Foundation.
Digital support of The Met: Live in HD is provided by Bloomberg Philanthropies.
The Met: Live in HD series is supported by Rolex.
---
Friday, August 23, 8 PM
Funny Face
A delightful and heartfelt classic from the Golden Age of Hollywood, Funny Face has all of the hallmarks of a great American movie musical and stars screen legends Fred Astaire and Audrey Hepburn. Inspired by an unproduced musical by Leonard Gershe—itself loosely based on the life of famed photographer Richard Avedon—the 1957 film includes a number of beloved tunes by George and Ira Gershwin, including "'S wonderful" and "Let's Kiss and Make Up." A co-presentation of Film at Lincoln Center and the Metropolitan Opera
Approximate running time: 1 hour 45 minutes
Saturday, August 24, 7:45 PM
Aida Verdi
Superstar soprano Anna Netrebko thrills in the title role of Verdi's ancient Egyptian epic, going toe to toe with powerhouse mezzosoprano Anita Rachvelishvili as her royal rival. Original transmission: October 6, 2018
Approximate running time: 2 hours 45 minutes
Sunday, August 25, 8 PM
Carmen Bizet
Yannick Nézet-Séguin leads the most popular transmission in Live in HD history, which stars Elīna Garanča and Roberto Alagna as the embattled lovers Carmen and Don José. Original transmission: January 16, 2010
Approximate running time: 2 hours 30 minutes
Monday, August 26, 7:45 PM
Das Rheingold Wagner
Robert Lepage's innovative staging conjures a world of myth and majesty for the first installment of Wagner's towering Ring cycle. Original transmission: October 9, 2010
Approximate running time: 2 hour 45 minutes
Tuesday, August 27, 7:45 PM
Dialogues des Carmélites Poulenc
Poulenc's harrowing modern masterpiece features a compelling ensemble, headlined by Isabel Leonard as Blanche and Karita Mattila as Madame de Croissy. Original transmission: May 11, 2019
Approximate running time: 2 hours 45 minutes
Wednesday, August 28, 8 PM
Samson et Dalila Saint-Saëns
Tony Award–winning director Darko Tresnjak's vivid staging features Roberto Alagna and Elīna Garanča in the title roles of Saint-Saëns's sweeping biblical adaptation. Original transmission: October 20, 2018
Approximate running time: 2 hours 20 minutes
Thursday, August 29, 8 PM
Cendrillon Massenet
Massenet's effervescent take on the classic Cinderella story stars Joyce DiDonato as the title character, in a delightfully zany production by Laurent Pelly. Original transmission: April 28, 2018
Approximate running time: 2 hours 25 minutes
Friday, August 30, 8 PM
La Fanciulla del West Puccini
Eva-Maria Westbroek is the fearless heroine of Puccini's romance of the Wild West, opposite tenor Jonas Kaufmann as an outlaw hoping for redemption. Original transmission: October 27, 2018
Approximate running time: 2 hours 25 minutes
Saturday, August 31, 8 PM
La Fille du Régiment Donizetti
Bel canto specialists Pretty Yende and Javier Camarena serve up one show-stopping vocal display after another in Donizetti's exuberant romantic comedy. Original transmission: March 2, 2019
Approximate running time: 2 hours 20 minutes
Sunday, September 1, 8 PM
Luisa Miller Verdi
Verdi's early drama of love and intrigue stars Sonya Yoncheva in the poignant title role, alongside the incomparable Plácido Domingo as her devoted father and Piotr Beczała as her lover, Rodolfo. Original transmission: April 14, 2018
Approximate running time: 2 hours 30 minutes
Monday, September 2, 8 PM
Adriana Lecouvreur Cilea
Cilea's melodrama of 18th-century France receives a sumptuous staging with Anna Netrebko in the title role of the legendary real-life diva, alongside Anita Rachvelishvili and Piotr Beczała. Original transmission: January 12, 2019
Approximate running time: 2 hours 20 minutes