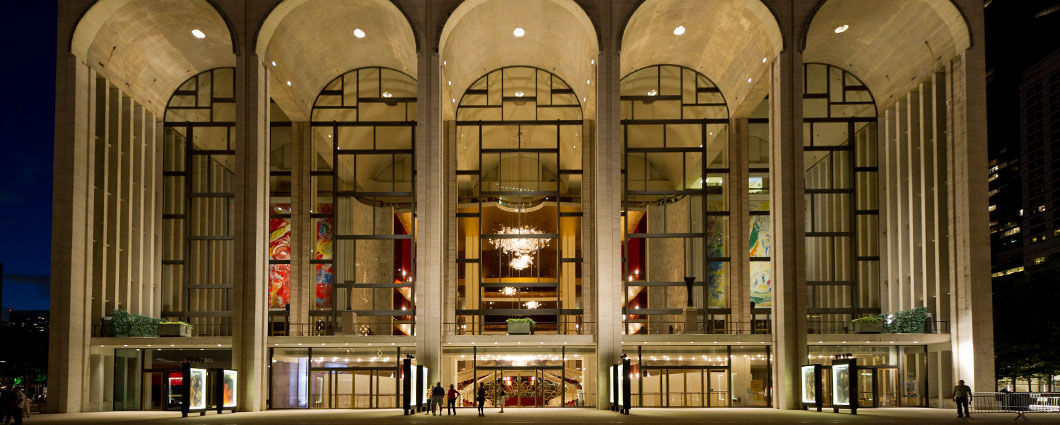 Sirius XM Weekly Schedule
Listeners can tune in to Met Opera Radio on Sirius XM channel 355 around the clock to hear recent and historic Met performances. Each week this season, radio host Mary Jo Heath and commentator William Berger shed new light on great operas in encore broadcasts of favorite works and rarities, special compilations, tributes to beloved Met stars, and more, all heard exclusively on Sirius XM.
Important Update: As of December 3, 2020, Met Opera Radio on SiriusXM has moved from channel 75 to channel 355. Listeners can still tune in at home on connected devices like Amazon Alexa and Google Assistant, or stream on any device with the SiriusXM app. For more information, please contact SiriusXM Customer Care at 1-855-497-3521.
Friday 3/5
12:00 a.m. Handel: Samson – 3/1/86
Rudel; Vickers, Mitchell, Te Kanawa
6:00 a.m. Verdi: Aida – 3/6/1976
Levine; Price, Domingo, Horne, MacNeil, Giaiotti
9:00 a.m. Donizetti: L'Elisir d'Amore – 4/6/1974
Rudolf; Pavarotti, Blegen, Flagello, Reardon
12:00 p.m. Rossini: La Cenerentola – 1/24/1998
Levine; Larmore, Vargas, Alaimo, Corbelli
3:00 p.m. Beethoven: Fidelio – 2/16/1991
Perick; Connell, Lakes, Welker, Moll, Donath
6:00 p.m. Weekly Special – J. Strauss Jr.: Die Fledermaus – 1/14/1989
Rudel; Daniels, Hagegård, Mills, Troyanos, Rosenshein, Duesing
9:00 p.m. Rossini: Il Barbiere di Siviglia – 3/19/1966
Varviso; Herlea, Grist, Shirley, Corena, Siepi
Saturday 3/6
12:00 a.m. Puccini: La Bohème – 3/17/2001
Crawford; Gauci, Lopardo, Arteta, Finley, Bernstein
6:00 a.m. Tan Dun: The First Emperor – 1/13/2007
Dun; Domingo, Futral, Groves, Tian, DeYoung
9:00 a.m. Offenbach: Les Contes d'Hoffmann – 1/26/1985
Rudel; Kraus, Malfitano, Morris, Bybee
1:00 p.m. Saturday Matinee – Bizet: Carmen – 11/1/2014
Heras-Casado; Rachvelishvili, Antonenko, Hartig, Abdrazakov
6:00 p.m. Wagner: Siegfried – 4/10/1993
Levine; Johns, Jones, Morris, Gjevang, Zednik, Wlaschiha
Sunday 3/7
12:00 a.m. Weekly Special – J. Strauss Jr.: Die Fledermaus – 1/14/1989
Rudel; Daniels, Hagegård, Mills, Troyanos, Rosenshein, Duesing
6:00 a.m. Verdi: La Traviata – 12/19/1998
Rizzi; Racette, Alvarez, Chernov
9:00 a.m. Handel: Samson – 3/1/86
Rudel; Vickers, Mitchell, Te Kanawa
12:00 p.m. Puccini: La Bohème – 3/17/2001
Crawford; Gauci, Lopardo, Arteta, Finley, Bernstein
3:00 p.m. Donizetti: L'Elisir d'Amore – 4/6/1974
Rudolf; Pavarotti, Blegen, Flagello, Reardon
6:00 p.m. Verdi: Un Ballo in Maschera – 2/26/1966
Molinari-Pradelli; Bergonzi, Price, Merrill, Peters, Dunn
9:00 p.m. Wagner: Tannhäuser – 12/18/2004
Elder; Seiffert, Voigt, DeYoung, Hampson, Moll



Monday 3/8
12:00 a.m. Rossini: La Cenerentola – 1/24/1998
Levine; Larmore, Vargas, Alaimo, Corbelli
6:00 a.m. R. Strauss: Capriccio – 1/31/1998
Davis; Te Kanawa, Rootering, Kuebler, Keenlyside, Brendel, Harries
9:00 a.m. Weekly Special – Verdi: Ernani – 3/21/2008
Abbado; Giordani, Meade, Hampson, Furlanetto
12:00 p.m. Gounod: Faust – 1/4/1964
Cleva; Morell, Moffo, Siepi, Ruzdak, Martin
3:00 p.m. Puccini: Madama Butterfly – 12/17/1977
Patanè; Scotto, Aragall, Love, Edwards, Atherton
6:00 p.m. Mozart: La Clemenza di Tito – 5/7/2005
Levine; Lopardo, von Otter, Diener, Connolly, Grant Murphy
9:00 p.m. Verdi: Il Trovatore – 3/17/1973
Cillario; Domingo, Caballé, Cossotto, Merrill, Vinco
Tuesday 3/9
12:00 a.m. R. Strauss: Der Rosenkavalier – 3/4/1995
Levine; von Otter, Gessendorf, Hawlata, Grant Murphy, Hornik
6:00 a.m. Wagner: Götterdämmerung – 4/24/2004
Levine; Eaglen, West, Salminen, Held, Wray, Naef
12:00 p.m. Saint-Saëns: Samson et Dalila – 11/26/1949
Cooper; Vinay, Stevens, Merrill
3:00 p.m. Verdi: I Vespri Siciliani – 12/11/2004
Chaslin; Radvanovsky, Casanova, Nucci, Ramey
6:00 p.m. Handel: Giulio Cesare – 4/17/1999
Nelson; Larmore, McNair, Daniels, Blythe, Asawa
9:00 p.m. Donizetti: Lucia di Lammermoor – 12/8/1956
Cleva; Callas, Campora, Sordello, Moscona
Wednesday 3/10
12:00 a.m. Verdi: Luisa Miller – 4/14/2018
de Billy; Yoncheva, Beczala, Domingo, Vinogradov, Belosselskiy
6:00 a.m. Giordano: Andrea Chénier – 12/28/1957
Cleva; Tucker, Milanov, Warren, Elias, Lipton, Amparan
9:00 a.m. Verdi: Il Trovatore – 3/17/1973
Cillario; Domingo, Caballé, Cossotto, Merrill, Vinco
12:00 p.m. R. Strauss: Capriccio – 1/31/1998
Davis; Te Kanawa, Rootering, Kuebler, Keenlyside, Brendel, Harries
3:00 p.m. Weekly Special – Verdi: Ernani – 3/21/2008
Abbado; Giordani, Meade, Hampson, Furlanetto
6:00 p.m. Gounod: Faust – 1/4/1964
Cleva; Morell, Moffo, Siepi, Ruzdak, Martin
9:00 p.m. Puccini: Madama Butterfly – 12/17/1977
Patanè; Scotto, Aragall, Love, Edwards, Atherton
Thursday 3/11
12:00 a.m. Mozart: La Clemenza di Tito – 5/7/2005
Levine; Lopardo, von Otter, Diener, Connolly, Grant Murphy
6:00 a.m. Donizetti: Lucia di Lammermoor – 12/8/1956
Cleva; Callas, Campora, Sordello, Moscona
9:00 a.m. R. Strauss: Der Rosenkavalier – 3/4/1995
Levine; von Otter, Gessendorf, Hawlata, Grant Murphy, Hornik
12:00 p.m. Wagner: Götterdämmerung – 4/24/2004
Levine; Eaglen, West, Salminen, Held, Wray, Naef
6:00 p.m. Saint-Saëns: Samson et Dalila – 11/26/1949
Cooper; Vinay, Stevens, Merrill
9:00 p.m. Verdi: I Vespri Siciliani – 12/11/2004
Chaslin; Radvanovsky, Casanova, Nucci, Ramey
Friday 3/12
12:00 a.m. Handel: Giulio Cesare – 4/17/1999
Nelson; Larmore, McNair, Daniels, Blythe, Asawa
6:00 a.m. Gounod: Faust – 1/4/1964
Cleva; Morell, Moffo, Siepi, Ruzdak, Martin
9:00 a.m. Verdi: Luisa Miller – 4/14/2018
de Billy; Yoncheva, Beczala, Domingo, Vinogradov, Belosselskiy
12:00 p.m. Giordano: Andrea Chénier – 12/28/1957
Cleva; Tucker, Milanov, Warren, Elias, Lipton, Amparan
3:00 p.m. Verdi: Il Trovatore – 3/17/1973
Cillario; Domingo, Caballé, Cossotto, Merrill, Vinco
6:00 p.m. Weekly Special – Verdi: Ernani – 3/21/2008
Abbado; Giordani, Meade, Hampson, Furlanetto
9:00 p.m. R. Strauss: Capriccio – 1/31/1998
Davis; Te Kanawa, Rootering, Kuebler, Keenlyside, Brendel, Harries
Saturday 3/13
12:00 a.m. Donizetti: Lucia di Lammermoor – 12/8/1956
Cleva; Callas, Campora, Sordello, Moscona
6:00 a.m. Saint-Saëns: Samson et Dalila – 11/26/1949
Cooper; Vinay, Stevens, Merrill
9:00 a.m. Puccini: Madama Butterfly – 12/17/1977
Patanè; Scotto, Aragall, Love, Edwards, Atherton
1:00 p.m. Saturday Matinee – Mozart: Le Nozze di Figaro – 1/10/2018
Bicket; Abdrazakov, Sierra, Pérez, Kwiecien, Leonard
6:00 p.m. Wagner: Götterdämmerung – 4/24/2004
Levine; Eaglen, West, Salminen, Held, Wray, Naef
Sunday 3/14
12:00 a.m. Weekly Special – Verdi: Ernani – 3/21/2008
Abbado; Giordani, Meade, Hampson, Furlanetto
6:00 a.m. Verdi: I Vespri Siciliani – 12/11/2004
Chaslin; Radvanovsky, Casanova, Nucci, Ramey
9:00 a.m. Handel: Giulio Cesare – 4/17/1999
Nelson; Larmore, McNair, Daniels, Blythe, Asawa
12:00 p.m. Donizetti: Lucia di Lammermoor – 12/8/1956
Cleva; Callas, Campora, Sordello, Moscona
3:00 p.m. Verdi: Luisa Miller – 4/14/2018
de Billy; Yoncheva, Beczala, Domingo, Vinogradov, Belosselskiy
6:00 p.m. R. Strauss: Der Rosenkavalier – 3/4/1995
Levine; von Otter, Gessendorf, Hawlata, Grant Murphy, Hornik
9:00 p.m. Mozart: La Clemenza di Tito – 5/7/2005
Levine; Lopardo, von Otter, Diener, Connolly, Grant Murphy