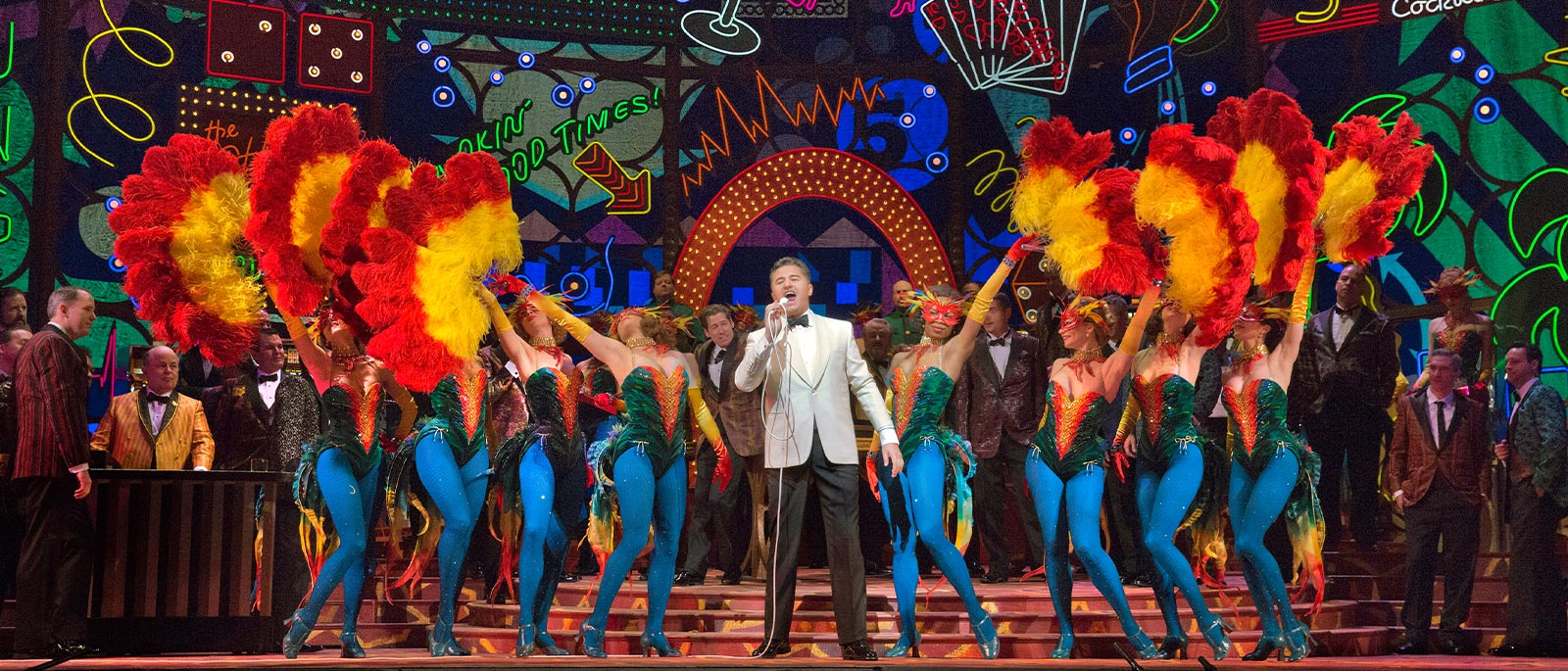 Encore Presentations
As the Met will remain dark until September 2021 due to the ongoing global health crisis, the live transmissions scheduled for the 2020–21 season have been canceled. During this time, select cinemas across the globe will exhibit a selection of the following encore titles from past Live in HD transmissions as well as performances from our ongoing Met Stars Live in Concert series. Please check your local cinema listings for more information. Dates and titles will vary internationally.
Please note that the scheduled Fathom Events encores of Rigoletto, Madama Butterfly, and Tosca in the U.S. have been postponed. These presentations will be rescheduled to a later Spring 2021 date. The Magic Flute encore will still be presented on December 5.
Bizet's Carmen
Starring Elīna Garanča, Barbara Frittoli, Roberto Alagna, and Teddy Tahu Rhodes; conducted by Yannick Nézet-Séguin. From January 16, 2010.
Mascagni's Cavalleria Rusticana and Leoncavallo's Pagliacci
Starring Eva-Maria Westbroek, Patricia Racette, Marcelo Álvarez, and George Gagnidze; conducted by Fabio Luisi. From April 25, 2015.
Donizetti's Don Pasquale
Starring Anna Netrebko, Matthew Polenzani, Mariusz Kwiecien, and John Del Carlo; conducted by James Levine. From November 13, 2010.
Wagner's Der Fliegende Holländer
Starring Anja Kampe and Evgeny Nikitin; conducted by Valery Gergiev. From March 10, 2020.*
Puccini's Madama Butterfly
Starring Kristine Opolais, Maria Zifchak, Roberto Alagna, and Dwayne Croft; conducted by Karel Mark Chichon. From April 2, 2016.
Mozart's The Magic Flute
Starring Ying Huang, Erika Miklósa, Matthew Polenzani, Nathan Gunn, and René Pape; conducted by James Levine. From December 30, 2006.
Mozart's Le Nozze di Figaro
Starring Marlis Petersen, Isabel Leonard, Ildar Abdrazakov, and Peter Mattei; conducted by James Levine. From October 18, 2014.
The Gershwins' Porgy and Bess
Starring Angel Blue, Golda Schultz, Latonia Moore, Denyce Graves, Frederick Ballentine, Eric Owens, Alfred Walker, and Donovan Singletary; conducted by David Robertson. From February 1, 2020.
Verdi's Rigoletto
Starring Diana Damrau, Piotr Beczała, and Željko Lučić; conducted by Michele Mariotti. From February 16, 2013.
Puccini's Tosca
Starring Sonya Yoncheva, Vittorio Grigolo, and Željko Lučić; conducted by Emmanuel Villaume. From January 27, 2018.
Verdi's Il Trovatore
Starring Anna Netrebko, Dolora Zajick, Yonghoon Lee, and Dmitri Hvorostovsky; conducted by Marco Armiliato. From October 3, 2015.
Puccini's Turandot
Starring Nina Stemme, Anita Hartig, Marco Berti, and Alexander Tsymbalyuk; conducted by Paolo Carignani. From January 30, 2016.
Met Stars Live in Concert: Jonas Kauffman
Starring Jonas Kaufman, with piano accompaniment by Helmut Deutsch. From July 18, 2020.
Met Stars Live in Concert: Renée Fleming
Starring Renée Fleming, with piano accompaniment by Robert Ainsley. From August 1, 2020.
Additional titles may be offered in select countries.
*This encore presentation of Wagner's Der Fliegende Holländer was recorded live in high definition at a performance prior to the scheduled Live in HD broadcast date, which was canceled due to the COVID-19 health crisis.