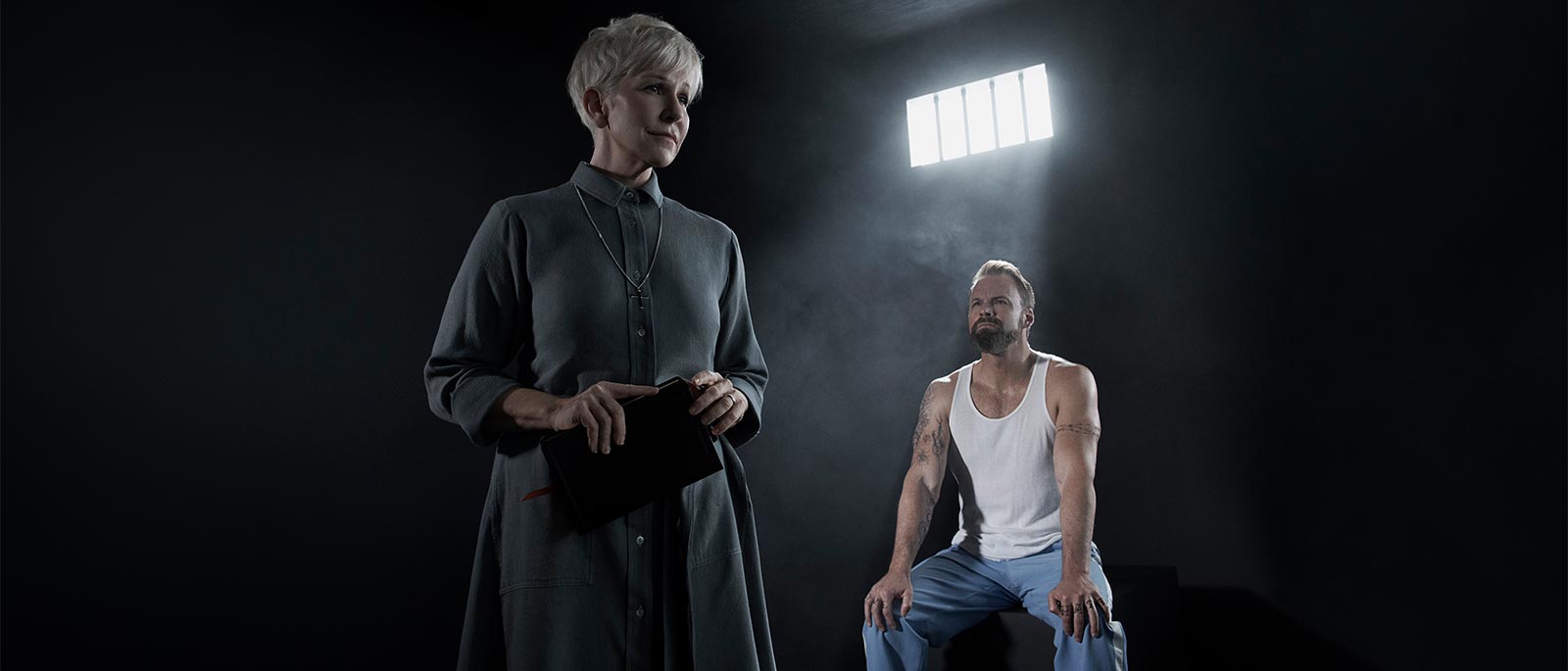 JAKE HEGGIE / LIBRETTO BY TERRENCE McNALLY
Dead Man Walking
Overview
American composer Jake Heggie's compelling masterpiece, the most widely performed new opera of the last 20 years, arrives in cinemas on October 21 in a haunting new production by Ivo van Hove. Based on Sister Helen Prejean's memoir about her fight for the soul of a condemned murderer, Dead Man Walking matches the high drama of its subject with Heggie's beautiful and poignant music and a brilliant libretto by Terrence McNally. Met Music Director Yannick Nézet-Séguin takes the podium, with mezzo-soprano Joyce DiDonato starring as Sister Helen. The outstanding cast also features bass-baritone Ryan McKinny as the death-row inmate Joseph De Rocher, soprano Latonia Moore as Sister Rose, and legendary mezzo-soprano Susan Graham—who sang Helen Prejean in the opera's 2000 premiere—as De Rocher's mother. This live cinema transmission is part of the Met's award-winning Live in HD series, bringing opera to movie theaters across the globe.
Content Advisory: Dead Man Walking contains a depiction of a rape and murder, as well as other adult themes and strong language.
English StreamText captioning is available for the Met's transmission of Dead Man Walking here. A transcript of the transmission will also be available to view after the live performance.
Buy tickets for Dead Man Walking live in the opera house here.
Music by Jake Heggie, libretto by Terrence McNally
Based on the Book by Sister Helen Prejean
Children's Chorus: Young People's Chorus of New York City (Francisco J. Nunez, Artistic Director and Founder; Emma H. Sway, Assistant Conductor)
Production a gift of C. Graham Berwind, III; the Ann and Gordon Getty Foundation; Ted Snowdon and Duffy Violante, in memory of Terrence McNally; and Mrs. Diane B. Wilsey
Additional support from Franci Neely; Judy and Jim Pohlman; Denise Littlefield Sobel, in memory of Phyllis Cannon Wattis; and The H.M. Agnes Hsu-Tang, Ph.D. and Oscar Tang Endowment Fund
Dead Man Walking is part of the Neubauer Family Foundation New Works Initiative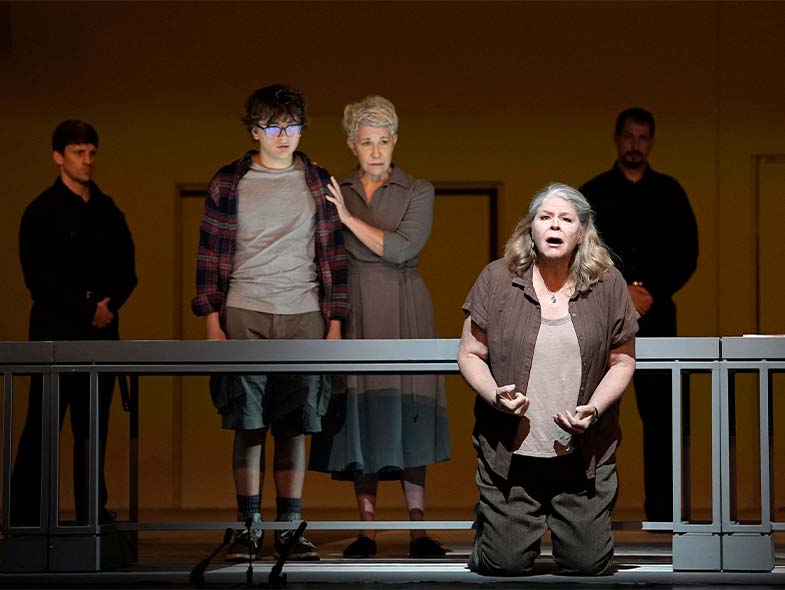 World premiere: San Francisco Opera, 2000
The most widely performed new opera of the last two decades, Dead Man Walking is adapted from the groundbreaking memoir by Sister Helen Prejean. It concerns her ministry to condemned murderers on death row, and in bringing this powerful story to the operatic stage, composer Jake Heggie created a score that recalls Sister Helen's prose and her advocacy style: direct, unaffected, and unflinchingly honest—but not without a deep understanding of the heart and humanity inside each one of us.
Creators
Jake Heggie (b. 1961) is an American composer known for his orchestral and choral work, his collaborations with a wide variety of artists, and especially for his operas. Librettist Terrence McNally (1938–2020) was a leading American playwright, screenwriter, and winner of numerous Tony and Drama Desk Awards. Sister Helen Prejean (b. 1939) became a nun in the Congregation of the Sisters of Saint Joseph at age 18 and began her ministry to convicts awaiting execution in 1982. She chronicled those early experiences in the book Dead Man Walking.
SET AND LIGHTING DESIGNER
Jan Versweyveld
COSTUME DESIGNER
An D'Huys
PROJECTION DESIGNER
Christopher Ash
Sound Designer
Tom Gibbons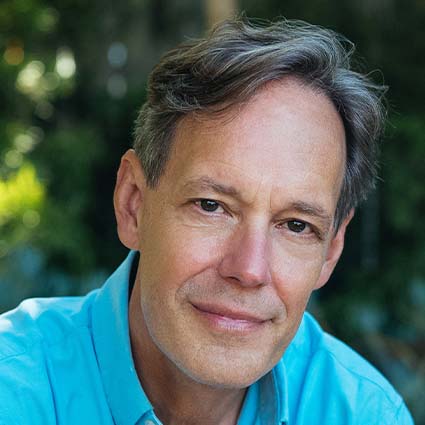 Librettist
Terrence McNally
Setting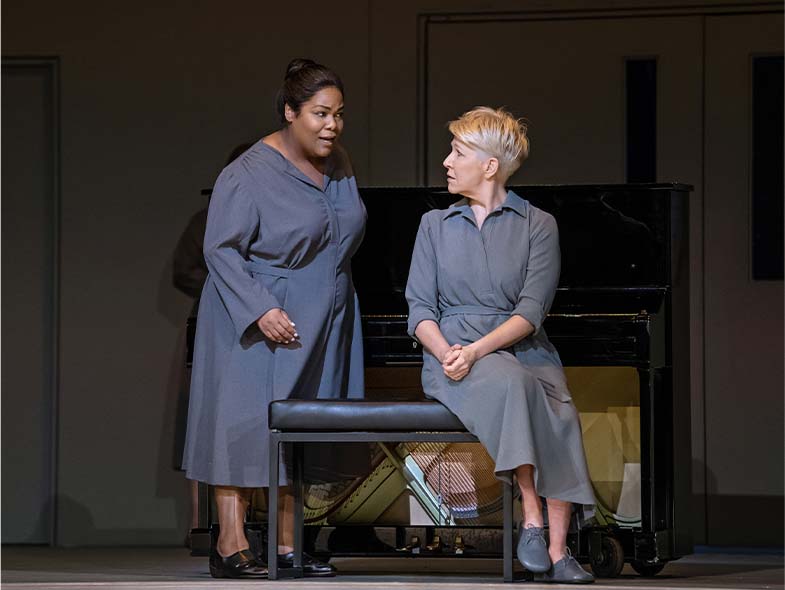 While based on real-life events from the late 1970s and early 1980s, Heggie's opera is more generally set in contemporary times, as questions about the value and morality of the death penalty remain relevant. Nonetheless, the locations evoke actual places from Prejean's life: a mission in a very poor neighborhood of New Orleans, the long road out to Louisiana State Penitentiary, and predominantly the prison itself.
Music
In depicting this quintessentially American story, Heggie composed a score immersed in an American musical vernacular built around the characters and their inner conflicts, rather than an overt debate about capital punishment. Both lead roles require classic operatic vocalism, and the important role of Mrs. De Rocher, Joseph's mother, must convey deep pathos in her tone as well as being able to express both the text and subtext in her music. Ambient music also plays a large role, including songs on a car radio, rock 'n' roll in the style of Elvis Presley, and a traditional-sounding hymn whose impact changes when heard in different treatments.