TERENCE BLANCHARD / LIBRETTO BY Michael Cristofer
Champion
Overview
Six-time Grammy Award–winning composer Terence Blanchard brings his first opera to the Met after his Fire Shut Up in My Bones triumphantly premiered with the company to universal acclaim in 2021–22. Bass-baritone Ryan Speedo Green is the young boxer Emile Griffith, who rises from obscurity to become a world champion, and bass-baritone Eric Owens portrays Griffith's older self, haunted by the ghosts of his past. Soprano Latonia Moore is Emelda Griffith, the boxer's estranged mother, and mezzo- soprano Stephanie Blythe is the bar owner Kathy Hagan. Yannick Nézet-Séguin takes the podium for Blanchard's second Met premiere, also reuniting the director-and-choreographer team of James Robinson and Camille A. Brown. This live cinema transmission is part of the Met's award-winning Live in HD series, bringing opera to movie theaters across the globe.
This production uses strobe-light effects.
Content Advisory: Champion contains adult themes, sexually explicit language, and physical violence.
English StreamText captioning is available for the Met's transmission of Champion here. A transcript of the transmission will also be available to view after the live performance.
Buy tickets for Champion live in the opera house here.
An opera by Terence Blanchard
Libretto by Michael Cristofer
Commissioned by the Metropolitan Opera. Originally commissioned by Opera Theatre of Saint Louis, co-commissioned by Jazz St. Louis.
A co-production of the Metropolitan Opera and Lyric Opera of Chicago
Production a gift of C. Graham Berwind, III and Lynne and Richard Pasculano
Additional funding from the Edgar Foster Daniels Foundation, The Ford Foundation, The Francis Goelet Trusts, The National Endowment for the Arts, and Ann Ziff
Cast
Select a date from the dropdown to filter cast by date of performance
Creators
Terence Blanchard (b. 1962) is a celebrated composer whose many works express his roots in jazz but defy further categorization. A prolific creator in a wide variety of forms and genres, he is especially celebrated for his close collaboration with director Spike Lee and his accomplishments as an award-winning composer of more than 60 film scores.
Production
James Robinson
Costume Designer
Paul Tazewell
Lighting Designer
Donald Holder
Projection Designer
Greg Emetaz
Choreographer
Camille A. Brown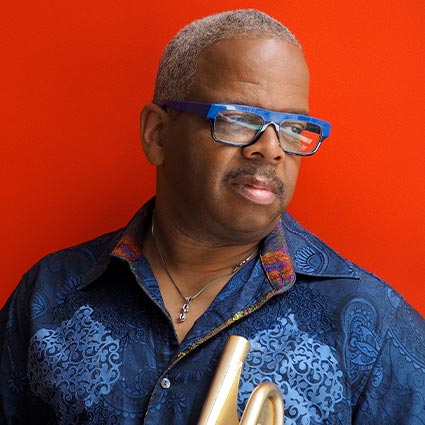 Composer
Terence Blanchard
Articles