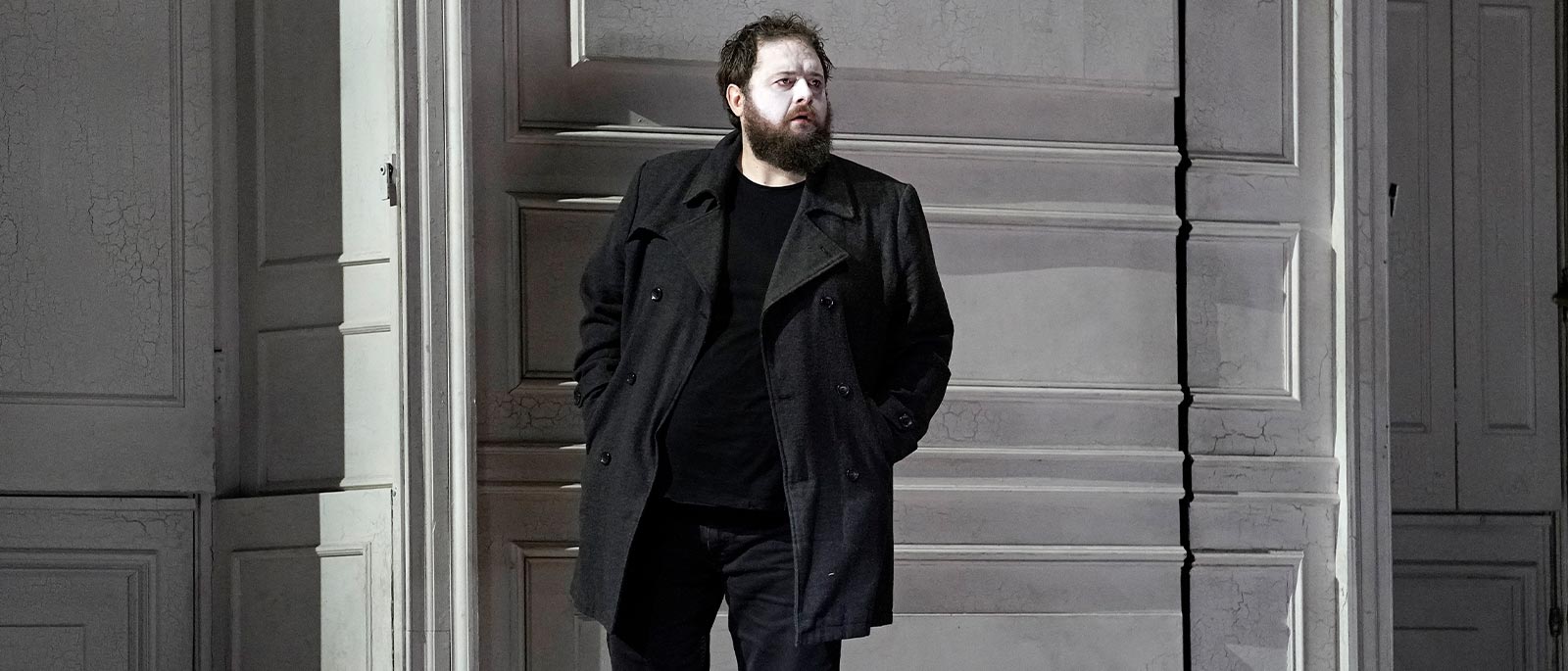 BRETT DEAN / LIBRETTO BY MATTHEW JOCELYN
Hamlet
Overview
When Australian composer Brett Dean's Hamlet had its world premiere at the Glyndebourne Festival in 2017, The Guardian declared, "New opera doesn't often get to sound this good … Shakespeare offers a gauntlet to composers that shouldn't always be picked up, but Dean's Hamlet rises to the challenge." On June 4, this riveting contemporary masterpiece appears live in cinemas, with Neil Armfield, who directed the work's premiere, bringing his acclaimed staging to the Met stage. Many of the original cast members have followed, including tenor Allan Clayton in the title role. Nicholas Carter makes his Met debut conducting a remarkable ensemble, which also features soprano Brenda Rae as Ophelia, mezzo-soprano Sarah Connolly as Gertrude, baritone Rod Gilfry as Claudius, and bass-baritone John Relyea as the ghost of Hamlet's father. This live cinema transmission is part of the Met's award-winning Live in HD series, bringing opera to movie theaters across the globe.
English StreamText captioning is available for the Met's transmission of Hamlet here. A transcript of the transmission will also be available to view after the live performance.
Buy tickets for Hamlet live in the opera house here.
Hamlet is a Glyndebourne production
Production a gift of Lynne and Richard Pasculano
Additional support provided by The Walter and Leonore Annenberg Endowment Fund, and the National Endowment for the Arts
Languages
Titles
Title languages displayed for
Hamlet
Met Titles In
English
German
Spanish
Italian
Timeline
Timeline for the show,
Hamlet
Estimated Run Time
3 hrs 15 mins
House Opens

Act I

105 mins

Intermission

30 mins

Act II

60 mins

Opera Ends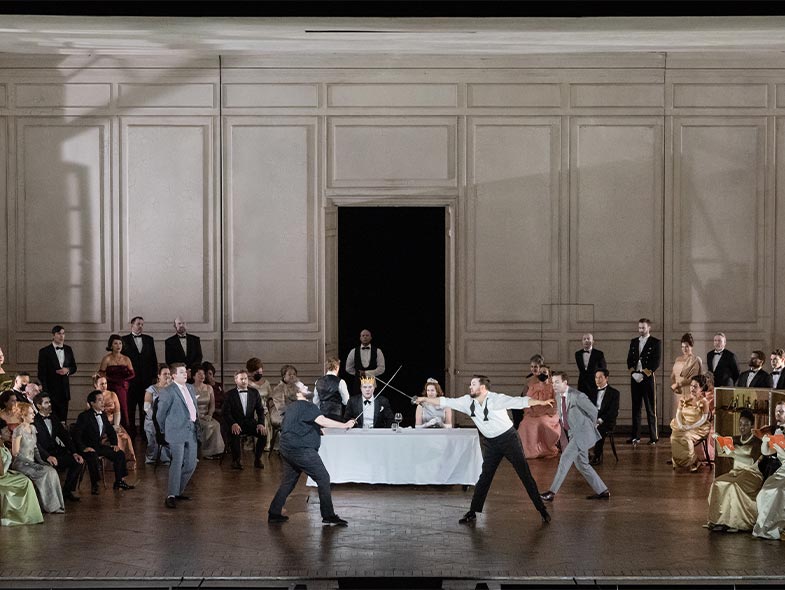 World premiere: Glyndebourne Festival Opera, Lewes, 2017
Some of the world's greatest composers have looked to the works of Shakespeare for inspiration, a tradition that continued with the 2017 premiere of Brett Dean's Hamlet. The Bard's immortal tragedy is among theater's most captivating psychological portraits, and the incorporation of music—including tour-de-force vocal writing, imposing choral forces, and a powerful orchestral sweep—only escalates the tension of this classic tale.
Creators
Brett Dean is one of today's most prominent composers, with a body of work encompassing numerous orchestral, choral, chamber, and vocal works, as well as two operas and concerti for a variety of solo instruments. Matthew Jocelyn, who crafted the opera's text, is a Canadian director, translator, and librettist. While the material is sometimes rearranged or sung by other characters than those in the source text, nearly all of the words in Jocelyn's libretto are by William Shakespeare, the prolific playwright whose many masterpieces stand as history's greatest showcases of the English language and its linguistic possibilities.
SCENIC DESIGNER
Ralph Myers
COSTUME DESIGNER
Alice Babidge
LIGHTING DESIGNER
Jon Clark
MOVEMENT DIRECTOR
Denni Sayers
Fight Director
Nicholas Hall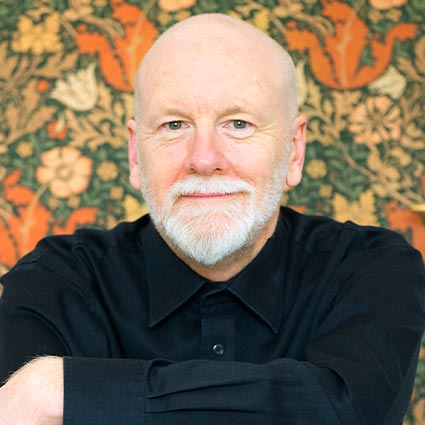 Setting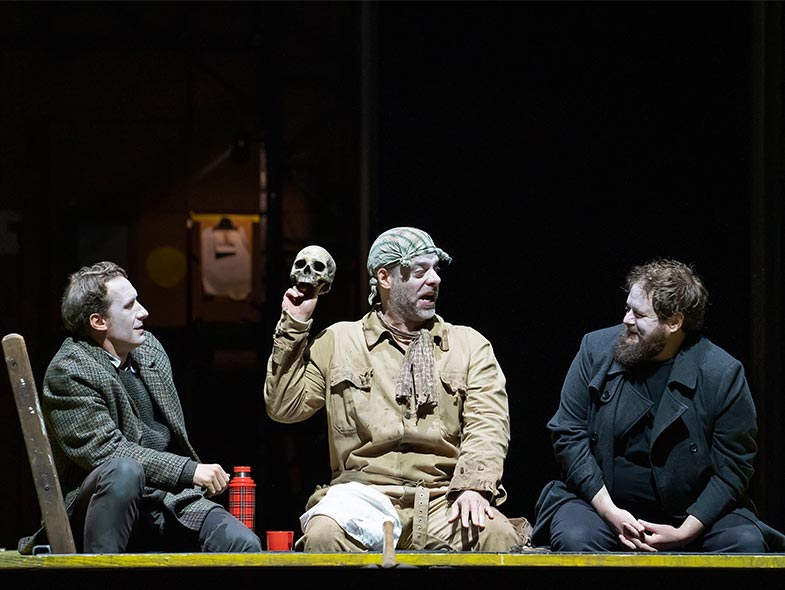 Like the original play, which unfolds in an imprecise period in Elsinore Castle in medieval Denmark, Dean's opera is set in an imagined Elsinore at an indeterminate date. This production, by Neil Armfield, draws upon visual motifs of the 18th and 20th centuries to create a simultaneously modern and timeless feel for the action.
Articles
Music
To express the power, complexity, and ambivalence of Shakespeare's unparalleled text, Dean employs a musical language that is by turns brash, dissonant, eerily beautiful, and humorous. In addition to a full opera orchestra, the score calls for a large percussion section, electronic instruments, and unusual sound effects—as well as a semi-chorus of eight singers in the orchestra pit to act as a kind of sonic echo of the onstage action. The vocal writing presents great challenges for all of the principal players, none more so than the title character, who from the very first bars is a practically omnipresent figure, rarely leaving the stage.