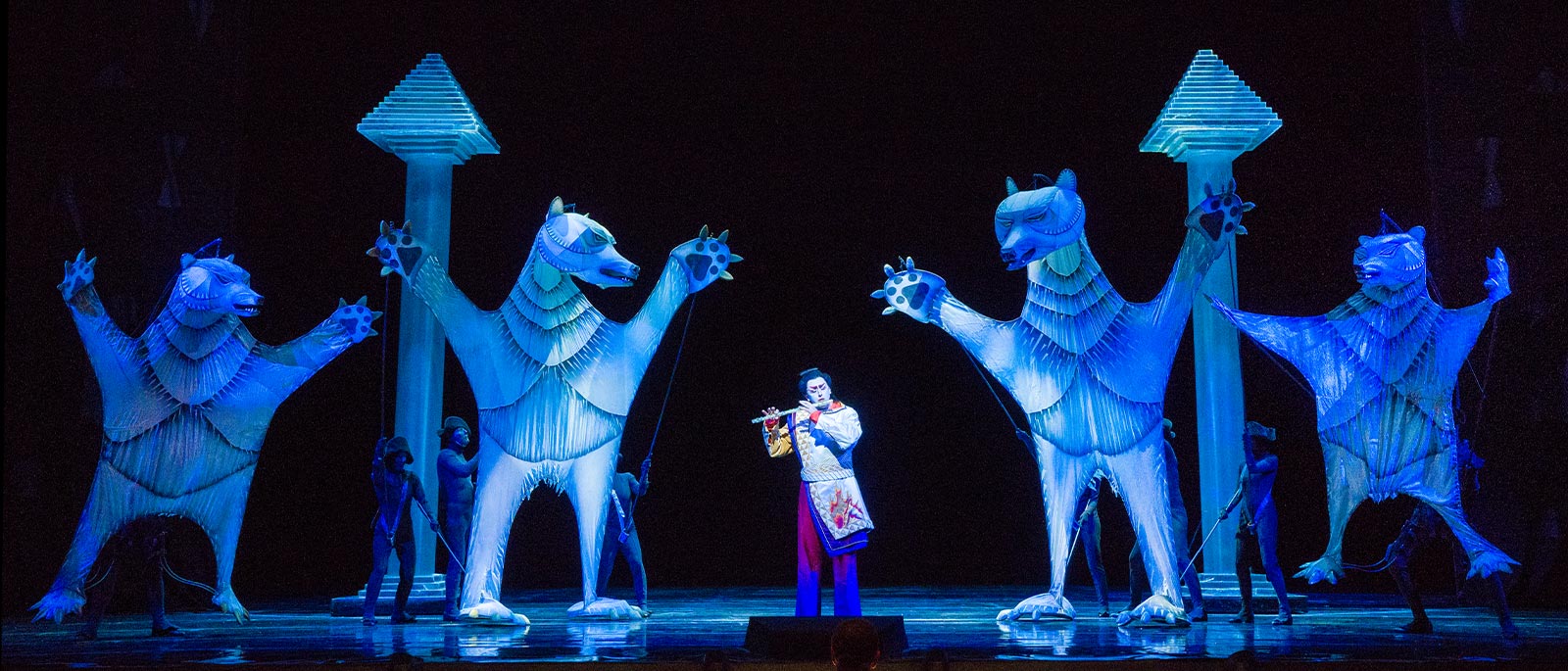 Wolfgang Amadeus Mozart
Die Zauberflöte
Overview
One of opera's most beloved fables returns, with Music Director Yannick Nézet-Séguin conducting Tony Award–winner Julie Taymor's colorful, puppet-filled production. The cast of leading Mozarteans includes soprano Christiane Karg as Pamina, tenor Stanislas de Barbeyrac as Tamino, baritone Thomas Oliemans in his Met debut as Papageno, soprano Kathryn Lewek as the Queen of the Night, and bass Stephen Milling as Sarastro. This live cinema transmission is part of the Met's award-winning Live in HD series, bringing opera to more than 2,200 theaters in more than 70 countries worldwide
Buy tickets for Die Zauberflöte live in the opera house here.
Languages
Languages sung in
Die Zauberflöte
Titles
Title languages displayed for
Die Zauberflöte
Met Titles In
Timeline
Timeline for the show,
Die Zauberflöte
Estimated Run Time
3 hrs 5 mins
House Opens

Act I

67 mins

Intermission

30 mins

Act II

88 mins

Opera Ends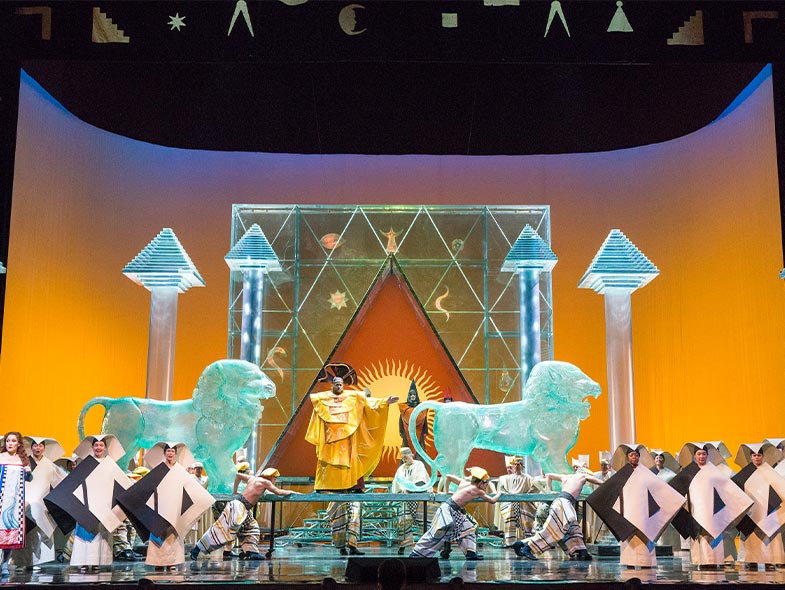 Premiere: Freihaus-Theater auf der Wieden, Vienna, 1791. Die Zauberflöte—a sublime fairy tale that moves freely between earthy comedy and noble mysticism—was written for a theater located just outside Vienna with the clear intention of appealing to audiences from all walks of life. The story is told in a singspiel ("song-play") format characterized by separate musical numbers connected by dialogue and stage activity, an excellent structure for navigating the diverse moods, ranging from solemn to lighthearted, of the story and score. The composer and the librettist were both Freemasons—the fraternal order whose membership is held together by shared moral and metaphysical ideals—and Masonic imagery is used throughout the work. The story, however, is as universal as any fairy tale.
Creators
Wolfgang Amadeus Mozart (1756–1791) was the son of a Salzburg court musician who exhibited him as a musical prodigy throughout Europe. His achievements in opera, in terms of beauty, vocal challenge, and dramatic insight, remain unsurpassed. He died three months after the premiere of Die Zauberflöte, his last produced work for the stage. The remarkable Emanuel Schikaneder (1751–1812) was an actor, singer, theater manager, a friend of Mozart who wrote the opera's libretto, staged the work, and sang the role of Papageno in the initial run.
SET DESIGNER
George Tsypin
COSTUME DESIGNER
Julie Taymor
LIGHTING DESIGNER
Donald Holder
PUPPET DESIGNERS
Julie Taymor, Michael Curry
Associate Director
David Kneuss
ENGLISH TRANSLATION
J. D. McClatchy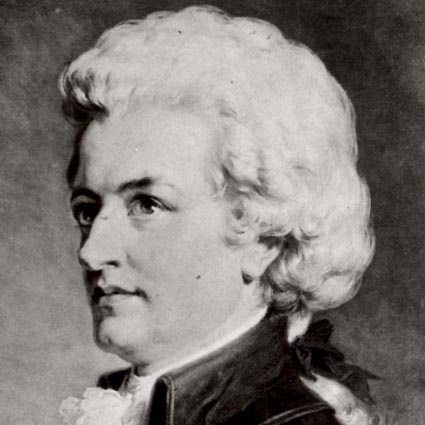 Composer
Wolfgang Amadeus Mozart
Setting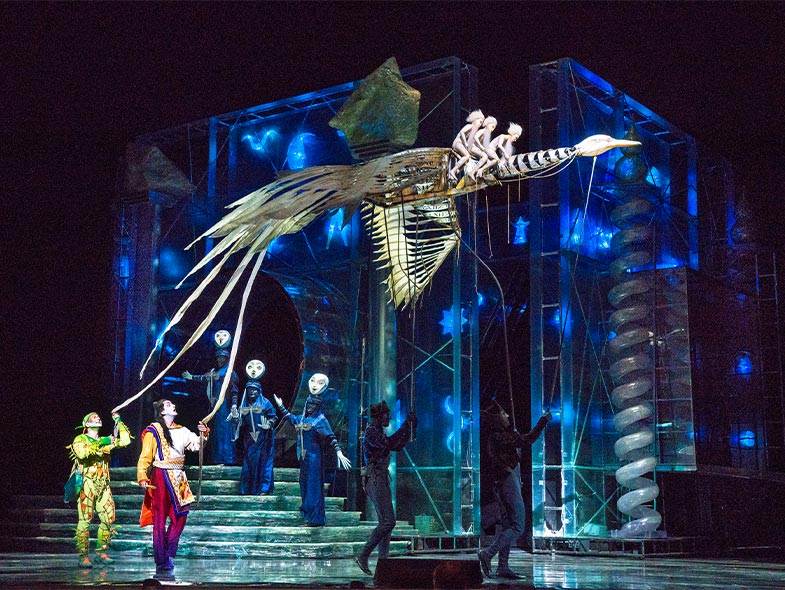 The libretto specifies Egypt as the location of the action. Egypt was traditionally regarded as the legendary birthplace of the Masonic fraternity, whose symbols and rituals populate this opera. Some productions include Egyptian motifs as an exotic nod to this idea, but many more opt for a more generalized mythic ambience to convey the otherworldliness that the score and overall tone of the work call for.
Music
Die Zauberflöte was written with an eye toward a popular audience, but the varied tone of the work requires singers who can specialize in several different musical genres. The comic and earthy are represented by the baritone, Papageno, while true love in its noblest forms is conveyed by the tenor, Tamino, and the soprano, Pamina. The bass, Sarastro, expresses the solemn and the transcendental. The use of the chorus is spare but hauntingly beautiful, and fireworks are provided by the coloratura Queen of the Night