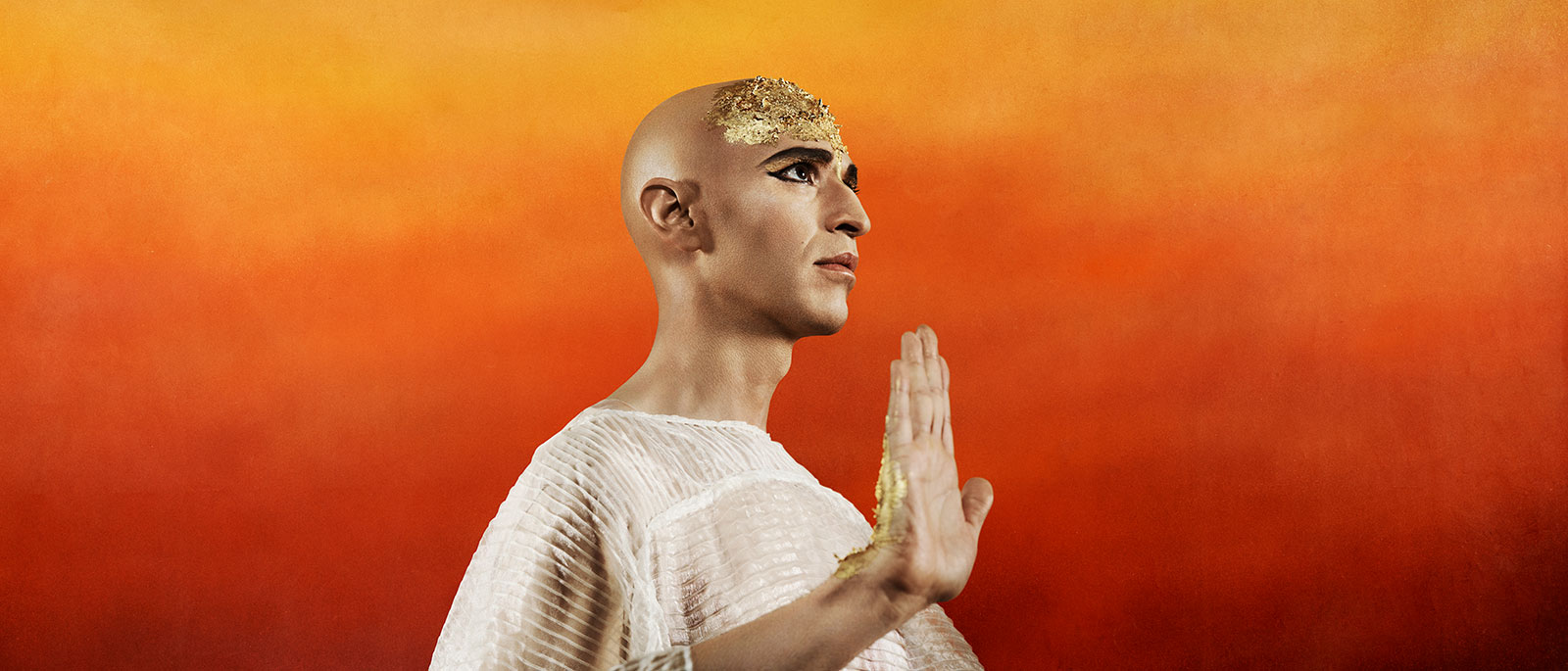 *Please note that not all theaters present every Live in HD event. Check with your local cinema for specific dates and times.
Many theaters also show encore screenings of Live in HD transmissions, with dates varying by territory. Please check your local cinema listings.
Overview
Director Phelim McDermott tackles another one of Philip Glass's modern masterpieces, with star countertenor Anthony Roth Costanzo as the revolutionary title ruler who transformed ancient Egypt—in cinemas November 23. To match the opera's hypnotic, ritualistic music, McDermott offers an arresting vision that includes a virtuosic company of acrobats and jugglers. Karen Kamensek conducts. This live cinema transmission is part of the Met's award-winning Live in HD series, bringing opera to more than 2,200 theaters in more than 70 countries worldwide.
Buy tickets for Akhnaten live in the opera house here.

The stage production of Akhnaten contains some full-frontal nudity. Please note that the Live in HD transmission of the opera on November 23 will include some additional costuming elements, and there will be no nudity.
This production was originally created by English National Opera and LA Opera
In collaboration with Improbable
Production gift of the Rosalie J. Coe Weir Endowment Fund and the Wyncote Foundation, as recommended by Frederick R. Haas and Rafael Gomez
Additional funding from The H.M. Agnes Hsu-Tang, Ph.D. and Oscar Tang Endowment Fund, Dominique Laffont, Andrew J. Martin-Weber, The Walter and Leonore Annenberg Endowment Fund, American Express, and the National Endowment for the Arts
Languages
Languages sung in
Akhnaten
Timeline
Timeline for the show,
Akhnaten
Estimated Run Time
3 hrs 41 mins
Creators
PRODUCTION
Phelim McDermott
SET AND PROJECTION DESIGNER
Tom Pye
COSTUME DESIGNER
Kevin Pollard
LIGHTING DESIGNER
Bruno Poet
CHOREOGRAPHER
Sean Gandini