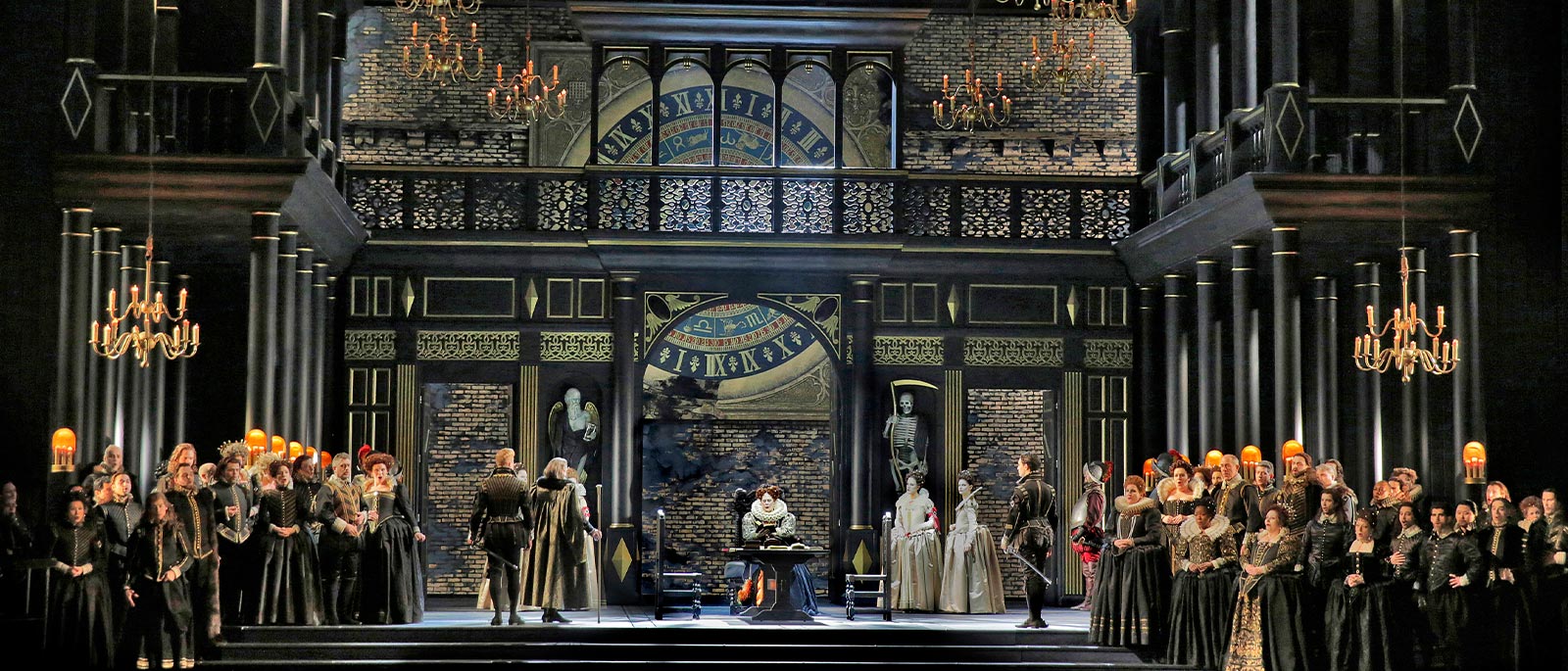 Gaetano Donizetti
Roberto Devereux
All future exchange fees will be waived for tickets purchased through September 1, 2020.
Overview
Soprano Angela Meade and mezzo-soprano Jamie Barton triumphed when they appeared together in Norma in 2017, and now the pair returns in the enthralling final installment of Donizetti's Tudor Trilogy. Tenor Stephen Costello takes on the title role, a man caught between his duty to Queen Elizabeth I, sung by Meade, and his clandestine love for the noble Sara, sung by Barton. Baritone Davide Luciano is Sara's husband, the duke of Nottingham. Maurizio Benini conducts Sir David McVicar's stunning production.
Co-production of the Metropolitan Opera and Théâtre des Champs-Élysées
Production a gift of The Sybil B. Harrington Endowment Fund
Revival a gift of the NPD Group, Inc.
Languages
Languages sung in
Roberto Devereux
Titles
Title languages displayed for
Roberto Devereux
Met Titles In
English
German
Spanish
Italian
Timeline
Timeline for the show,
Roberto Devereux
Estimated Run Time
2 hrs 49 mins
House Opens

Acts I & II

92 mins

Intermission

32 mins

Act III

45 mins

Opera Ends
Cast
Select a date from the dropdown to filter cast by date of performance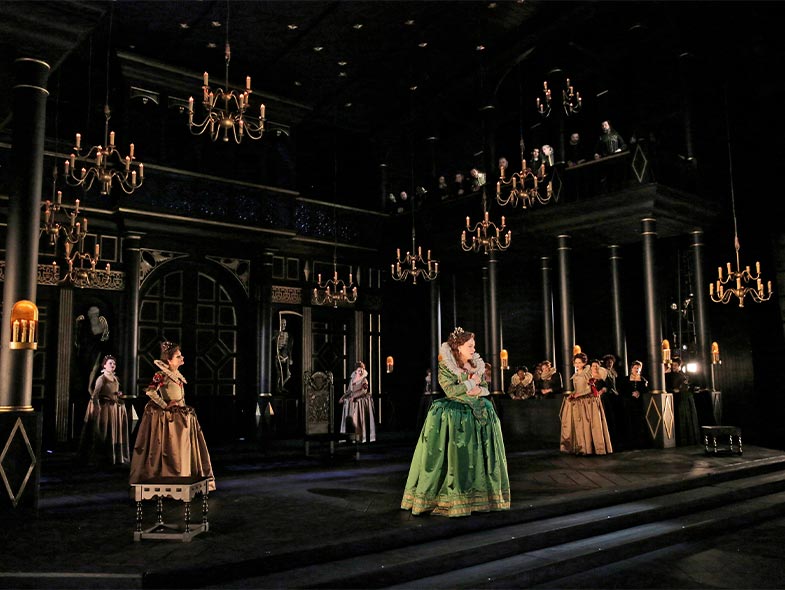 World Premiere: Teatro San Carlo, Napoli, 1837
Roberto Devereux shows Donizetti at the height of his musical and dramatic powers. The opera's story was inspired by a familiar, even notorious, historical incident, but, as in many stage works of the time, history is used merely as a springboard from which the operatic imagination can soar. The tragic confrontation between Queen Elizabeth I of England and her sometime favorite Robert Devereux, Earl of Essex, ended with Devereux's execution for treason. The dramatic premise of an older woman in power and a younger man at her mercy provided Donizetti with the opportunity to write some of his most theatrical music.
Creators
Gaetano Donizetti (1797–1848) composed nearly 70 operas plus orchestral and chamber music in a career abbreviated by mental illness and premature death. The Neapolitan librettist Salvadore Cammarano (1801–1852) worked with Donizetti on a number of operas, including Lucia di Lammermoor, and with Verdi on Luisa Miller and Il Trovatore.
PRODUCTION
Sir David McVicar
SET DESIGNER
Sir David McVicar
COSTUME DESIGNER
Moritz Junge
LIGHTING DESIGNER
Paule Constable
CHOREOGRAPHER
Leah Hausman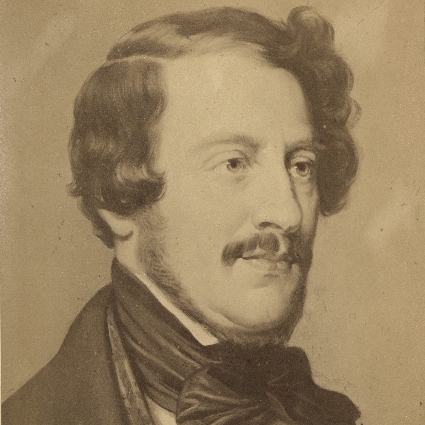 Composer
Gaetano Donizetti
Setting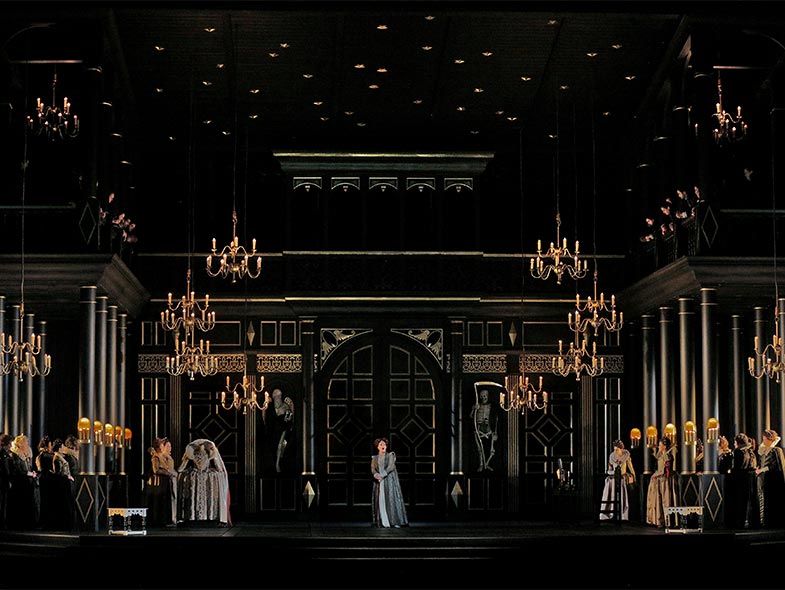 The opera is set in London, originally at Westminster Palace and the Tower. Historical facts place the action between 1599 and 1601 (the year of Devereux's death).
Music
Donizetti's gift for melody and understanding of the human voice are on full display in Roberto Devereux, but the score goes beyond that, revealing the dramatic possibilities inherent in the best of the bel canto tradition. The opera's gripping finale belongs entirely to Elizabeth, in a variation of the classic mad scene as an internal journey and spiritual crisis (the historical Queen Elizabeth, of course, never went mad in the conventional sense). Even the final cabaletta, normally characterized by untethered vocal display, is marked "maestoso" ("majestic"), remaining true to the character and the dramatic situation