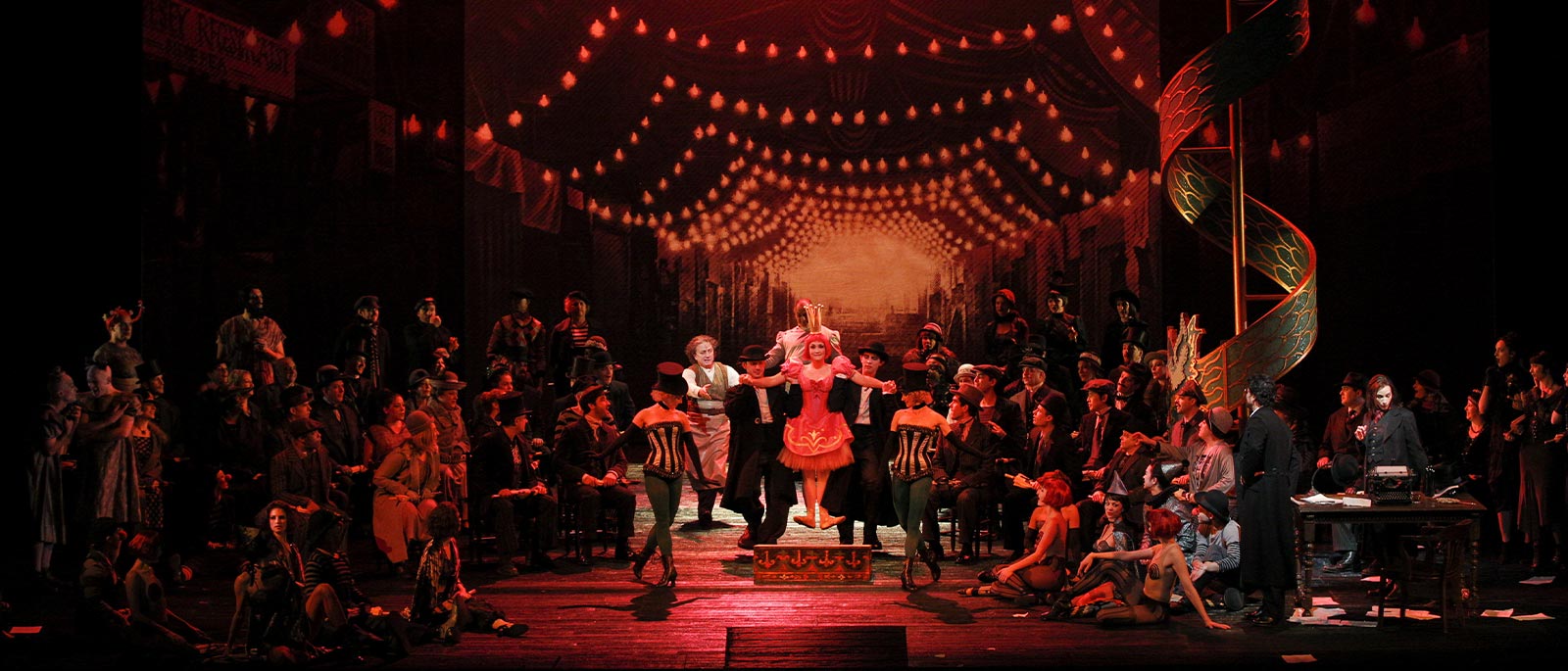 Jacques Offenbach
Les Contes d'Hoffmann
Single tickets go on sale to the general public on June 21 at noon.
Patrons and 2020–21 Subscribers are eligible to purchase single tickets now. Please login to access your benefits.
Member Priority week (for $150 Supporting level and above) begins on June 14 at noon.
Overview
Tony Award–winning director Bartlett Sher creates a fantastical world of magic and delusion, aspiring romance and thwarted love, hope and deceit. Tenor Matthew Polenzani headlines Offenbach's fabulously twisted tale in the title role of the poet Hoffmann. A stellar trio of artists—soprano Erin Morley as Olympia, the doll who springs to life; soprano Olga Kulchynska as Antonia/Stella, the matinee-idol diva; and mezzo-soprano Veronica Simeoni as Giulietta, the decadent Venetian—portray Hoffmann's past loves, with bass-baritone Luca Pisaroni as the four villains. Daniele Rustioni conducts.
Production a gift of the Hermione Foundation, Laura Sloate, Trustee; and the Gramma Fisher Foundation, Marshalltown, Iowa
Additional Funding from the Estate of Helen F. Kelbert, and Mr. and Mrs. William R. Miller
Languages
Languages sung in
Les Contes d'Hoffmann
Titles
Title languages displayed for
Les Contes d'Hoffmann
Met Titles In
Timeline
Timeline for the show,
Les Contes d'Hoffmann
Estimated Run Time
3 hrs 36 mins
House Opens

Prologue & Act I

76 mins

Intermission

27 mins

Act II

51 mins

Intermission

25 mins

Act III & Epilogue

37 mins

Opera Ends
Cast
Select a date from the dropdown to filter cast by date of performance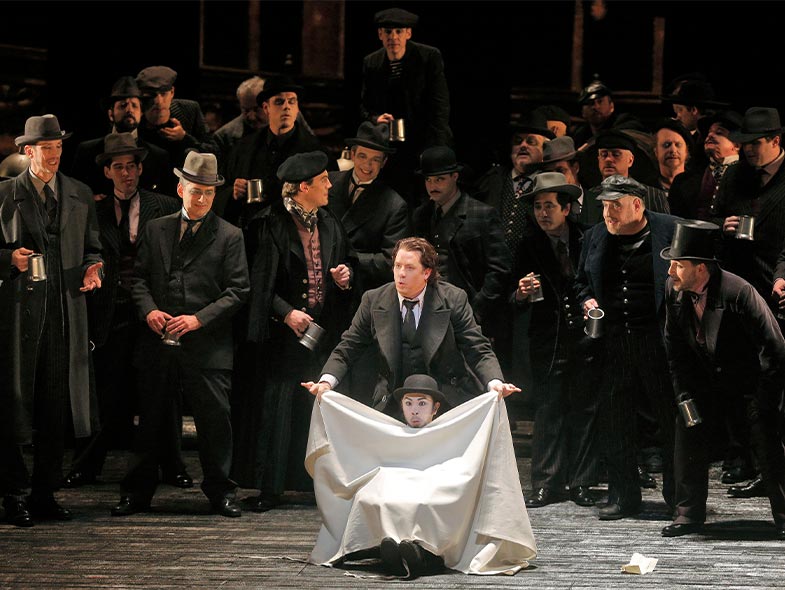 Premiere: Opéra Comique, Paris, 1881. After becoming the toast of Paris with his witty operettas, Jacques Offenbach set out to create a more serious work. He chose as his source a successful play based on the stories of visionary German writer E.T.A. Hoffmann. Three of these tales—at once profound, eerie, and funny—were unified in the play by a narrative frame that made Hoffmann the protagonist of his own stories. Each episode recounts a catastrophic love affair, and throughout the opera, Hoffmann is dogged by a diabolical nemesis and accompanied by his faithful friend Nicklausse.
Creators
Jacques Offenbach (1819–1880) was born Jacob Offenbach in Cologne, Germany, of Jewish ancestry. He moved to Paris in 1833, where he became a hugely successful composer of almost 100 operettas. Jules Barbier (1825–1901) was the librettist for many operas, including Gounod's Faust and Roméo et Juliette. He frequently collaborated with Michel Carré (1822–1872), with whom he wrote the play on which the Hoffmann libretto is based. E.T.A. Hoffmann (1776–1822) was a German author and composer whose stories have inspired a variety of subsequent works, including Tchaikovsky's ballet The Nutcracker.
SET DESIGNER
Michael Yeargan
COSTUME DESIGNER
Catherine Zuber
LIGHTING DESIGNER
James F. Ingalls
CHOREOGRAPHER
Dou Dou Huang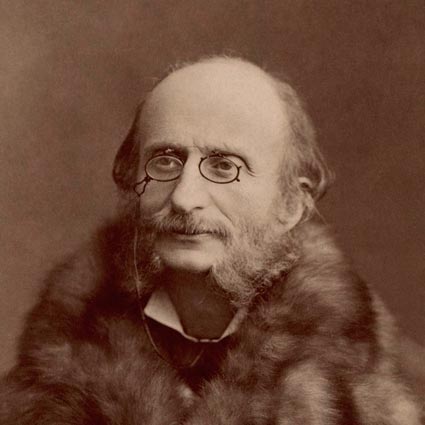 Composer
Jacques Offenbach
Setting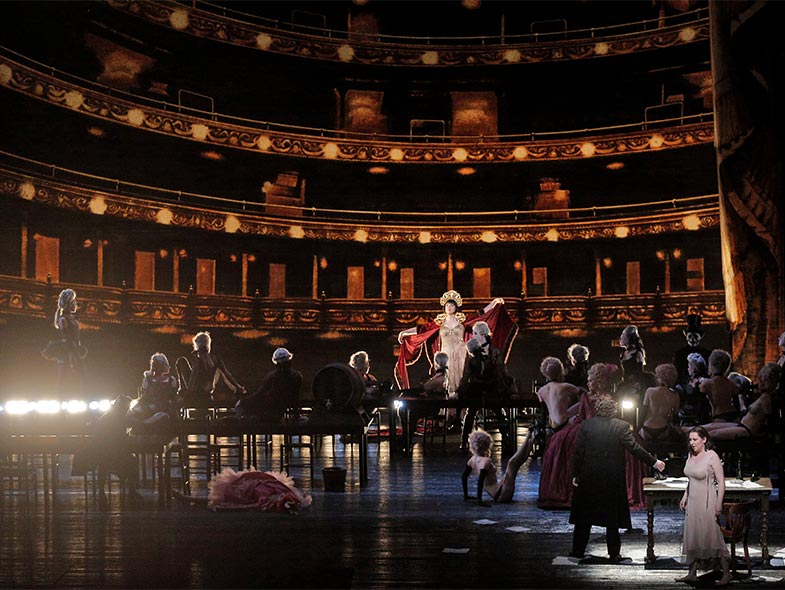 The action of the prologue and epilogue takes place in an unnamed German city, in "Luther's tavern." The tavern setting (as well as the lurking presence of a diabolical client) recalls the Faust legend and casts an otherworldly ambience on the subsequent episodes. Each of these flashbacks occurs in evocative settings representing a cross-section of European cultures: Paris (Act I), Munich (Act II), and Venice (Act III). In Bartlett Sher's production, the world of Franz Kafka and the era of the 1920s provide a dramatic reference point.
Music
Offenbach's music is diverse, ranging seamlessly from refined lyricism to a broader sort of vaudeville, with the extreme and fantastic moods of the story reflected in the eclectic score. The composer's operetta background is apparent in the students' drinking songs in the prologue and epilogue, in the servant's comic song in Act II, and in Act I's glittering entr'acte and chorus. The juxtaposition of beauty and grotesquerie, which is such a striking feature of the drama, is also found throughout the music.