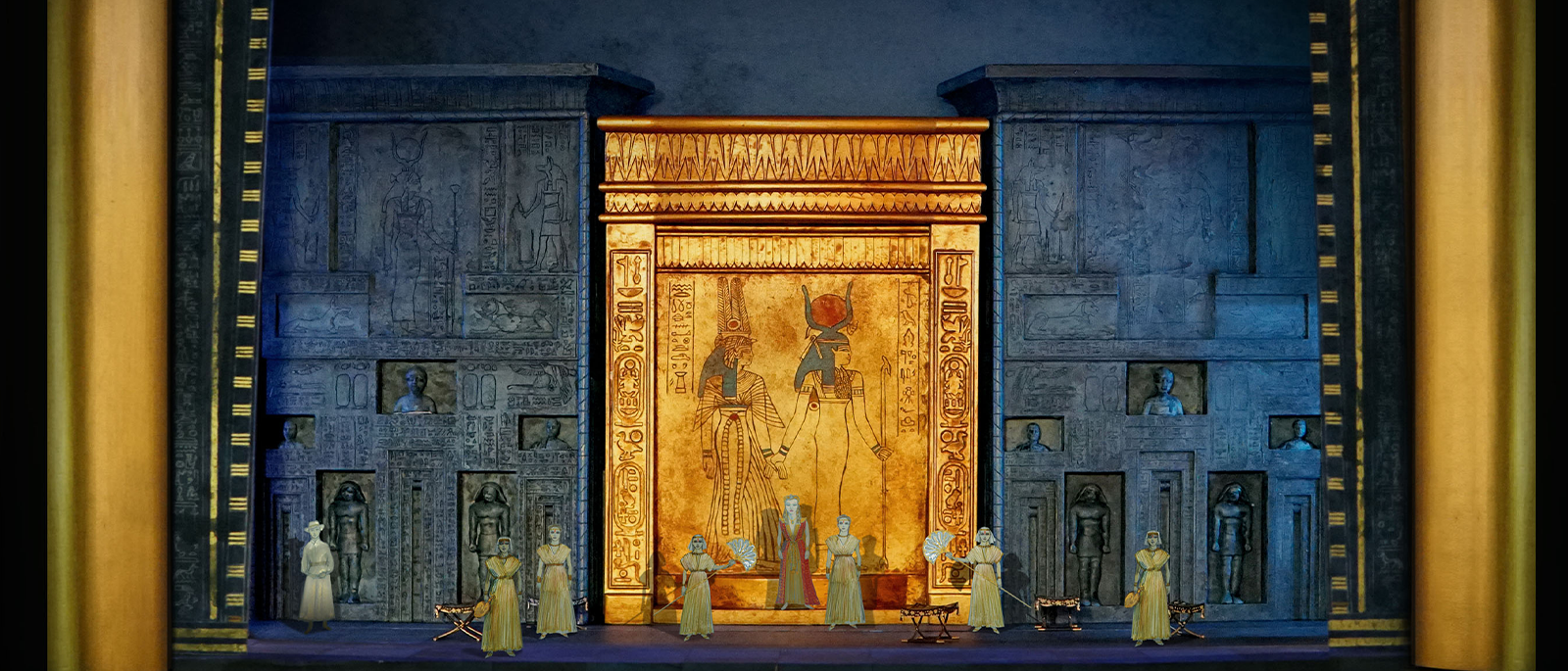 Single tickets go on sale to the general public on June 21 at noon.
Patrons and 2020–21 Subscribers are eligible to purchase single tickets now. Please login to access your benefits.
Member Priority week (for $150 Supporting level and above) begins on June 14 at noon.
Overview
Soprano Anna Netrebko and mezzo-soprano Anita Rachvelishvili reprise their incendiary partnership as Aida and Amneris—a highlight of the 2018–19 season—with tenor Piotr Beczała completing the greatest love triangle in all of opera as Radamès. Yannick Nézet-Séguin takes the podium for his first Opening Night performance as Met Music Director, leading director Michael Mayer's grand new staging, which brings ancient Egypt to life with intricate projections and dazzling animations. Later performances feature Latonia Moore and Hibla Gerzmava in the title role, and Ekaterina Semenchuk and Marcelo Álvarez as Amneris and Radamès.
A co-production of the Metropolitan Opera and the Bolshoi Theatre of Russia
Production a gift of C. Graham Berwind, III — Director, Spring Point Partners LLC
Languages
Titles
Title languages displayed for
Aida
Met Titles In
English
German
Spanish
Italian
Timeline
Timeline for the show,
Aida
Estimated Run Time
3 hrs 36 mins
House Opens

Act I

40 mins

Intermission

30 mins

Act II

43 mins

Intermission

36 mins

Acts III & IV

67 mins

Opera Ends
Cast
Select a date from the dropdown to filter cast by date of performance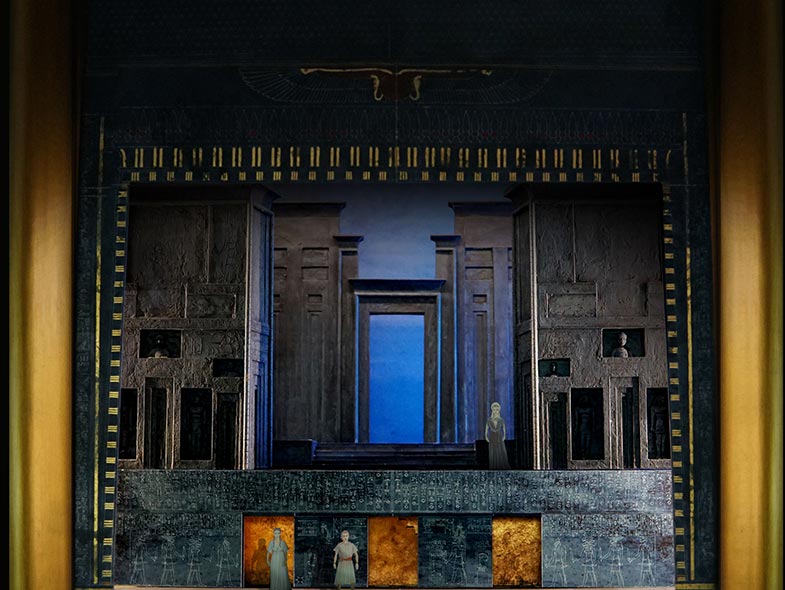 World Premiere: Opera House, Cairo, 1871. This grandest of grand operas features an epic backdrop for what is in essence an intimate love story. Set in ancient Egypt and packed with magnificent choruses, complex ensembles, and elaborate ballets, Aida never loses sight of its three protagonists. Few operas have matched Aida in its exploration of the conflict of private emotion and public duty, and perhaps no other has remained to the present day so unanimously appreciated by audiences and critics alike.
Creators
In a remarkable career spanning six decades in the theater, Giuseppe Verdi (1813–1901) composed 28 operas, at least half of which are at the core of today's repertoire. His role in Italy's cultural and political development has made him an icon in his native country. The story of Aida is thought to be the creation of Auguste Mariette (1821–1881), an extraordinary French archaeologist who was the founder of the Egyptian Museum of Cairo. Camille du Locle (1832–1903), who collaborated on the scenario with Mariette and suggested the story to Verdi, had worked with the composer on the libretto of Don Carlos. Aida's librettist, Antonio Ghislanzoni (1824–1893), was a novelist and poet as well as the creator of some 85 libretti.
SET DESIGNER
Christine Jones
COSTUME DESIGNER
Susan Hilferty
LIGHTING DESIGNER
Kevin Adams
PROJECTION DESIGN
59 Productions
CHOREOGRAPHER
Oleg Glushkov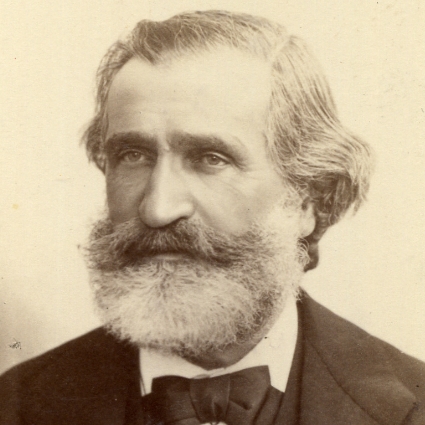 Setting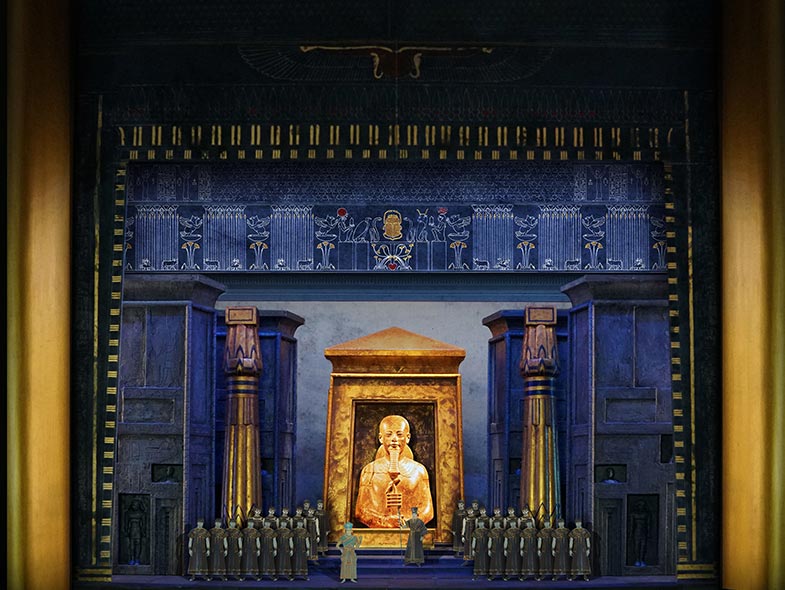 The libretto indicates merely that the opera takes place in "ancient Egypt, in the time of the pharaohs." This may sound vague, but it was a clear direction to approach the drama as myth rather than anthropology or history.
Music
The score of Aida is a sophisticated example of Italian Romanticism, imbued with a convincingly mysterious and exotic hue. Making no claims to authenticity, Verdi created a unique musical palette for this opera. The grandeur of the subject is aptly conveyed with huge patriotic choruses, most notably the unforgettable Triumphal Scene in Act II. These public moments often serve as frames for the solos of the leading tenor and soprano: his soaring "Celeste Aida" right at the beginning of Act I, her impassioned "Ritorna vincitor!" that follows, and her great internal journey, "Qui Radamès verrà! … O patria mia" in Act III.