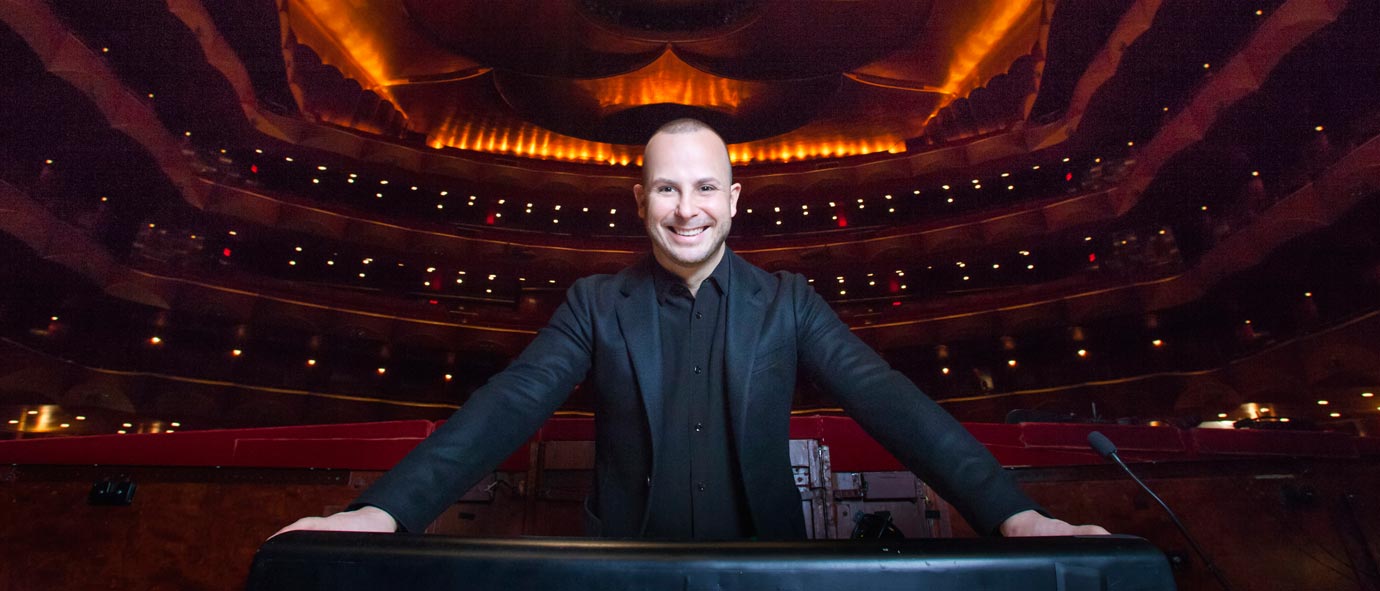 Yannick Nézet-Séguin to Become Met Music Director in September 2018
Accelerating his arrival as Music Director by two seasons, Yannick Nézet-Séguin will take up the post in time for the start of the Metropolitan Opera's 2018–19 season. By freeing up some guest conducting weeks in his busy calendar in both the 2018–19 and 2019–20 seasons, Nézet-Séguin will now be able to conduct three operas and two Met Orchestra concerts at Carnegie Hall in each of those seasons, instead of the two operas per season originally scheduled. With the assumption of the Music Director title in the fall of 2018, Nézet-Séguin will also be taking on the full artistic responsibilities for the orchestra, chorus, and music staff. His full-time collaboration with Met General Manager Peter Gelb on all other artistic matters will also begin at that time. As previously announced, Nézet-Séguin will begin conducting a minimum of five operas per season starting with the 2020–21 season.
The new Music Director will be a significant presence on the podium in the 2018-19 season. In addition to leading Michael Mayer's new production of Verdi's La Traviata and conducting two Carnegie Hall concerts, Maestro Nézet-Séguin will also lead revivals of Debussy's Pelléas et Mélisande and Poulenc's Dialogues des Carmélites.
It was also announced that the Neubauer Family Foundation, founding sponsors of the Met's successful Live in HD transmissions to movie theaters, now in its 12th season, has made a $15 million gift to name the Music Director position in honor of Nézet-Séguin's appointment. In recognition of this gift, the position will be called the Jeanette Lerman-Neubauer Music Director, the first time in the history of the Met that the position has been named. Mrs. Lerman-Neubauer is a member of the Executive Committee of the Met's Board. Her husband, Joseph Neubauer, former Chairman and CEO of Aramark, is a well known philanthropist who is Chairman of the Board of Trustees at the University of Chicago and Chairman of the Barnes Foundation in Philadelphia.
"It is wonderful for the entire company that Yannick will assume his duties two seasons ahead of schedule, said General Manager Peter Gelb. "The orchestra loves him, the chorus loves him, everyone in the building loves him. He is a truly great artist under whom the Met will only thrive." Referring to the gift from the Neubauer Family Foundation, Gelb said, "The Met is so fortunate to be the recipient of such enlightened and generous philanthropy from two of our most loyal supporters, who believe in the power of transformative gifts."
Yannick Nézet-Séguin said, "The Metropolitan Opera is the greatest opera company in the world and I'm honored to become its next Music Director. I'm eager to continue to collaborate with the Met Orchestra, Chorus, and administration to keep the Met's artistic standards at the highest level, and to amplify the great work the company already does to reach new audiences and ensure the future of the art form. I have worked with the Neubauers for many years in Philadelphia and know how committed they are to supporting the arts. Their extraordinary generosity for the work of the Philadelphia Orchestra and the Met makes this exciting moment even more humbling for me."
Jeanette Lerman-Neubauer said, "Yannick insists on the timeless virtues that have led the Met to the highest standards of artistic expression. But he also adds a new kind of energy, making opera a compelling choice for broader and younger audiences. We believe his enthusiasm, energy, and inspired music-making will continue to be a major asset for the Met and will push the boundaries even further for what great opera can achieve."