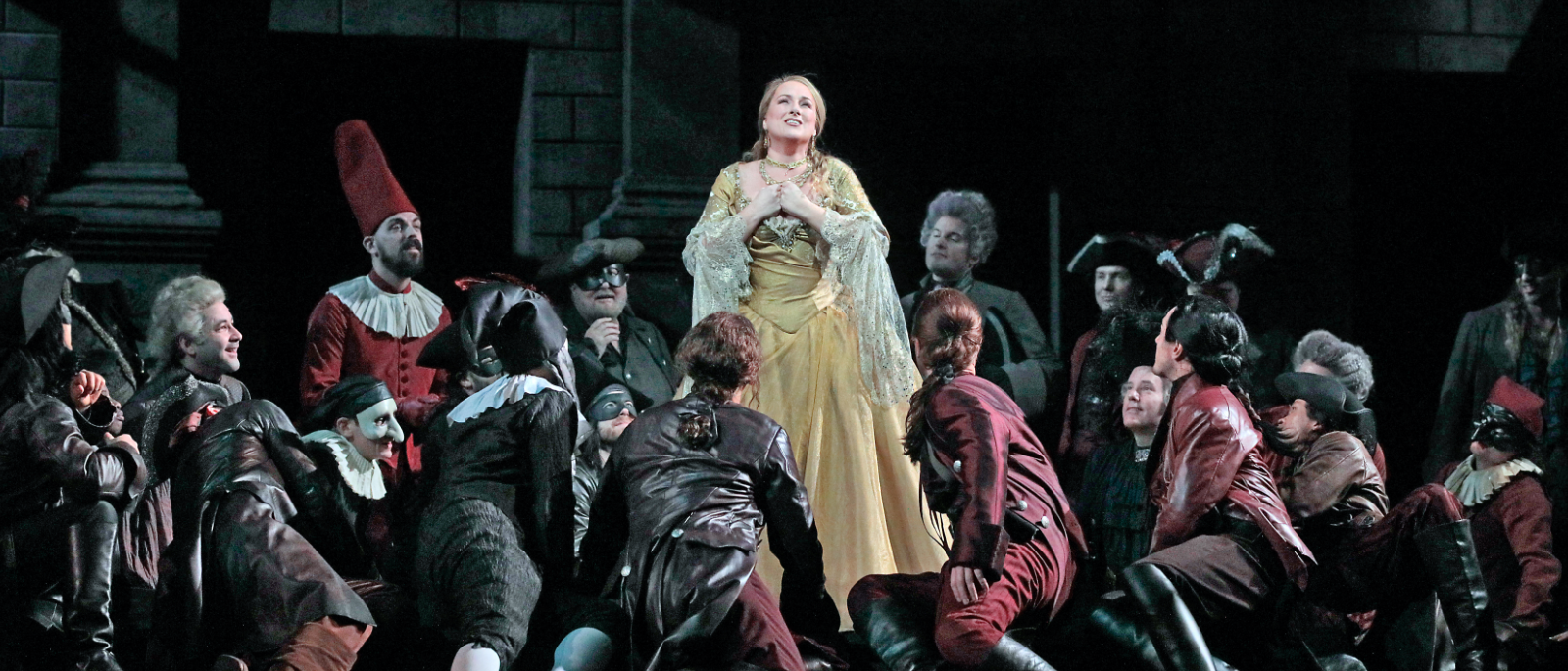 The Composition of Roméo et Juliette
1595
William Shakespeare's Romeo and Juliet premieres in London; the precise date of the play's first performance is uncertain. It will be published twice during Shakespeare's life, in 1597 and 1599, as well as in a collector's edition published in 1623, seven years after Shakespeare's death.
1818
Charles-François Gounod is born on June 17 in Paris. His father is an accomplished painter, his mother is a pianist, and little Charles soon shows remarkable aptitude in both the visual and musical arts.
1823
Gounod's father dies, and his mother opens a piano studio to support the family. Although she hopes Charles will grow up to be a lawyer, she does permit him to leave his boarding school one day each week for music lessons.
1836
Gounod enrolls at the Paris Conservatory. Although he demonstrates reasonable skill as a tenor and pianist, his real love is composing, which is where he focuses his efforts.
1839
Gounod wins the prestigious Prix de Rome (Rome Prize), which awards him a three-year stipend to study in Rome. Gounod is extremely impressed by the art, music, and history he encounters in Italy, and the experience will spark his lifelong appreciation for Italian art.
1843
Returning to Paris, Gounod takes the position of maître de chapelle (music director) for the Séminaire des Missions Étrangères, a seminary for Catholic missionaries.
1847
Intending to pursue a religious vocation, Gounod enrolls at St. Sulpice Seminary. After only one year of study, he leaves to focus on opera composition. Yet he remains committed to his Catholic faith, finding it to be a source of stability during the professional failures and emotional turbulence of his later life.
1851
Gounod's first opera, Sapho, premieres at the Paris Opera, the city's most celebrated opera house. Gounod's engagement by the Opera—a venue usually reserved for more established composers—is due almost entirely to the intercession of his close friend Pauline Viardot, one of Paris's most celebrated singers. Critics appreciate Sapho, but it is a commercial failure and closes after only six performances.
1859
Gounod's opera Faust premieres in Paris. Based on the play by Goethe, the opera features a libretto by Jules Barbier and Michel Carré, who will go on to collaborate with Gounod on six other works for the stage. Faust becomes Gounod's most popular and frequently performed opera.
1859–64
Gounod produces several operas—including Philémon et Baucis (1860), La Reine de Saba (1862), and Mireille (1864)—but none garners success with either audiences or critics.
1867
Gounod's luck finally changes when Roméo et Juliette premieres during the Exposition Universelle, an international world's fair in Paris. The opera is a spectacular success and sells out several performances.
1870
The Franco-Prussian war breaks out. Gounod and his family flee Paris, first settling in the French countryside and then joining a wave of French immigrants to England. During the fighting, Gounod's home in Paris is destroyed. Although Gounod has traveled to England essentially as a refugee, he does enjoy a range of professional opportunities in the country, including a commission for a new composition for the opening of the Royal Albert Hall on May 1, 1871. The resulting motet, Gallia, features a biblical text about the destruction of Jerusalem, likely expressing Gounod's sorrow at his own recent experience of war.
1884
In the intervening years, Gounod has continued to write operas but struggled to find any meaningful commercial success. After a revised version of Sapho fails in 1884, the composer never again writes for the stage, concentrating instead on sacred music and works for piano and chamber ensembles.
Happily, Gounod does occasionally enjoy success from his older works. For instance, when Mireille is revived in Paris in 1889, it is well received. It soon becomes one of the most popular pieces in the company's repertoire and a staple on the French stage for the next 75 years.
1893
Gounod suffers a stroke and dies on October 18. He receives a state funeral at the Madeleine Church in Paris. In deference to his own wishes, only choral music is performed at the service.