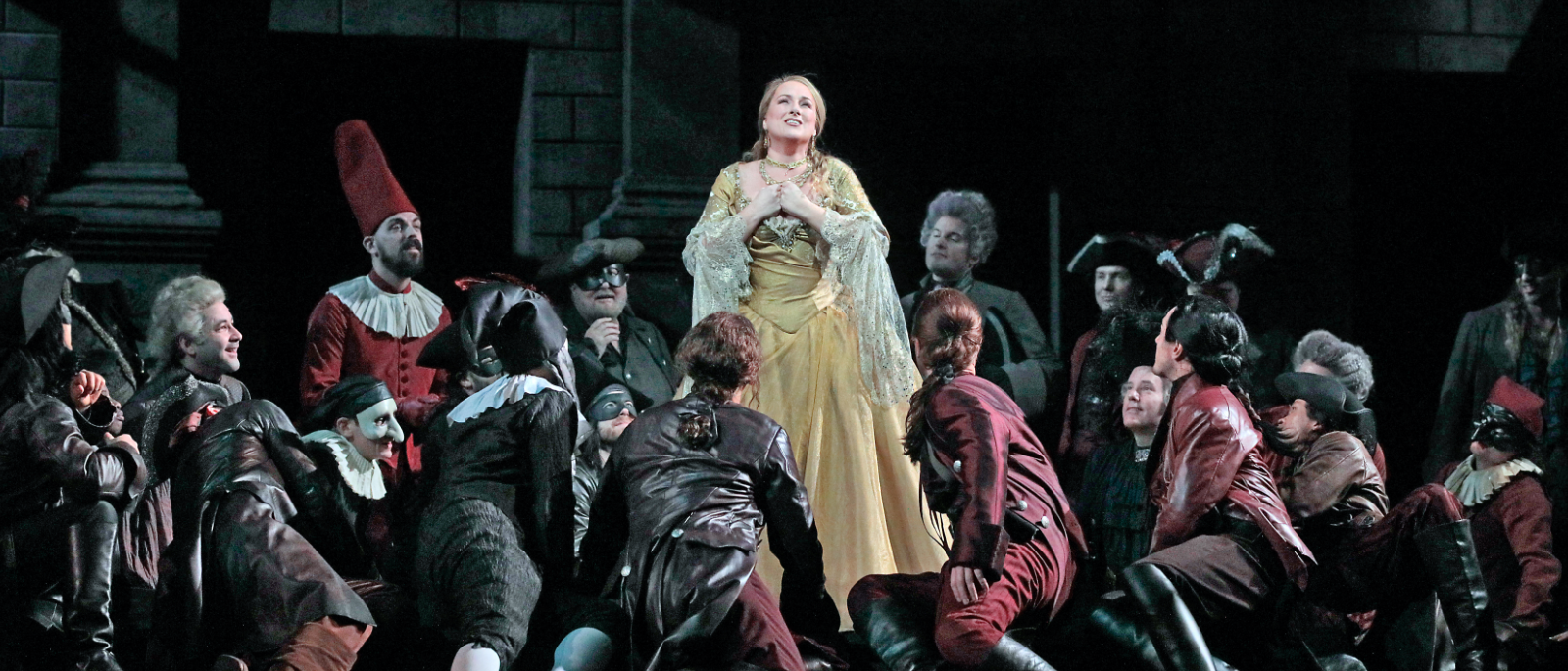 The following activities will help familiarize your students with the plot of Roméo et Juliette, forge connections between a variety of classroom subjects, and creative responses to the opera. They are designed to be accessible to a wide array of ages and experience levels.
---
Put Up Your Dukes
Lead students to consider the feud in Roméo et Juliette more deeply while cultivating their own tools to confront prejudice. Ask students put themselves in the shoes of the Duke of Verona and prepare a speech to persuade the Capulets and Montagues to make peace. Offer students the opportunity to consider how prejudices like those depicted in the opera and play manifest in their own communities.
Choose Your Own Shakespearean Adventure
Invite students to identify decisions, actions, and other moments in the opera's plot that propel the protagonists towards their doom. Inspire students to imagine, using whatever storytelling form they choose, how the ending of the opera might or might not have turned out differently if various characters had chosen alternative paths along the way.
Make Shakespeare Sing
Encourage students to dive into the world of adaptation, exploring how composer Charles Gounod and librettists Jules Barbier and Michel Carré turned Shakespeare's play into an opera. Challenge students to create their own libretto (or even score) for the final scene of Romeo and Juliet, which is not included in the opera.
Be the Director
Explore different versions of Romeo and Juliet, such as the various filmic adaptations of the play, West Side Story, and Gounod's opera. Discuss these different versions, and then invite students to develop their own vision for staging the opera.
Be the Conductor
Gounod's harmonic language stretches beyond the typical progressions we learn in a music theory classroom. Invite students to place themselves in the role of conductor, analyzing Gounod's harmonies alongside the prologue's text they "prepare for a performance."
---
COMMON CORE CONNECTIONS
These activities directly support the following ELA-Literacy Common Core Strands:
CCSS.ELA-Literacy.RL.9-10.7
Analyze works by authors or artists who represent diverse world cultures.
CCSS.ELA-Literacy.RL.11-12.4
Determine the meaning of words and phrases as they are used in the text, including figurative and connotative meanings; analyze the impact of specific word choices on meaning and tone, including words with multiple meanings or language that is particularly fresh, engaging, or beautiful. (Include Shakespeare as well as other authors.)
CCSS.ELA-Literacy.RL.11-12.7
Analyze multiple interpretations of a story, drama, or poem (e.g., recorded or live production of a play or recorded novel or poetry), evaluating how each version interprets the source text. (Include at least one play by Shakespeare and one play by an American dramatist.)